Last updated on October 16th, 2023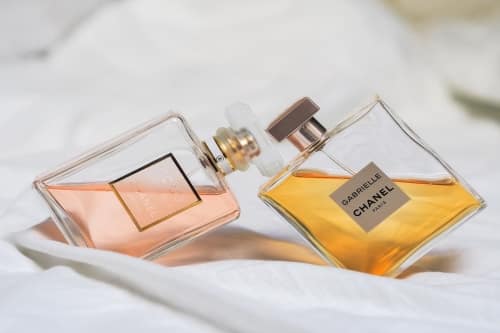 Trying to learn how to start a perfume company online may be either simple or difficult depending on your level of experience.
Going it alone is the difficult route to take. If you choose this method, you may invest thousands of dollars and months of your time just to have everything go wrong the minute you set foot on the ground.
The simple solution is to follow the tried-and-true tactics outlined in this article. Taking this path will allow you to establish a perfume company on a tight budget while also increasing your chances of having your brand debut into the marketplace successfully.
Consequently, if you're interested in learning how to launch a brand similar to Hugo Boss cologne…
Let's get this party started.
Is the Perfume Industry a Profitable Business?
I'm simply going to come out and say it as it is…
Perfumes are often considered to be one of the most lucrative goods on the planet.
The reason for this is because the process of making the actual perfume liquid is incredibly inexpensive and can be sold at a very large profit margin. If you want to manufacture a perfume that can be sold for $120, it may only cost you $5 to create it. That type of profit margin is nearly unheard of in the luxury industry, which is why almost every premium company has its own perfume line. The potential is tremendous.
There is, however, a caveat to this statement.
Despite the fact that the cost of creating very high-end perfume is relatively low, the expense of marketing it is not. The reason for this is that perfumes are difficult to interpret on the internet. Because people cannot smell a scent via their screens, it is far more difficult to persuade someone to purchase a fragrance as opposed to other sorts of merchandise. The fact that the product needs costly packaging is also important since it is this that pushes up its worth as a result of its high perceived value.
If you can overcome these difficulties, it is an incredible business to be involved with.
Commodity, Phlur, and Hawthorne are some of the brands that are performing very well right now.
The Expenses Associated With Starting A Perfume Business
Depending on where you live, the cost of beginning a perfume company might be quite expensive.
You must take into account the kind of cologne, the quality of the cologne, the amount of the cologne, and other factors. Many of these considerations will be influenced by the manufacturers you choose to collaborate with and the kind of business you are attempting to run.
Overall, though, you may anticipate to spend anything from $1,000 to $15,000 on your wedding.
In this price, solid cologne is included, thus you will be at the cheaper end of the range for this item. Liquid cologne will, of course, be more expensive than solid cologne. Moreover, this is based on typical packing costs. The upper ten percent of that range, if not more, is what you should anticipate to be for more costly packaging.
Having said that, perfume is a company that may be started on a small scale at home.
If you decide to take the handcrafted way, you may get started with solid cologne for less than $100 and liquid cologne for less than $250, depending on your budget. Typical packaging is included in this category. Again, if you opt to go with high-end packaging from the beginning, you'll have to pay much more money. Marketing expenditures are not included in any of these estimations.
Ideas for Starting a Homemade Perfume Business
Because, when compared to other forms of handcrafted items, fragrances are one of the most straightforward to create, they are one of the most profitable home enterprises you can start in your spare time. Additionally, since there are so many various fragrances that can be created, there is space for a wide variety of different company concepts.
Having saying that, it all begins with the fundamentals.
Is it better for you to begin with solid cologne or liquid cologne?
Do you want to market to men or women, or do you want to be unisex?
And do you want to be affordable to the majority of the population or ultra-luxurious?
If you can answer the many questions above, you will have laid the groundwork for whatever homemade perfume company ideas you may have in the future. With that stated, the real aroma of the perfume will be the most crucial thing for you to pay attention to while shopping. Someone needs to have a compelling reason to choose your perfume above everyone else's before they will purchase it.
As a result, the finest homemade perfume company ideas are those that are centered on aroma.
Why aren't you able to create a whole business dedicated to selling spicy scents?
Why aren't you able to create an entire company that sells fragrances that have only the finest ingredients?
Why aren't you able to create a whole company that specialized in date-appropriate perfumes?
By concentrating your whole perfume brand on a single category, such as the ones listed above, you will be able to establish a lot more efficient company. The best part is that it can all be done from the comfort of your own home.
How To Make Money Selling Perfume Online
Selling perfume from the comfort of your own home is not difficult, but it is not simple either.
The most effective strategy to make money selling perfume from home is to sell it online. This is accomplished largely via three modes of communication: owned, earned, and purchased media.
Owned media may be any sort of media that you own.
Examples include increasing the number of visitors to your website via search engine optimization, increasing the number of subscribers to your email newsletter, creating your own SMS list, and gaining people's physical addresses for direct mail.
Earned media refers to any sort of media that is generated by third parties.
This will generally refer to any form of public relations coverage, such as getting mentioned in Forbes magazine. Included on my list would be any form of guest appearance, having an influencer speak about your items, and even receiving social media mentions and shares.
Paid media includes any sort of media that is obtained via the payment of a fee.
For the vast majority of individuals, this will be advertisements on social media platforms such as Facebook and Instagram. Do not forget about additional specialty sources, such as purchasing email sponsorships or paying to appear first on an affiliate website, which might help you to achieve success.
The most effective method in all circumstances, however, is to concentrate on a combination of the three. The ideal way to introduce your perfume company would be via owned media channels first. Then use your product and outcomes to get earned media attention, allowing you to maintain healthy profit margins. Then, if you have sales data and social proof, you can combine the two to develop advertising that are very effective from the start.
The Ultimate Business Plan for the Fragrance Industry
The following is the action plan I would recommend for anybody who is serious about learning how to establish a perfume company online…
1/ Concentrate my perfume line on a single sort of aroma rather than a variety of them. In an ideal world, this perfume would likewise be created using a unique and exclusive component. As a result, you will find it much easier to sell since you will stand out from all other options available. It also increases the likelihood that clients would return and purchase other items, given that they like your perfume.
2/ I'd want to launch a media firm devoted to men's fashion. For example, a blog that evaluates men's grooming goods or a TikTok that teaches men's fashion are both examples of niche content. In any case, I would like to devote at least 6 months to doing all I can to establish a small, but dedicated group of readers. Then, two months before the debut, I would send out a pre-launch email to everyone who had signed up.
3/ I would introduce the initial version of the first scent. This scent would be marketed via all of the outlets that I have available to me. This includes the pre-launch email, any social media outlets, and the Shopify shop, among other avenues of distribution. I'd put a stop to it for practical reasons by having a restricted supply of goods. Then I'd repeat the process for up to three rounds to make it more bearable.
4/ After that, I'd strive to garner as much publicity as I possibly could. The Dream 100 list would include reporters, social media influencers, bloggers, and newsletters, to name a few categories. Then I'd offer them all free fragrances so they could spread the word about it on their own media outlets. By the end of it all, I'd want to have not just sales, but also logos to market and reviews that can be promoted via advertisements as well.
5/ After that, I'd introduce two or three additional smells, along with a sample pack. Of course, this is only possible if your financial situation permits it. However, before you switch on sponsored advertisements, you should preferably have a trial pack since this will be the most significant complaint you will encounter. If you don't have the money right now, you can put it off till you do. Don't hesitate to act when this occurs.
6/ Begin running sponsored advertisements for your trial pack or best-selling fragrance. In these advertisements, you want to make use of all you've learned from the previous phases. For example, you could wish to run advertisements in which all of the newspapers that have featured your scent are included. Also consider running advertisements using user-generated content (UGC) from influencers. After then, it's a never-ending cycle.
Finally, consider checking out Amazon. Here is where you want to concentrate your efforts on selling your trial pack as well as the complete fragrances that are included in those trial packs. You should refrain from selling your signature or limited edition perfumes. Keep them for your own Shopify shop with your own branding.