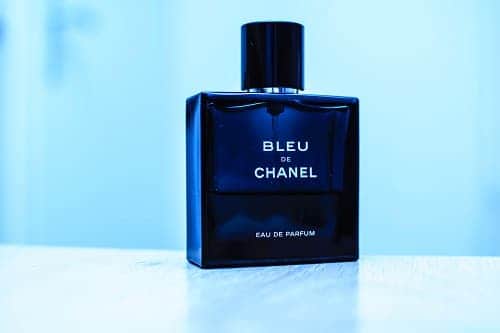 In order to write a Perfume Business Plan you need to start with executive summary. In order to write an executive summary for a Perfume Business Plan you need to mention- what your business is about and what you'll sell. Explain how you'll get people to buy it. The executive summary should be written at the end. Then you should write a Business Description mentioning goals, objectives, mission and vision. Some of the major sections or components of a Perfume Business Plan involves Fund Usage Plan, Marketing Plan, Industry Analysis, Organizational Overview, Operational Overview and Financials.
This article will provide you a step by step process to write your Business Plan. Get a free Perfume Business Plan at the end!
Table of Contents
Executive Summary
Overview: Armada Parfums has 4 factories across the USA and is willing to expand to the Middle East. Our founder has more than 20 years of experience working in the industry. He has given more than a dozen of successful perfume brands. Our recent success through online channels has allowed us to grow with relatively low investment. We are looking for $3.5 million to expand to the GCC region and enhance our online channels.
Mission: The human spirit is enthralled, inspired, and soothed by us. Our goal is to create a fragrance that reflects the ideals and lives of every man and woman on the planet. Fragrances and tastes, we feel, are important parts of mankind.
Vision: Armada Parfums aspires to be a global leader in high perfumery, anticipating and matching the tastes and preferences of our discriminating consumers and providing them tranquility via smell.
Financial Overview: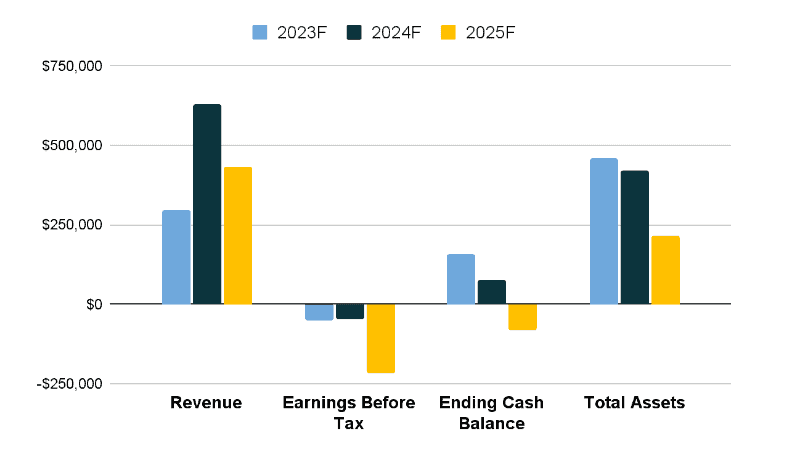 Industry Overview:
In 2018, the worldwide perfume market was worth USD 31.4 billion, and it is predicted to rise at a CAGR of 3.9 percent from 2019 to 2025. The expanding trend of personal grooming, together with the rising demand for premium and exotic perfumes, is credited for the market's expansion. Furthermore, the worldwide industry is being driven by rising consumer expenditure on premium and luxury perfumes as a result of growing income levels and rising living standards. Perfumes have grown in importance in the cosmetics and personal care industries in recent years. Perfumes have become a necessary commodity due to the expanding trend of personal care and have become a source of pride and confidence.
Business Description
Business Name:
Founder: Jacob Harris
Management Team:


Legal Structure: LLC
Location:
Mission: "At [Perfume Company], our mission is to create high-quality, luxurious fragrances that enhance the lives and personal styles of our customers. We believe that fragrance has the power to transform and uplift."
Vision: "At [Perfume Company], our vision is to become the premier destination for sophisticated and discerning fragrance enthusiasts around the world.."
Goals:
Create high-quality, luxurious fragrances that are loved by customers and praised by industry experts.
Expand the company's product range to meet the diverse needs and preferences of customers around the world.
Achieve financial success and long-term stability through sound business strategies and effective marketing efforts.
Products:
[Mention your services in bullet points]
Financial Overview
Fund Usage Plan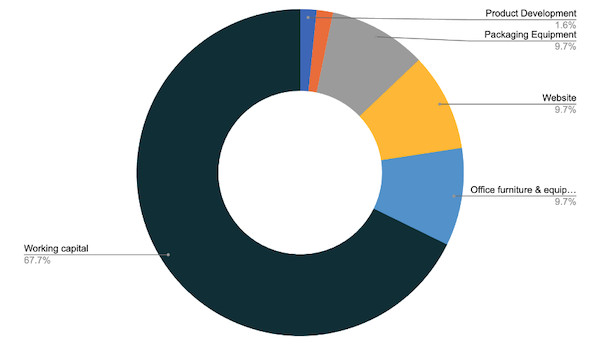 Key Metrics:


Business Model Canvas
The Canvas summarizes the business model of the entire perfume business plan. It comprises nine key components – customer segments and value propositions to revenue streams and cost structures. The canvas provides a clear and concise way to map out, analyze, and communicate the intricacies of a business idea. It offers a holistic view of how a business creates, delivers, and captures value. It also aids entrepreneurs in refining concepts, fostering innovation, and making informed strategic choices. It serves as a versatile tool for brainstorming, planning, and presenting business models to stakeholders.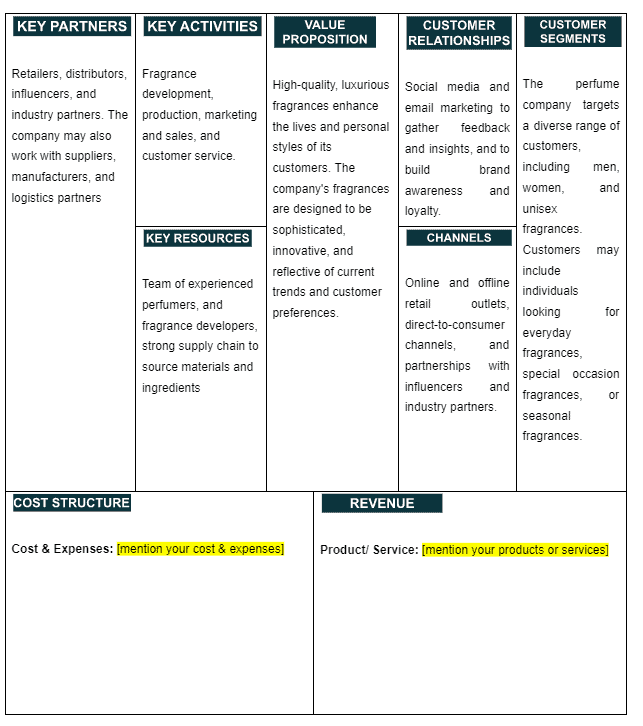 SWOT
A SWOT analysis is integral to the perfume business plan. it offers a clear lens into a company's strengths, weaknesses, opportunities, and threats. This self-awareness enables effective resource allocation and strategic positioning against competitors. Businesses can mitigate risks, make informed decisions, and set realistic goals. In addition, presenting a SWOT analysis in a business plan communicates to stakeholders that the company possesses a deep understanding of its market environment. In essence, SWOT ensures a business's strategy is grounded in reality enhancing its chances of success.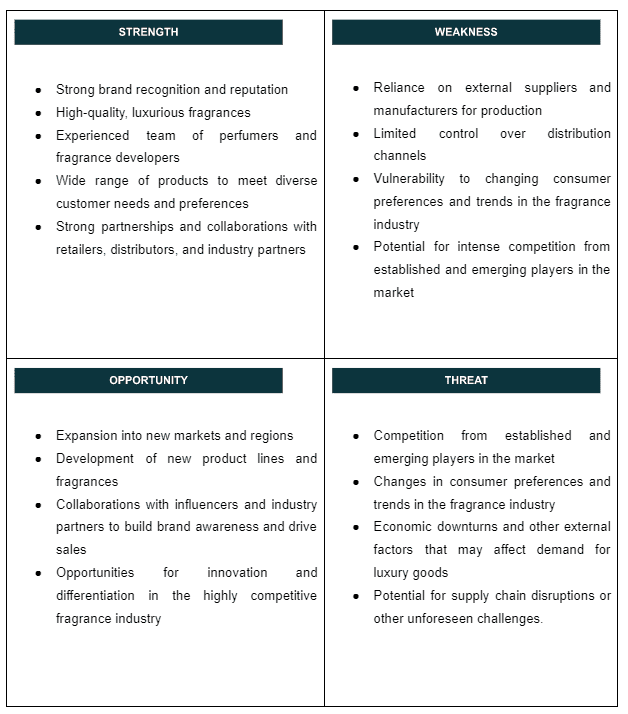 Organizational Overview
Organizational overview in a perfume business plan provides a snapshot of how a company is structured and operates. It outlines the ownership structure, roles, responsibilities of key management personnel, and the reporting hierarchy within the organization. This section offers stakeholders, investors and other readers a clear understanding of the company's leadership and its chain of command. Additionally, it may give insight into the company's culture, values and operational philosophy.
Founder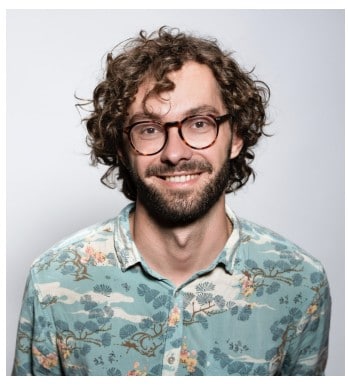 My name is Jacob Harris, and I own a business that specializes in fragrances. For as long as I can remember, fragrance has had for me the power to evoke a wide range of feelings, as well as provide a medium for expressing myself personally. I set out on a mission to develop my very own line of beautiful perfumes after being fascinated by the intricacy and creativity involved in the process of making perfume.
I have a profound respect for the potency of aroma, and as a result, I take great care in the selection of the best components and work closely with highly trained perfumers to create fragrances that are one of a kind and compelling. Every fragrance is created with painstaking attention to detail, with the goal of encapsulating the defining characteristics of individuals, situations, and emotions. My objective is to provide a sensory experience that strikes a chord with folks, enabling them to express who they are as unique beings and making an imprint that will stay.
As the owner of a perfume business, one of my primary goals is to establish an extraordinary brand that exudes elegance, refinement, and genuineness. My experience has led me to think that scent has the power to both transport and change, and it is my hope that others may also have the opportunity to benefit from this belief. My goal is to develop fragrances that become essential components of people's life, contributing to the development of their sense of identity while simultaneously inspiring feelings of attractiveness and self-assurance. I want to do this by using perfect workmanship, paying close attention to detail, and demonstrating a dedication to quality.
Organogram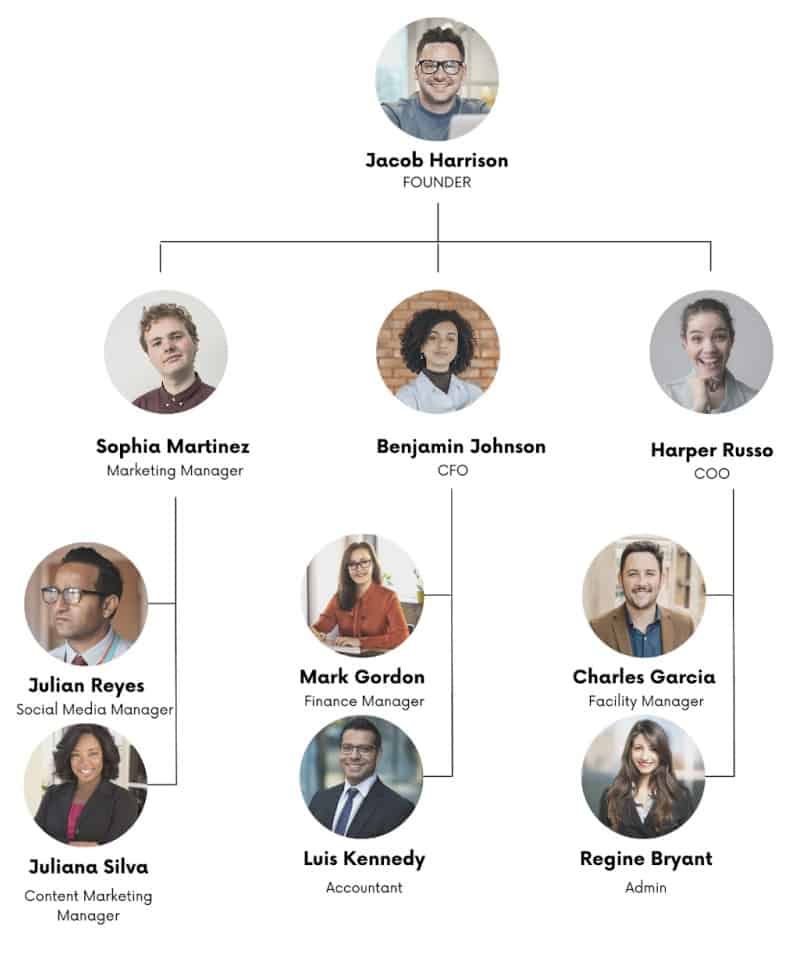 Industry Analysis
Overview
Every year, the market size of the Perfume & Fragrance Manufacturing industry in the United States went down by 0.1% on average. People in the United States lost jobs in the Perfume & Fragrance Manufacturing industry more quickly than in the whole Consumer Goods and Services industry. High competition is the primary issue that is bad for this industry, and a trade-weighted index is the main thing that is good. Consumers' ability and desire to spend money on things like perfume is measured by disposable income per person. When people have less money, they don't need as much scent. In 2021, per capita disposable income was expected to rise, giving the business a chance to grow.
Additional Info
Due to increased worries about allergies and toxicity in synthetic compounds, key manufacturers are also working on providing natural scents in the luxury segment. Approximately 75% of millennial women prefer to purchase natural items, with over 45 percent
preferring natural-based healthy scents. For example, the LUXE brand has been marketing itself as a natural fragrance company, concentrating on product endorsement collaborations with celebrities.
Promotional Factors
Furthermore, the industry is being driven by creative promotional initiatives. Advertisements are being used by manufacturers to influence buying choices. One of the most popular methods used by the players is the expanding power and effect of social media, as well as celebrity endorsements. L'Oreal spent over USD 9.2 billion on different advertising and promotional activities in 2017, representing a 4.9 percent increase from 2014. These characteristics have aided enterprises in better understanding their product performance and developing goods to fulfill client expectations, resulting in worldwide market growth.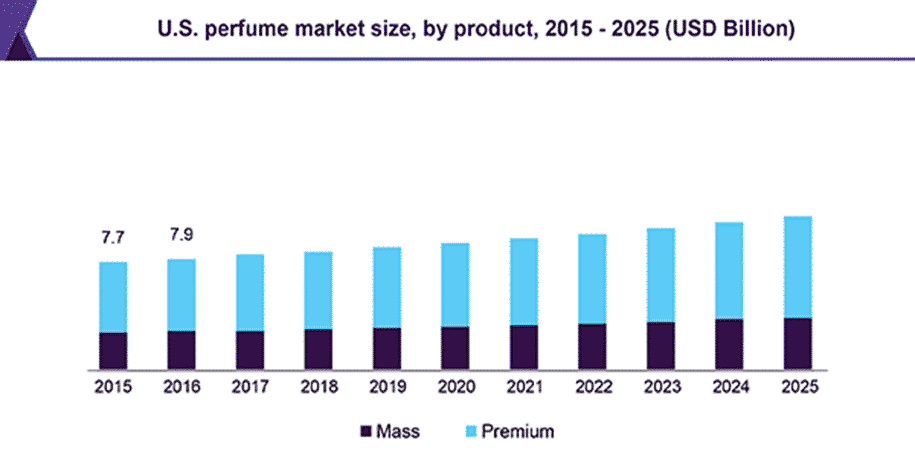 Global Stats
The worldwide perfume market is anticipated to reach $43.2 billion by 2028. It will expand at 5% during the next three years. Consumers are expected to purchase more beauty products and accessories, fueling industry development. Perfumes are scented solutions prepared by combining oils, fragrances, and other ingredients. Global demand for high-quality beauty and grooming products is likely to drive market expansion. Many manufacturers worldwide strive to create products that are unique. Givaudan, for example, will start adopting a new fragrance technology dubbed "VivaScentz" to accommodate client demand for diverse smells. Long-lasting scents are predicted to gain popularity, leading to increased sales. Strong scents, oils, and other items are utilized to entice visitors in. Demand for waterless fragrances is anticipated to increase sales. These factors should help the industry thrive.
Covid Impact
Manufacturing and transportation have come to a stop. Lockdowns, on the other hand, result in reduced capacity and part-time shifts. This will assist organizations in recouping lost revenue and regaining market share. Furthermore, powerful scents and strategies to appear beautiful may pique the curiosity of more individuals. This might lead to an increase in product purchases. These elements are regarded to be the primary cause for the market's growth during the epidemic. Manufacturers strive to improve the client experience by developing amazing and distinctive smell solutions. Strong flavors and oils are utilized to get rid of odors and make the aroma stay longer. Artificial intelligence is used by businesses to develop a number of smell solutions that match the demands of their clients.
Additional Factors
Because of the increased demand for high-end consumer goods, North America is expected to dominate the perfume industry. In 2020, the market was valued at USD 10.50 billion. Consumer tastes are changing, and their buying power is increasing, likely rising product demand. Furthermore, rising living standards in Canada, Mexico, and the United States are predicted to promote market growth.
Growing disposable income, a youthful population, and increased knowledge of the product's advantages are expected to drive demand in the Asia Pacific. In addition, market growth is likely to be aided by increased demand for premium brands.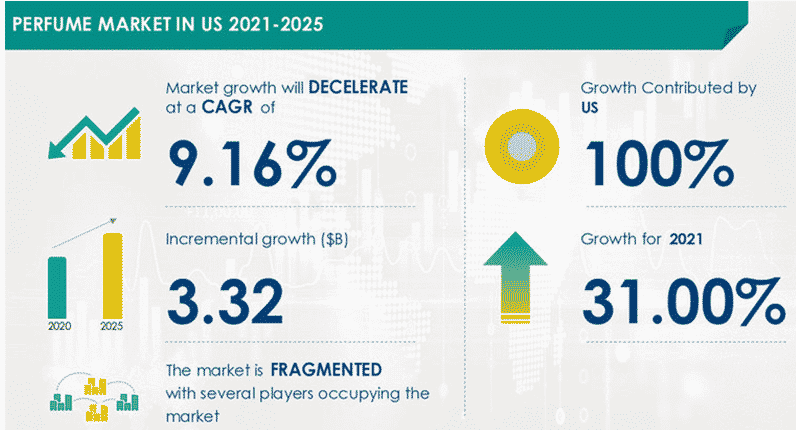 US Market
From 2021 to 2025, the perfume market share in the United States is expected to grow by USD 3.32 billion at a CAGR of 9.16 percent.
In the United States, rising living standards are particularly fueling the expansion of the perfume business, while problems such as the availability of counterfeit goods may hinder progress. Our experts analyzed historical data to determine the primary market drivers and the effect of the COVID-19 pandemic on the perfume business in the United States.
Marketing Plan
A marketing plan of a perfume business plan outlines the company's strategy to promote its products or services to its target audience. It includes specific tactics and channels the business will use to reach potential customers. This section defines the company's unique value proposition, identifies the target market segments, and discusses the competitive landscape. It also includes insight into budget allocation, projected outcomes and key performance indicators to measure success. Marketing plan helps businesses demonstrate their understanding of the market dynamics, their positioning within the industry and their approach to driving customer engagement and sales.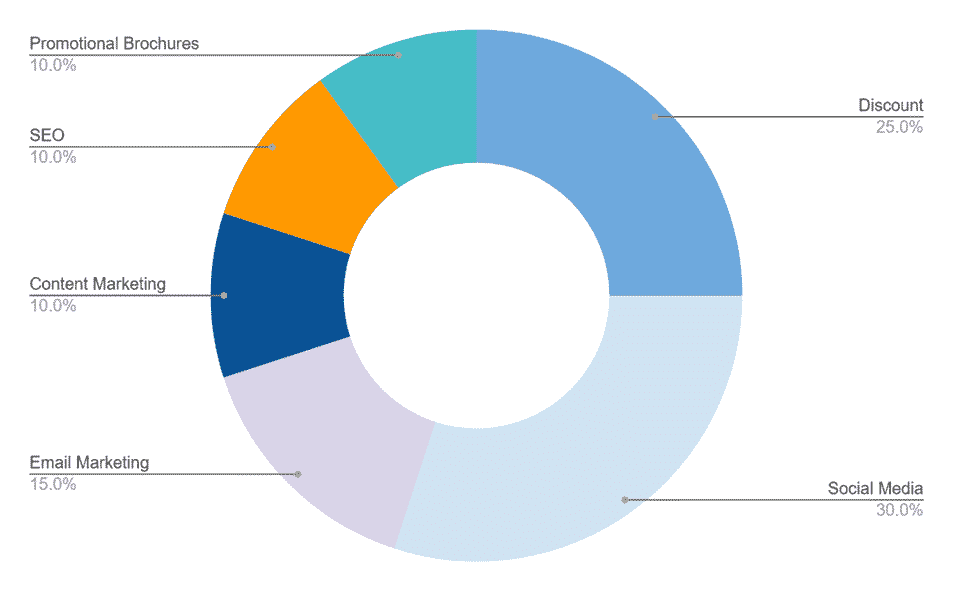 Content Marketing: Create a blog on your Blackbird Acupuncture website on what you has to offer to prospective customers.
Discounts: Provide multiple rewards or incentives to Blackbird Acupuncture's frequent customers, you'll be more likely to attract them. Create a member referral scheme, for example, where members get a discount if they successfully recommend someone.
Social Media: Engage and promote Blackbird Acupuncture on Twitter, publish news on Facebook, and utilize Instagram to promote curated photos of your clinic.
SEO (Search Engine Optimization) Local SEO makes it easier for local consumers to find out what you have to offer and creates trust with potential members seeking for what your clinic has to offer.

Email Marketing: Blackbird Acupuncture will be sending automated in-product and website communications to reach out to consumers at the right time. Remember that if your client or target views your email to be really important, they are more likely to forward it or share it with others, so be sure to include social media share.
Financials
A financial plan of a perfume business plan provides a comprehensive projection of a company's financial health and its anticipated monetary performance over a specified period. This section encompasses a range of financial statements and projections such as profit and loss statements, balance sheets, cash flow statements and capital expenditure budgets. It outlines the business's funding requirements, sources of finance and return on investment predictions. The financial plan gives stakeholders particularly potential investors and lenders a clear understanding of the company's current financial position. A financial plan helps businesses demonstrate their financial prudence, sustainability, and growth potential.
Earnings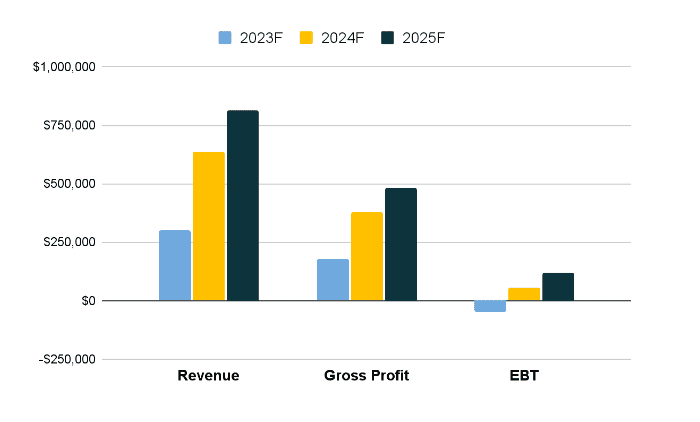 Liquidity