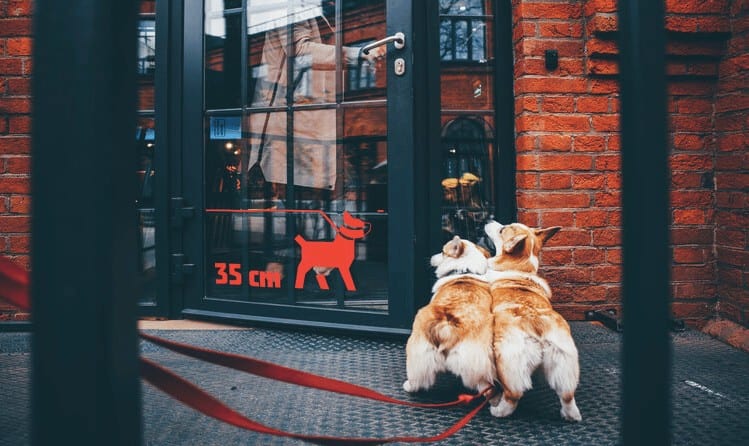 Dog Cafe Business Plan is an outline of your overall Dog Cafe business. The business plan includes a 5 year projection, marketing plan, industry analysis, organizational overview, operational overview and finally the executive summary. Remember to write your executive summary at the end as it is considered as a snapshot of the overall business plan. The creation of a dog cafe business plan requires careful consideration of various factors that might impact the business's success. Ultimately, a dog cafe business plan serves as a roadmap to guide the company's direction.
The profitablity of dog cafe primarily depends on 3 factors- Revenue, Cost and Startup Cost. We have analyzed these factors here: Is Dog Cafe Business Profitable?
Executive Summary
Overview: The Dog Café provides a relaxing and enjoyable environment for both people and dogs, away from overcrowded shelters that may cause fear and hostility in adoptable pets. Play with puppies while getting your coffee, or catch up with friends over lattes while hugging lap pets. We provide those who cannot have pets of their own the chance to spend quality time with furry companions (and vice versa) without the commitment of adoption.
Problem: Maintaining a high level of sanitation while protecting the dogs' wellbeing may be a big difficulty in the dog café sector. Furthermore, both food service rules and animal rights are stringent and sometimes contradictory.
Solution: Implementing a tight cleaning plan, maybe with the assistance of professional cleaning services, can assist in maintaining sanitary standards. Collaboration with a local vet or animal welfare group helps guarantee regular health checks and suitable treatment for the canines. Health standards may be met by designing a plan that physically separates food production areas from pet engagement zones.

Industry Overview: Dog cafe is growing at a CAGR of 12% during the period of 2018 to 2023. The industry is mostly getting popular for growing adoption and liking towards pets. It has been found in survey that people usually love to hangout with pets but do not want to take responsibilities. The US Dog cafe industry is valued at $3.7 billion in 2023.
Financial Highlights
Ask/ Funding Request
This is a very important part of your business plan. Make a list of items that you need to invest on for either starting the business or for expansion.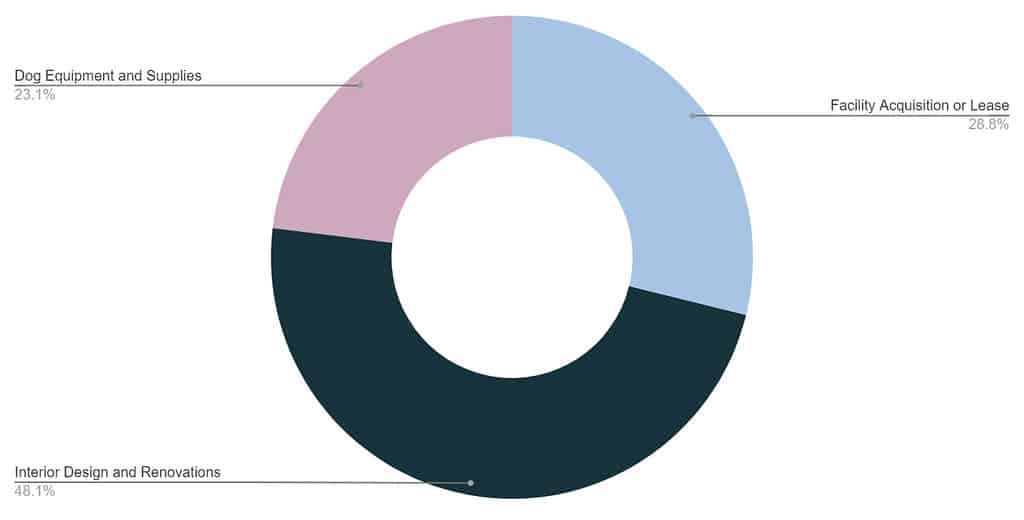 Financial Overview
In this section summarize KPIs such as a revenue, profit and cost in one graph or chart. This will help readers more interested to read the whole business plan.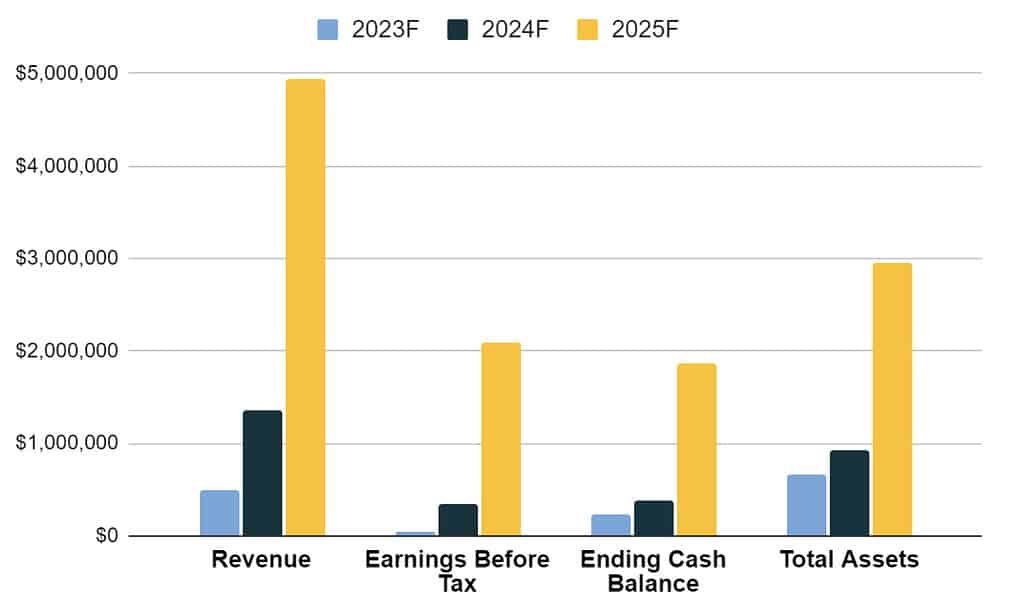 Business Description
Business Name:
Founders:
Management Team:

Legal Structure: [e.g. LLC]
Location:
Mission:
Vision:
Business Model Canvas
The Canvas summarizes the business model of the entire dog cafe business plan. It comprises nine key components – customer segments and value propositions to revenue streams and cost structures. The canvas provides a clear and concise way to map out, analyze, and communicate the intricacies of a business idea. It offers a holistic view of how a business creates, delivers, and captures value. It also aids entrepreneurs in refining concepts, fostering innovation, and making informed strategic choices. It serves as a versatile tool for brainstorming, planning, and presenting business models to stakeholders.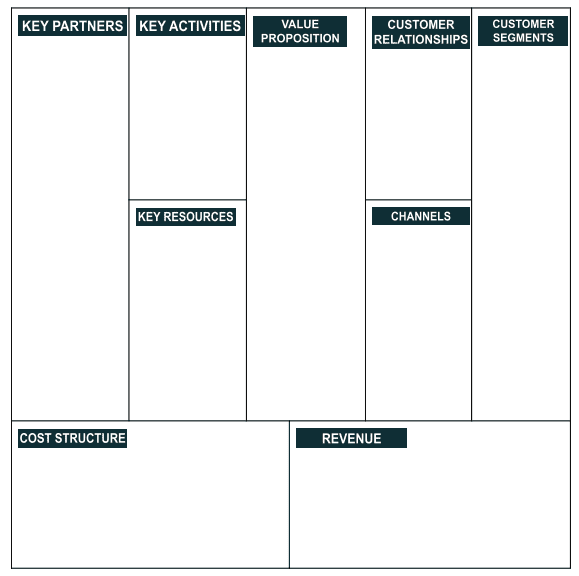 SWOT
A SWOT analysis is integral to the dog cafe business plan. it offers a clear lens into a company's strengths, weaknesses, opportunities, and threats. This self-awareness enables effective resource allocation and strategic positioning against competitors. Businesses can mitigate risks, make informed decisions, and set realistic goals. In addition, presenting a SWOT analysis in a business plan communicates to stakeholders that the company possesses a deep understanding of its market environment. In essence, SWOT ensures a business's strategy is grounded in reality enhancing its chances of success.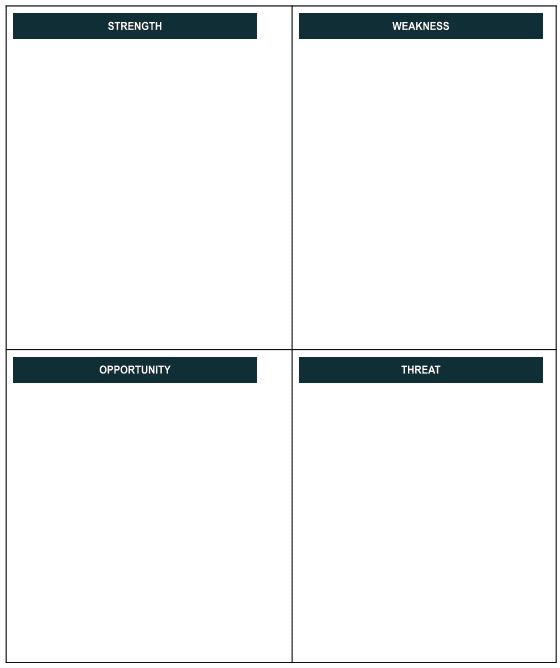 Industry Analysis
Problems and Opportunities
Regulations: regulations and permits may be required for operating a dog cafe.This can add to the cost of starting and operating the business.
Liability: there is always the ris………..
Target Market Segmentation
Geographic Segmentation:
Demographic Segmentation:
Psychographic Segmentation:
Behavioral Segmentation:
Market Size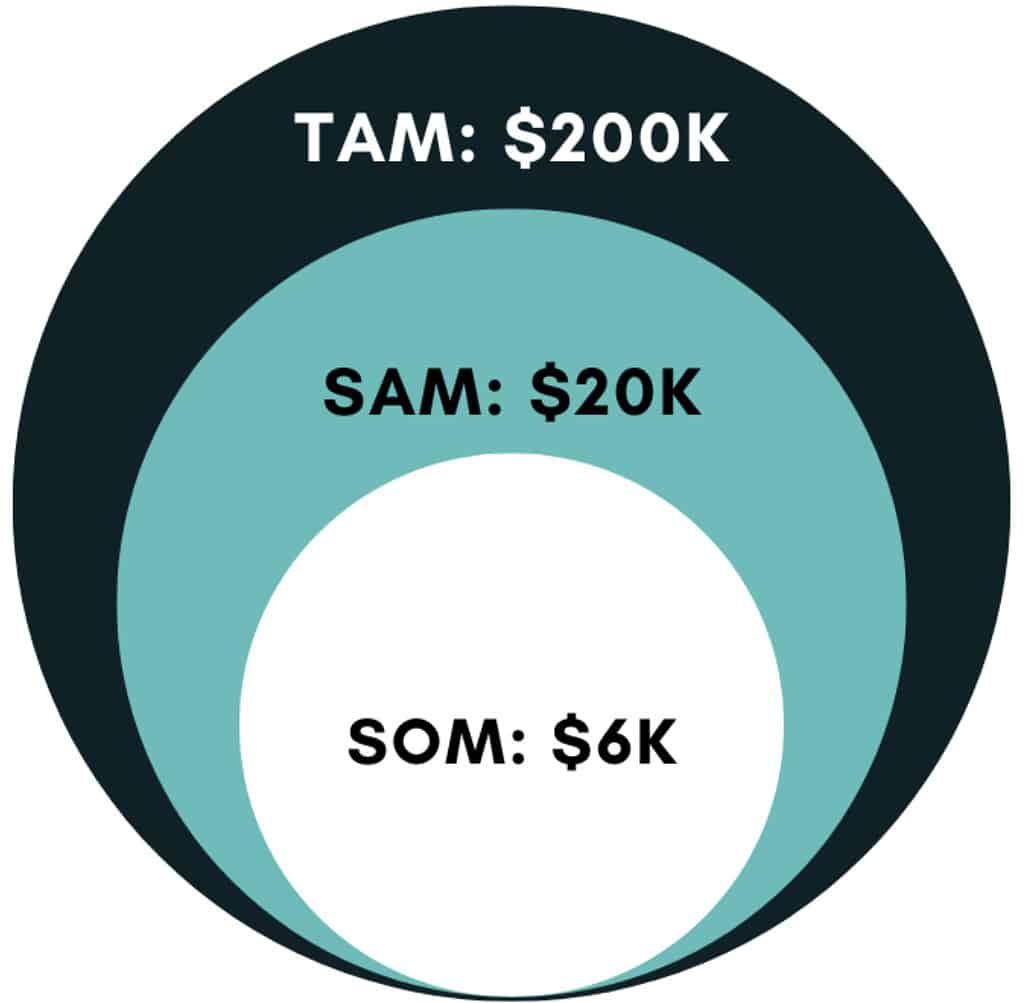 Marketing Plan
A marketing plan of a dog cafe business plan outlines the company's strategy to promote its products or services to its target audience. It includes specific tactics and channels the business will use to reach potential customers. This section defines the company's unique value proposition, identifies the target market segments, and discusses the competitive landscape. It also includes insight into budget allocation, projected outcomes and key performance indicators to measure success. Marketing plan helps businesses demonstrate their understanding of the market dynamics, their positioning within the industry and their approach to driving customer engagement and sales.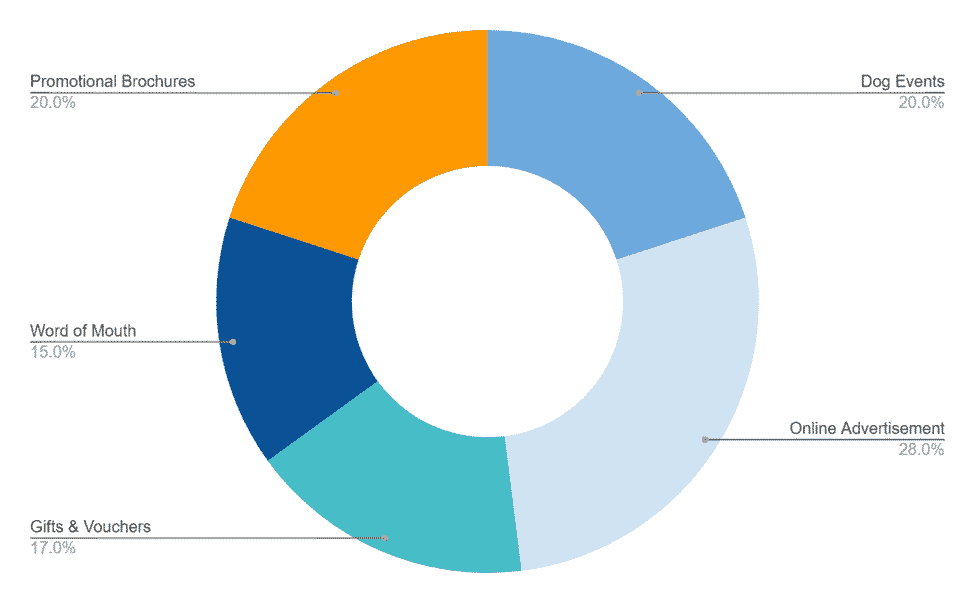 Dog Events: To attract customers' attention, we create events for dogs and encourage dog owners to join.
Online Advertisement: Following the trend of surfing the Internet every second of customers, Online advertisement has become a blatant tool used by every business. The Dog Café will be promoted on Facebook, Instagram, and other social media platform.
Gifts & Vouchers: The Dog Café presents gifts and vouchers to our customers to show our appreciation for your contribution to our success.
Word of Mouth: Nowadays, word of mouth is a powerful tool that contributes an essential part to success or failure. By excellently treating every customer with our conscientiousness, we expect our positive service to be spread.

Promotional Brochure: A brochure with The Dog Café logo will be distributed, and the leaflet contains thorough information about The Dog Café.
Organogram
Organizational overview in a dog cafe business plan provides a snapshot of how a company is structured and operates. It outlines the ownership structure, roles, responsibilities of key management personnel, and the reporting hierarchy within the organization. This section offers stakeholders, investors and other readers a clear understanding of the company's leadership and its chain of command. Additionally, it may give insight into the company's culture, values and operational philosophy.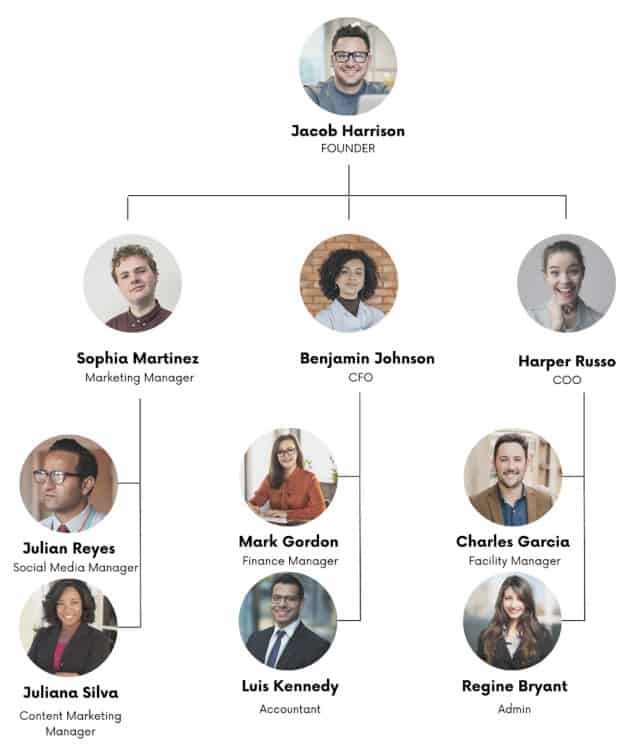 Financial Plan
A financial plan of a dog cafe business plan provides a comprehensive projection of a company's financial health and its anticipated monetary performance over a specified period. This section encompasses a range of financial statements and projections such as profit and loss statements, balance sheets, cash flow statements and capital expenditure budgets. It outlines the business's funding requirements, sources of finance and return on investment predictions. The financial plan gives stakeholders particularly potential investors and lenders a clear understanding of the company's current financial position. A financial plan helps businesses demonstrate their financial prudence, sustainability, and growth potential.
Income Statement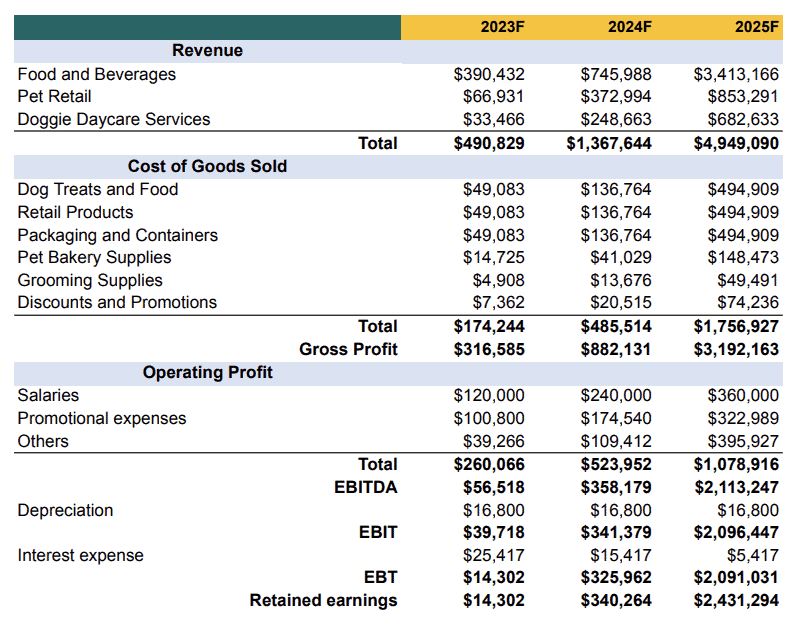 Cash Flow Statement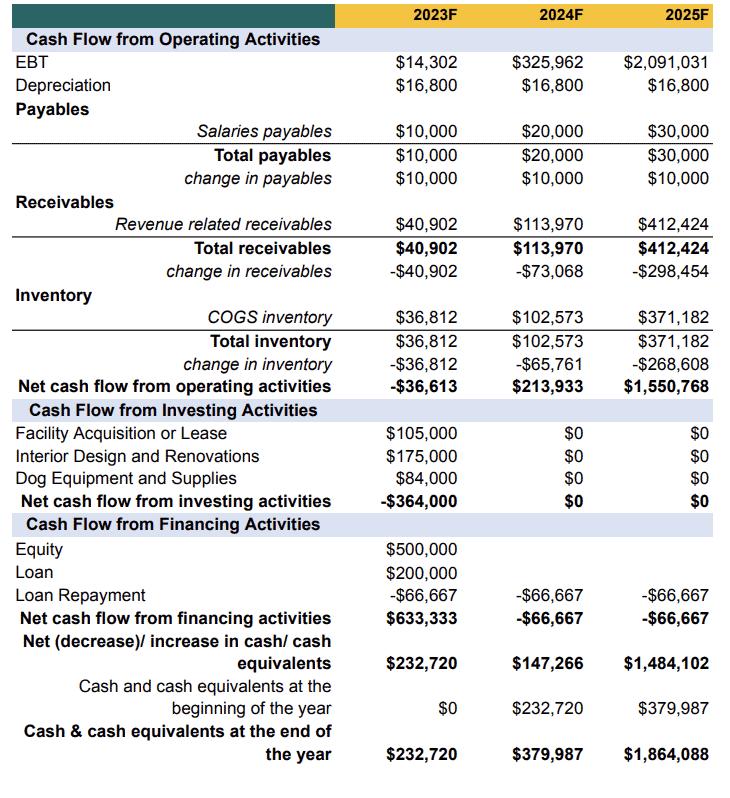 Balance Sheet