Last updated on December 6th, 2023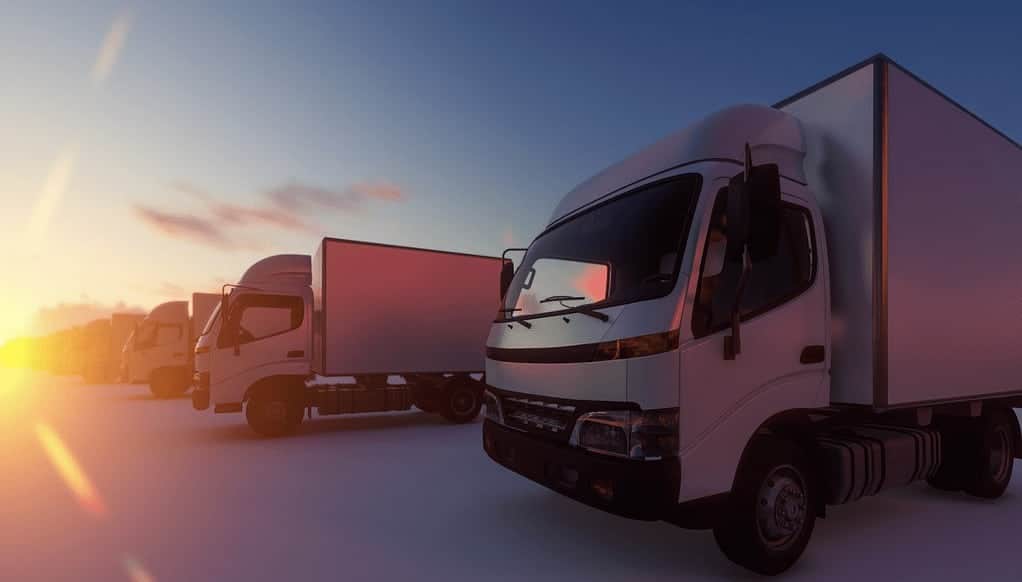 How to Write a Box Truck Business Plan?
Box Truck Business Plan is an outline of your overall box truck business. The box truck business plan should include a 5 year financial projection, marketing plan, industry analysis, organizational overview, operational overview and finally an executive summary. Remember to write your executive summary at the end as it is considered as a snapshot of the overall business plan. You need to be careful while writing the box truck business plan as you need to consider various factors that can impact the business's success. Read the sample box truck business plan in order to have a clear understanding of the process.
Table of Contents
Executive Summary
Even though this is the beginning your box truck business plan but it should be written at the very end. Read the entire business plan, make notes of important points and then summarize the important points in the executive summary. Here is a sample executive summary for your understanding:
Box Fleet Transport was founded by Mr. Adam Smith and our primary services includes local delivery services, long-distance freight transport, expedited shipping and temperature-controlled transport. Our USPs include advanced tracking technology, customized fleet options and dynamic route optimization
Mission: Our mission includes providing transportation services that are timely, secure and reasonably priced. We aim to develop meaningful connections with our customer and contributing back to the communities we serve.
Vision: Our vision is to be recognized as the leading supplier of logistics services and to expand and become an industry leader. We aim to go beyond the borders of Michigan leading the way toward a more ecologically conscious and efficient logistics industry.
Industry Overview:
The box truck market is projected to grow from its 2023 value of USD 11.70 billion to USD 17.34 billion by 2030 value at a CAGR of 5.03%. Box trucks may range in size from modest to large and have an enclosed cargo area. Common names for these vehicles include "cube vans" and "straight trucks." The cargo areas of box trucks are often rectangular or box-shaped therefore the name. These versatile vehicles are widely used across a wide range of sectors to transport anything from raw materials to finished goods. Box Trucks come in a wide range of styles, capacities and configurations that fulfill everyone's requirements. A box truck may come in many sizes from tiny ones with a carrying capacity of roughly 10,000 pounds (4,536 kilograms) to bigger ones with a carrying capacity of 30,000 pounds (13,607 kilograms) or more.
Financial Overview: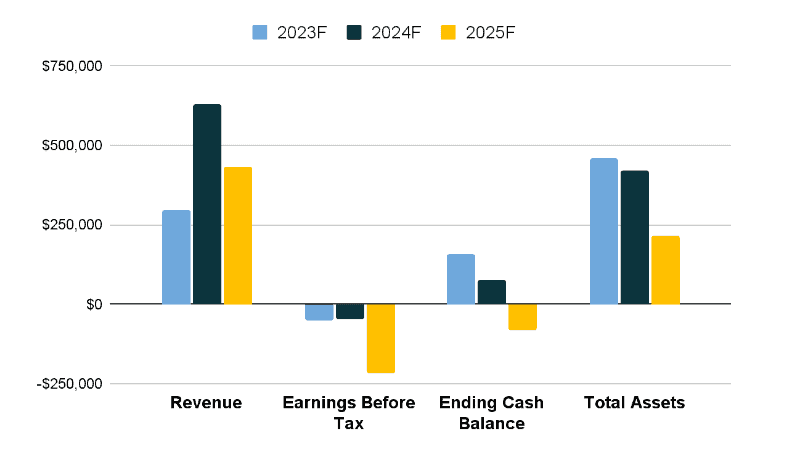 Business Description
Business Name:
Founder: Jacob Harris
Management Team:


Legal Structure: LLC
Location:
Mission: "Our mission is to provide reliable and efficient transportation services to businesses and individuals in our community. We strive to be the go-to choice for all of our clients' shipping and logistics needs."
Vision: "We envision a future in which we are recognized for our outstanding customer service, our modern and well-maintained fleet of vehicles, and our commitment to sustainability and innovation."
Goals:
✔️ To increase customer satisfaction by consistently delivering timely pickups & deliveries and by providing top-quality customer service.
✔️ To expand our fleet of vehicles to meet the growing demand for our services.
✔️ To reduce our environmental impact by increasing fuel efficiency and implementing eco-friendly practices.
✔️To diversify our services and offerings to better meet the needs of our clients.
Products:
[Mention your services in bullet points]
Financial Overview
Fund Usage Plan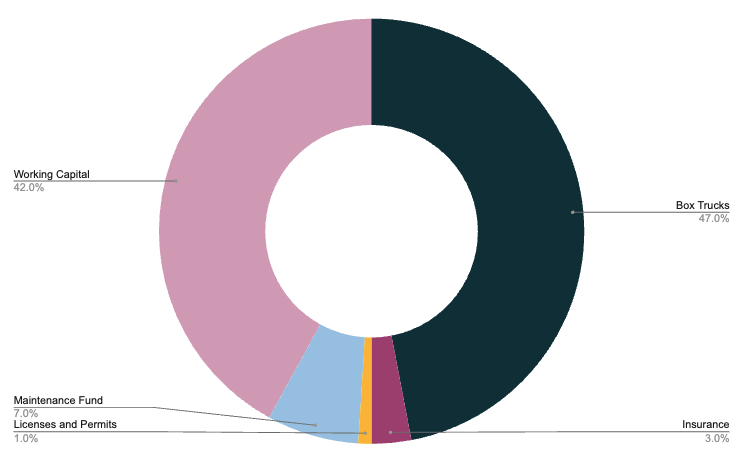 Key Metrics:


Business Model Canvas
The Business Model Canvas is a summarized and visual representation of your overall box truck business model. It plays a very important role in the overall box truck business plan to explain how you plan to make money, who are the key stake holders, what are the most important activities, what is the profile of your primary target market, etc. In addition, the business model canvas allow businesses to envision and evaluate their strategy. You may have to update the Canvas depending on changes in internal strategy or in case you need to adjust to macroeconomic changes.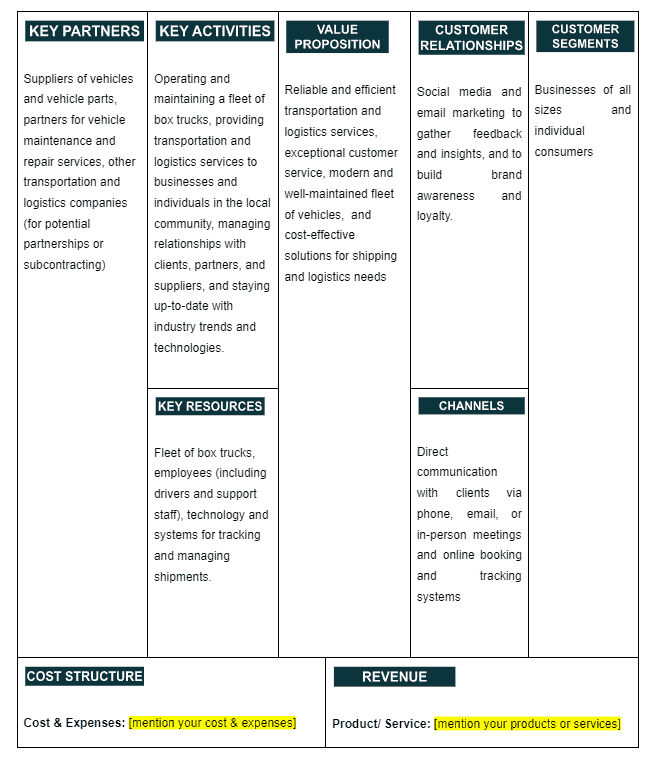 SWOT
Your box truck business plan should include a thorough SWOT analysis. It's a method for figuring out how to deal with obstacles and finding the best paths to follow. "SWOT" stands for strengths, weaknesses, opportunities and threats. Before deciding on a course of action whether it be exploring new projects, overhauling internal policies, assessing possibilities to pivot or making adjustments to a plan halfway through implementation a thorough SWOT analysis should be conducted.
Here is a sample SWOT analysis for your box truck business plan: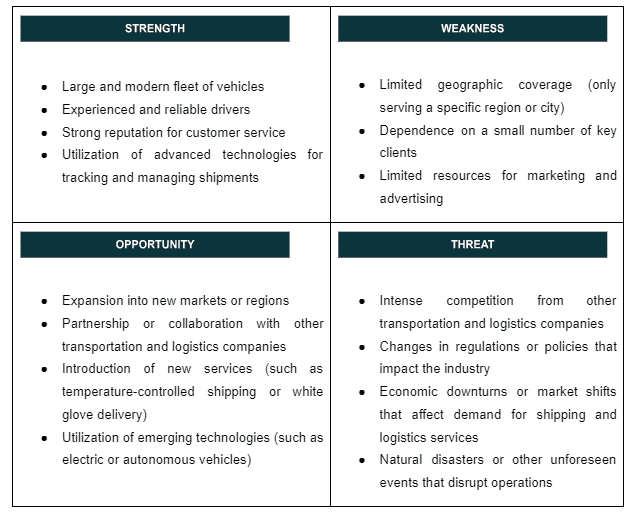 Organizational Overview
Information related to your company's structure and management team should be summarized in the Organozational Overview section of the box truck business plan. It's especially important to include this section if you have a partnership or a multi-member limited liability corporation (LLC). You should explain about the functions of key roles in your box truck business. In addition, explain how the founder along with top management team's past experiences and credentials can create a successful box truck business
Founder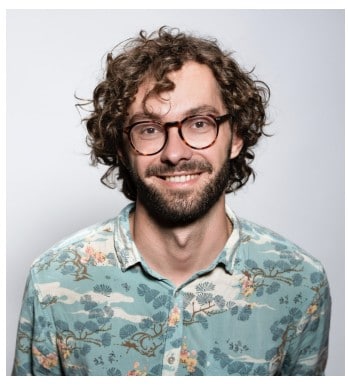 Adam Smith is the founder of Box Fleet Transport and is a role model for efficiency and creativity in the box truck transportation industry. Adam has used his vast expertise in supply chain and logistics in order to make the business successful. Box Fleet Transport was his brainchild when he noticed the need for reliable and affordable transportation alternative.
Box Fleet Transport is well recognized for its outstanding customer service and high rate of customer satisfaction. He has pioneered the use of innovative logistics technology inside the firm establishing Box Fleet Transport apart in a competitive market and creating new industry standards for quality and efficiency.
Adam's approach combines industry expertise with a passion for innovation and is dependent on his career in logistics and his roles across operational management and strategic planning. His leadership has set the firm on a course for rapid expansion and sustained success in the box truck logistics industry.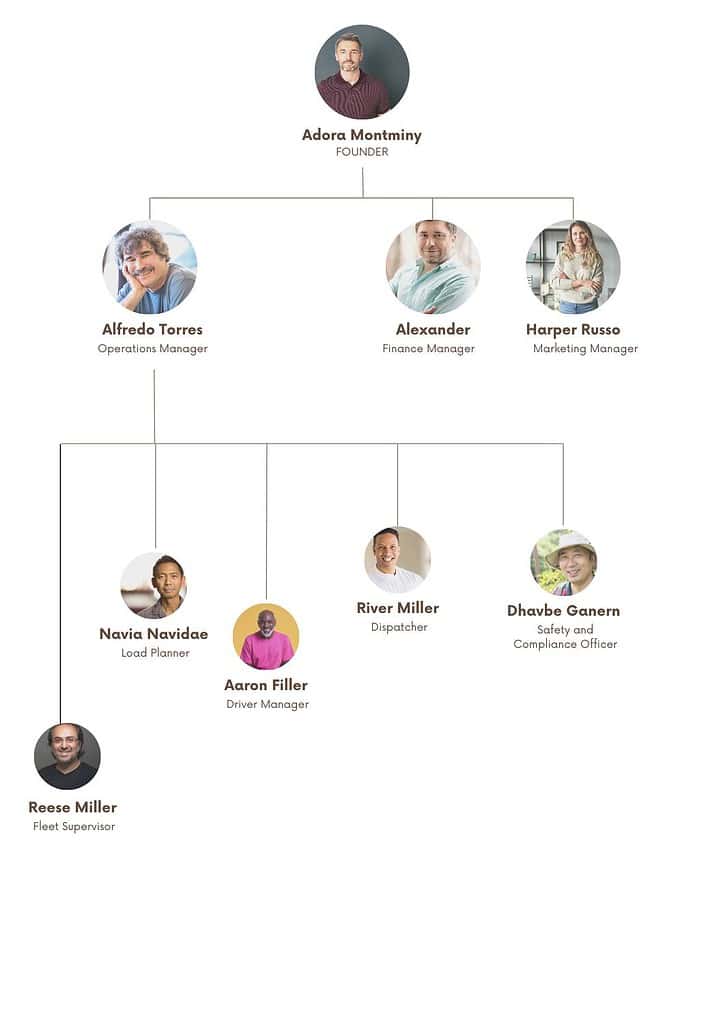 Industry Analysis
Industry Overview
The box trucking market size is values at around $12 billion in 2023 and is expected to increase to $17.4 billion by 2030. The demand for box trucks has skyrocketed in recent years for a number of reasons. Covered freight trucks of the light- to medium-duty kind are known as "box trucks." Cube vans and cube trucks are common names for these vehicles. Since they are used in so many different industries for shipping and transport and they play a crucial role in logistics. The rising need for trustworthy and effective modes of transportation is one of the primary forces propelling the box truck market. Alongside the rise of e-commerce and online shopping there has been a rise in the need for reliable last-mile delivery options. In urban areas where limited space for parking and maneuvering is a concern box trucks provide a versatile and convenient option for moving products.
As regulations become tougher and environmental concerns grow the need for Box Trucks that are more fuel efficient and produce less pollutants also grows. Strict limits on emissions and incentives for greener transportation solutions have been established by a wide variety of governments and organizations. As a consequence, manufacturers have begun allocating resources toward developing electric and hybrid box trucks which is creating fresh opportunities in the industry. Additionally, the market for Box Trucks has profited from the expansion of structured retail and distribution networks and urban infrastructure projects.
Target Market Segmentation
Geographic Segmentation
Urban centers, such as Detroit, Grand Rapids, and Lansing, should be the focus of delivery service provision to consumers and businesses that require consistent services.
Serve the suburbs encircling significant metropolitan areas, where a demand for both business-to-business and business-to-consumer deliveries may be observed.
Rural regions of Michigan, which may have distinct delivery requirements and less competition, should be taken into consideration for service provision.
Psychographic Segmentation
Efficiency-Seeking Businesses: Organizations that prioritize time and effectiveness while seeking dependable and prompt delivery services.
Cost-conscious customers encompass both corporate entities and individuals who place a high value on economical delivery alternatives.
The Environmentally Conscious Segment comprises clients who are interested in delivery solutions that are favorable to the environment and may potentially invest in sustainable practices.
Demographic Segmentation
Small to Medium-Sized Enterprises Local enterprises necessitating smaller, more frequent deliveries.
Prominent corporations receive larger contracts that require bulk and consistent deliveries.

Age Group: The relevance of targeting age-specific demographics may vary depending on the products being conveyed. For instance, aimed at younger consumers with technological devices, or established households with home appliances.
Behavioral Segmentation
Ratio of Usage: Distinguishing between consumers who require delivery services frequently (e.g., daily, weekly) and those who do so infrequently.
Maintaining a Loyalty Status by concentrating on establishing enduring connections with loyal consumers.
Specific Service Requirements: Certain customers may have a preference for expedited shipping, whereas others may place a higher value on cost rather than speed.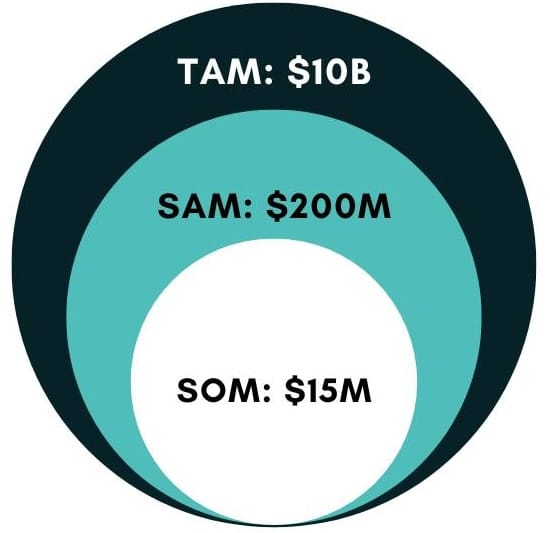 TAM – Total Addressable Market
Total demand for a product or service on the market is its definition. If a product or service were to attain a 100% market share, it represents the utmost potential revenue.
Regarding Your Company: Provide an estimation of the delivery and logistics services' overall demand in Michigan or the region of interest. This refers to every prospective client who may require the services of a box vehicle, irrespective of their current utilization status.
SAM – Serviceable Available Market
The portion of the TAM that a company is able to effectively cater to. With your current business model and geographic reach, you can potentially access this segment of the market.
Regarding Your Company: Determine the segment of the TAM that can be realistically targeted by your box vehicle business. This may apply to particular geographic regions within Michigan, specific categories of products (such as non-perishable goods), or specific delivery types (such as B2B or B2C).
SOM – Serviceable Obtainable Market
The segment of the SAM that is capable of being captured. Taking competition and other constraints into account, this is the realistic market share that your company can anticipate attaining.
Regarding Your Company: Determine the practical share of the market that your SAM can attain in the short to medium term. Regarding pricing, service quality, competition, resources, and marketing strategy, this would vary.
How Your Box Truck Business Can Determine TAM, SAM, and SOM.
Competitive Landscape Analysis
Since Ctrone Xpress Transport has a lower overhead than its rivals in the sector, we have honed our strategies for setting competitive prices. We'll use pricing as a competitive advantage to attract clients; our costs will be reasonable and non-negotiable. We will have several pricing ranges for various customer categories since our firm is accessible to people and organizations. As the company expands, we'll keep reviewing our price structure to serve multiple customers.
Following are some of the major competitors:
Penske Truck Leasing Co., L.P.
A public firm with its corporate headquarters in Pennsylvania and around 64,000 workers is estimated to be Penske Truck Leasing Co., L.P. The firm is a market leader in at least one industry in the US: truck rental, where they generate an estimated 14.7% of total industry revenue. They are regarded as an All-Star because they outperform their competitors regarding market share, profitability, and revenue growth.
Ryder System, Inc.
Ryder System, Inc has a corporate headquarters in Florida and an estimated 42,800 workers. At least two sectors in the US where the corporation has a significant market share are supply chain management services and truck rental. Its highest market share is in the Supply Chain Management Services industry. They represent over 24.3% of total industry revenue. They are estimated as an All-Star because of their outperformer status in market share, profit, and revenue growth compared to their competitors.
Amerco
Amerco is a publicly traded business with its headquarters in Nevada and an estimated 29,800 workers. The firm is a market leader in at least one industry in the US: truck rental, where they generate an estimated 10.5% of total industry revenue. They are regarded as an All-Star since they outperform their competitors regarding market share, profitability, and revenue growth.
Marketing Plan
The marketing plan of your box truck business plan has five main sections. These sections are marketing budget, marketing channels, GTM or Go To Market Strategy and brand management. The marketing budget will explain how much you plan to spend on promotions and what will be the proportion of spending across the channels. The marketing channels section will talk about how you plan to use each of the promotional channels. The GTM strategy can be considered as the short term version of promotional channels section where you explain how you plan to penetrate the market using the channels at the beginning. Finally, brand management is the longer term version of the promotional channels section where you explain how you plan to enhance brand awareness, recognition and brand recalls amongst your target market.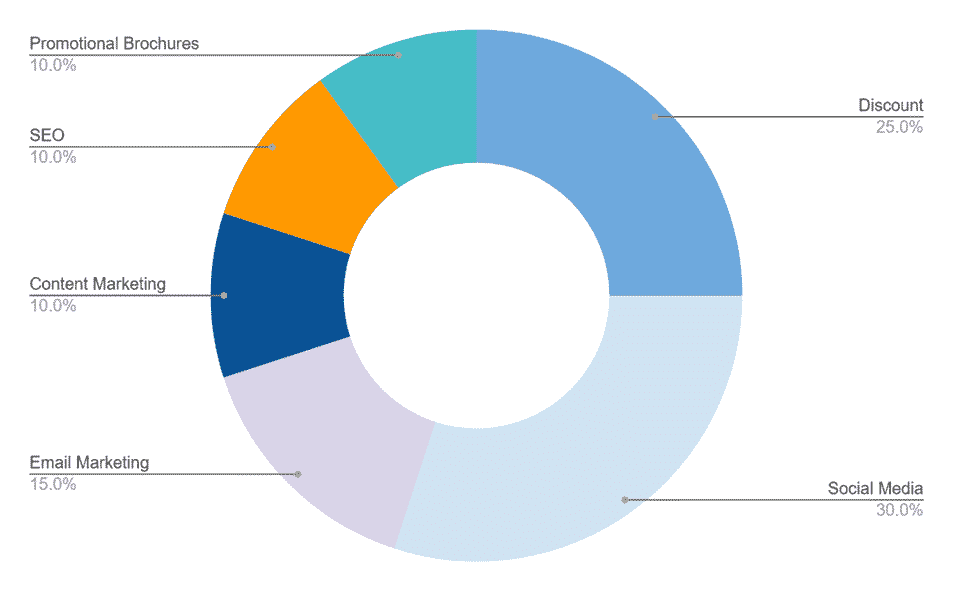 Content Marketing: Create a blog on your website on what you has to offer to prospective customers.
Discounts: Provide multiple rewards or incentives to frequent customers, you'll be more likely to attract them. Create a member referral scheme, for example, where members get a discount if they successfully recommend someone.
Social Media: Engage and promote on Twitter, publish news on Facebook, and utilize Instagram to promote curated photos of your business.
SEO (Search Engine Optimization) Local SEO makes it easier for local consumers to find out what you have to offer and creates trust with potential members seeking for what your business has to offer.

Email Marketing: send automated in-product and website communications to reach out to consumers at the right time. Remember that if your client or target views your email to be really important, they are more likely to forward it or share it with others, so be sure to include social media share.
Financials
A financial plan of a box truck business plan provides a comprehensive projection of a company's financial health and its anticipated monetary performance over a specified period. This section encompasses a range of financial statements and projections such as profit and loss statements, balance sheets, cash flow statements and capital expenditure budgets. It outlines the business's funding requirements, sources of finance and return on investment predictions. The financial plan gives stakeholders particularly potential investors and lenders a clear understanding of the company's current financial position. A financial plan helps businesses demonstrate their financial prudence, sustainability, and growth potential.
Earnings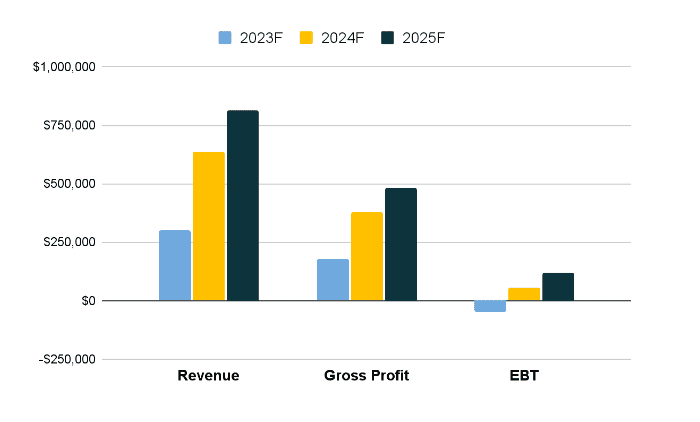 Liquidity