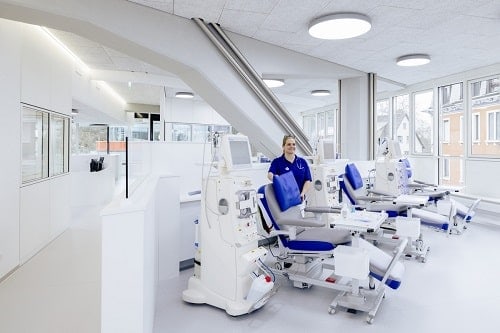 Dialysis Center Business Plan is an outline of your overall Dialysis Center business. The business plan includes a 5 year projection, marketing plan, industry analysis, organizational overview, operational overview and finally the executive summary. Remember to write your executive summary at the end as it is considered as a snapshot of the overall business plan. The creation of a Dialysis Center business plan requires careful consideration of various factors that might impact the business's success. Ultimately, a Dialysis Center business plan serves as a roadmap to guide the company's direction.
Table of Contents
Executive Summary
Overview: At Fresenius Kidney Care, we're passionate about helping people with chronic kidney disease (CKD) and end-stage renal disease (ESRD) live fuller, more active, and vibrant lives. Fresenius Kidney Care, a division of Fresenius Medical Care North America (FMCNA), is a world leader in renal disease treatment and a pioneer in kidney disease research. Our dialysis care staff is dedicated to assisting patients in thriving on dialysis and living longer, healthier lives. Over 190,000 patients are served at over 2,400 sites throughout the country.
Mission: "As the most trusted healthcare partner, we will give an unrivaled experience."
Vision: "We aspire to inspire optimism and contribute to health and well-being by providing the best care to every patient via integrated clinical practice, education, and research."
Financial Overview: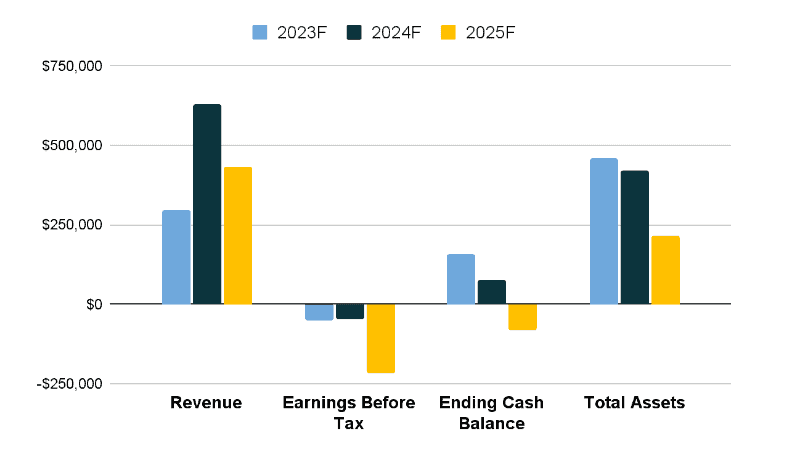 Industry Overview:
Until 2027, the in-center dialysis sector is expected to grow at a CAGR of roughly 6%. In-center patients have the opportunity to rest, read, and mingle with other patients and staff, which promotes treatment effectiveness and overall wellness. Furthermore, the rising popularity of in-center dialysis treatment is attributable to the availability of trained kidney care healthcare experts providing the finest care possible, which will propel the sector forward even further.
Business Description
Business Name:
Founder: Jacob Harris
Management Team:


Legal Structure: LLC
Location:
Mission: "Our mission at [Dialysis Center] is to provide the highest quality dialysis services to people with kidney diseases in a safe and caring environment, while promoting equity, inclusion, and dignity for all patients."
Vision: "Our vision at [Dialysis Center] is to be the premier dialysis center in our community, providing the highest quality care and support to our patients and their families, while also being a leader in innovation and advancing the field of dialysis treatment."
Goals:
✅Provide excellent medical care to patients with kidney failure.
✅Improve patient outcomes by reducing complications and improving survival rates.
✅Enhance patient experience by creating a positive and comfortable environment for patients, where they feel supported and cared for during their treatment.
Products:
✅[Mention your services in bullet points]
Download Free Dialysis Center Business Plan Template
Write a plan in just 2 days!
Financial Overview
Fund Usage Plan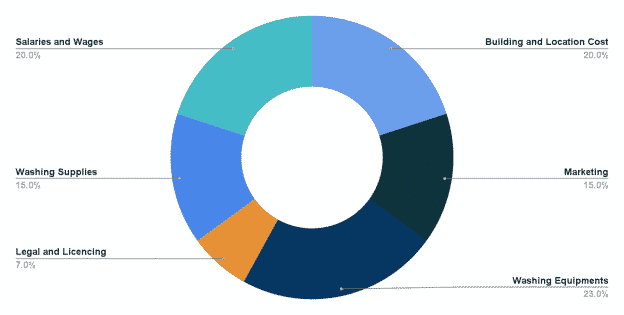 Key Metrics:


Business Model Canvas
The Canvas summarizes the business model of the entire Dialysis center business plan. It comprises nine key components – customer segments and value propositions to revenue streams and cost structures. The canvas provides a clear and concise way to map out, analyze, and communicate the intricacies of a business idea. It offers a holistic view of how a business creates, delivers, and captures value. It also aids entrepreneurs in refining concepts, fostering innovation, and making informed strategic choices. It serves as a versatile tool for brainstorming, planning, and presenting business models to stakeholders.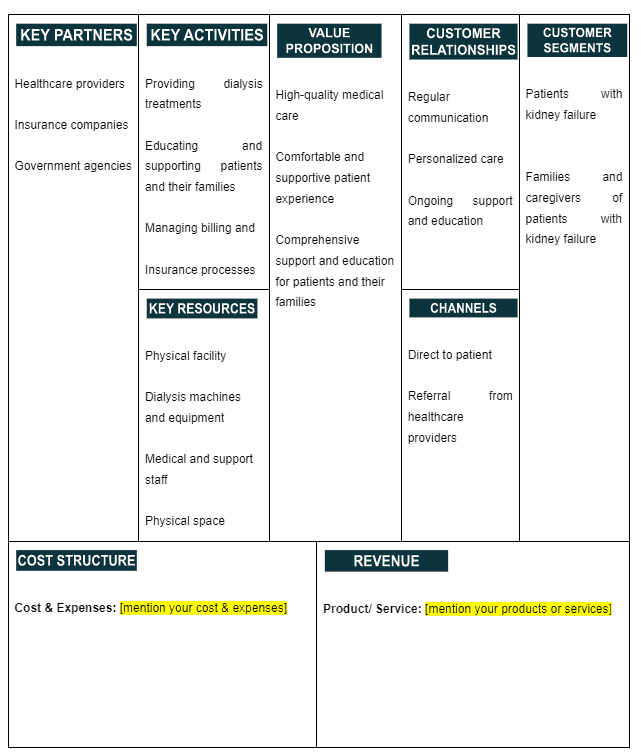 SWOT
A SWOT analysis is integral to the Dialysis Center business plan. it offers a clear lens into a company's strengths, weaknesses, opportunities, and threats. This self-awareness enables effective resource allocation and strategic positioning against competitors. Businesses can mitigate risks, make informed decisions, and set realistic goals. In addition, presenting a SWOT analysis in a business plan communicates to stakeholders that the company possesses a deep understanding of its market environment. In essence, SWOT ensures a business's strategy is grounded in reality enhancing its chances of success.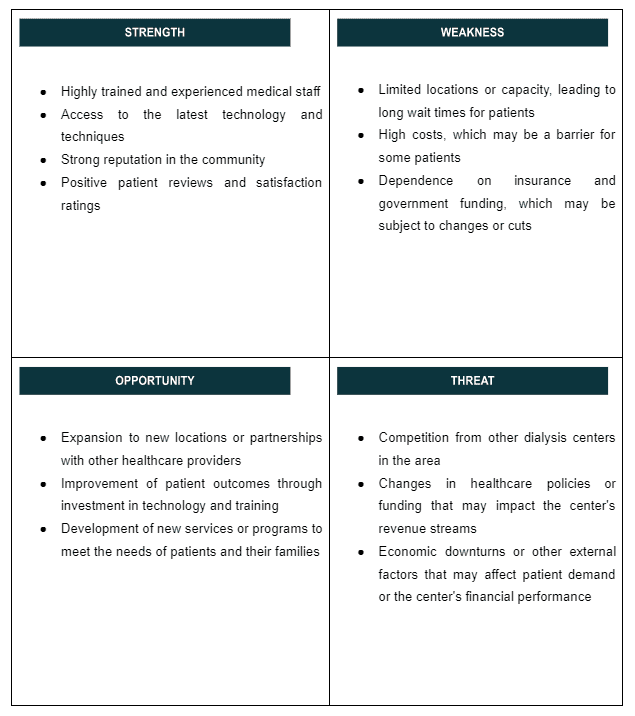 Organizational Overview
Organizational overview in a Dialysis Center business plan provides a snapshot of how a company is structured and operates. It outlines the ownership structure, roles, responsibilities of key management personnel, and the reporting hierarchy within the organization. This section offers stakeholders, investors and other readers a clear understanding of the company's leadership and its chain of command. Additionally, it may give insight into the company's culture, values and operational philosophy.
Founder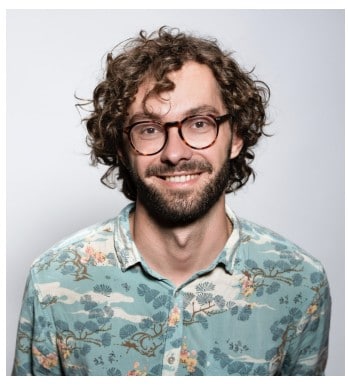 My name is Jacob Harris, and I run an entrepreneurial business that operates dialysis centers. Seeing the toll that renal illness takes on people and the emotional toll it takes on their families motivated me to do all I could to improve the quality of life for those affected. In my opinion, everyone has the right to have access to compassionate and encouraging dialysis treatment of the highest possible standard, regardless of their financial situation. Because of my conviction in this idea, I decided to start the process of building my own kidney dialysis facility.
I have a comprehensive knowledge of the difficulties that are experienced by patients who are undergoing dialysis, and as a result, I have established a facility that places a premium on the patient's level of comfort, utilizes the most recent technological advances, and takes a multidisciplinary approach to the provision of medical treatment. I am committed to provide a complete variety of services, which includes state-of-the-art dialysis treatments, patient education, and continuous support. The objective of my center is to provide an atmosphere in which patients feel that they are valued, empowered, and cared for, and this is at the core of everything we do.
Those who are afflicted with renal disease will benefit from the continual enhancement of the quality of life that I, as the proprietor of a dialysis clinic, am devoted to providing. I collaborate closely with a group of caring medical experts who are highly competent in order to provide individualized treatment programs that take into account the specific requirements and obstacles presented by each individual patient. I am a firm believer in the need of cultivating a sense of community among patients and creating a setting in which they may interact with one another, discuss their experiences, and draw inspiration from one another as they work toward improved health.
Organogram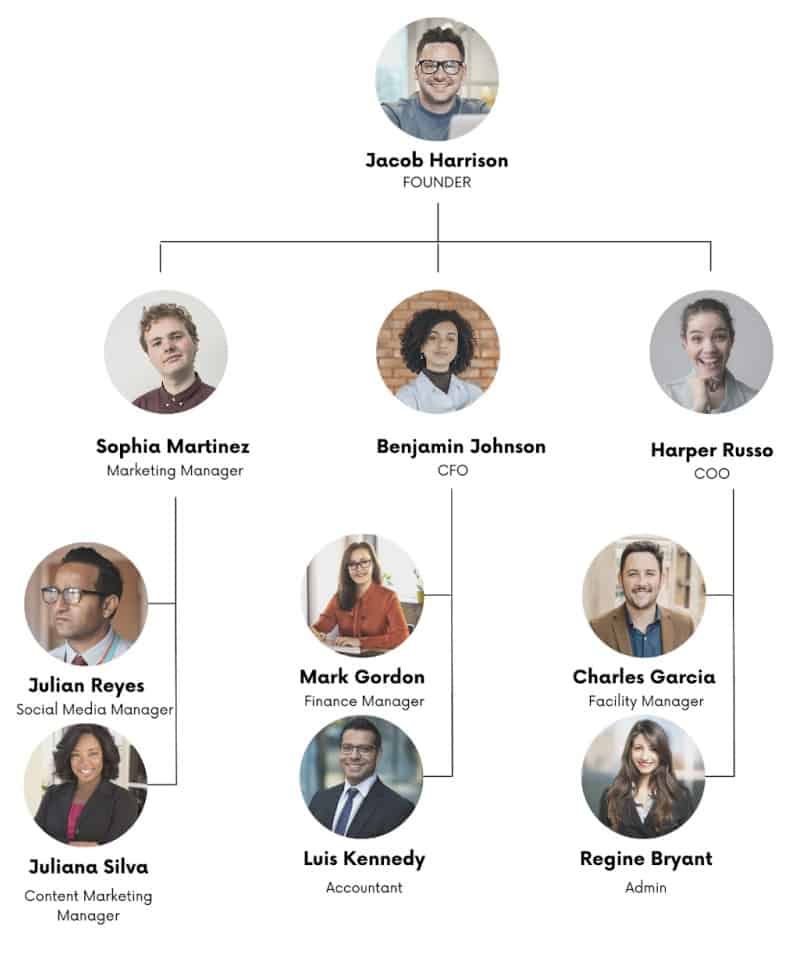 Industry Analysis
Overview
Type, product & service, end-user, and region are the four segments that make up the dialysis market. The two forms of dialysis that are available are hemodialysis and peritoneal dialysis. The three forms of hemodialysis are conventional hemodialysis, short daily hemodialysis, and night hemodialysis. Peritoneal dialysis is divided into two types: continuous ambulatory peritoneal dialysis (CAPD) and automated peritoneal dialysis (APD) (APD). On the basis of Product & Service, it is divided into equipment, consumables, pharmaceuticals, and services. Subcategories exist for dialysis machines, water treatment systems, and other kinds of equipment. Consumables include dialysis machines, catheters, and transfer sets. In-center dialysis and home dialysis are the two categories depending on the end-users. North America, Europe, Asia-Pacific, Latin America, and the Caribbean (LAMEA) are the four regions.
Type Segment Review
Hemodialysis is the most significant contributor to the dialysis market's growth due to the market's maturity, and it is the preferred way of therapy among healthcare professionals and patients with ESRD. There are two forms of hemodialysis: conventional and daily (short daily and nocturnal hemodialysis). Although hemodialysis is preferred by the majority of patients, peritoneal dialysis is expected to grow at the quickest rate throughout the projection period owing to the efficient removal of hazardous substances and a rise in dialysis patients' demand for homecare.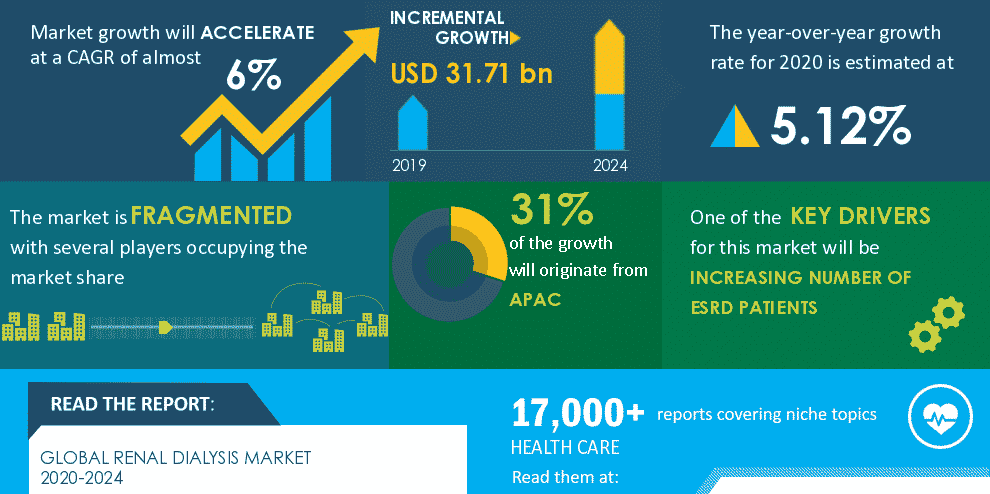 Marketing Plan
A marketing plan of a Dialysis Center business plan outlines the company's strategy to promote its products or services to its target audience. It includes specific tactics and channels the business will use to reach potential customers. This section defines the company's unique value proposition, identifies the target market segments, and discusses the competitive landscape. It also includes insight into budget allocation, projected outcomes and key performance indicators to measure success. Marketing plan helps businesses demonstrate their understanding of the market dynamics, their positioning within the industry and their approach to driving customer engagement and sales.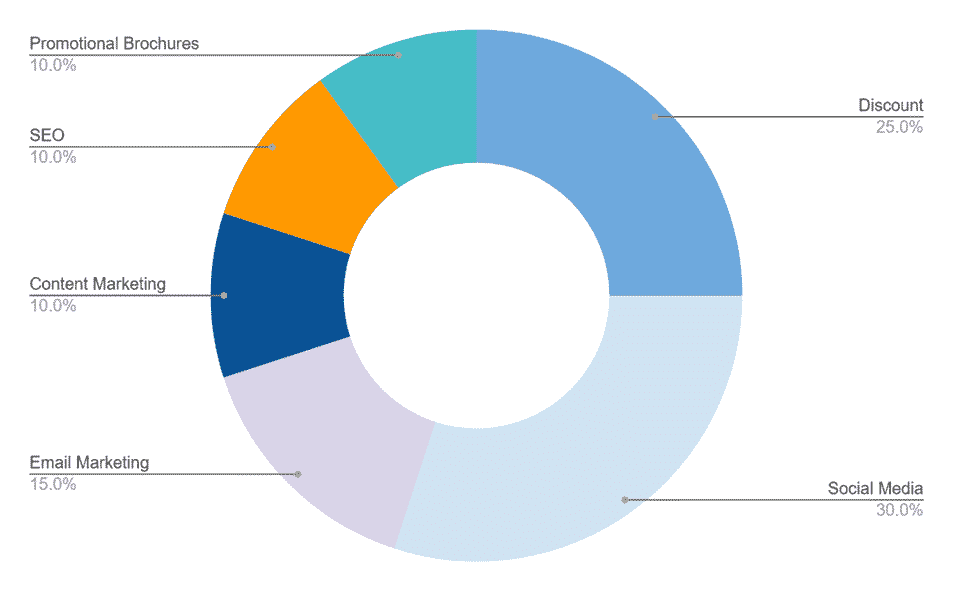 Content Marketing: Create a blog on your Blackbird Acupuncture website on what you has to offer to prospective customers.
Discounts: Provide multiple rewards or incentives to Blackbird Acupuncture's frequent customers, you'll be more likely to attract them. Create a member referral scheme, for example, where members get a discount if they successfully recommend someone.
Social Media: Engage and promote Blackbird Acupuncture on Twitter, publish news on Facebook, and utilize Instagram to promote curated photos of your clinic.
SEO (Search Engine Optimization) Local SEO makes it easier for local consumers to find out what you have to offer and creates trust with potential members seeking for what your clinic has to offer.

Email Marketing: Blackbird Acupuncture will be sending automated in-product and website communications to reach out to consumers at the right time. Remember that if your client or target views your email to be really important, they are more likely to forward it or share it with others, so be sure to include social media share.
Financials
A financial plan of a Dialysis Center business plan provides a comprehensive projection of a company's financial health and its anticipated monetary performance over a specified period. This section encompasses a range of financial statements and projections such as profit and loss statements, balance sheets, cash flow statements and capital expenditure budgets. It outlines the business's funding requirements, sources of finance and return on investment predictions. The financial plan gives stakeholders particularly potential investors and lenders a clear understanding of the company's current financial position. A financial plan helps businesses demonstrate their financial prudence, sustainability, and growth potential.
Earnings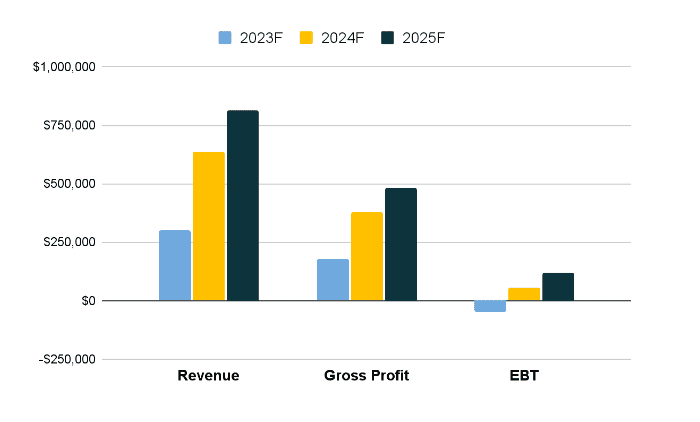 Liquidity