Executive Summary
Overview: Clean attire is required by everybody. Every house does not have access to a washing machine and dryer. Universal Laundromat will provide full-service laundry, drying, and optional folding using high-quality materials to ensure that clothing is thoroughly cleaned and domestic retail products to meet the need for neighborhood convenience. It will differentiate itself from its competition by offering professional, polite, quick, and practical services.
Mission: "To provide great quality and service to our customers by delivering best-in-class laundry room operations."
Vision: "We want to provide our customers with dryer cleaning and laundry services that are speedier, more efficient, and less expensive."
Industry Overview:
Laundromats and dry cleaners are firms that provide a range of laundry services. Drop-off and pick-up locations, as well as specialty cleaning services for certain apparel items and textiles, such as curtains, gowns, or furs, may be offered by laundromats and dry-cleaning firms. Customers may utilize coin-operated self-service washers and dryers in laundromats. Laundry machines that accept coins are common in dorms and apartment buildings. Although the most popular services offered by this industry are retail laundry and dry cleaning, some companies also offer other services, including clothes mending and shoe repair, off-site laundry and dry cleaning services for group housing buildings.
Financial Overview: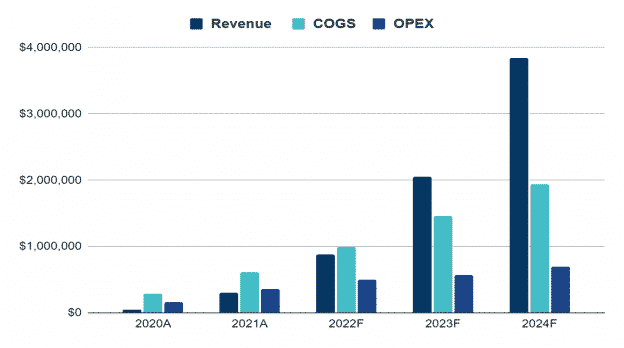 Laundromat Business Plan
Premium Template
Business Plan Template & Financial Model
Write your own business plan in a day! This also includes a premium WordPress theme worth $300! This will help you build your own website.
Financial Highlights:
| | | | | | |
| --- | --- | --- | --- | --- | --- |
| Liquidity | 2020A | 2021A | 2022F | 2023F | 2024F |
| Current ratio | 6 | 12 | 23 | 32 | 42 |
| Quick ratio | 6 | 11 | 22 | 31 | 40 |
| DSO | 8 | 8 | 8 | 8 | 8 |
| Solvency | | | | | |
| Interest coverage ratio | | | 8.2 | 11.1 | 14.2 |
| Debt to asset ratio | 0.01 | 0.01 | 0.2 | 0.18 | 0.16 |
| Profitability | | | | | |
| Gross profit margin | 51% | 51% | 53% | 53% | 53% |
| EBITDA margin | 12% | 14% | 21% | 22% | 22% |
| Return on asset | 5% | 6% | 13% | 14% | 14% |
| Return on equity | 5% | 6% | 16% | 17% | 17% |
Fund Usage: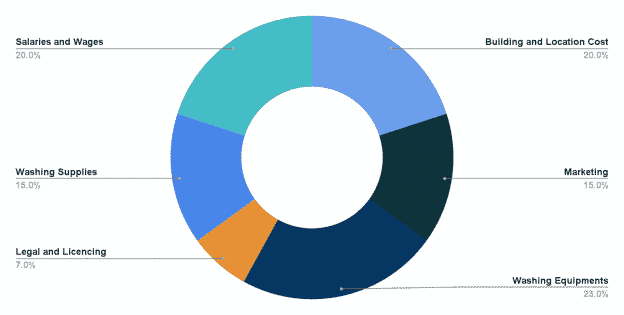 Free Business Plan Template
Get basic guidance
Get a Free Template on Email
Get a basic level of guidance for writing your own business plan.
Industry Analysis:
Overview: From 2020 to 2027, the worldwide dry-cleaning and laundry services market is predicted to increase at a compound annual growth rate (CAGR) of 3.4 percent. The industry is being driven by customers' increasing usage of dry-cleaning and laundry services, which provide convenience at a fair cost. Increased consumer expenditure on these services is expected to drive market expansion throughout the projected period. Everyone likes to dress in clean and tidy clothing but washing laundry on a regular basis is a chore for the majority of customers. Several people are actively seeking dry-cleaning and laundry services to take care of their filthy garments because of their hectic lives.
Dry-cleaning and laundry services are establishing themselves as dependable and convenient services at a fair price. During the forecast period, the demand for such services is likely to be fueled by a growing worldwide working population, as well as increased expenditure on clothing and cleaning services. In the past several years, laundry has seen a significant shift, from people washing their clothing at home to using coin-operated washing machines to using on-demand services such as pick-up and drop-off. Consumers are valuing convenience, choosing dry-cleaning and laundry services to smoothen their everyday lives because of their hectic lifestyles.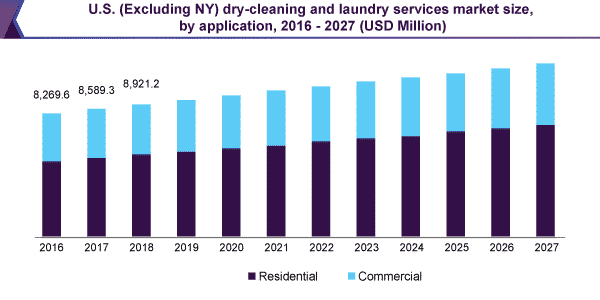 Market Segmentation:
Application: The dry-cleaning and laundry services industry is divided into residential and commercial segments based on their application. In 2019, the residential application category had a significant market share. It is expected to continue in the projection period. During the projection period, the residential sector is predicted to rise due to an increase in the number of homes with working members across the world, as well as an increase in expenditure on clothing and their cleaning. Furthermore, rising consumer preference for professional cleaning services due to personal hygiene and cleanliness is expected to drive residential sector development.
Service: Laundry, dry cleaning, and duvet cleaning are the three types of services available. In 2019, the laundry category took over half of the market share. Customers' increased preference for casual clothes and greater washing frequency will outperform laundry services from other categories. Growing consumer awareness of the need for good personal cleanliness is encouraging people to wash their daily clothing on a regular basis. In the projection period, these variables will most likely fuel demand for washing services.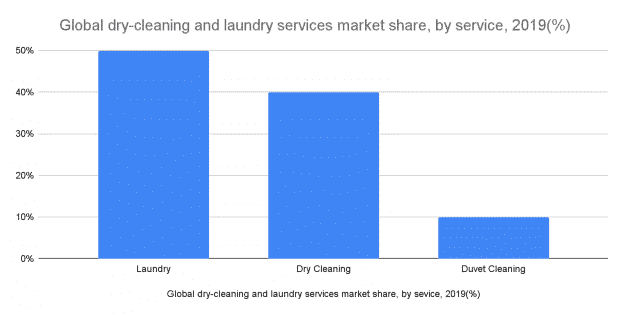 The dry-cleaning industry is predicted to develop significantly in the future years, owing to an increase in professional employees who often wear business attire, like suits and jackets, which cannot be washed with ordinary techniques and must be dry-cleaned with extreme care.
Demand is likely to be driven by the fact that dry cleaning is frequently utilized for other specialty garments, like bridal dresses, throughout the forecast period. The hotel sector and hospitals throughout the world are continuing to expand, necessitating effective laundry and duvet cleaning services, which is projected to boost the market.