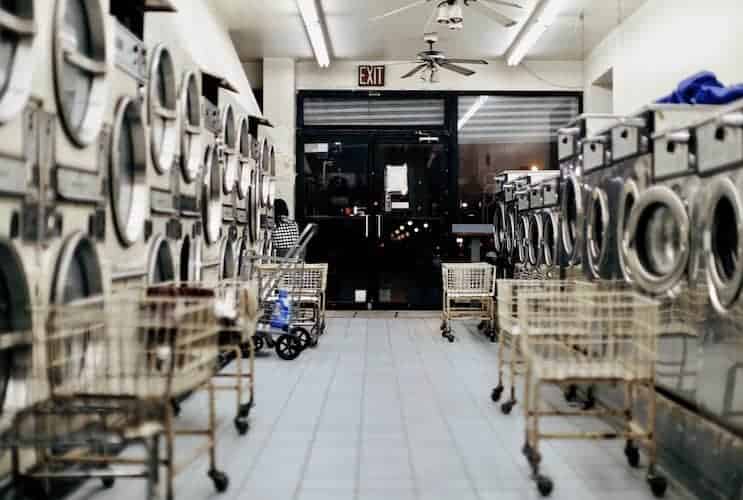 Laundromat Business Plan is an outline of your overall Laundromat Business Plan business. The business plan includes a 5 year projection, marketing plan, industry analysis, organizational overview, operational overview and finally the executive summary. Remember to write your executive summary at the end as it is considered as a snapshot of the overall business plan. The creation of a Laundromat business plan requires careful consideration of various factors that might impact the business's success. Ultimately, a sample business plan serves as a roadmap to guide the company's direction.

Table of Contents
Executive Summary
Overview: Clean attire is required by everybody. Every house does not have access to a washing machine and dryer. Universal Laundromat will provide full-service laundry, drying, and optional folding using high-quality materials to ensure that clothing is thoroughly cleaned and domestic retail products to meet the need for neighborhood convenience. It will differentiate itself from its competition by offering professional, polite, quick, and practical services.
Mission: "To provide great quality and service to our customers by delivering best-in-class laundry room operations."
Vision: "We want to provide our customers with dryer cleaning and laundry services that are speedier, more efficient, and less expensive."
Financial Overview: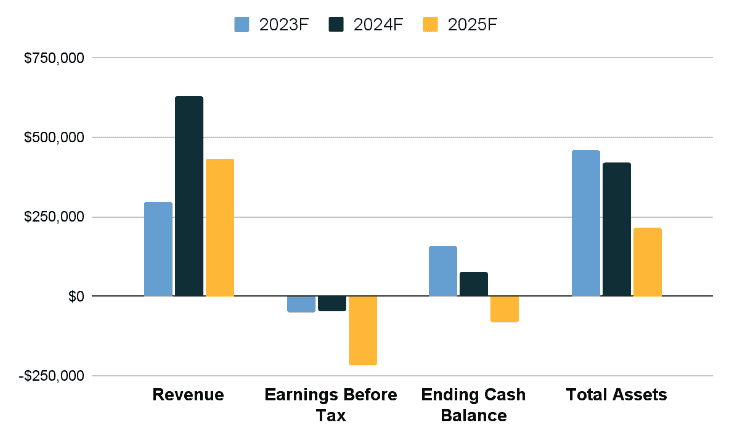 Industry Overview:
By 2027, the market for coin-operated laundries will be worth USD 30.1 billion and is projected to expand at a 9.4% compound annual growth rate (CAGR). People, particularly those in the working class, see laundry to be a time-consuming chore and a hardship. People can't wash their laundry because of time restrictions brought on by the increased workload and hours worked. Over the last several years, there has been a considerable rise in the working class population, which has fueled demand for coin-operated laundries owing to their convenience. Globally, more and more women are entering the workforce, which is a major driver of the industry.
Business Description
Business Name: Universal Laundromat
Founder: Jacob Harris
Management Team:


Legal Structure: LLC
Location:
Mission: "Our mission at [Name of Business] is to provide our customers with a convenient and efficient way to take care of their laundry needs. We are committed to delivering an exceptional customer experience through the use of state-of-the-art equipment, impeccable cleanliness, and excellent customer service."
Vision: "At [Name of Business], our vision is to revolutionize the laundromat industry by providing an unparalleled customer experience through state-of-the-art equipment, impeccable cleanliness, and exceptional customer service."
Goals:
✅ To consistently provide an exceptional customer experience through the use of state-of-the-art equipment, impeccable cleanliness, and excellent customer service.
✅To attract and retain a diverse customer base, including both individual and commercial clients.
✅To establish ourselves as the premier laundromat destination in our community through word-of-mouth referrals and positive online reviews.
Products:
✅Self-Service Washers and Dryers
✅ Vending Machines
✅ Additional Services
Financial Overview
Fund Usage Plan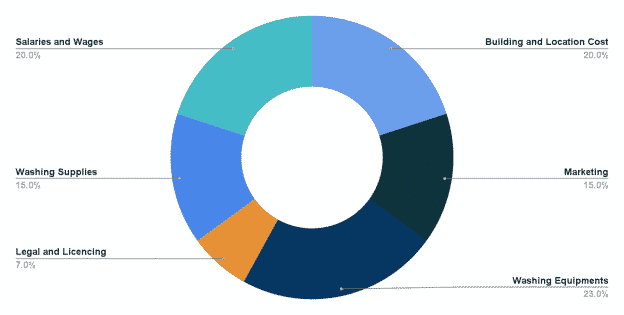 Key Metrics:


Business Model Canvas
The Canvas summarizes the business model of the entire laundromat business plan. It comprises nine key components – customer segments and value propositions to revenue streams and cost structures. The canvas provides a clear and concise way to map out, analyze, and communicate the intricacies of a business idea. It offers a holistic view of how a business creates, delivers, and captures value. It also aids entrepreneurs in refining concepts, fostering innovation, and making informed strategic choices. It serves as a versatile tool for brainstorming, planning, and presenting business models to stakeholders.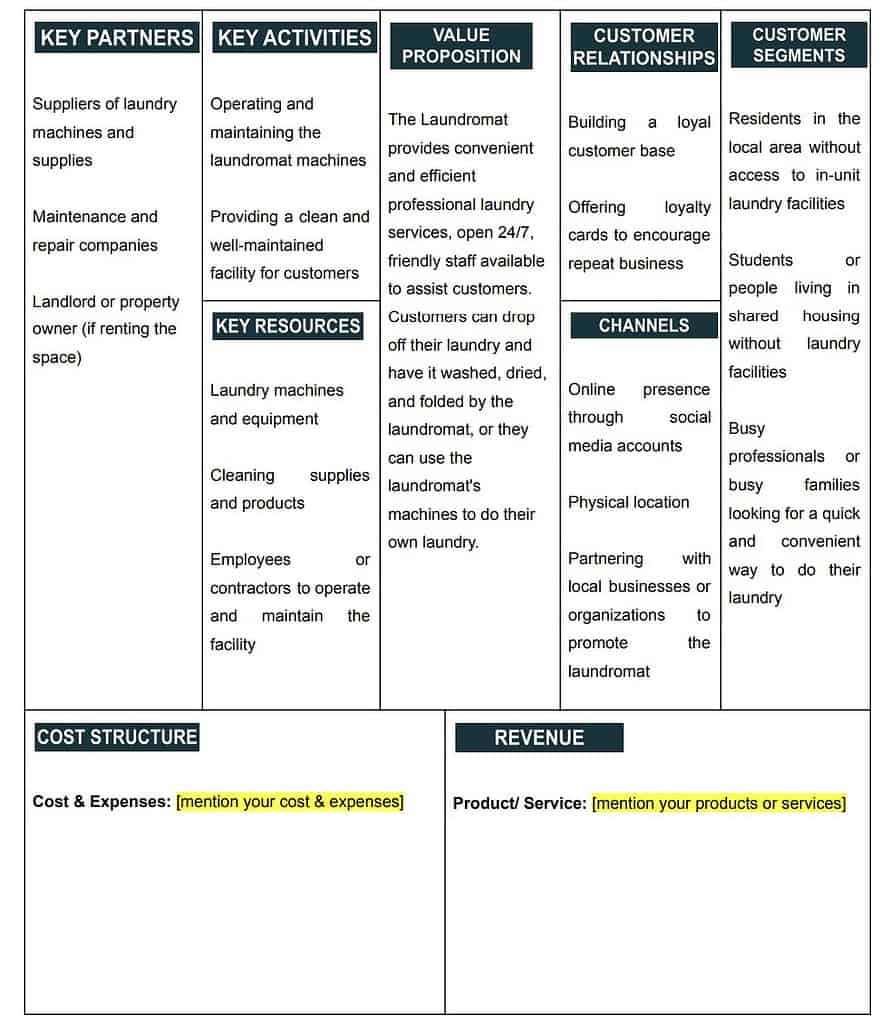 SWOT
A SWOT analysis is integral to the laundromat business plan. it offers a clear lens into a company's strengths, weaknesses, opportunities, and threats. This self-awareness enables effective resource allocation and strategic positioning against competitors. Businesses can mitigate risks, make informed decisions, and set realistic goals. In addition, presenting a SWOT analysis in a business plan communicates to stakeholders that the company possesses a deep understanding of its market environment. In essence, SWOT ensures a business's strategy is grounded in reality enhancing its chances of success.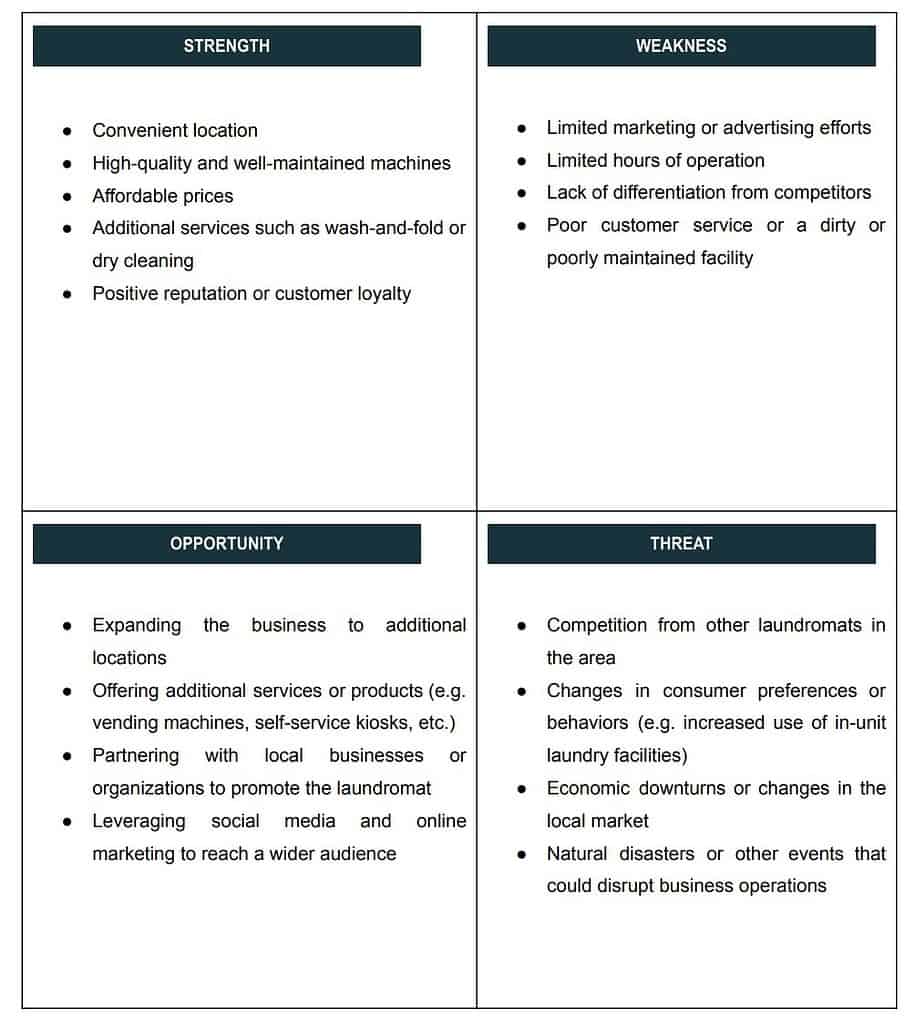 Organizational Overview
Organizational overview in a laundromat business plan provides a snapshot of how a company is structured and operates. It outlines the ownership structure, roles, responsibilities of key management personnel, and the reporting hierarchy within the organization. This section offers stakeholders, investors and other readers a clear understanding of the company's leadership and its chain of command. Additionally, it may give insight into the company's culture, values and operational philosophy.
Founder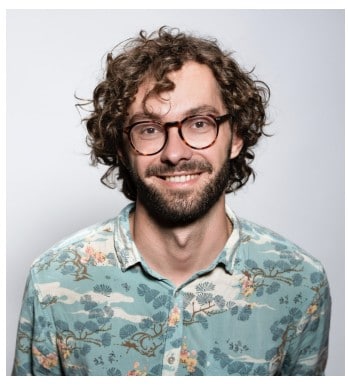 My name is Jacob Harris, and I own a chain of coin-operated laundromats in the area. My life has always placed a high value on tidiness and convenience, and I saw a need in my neighborhood for a laundromat that was up to date and focused on serving the needs of its customers. I started the process of opening my own laundromat because I had a strong desire to be able to provide customers laundry services of the highest possible standard.
My dedication to provide consumers with an exceptional experience inspired me to found a laundromat that goes above and beyond the expectations of our clientele. I am aware that doing laundry may be a tedious task, which is why I made sure to design the area so that it is spotless, inviting, and fitted with cutting-edge washing machines as well as other conveniences. My mission is to ensure that everyone who comes to our facility has a pleasant and stress-free experience doing their laundry, whether they pick for a self-service option or one of our premium services, by making the whole process as efficient as possible.
As a laundry entrepreneur, I value client happiness and convenience. I am a firm believer in meeting the varied requirements of our clients via the provision of a variety of services, such as drop-off and pickup alternatives, industrial laundry solutions, and environmentally conscious choices. When guests are utilizing our facilities, our helpful team is always ready to assist them and make sure they have a pleasant experience while they are here.
Organogram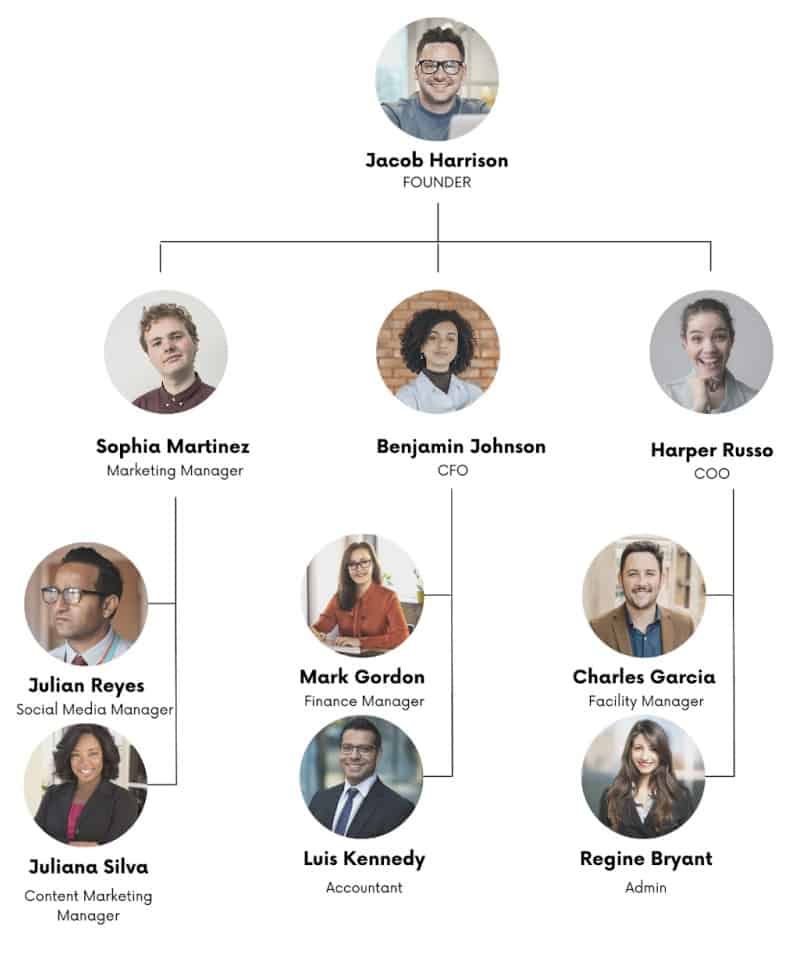 Industry Analysis
Overview: From 2020 to 2027, the worldwide dry-cleaning and laundry services market is predicted to increase at a compound annual growth rate (CAGR) of 3.4 percent. The industry is being driven by customers' increasing usage of dry-cleaning and laundry services, which provide convenience at a fair cost. Increased consumer expenditure on these services is expected to drive market expansion throughout the projected period. Everyone likes to dress in clean and tidy clothing but washing laundry on a regular basis is a chore for the majority of customers. Several people are actively seeking dry-cleaning and laundry services to take care of their filthy garments because of their hectic lives.
Dry-cleaning and laundry services are establishing themselves as dependable and convenient services at a fair price. During the forecast period, the demand for such services is likely to be fueled by a growing worldwide working population, as well as increased expenditure on clothing and cleaning services. In the past several years, laundry has seen a significant shift, from people washing their clothing at home to using coin-operated washing machines to using on-demand services such as pick-up and drop-off. Consumers are valuing convenience, choosing dry-cleaning and laundry services to smoothen their everyday lives because of their hectic lifestyles.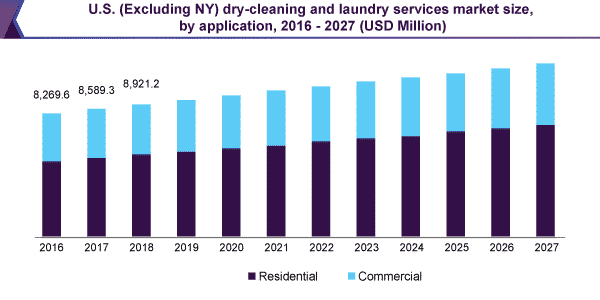 Market Segmentation
Application: The dry-cleaning and laundry services industry is divided into residential and commercial segments based on their application. In 2019, the residential application category had a significant market share. It is expected to continue in the projection period. During the projection period, the residential sector is predicted to rise due to an increase in the number of homes with working members across the world, as well as an increase in expenditure on clothing and their cleaning. Furthermore, rising consumer preference for professional cleaning services due to personal hygiene and cleanliness is expected to drive residential sector development.
Service: Laundry, dry cleaning, and duvet cleaning are the three types of services available. In 2019, the laundry category took over half of the market share. Customers' increased preference for casual clothes and greater washing frequency will outperform laundry services from other categories. Growing consumer awareness of the need for good personal cleanliness is encouraging people to wash their daily clothing on a regular basis. In the projection period, these variables will most likely fuel demand for washing services.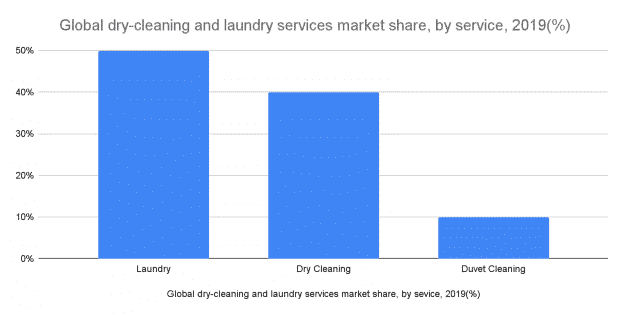 The dry-cleaning industry is predicted to develop significantly in the future years, owing to an increase in professional employees who often wear business attire, like suits and jackets, which cannot be washed with ordinary techniques and must be dry-cleaned with extreme care.
Demand is likely to be driven by the fact that dry cleaning is frequently utilized for other specialty garments, like bridal dresses, throughout the forecast period. The hotel sector and hospitals throughout the world are continuing to expand, necessitating effective laundry and duvet cleaning services, which is projected to boost the market.
Marketing Plan
A marketing plan of a laundromat business plan outlines the company's strategy to promote its products or services to its target audience. It includes specific tactics and channels the business will use to reach potential customers. This section defines the company's unique value proposition, identifies the target market segments, and discusses the competitive landscape. It also includes insight into budget allocation, projected outcomes and key performance indicators to measure success. Marketing plan helps businesses demonstrate their understanding of the market dynamics, their positioning within the industry and their approach to driving customer engagement and sales.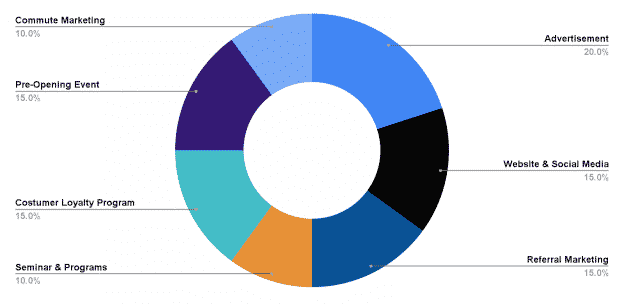 Website and Social Media: To market our brand, we use the internet and social media platforms like Instagram, Facebook, Twitter, YouTube, Google+, and others. Include Universal Laundromat in phone books and directories in your neighborhood. Create a company website and be active on key social media sites.
Seminar and Programs: Sponsor sports events and tournaments in town that are significant to you.
Referral Marketing: Encourage individuals to utilize referral marketing (word-of-mouth), and engage in direct marketing.
Advertisement: Advertise Universal Laundromat on local television, radio stations, and in local publications. Ensure that all of our employees are wearing our branded clothing and that all of our official cars and trucks are well-branded with our company emblem and other identifying information. Distribute our flyers and handbills at strategic locations. Advertise Universal Laundromat on local television, radio, and print stations.
Pre-Opening Events: To raise awareness, have a party to honor the Universal Laundromat launch.
Commute Advertising: By employing individuals to display signs alongside we will draw attention to Universal Laundromat. Install our billboards in high-traffic areas,
Customer Loyalty Program: To honor our loyal customers, we will develop customer incentive programs and promotions.
Financials
A financial plan of a laundromat business plan provides a comprehensive projection of a company's financial health and its anticipated monetary performance over a specified period. This section encompasses a range of financial statements and projections such as profit and loss statements, balance sheets, cash flow statements and capital expenditure budgets. It outlines the business's funding requirements, sources of finance and return on investment predictions. The financial plan gives stakeholders particularly potential investors and lenders a clear understanding of the company's current financial position. A financial plan helps businesses demonstrate their financial prudence, sustainability, and growth potential.
Earnings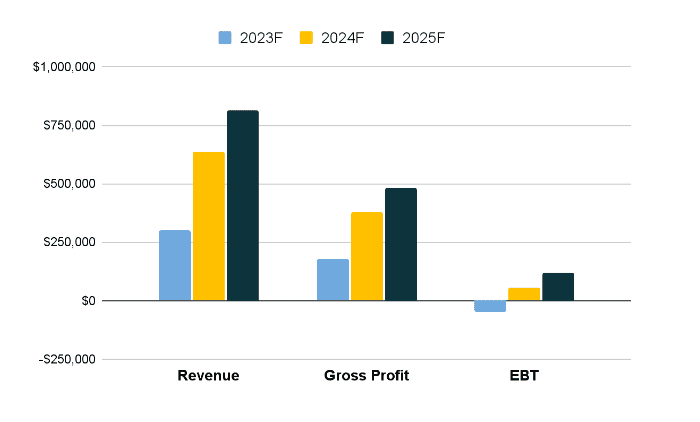 Liquidity