Last updated on December 6th, 2023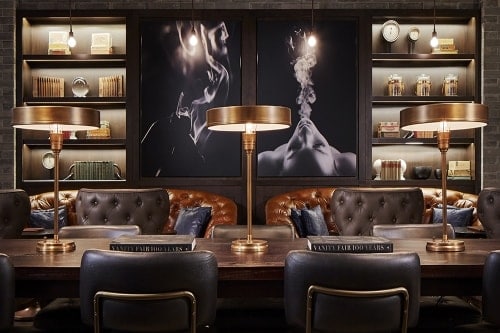 How to Write a Cigar Lounge Business Plan?
In order to write a Cigar Lounge Business Plan you need to start with executive summary. In order to write an executive summary for a Cigar Lounge Business Plan you need to mention- what your business is about and what you'll sell. Explain how you'll get people to buy it. The executive summary should be written at the end. Then you should write a Business Description mentioning goals, objectives, mission and vision. Some of the major sections or components of a Cigar Lounge Business Plan involves Fund Usage Plan, Marketing Plan, Industry Analysis, Organizational Overview, Operational Overview and Financials.
This article will provide you a step by step process to write your Business Plan. Get a free Cigar Lounge Business Plan at the end!
Executive Summary
Overview: Cigar aficionados may take pleasure in their hobby in a setting that is both refined and laid back thanks to the cigar lounge, which is a high-end business. The provision of a one-of-a-kind experience that blends opulence, convenience, and unrivaled attention to the needs of our clients is at the heart of our strategy for doing business. Our cigar lounge will provide a welcome area for all patrons to enjoy in the best tobacco products, catering to both seasoned aficionados and newbies to the world of cigars. We will cater to those who are already well-versed in the world of cigars as well as those who are just beginning their journey.
Mission: Our goal is to create a one-of-a-kind experience for cigar lounge patrons by bringing together seasoned smokers with those who are just starting out in the world of tobacco in an upscale yet inviting setting.
Vision: Our goal is to become the most popular location in the world for cigar aficionados, and we want to do this by maintaining a reputation for quality, refinement, and attentive, individualized service.
Industry Overview:
As of 2023, the global cigar market continues its upward trajectory, projected to surpass $21.41 billion by 2027, reflecting a sustained interest in cigar culture worldwide. This growth is largely attributed to the increasing number of cigar enthusiasts, with the United States seeing a significant rise in cigar smokers, expected to reach 13.9 million. The cigar lounge business capitalizes on this trend by offering unique social experiences, combining relaxation, socialization, and networking in exclusive settings. Many lounges have adopted a membership model, enhancing customer loyalty and fostering a sense of community. This model not only elevates the customer experience but also contributes to the steady growth and appeal of the cigar lounge industry in an era where experiential luxury and personalized services are highly valued.
Financial Overview: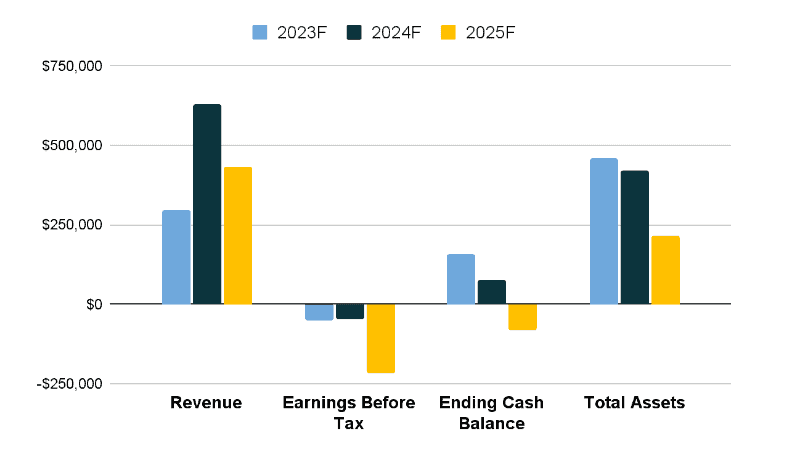 Business Description
Business Name:
Founder: Jacob Harris
Management Team:


Legal Structure: LLC
Location:
Mission: "Our mission at [Cigar Lounge] is to provide a comfortable and enjoyable atmosphere for individuals to relax and socialize while offering a wide selection of premium cigars and other tobacco products. We strive to educate and inform our customers about cigars and their appreciation, and to create a sense of community for cigar enthusiasts."
Vision: "At [Cigar Lounge], our vision is to be the premier destination for cigar enthusiasts and those seeking a comfortable and sophisticated atmosphere for relaxation and socialization."
Goals:
Achieve a reputation as a trusted and respected service provider
Increase retention rate to over 85% within the next year.
Continuously review and improve our business processes to increase customer satisfaction and retention.
Products:
[Mention your services in bullet points]
Download Free Cigar Lounge Business Plan Template
Write a plan in just 2 days!
Financial Overview
Fund Usage Plan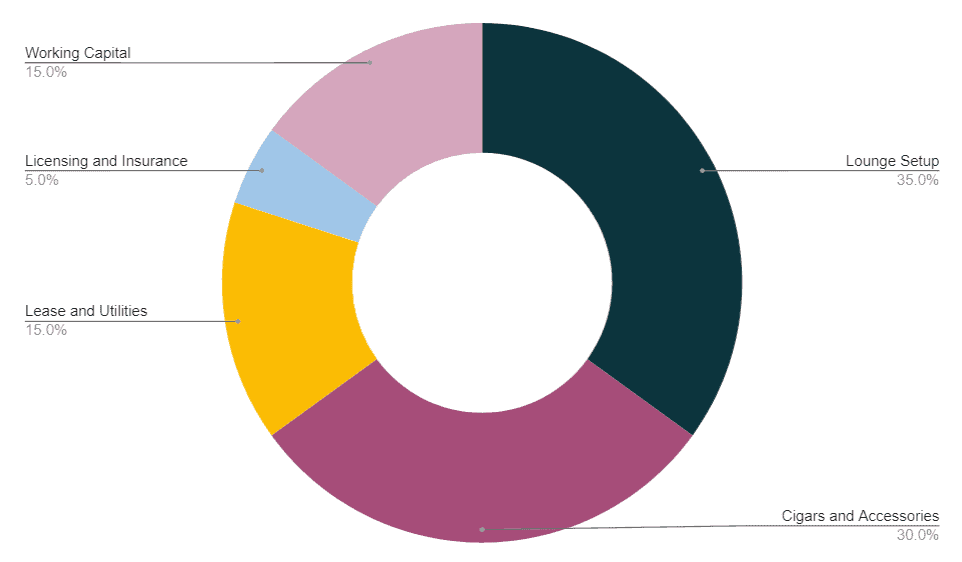 Key Metrics:


Business Model Canvas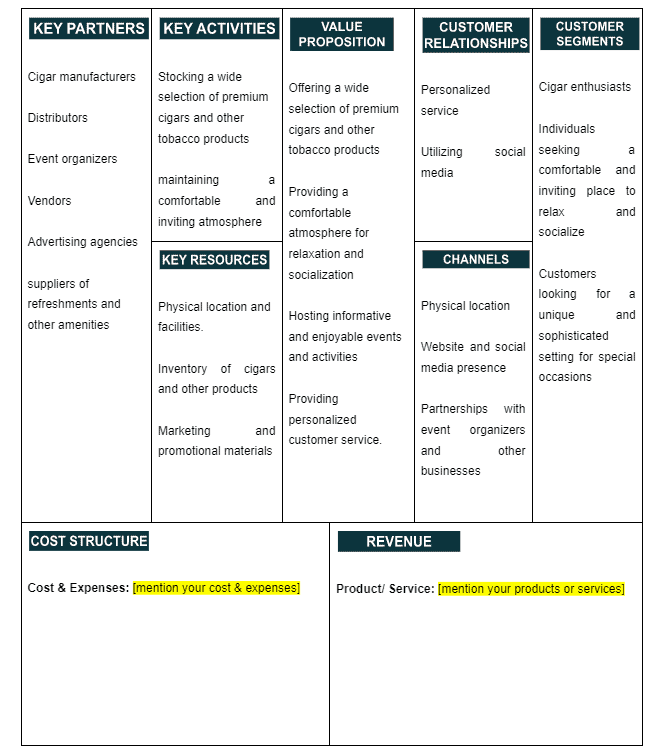 SWOT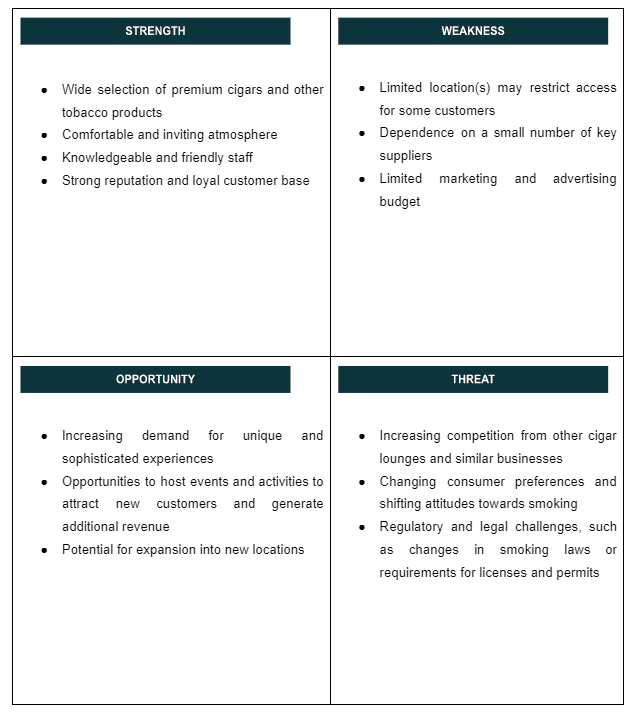 Organizational Overview
Founder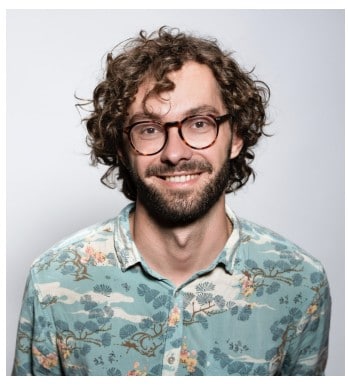 My name is Jacob Harris, and I own an enterprise that operates cigar lounges. The charm and refinement of the cigar industry have always interested me, which is what inspired me to develop a venue where other lovers may indulge in their enthusiasm for cigars. I have always had a profound respect for the skill and creativity that goes into making great cigars, so when I decided to open my own cigar lounge, I did so with that in mind.
To fulfill my dream of giving customers an unforgettable time, I painstakingly selected the best cigars from all over the globe and arranged them in a manner that makes it possible for each customer to pick the cigar that best suits their preferences. I am a firm believer in the effectiveness of cultivating an ambiance that is both warm and sophisticated, one in which cigar aficionados may congregate, relax, and form bonds over their mutual passion for the tobacco product. As soon as a client enters my lounge, I make it my mission to provide them with service that is second to none and to provide an atmosphere that fosters relaxation and togetherness.
As the proprietor of a cigar lounge, it is my mission to provide my regular customers with an experience that is consistently elevated beyond their expectations. My mission is to meet and exceed customer expectations while also fostering a feeling of community inside the lounge via activities such as arranging special events and tastings and providing customized suggestions. It is an honor for me to add a dash of class and refinement to the world of cigars, since I have a deep appreciation for the time-honored customs that are ingrained in the culture of cigars, as well as a firm dedication to achieving the highest possible level of performance.
Organogram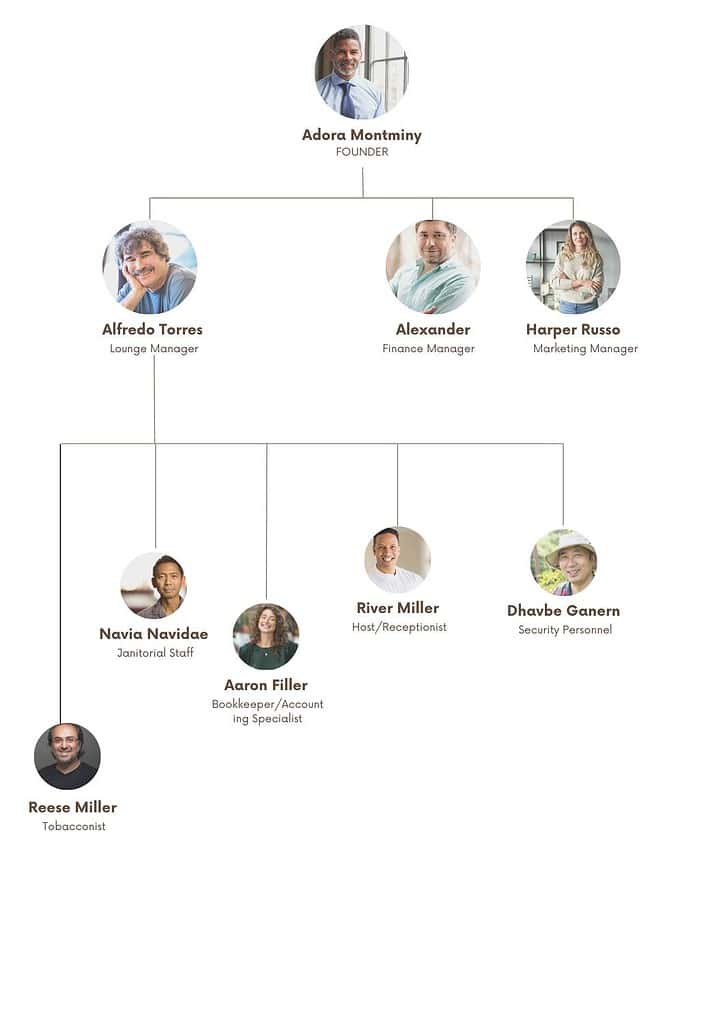 Industry Analysis
The cigar lounge industry is experiencing a period of significant growth and transformation, driven by evolving consumer preferences and market trends. As of 2023, the global cigar market is on a robust growth path, projected to exceed $21.41 billion by 2027. This growth is fueled by a growing number of cigar aficionados, with the United States alone expecting to see cigar smokers reach 13.9 million. The appeal of cigar lounges lies in their ability to offer a unique social experience, combining relaxation and networking in a sophisticated setting.
Cigar lounges have become increasingly popular as destinations for social gatherings, where enthusiasts can enjoy a variety of cigars in a comfortable and luxurious environment. Many lounges offer exclusive memberships, providing patrons with special benefits and access to rare cigar varieties, events, and private spaces. This membership model has proven successful in building a loyal customer base and fostering a sense of community among cigar enthusiasts.
In addition to traditional offerings, cigar lounges are also adapting to changing consumer preferences by incorporating a range of services and amenities. These include pairing sessions with spirits or gourmet foods, hosting cigar education and tasting events, and offering personalized recommendations from experienced staff. This shift towards a more comprehensive and experiential service model reflects the industry's response to a clientele that values not just the product, but the entire experience surrounding it.
The future outlook for the cigar lounge industry is promising, with continued growth expected as more consumers seek out premium and personalized experiences. This trend is bolstered by a growing interest in luxury and artisanal products, as well as a desire for spaces that offer a blend of relaxation, social interaction, and exclusivity. As the industry evolves, cigar lounges are poised to remain a vital part of the luxury leisure market, catering to both seasoned aficionados and newcomers alike.
Marketing Plan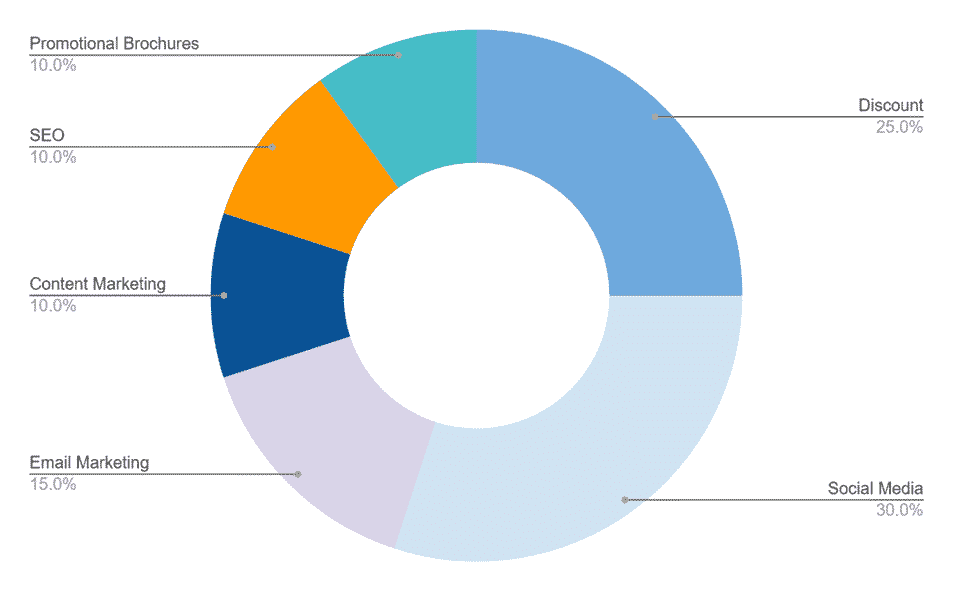 Content Marketing: Create a blog on your website on what you has to offer to prospective customers.
Discounts: Provide multiple rewards or incentives to frequent customers, you'll be more likely to attract them. Create a member referral scheme, for example, where members get a discount if they successfully recommend someone.
Social Media: Engage and promote on Twitter, publish news on Facebook, and utilize Instagram to promote curated photos of your business.
SEO (Search Engine Optimization) Local SEO makes it easier for local consumers to find out what you have to offer and creates trust with potential members seeking for what your clinic has to offer.

Email Marketing: send automated in-product and website communications to reach out to consumers at the right time. Remember that if your client or target views your email to be really important, they are more likely to forward it or share it with others, so be sure to include social media share.
Financials
Earnings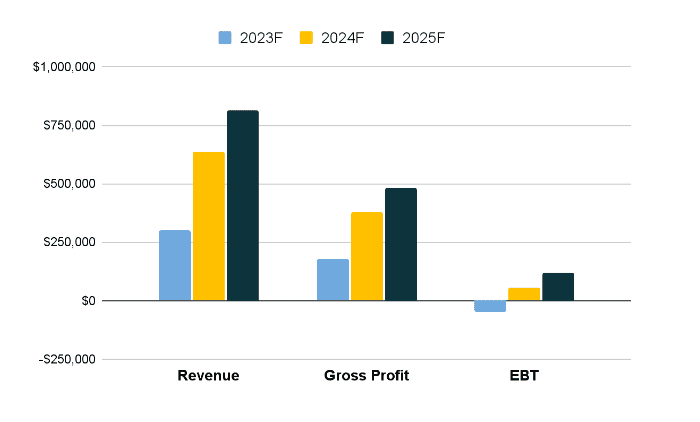 Liquidity