Last updated on November 5th, 2023
This industry analysis is on US Laundromat Industry. We have taken a deep dive into the industry and spent 367 Hours on this! You can expect answers to:
✅ What is is global laundromat market size?
✅ What is the US laundromat market size?
✅ What is the market growth rate?
✅ How well or badly are existing laundromats performing in USA?
and Many More!
Table of Contents
Laundromat Industry Analysis Summary
The following info are collected from US BLS:
✅ Number of laundromats: There are approximately 35,000 laundromats in the USA.
✅ Market size: The US laundromat industry has a market size of approximately $6.0 billion.
✅ Employment: The US laundromat industry employs approximately 150,000 people.
✅ Average revenue per laundromat: The average laundromat in the USA generates approximately $170,000 in revenue per year.
✅Average profit margin: The average profit margin for laundromats in the USA is approximately 15%.
✅ Customer demographics: The primary customers of laundromats are low-income renters and people living in apartments or other multi-family housing units.
✅ 60% of laundromat patrons are women.
✅87% of laundromat customers live within a mile of the facility.
✅ The median household income of laundromat customers is $28,000.
✅ 90% of laundromat patrons become repeat customers.
Market Size
Here is a state wise market size of Laundromats in USA: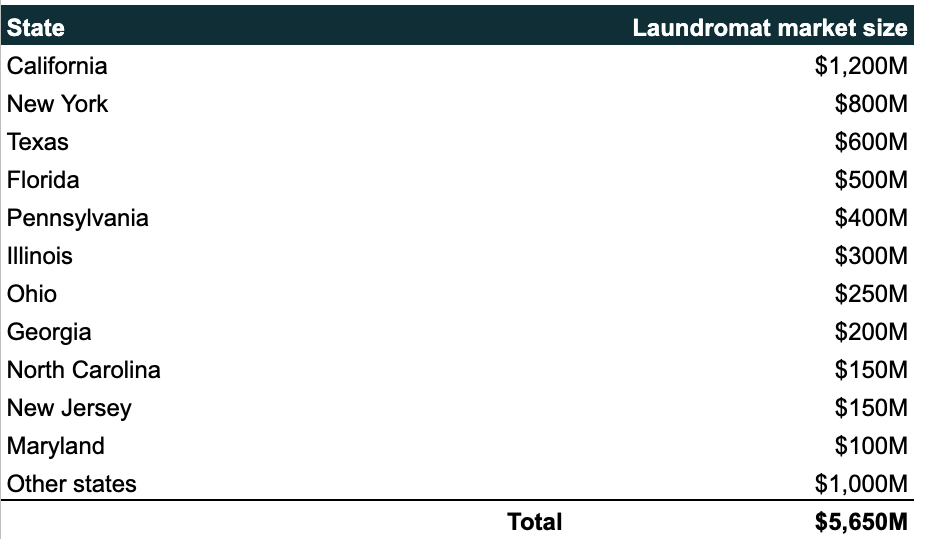 Major Market Players in USA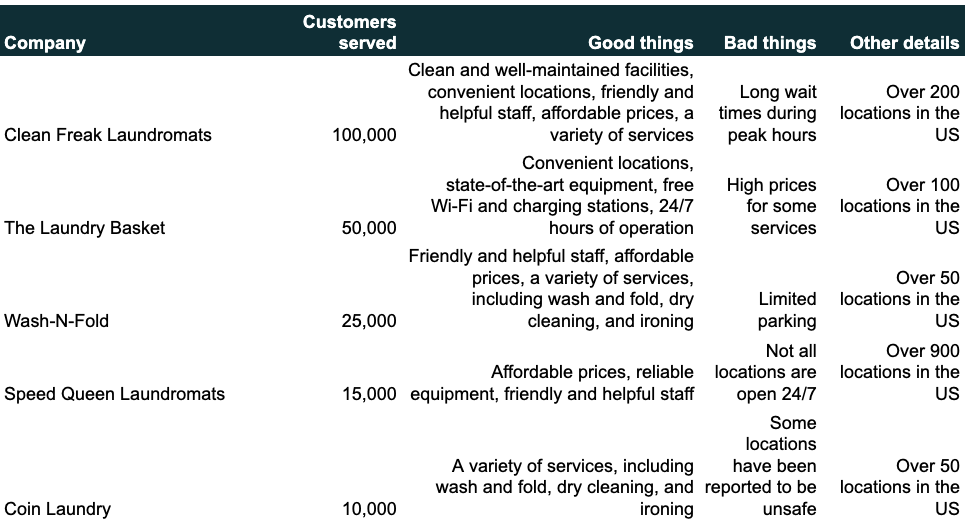 Regulatory Environment
Franchise Programs
Consumer Problems
✅ Machine Cleanliness and Maintenance: Consumers often encounter machines that are not adequately cleaned and maintained. Dirty machines can result in concerns about the cleanliness of their laundry and the overall environment.
✅ Machine Reliability: Frequent machine breakdowns and malfunctions can be a significant issue. Customers may experience delays or have to change machines, which can be frustrating.
✅ Security and Safety: Laundromat consumers may feel uneasy in poorly lit or unsecured facilities, particularly during evening or late-night visits. Ensuring customer safety is essential.
✅ Detergent and Change Availability: Some laundromats may run out of detergent or fabric softener in their vending machines. Additionally, change machines or change dispensers may be out of order, making it challenging for customers to pay for laundry.
✅ Payment Problems: Customers can face problems with payment options, including issues with coin-operated machines, card payment systems, or the unavailability of contactless payment methods.
✅ Lost or Stolen Items: It's not uncommon for customers to experience items going missing or being mistakenly taken by other customers, particularly socks and smaller garments.
✅ Noise and Disturbances: Disruptive behavior by other customers, including loud conversations, unruly children, or playing loud music, can create an unpleasant and noisy environment.
✅ Cleanliness of Facility: A dirty or unkempt laundromat facility can detract from the overall experience. Clean restrooms, common areas, and adequate trash disposal are expected by consumers.
✅ Parking Issues: Limited or inconvenient parking options can make it difficult for customers to access the laundromat. Adequate parking facilities are crucial.
✅ Inconsistent Water Temperatures: Issues with water temperatures in washing machines can affect the quality of laundry and lead to customer dissatisfaction.
✅ Accessibility: Laundromats should be accessible to all customers, including those with disabilities. Lack of accessibility features, like ramps or wide entrances, can be a problem.
✅Unreliable Wi-Fi or Entertainment: Many consumers look for laundromats with Wi-Fi access or entertainment options. Unreliable or slow Wi-Fi can lead to dissatisfaction.
Market Outlook and Future
✅ Technological Advancements: Laundromats in the US are increasingly adopting digital payment solutions, such as mobile apps and card readers, to enhance convenience and streamline the payment process. Additionally, the integration of Internet of Things (IoT) technology is allowing for remote monitoring and maintenance alerts, improving operational efficiency.
✅ Sustainability and Eco-Friendly Practices: With a growing emphasis on environmental sustainability, US laundromats are investing in energy-efficient machines, water-saving technologies, and environmentally friendly detergents. These initiatives align with the preferences of environmentally conscious consumers.
✅ Convenience and Added Services: To attract a diverse customer base, US laundromats are diversifying their service offerings. Many now provide wash-and-fold, dry-cleaning, and specialty cleaning services. Furthermore, they are enhancing the customer experience by offering amenities like Wi-Fi and vending machines.
✅ On-Demand and Mobile Laundry Services: The rise of on-demand laundry services and mobile apps that offer laundry pickup and delivery is changing the competitive landscape. US laundromats are adapting to this trend by improving their online presence and exploring partnerships with on-demand services.
✅ Franchising Opportunities: Established laundromat chains in the US are providing franchising opportunities for entrepreneurs looking to enter the industry. This allows newcomers to benefit from proven business models and established brand recognition.
✅ Improved Customer Experience: Customer experience is a top priority for US laundromats. They are investing in cleanliness, safety measures, and superior customer service to create a more inviting and customer-friendly environment.
✅ Automation and Efficiency: Automation, including remote monitoring and control of equipment, is becoming more prevalent in US laundromats. This automation not only improves operational efficiency but also enhances the overall customer experience by reducing downtime.
✅ Demographic Shifts: Changing demographics in the United States, such as an increasing number of urban dwellers and renters, are influencing the demand for laundromat services in densely populated areas. Understanding these demographic shifts is key to business success.
✅Economic Factors: The laundromat industry in the US is influenced by economic conditions. Economic growth and consumer spending can lead to increased demand for laundry services, while economic downturns may result in reduced spending on discretionary services like laundry.
✅ Market Disruptors: The industry must remain adaptable to market disruptors, which can include new technology, shifts in consumer behavior, or unforeseen external factors. Being prepared for sudden changes is a crucial consideration for US laundromat operators.
In summary, the future of the laundromat industry in the United States is characterized by a commitment to technology integration, sustainability, and customer-centric enhancements. Adapting to evolving consumer habits and staying ahead of industry trends will be essential for the continued growth and success of laundromat businesses in the US.
USA Laundromat Consumer Survey
In Conclusion- Laundromat Industry Analysis
If you are convinced that you should start a laundromat then I suggest that you analyze the profitability of the business. You can also check out- How to Start a Laundromat?