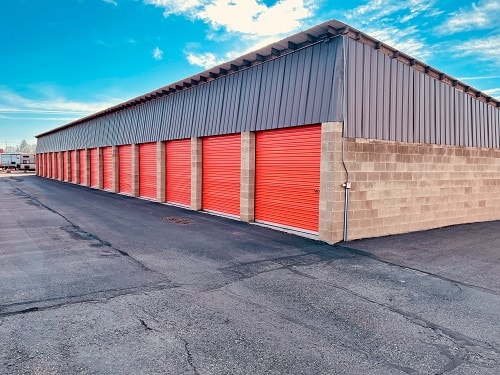 Self Storage Business Plan is an outline of your overall Self Storage business. The business plan includes a 5 year projection, marketing plan, industry analysis, organizational overview, operational overview and finally the executive summary. Remember to write your executive summary at the end as it is considered as a snapshot of the overall business plan. The creation of a Self Storage business plan requires careful consideration of various factors that might impact the business's success. Ultimately, a Self Storage business plan serves as a roadmap to guide the company's direction.
Executive Summary
We at Compact Self Storage provide a wide range of facilities and services to meet all of your storage requirements. Florida City is the entrance to the Florida Keys and is a great place to start various experiences. To assist you in entirely using your outdoor chances, we provide a variety of storage alternatives. Key Largo, Ocean Reef, and other nearby areas may use us as a handy storage alternative if they are in the Florida Keys region. There is no question that self-storage facilities are a considerable aid to both homes and enterprises, whether for commercial purposes or remodeling, moving out, storing a loved one's things, or other reasons.
Problem Summary: When you clean out your house, you'll discover many items you should discard and those you still want to retain. But once again, the issue is that you don't have enough storage capacity for all of them.
Solution Summary: For consumers who want to free up space while still keeping the items, they do not want to throw away, renting a self-storage facility seems like a decent idea. As additional storage space, storage containers prevent such clutter from accumulating in your house. We are responsible for keeping you and your possessions safe while on the site. Because you are family while you shop with us, you must protect your family from harm.
Industry Overview:
The global self-storage market had a value of USD 48.02 billion in 2020 and is projected to grow at a CAGR of 5.45% from 2021 to 2026 to reach USD 64.71 billion. Due to trends of rising urbanization and improving economic outlook in all areas, the growth in this sector is anticipated to be favorable throughout the projection period. These elements have stimulated the development of new companies. In addition, COVID-19 has influenced several company owners to choose self-storage. To avoid paying rent on spaces, working from home for most of 2020 increased demand for self-storage. The need for office rents is dwindling as more businesses opt to switch to a remote work model permanently. Self-storage is often chosen, particularly in major Asian cities where renting office space may be expensive.
Financial Forecast: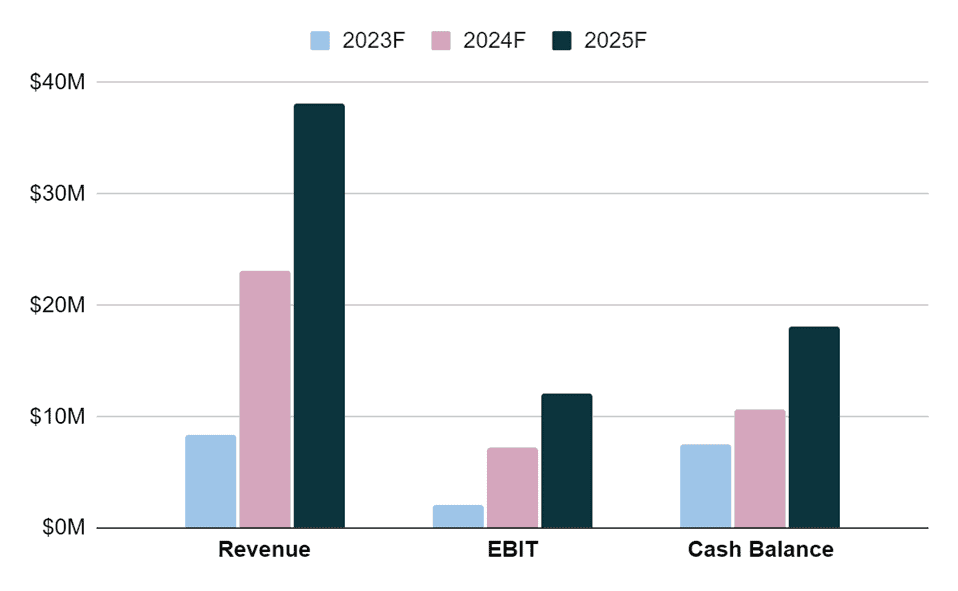 Business Description
Business Name: Compact Self Storage
Owner/Chief Executive Officer: Joseph Boyle Jr.
Management Team:
| | |
| --- | --- |
| Name | Designation |
| Tom Vitan | General Manager |
| Natalia Brown | Finance Manager |
| Megan Jones | Sales/Marketing Manager |
| Enrico Collins | Facility Manager |
Legal Structure: LLC
Location: Our cutting-edge facility conveniently situated less than a mile west of the turnpike and two miles west of the Homestead Speedway, proudly serves companies, residents, snowbirds, and tourists in the greater Homestead region. On Krome Avenue, next to the Pioneer Museum and Capri Restaurant, is where you can locate our facilities.
Mission: To provide a secure environment for the things you treasure, build long-term value and operate an exceptional self-storage company through personal care, integrity, and hard work.
Vision: To be the first to be remembered and the trendsetter and game-changer of the personal and business storage industry.
Services: The North Shore neighborhood will be served by Compact Self Storage's short- and long-term self-storage services. In addition to having a wealth of moving industry contacts, the firm founders also have a great deal of expertise in the storage industry. Self-storage spaces at Compact Self Storage will be available for rent by homeowners and small-business owners, and they will be around 45,000 square feet in size.
Financial Overview
Fund Usage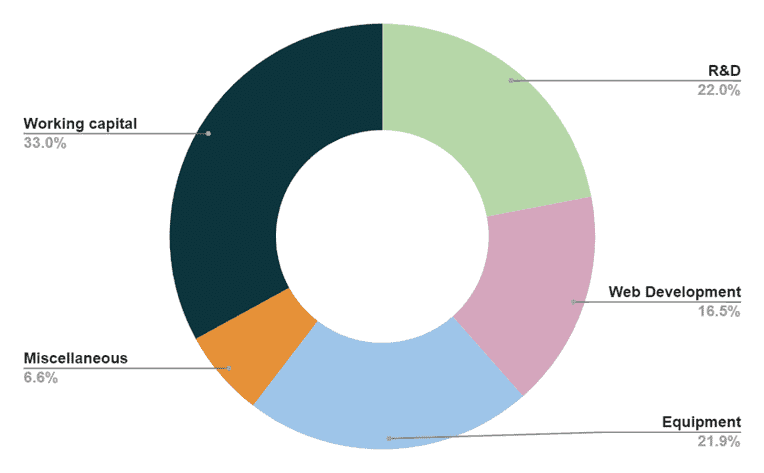 Key Metrics
2023F
2024F
2025F
Earnings
Revenue
$8M
$23M
$38M
Gross Profit
$5M
$14M
$23M
Gross Margin
60%
59%
59%
EBIT
$2M
$7M
$12M
EBIT Margin
25%
31%
32%
Liquidity
Current Ratio
5
6
6
Cash Ratio
4
5
5
Others
Average CAC
$18
$20
$22
Inventory Turnover
11
11
11
SWOT ANALYSIS
A SWOT analysis is integral to the Self Storage business plan. it offers a clear lens into a company's strengths, weaknesses, opportunities, and threats. This self-awareness enables effective resource allocation and strategic positioning against competitors. Businesses can mitigate risks, make informed decisions, and set realistic goals. In addition, presenting a SWOT analysis in a business plan communicates to stakeholders that the company possesses a deep understanding of its market environment. In essence, SWOT ensures a business's strategy is grounded in reality enhancing its chances of success.
| | | | |
| --- | --- | --- | --- |
| STRENGTH | WEAKNESS | OPPORTUNITY | THREAT |
| The fact that Compact Self Storage is strategically situated in a heavily populated, residential region of Florida is undoubtedly a strength for the company. Our location and a high degree of security are our main strengths. We also have a staff that will go above and beyond to provide our customers value for their money; a team that has been taught and given the necessary tools to pay close attention to detail and provide top-notch services. Lastly, our rental package is among the most cost-effective and economical that someone residing in Florida can find. | Our inexperience as a company and the possibility that we lack the financial means to compete with established self-storage and warehouse facility rental firms to acquire extensive facilities in desirable locations are both disadvantages. | We are well situated in one of Florida's busiest and most crowded locations, and we are open to all the potential opportunities the city offers. We shall be available twenty-four hours a day on the weekends (Friday through Sunday) and from seven in the morning until midnight on Monday through Thursday, providing us the advantage to take advantage of any chance that may arise. | Unfavorable government policies, the weakening of the economy, which is likely to have an impact on consumer spending, and finally, the emergence of new competitors in the area where our self-storage and warehouse facility is located are some of the threats that Compact Self Storage will likely face. |
Founder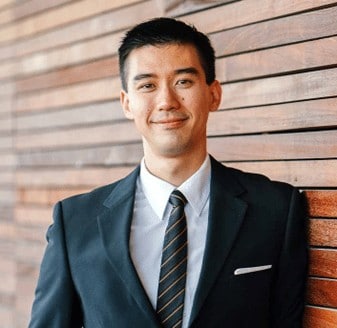 Founder/CEO
JOSEPH BOYLE JR.
Florida-based Compact Self Storage was founded and led by Joseph Boyle Jr. He earned a Bachelor of Science and a Master's degree at Eastern New Mexico University. Mr. Boyle has been a prominent real estate developer in Florida and has a long record of successful ventures. He is a Florida-based venture capitalist with a variety of holdings.
Management Team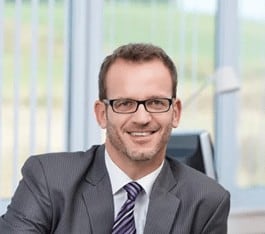 TOM VITAN
General Manager
Compact Self Storage's general manager is Tom Vitan. For this firm, he works with individuals from all different backgrounds. His competence areas include commercial operations, management, and start-up company growth.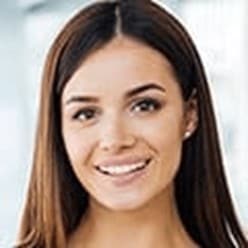 NATALIA BROWN
Finance Manager
Being aware that her efforts may favor Compact Self Storage's bottom line motivates Natalia Brown, a finance management professional, to keep working hard every day.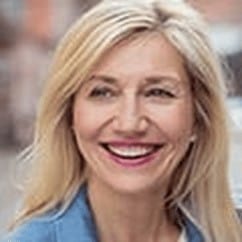 MEGAN JONES
Sales/Marketing Manager
Megan Jones is a highly driven sales expert who offers technical and marketing solutions to organizations and people. She also has experience providing high-quality customer service. Her most vital personal qualities are organization and communication.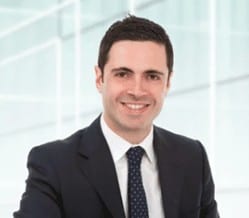 ENRICO COLLINS
Facility Manager
Enrico Collins is in charge of managing operations for a business that rents out storage space. He is accountable for maintaining the efficiency of the storage units' cleanliness and security measures. Along with collecting payments on-site, he does administrative duties, including organizing customer documents and bills.
Organogram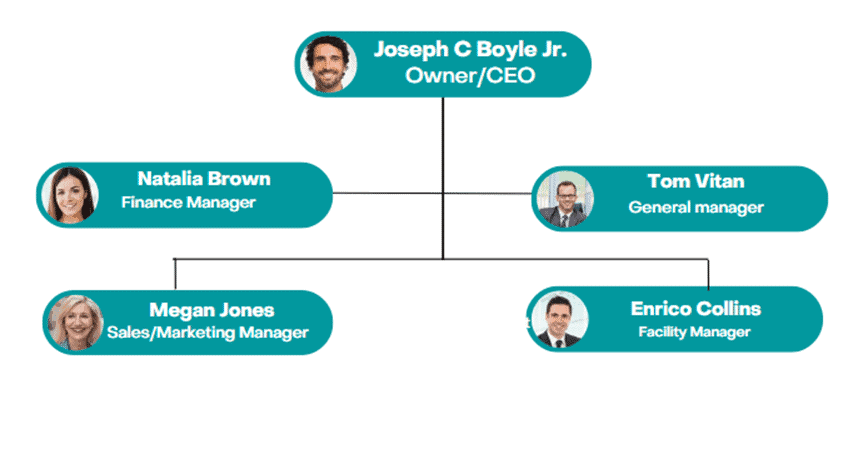 Operational Overview
Organizational overview in a Self Storage business plan provides a snapshot of how a company is structured and operates. It outlines the ownership structure, roles, responsibilities of key management personnel, and the reporting hierarchy within the organization. This section offers stakeholders, investors and other readers a clear understanding of the company's leadership and its chain of command. Additionally, it may give insight into the company's culture, values and operational philosophy.
Compact Self Storage anticipates renting 70% of its available units to non-commercial tenants and the remaining 30% to the market's business sector, mirroring the split experienced by management's other storage facilities. Compact Self Storage will construct and make 300 self-storage units of different sizes available in a prime location in Florida. According to a review of all self-storage facilities that are conveniently located for residents of Florida, the current supply of these units is inadequate to fulfill the demand. These existing condos are selling for more than double the national average.
Industry Analysis
Industry Overview
Over the 2021–2026 forecast period, the self-storage market in the United States is anticipated to see a CAGR of 2.02%. Even though the COVID-19 pandemic has disrupted several sectors, specific company models continue to provide opportunities for investors throughout the recession. They are predicted to do well once the economy starts to recover.
Self-storage is one of the market's most robust asset classes, partly because of the growing demand for storage space and the appealing operational fundamentals of the industry. The industry has expanded in recent years. The US Census Bureau reports that building investment in self-storage facilities surged by 584% between January 2015 and January 2020,
The epidemic and its effects have also led to a rise in demand. Increased household penetration, rapid population expansion in the US, and the industry's stability compared to other asset classes are all benefits of the self-storage business. As states relax some of their COVID-19 rules, the self-storage industry is rising again.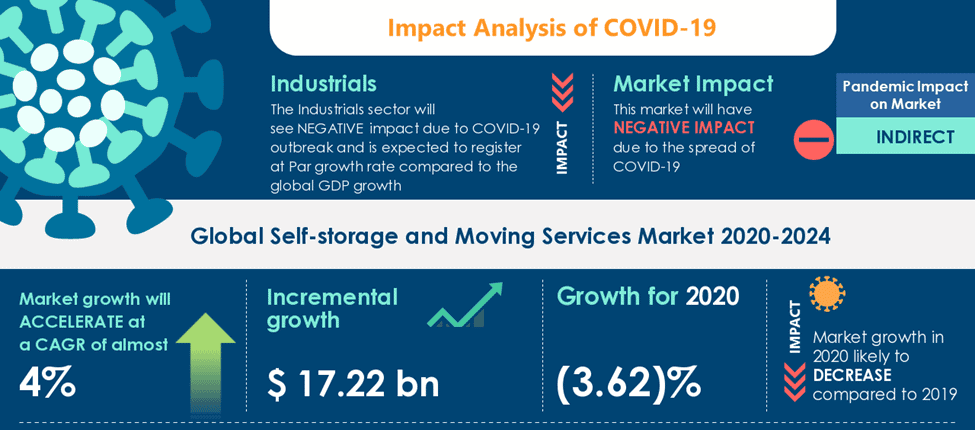 Key Highlights
A division of the commercial real estate is the self-storage sector. Because of regional trends toward growing urbanization and improving economic outlooks, which have fueled the expansion of new businesses, the industry is anticipated to expand favorably throughout the projection period. Self-storage facilities are commonly accessible in developed countries like the US and Western Europe, but they are still relatively new in Asian markets like China and India.
The US self-storage market is projected to have tremendous development opportunities as the e-commerce industry continues to expand and specialty service needs, such as those for climate-controlled spaces and specialized facilities for sporting goods, spread throughout the nation.
Major corporations with locations in the United States are also included. The existence of businesses like Public Storage, Extraspace Storage Inc., and U-Haul, among others, demonstrates the considerable boost this provides to market growth. Self-storage facility demand is driven by structural shifts in the retail and office sectors of the economy. The goal is to create a place out of abandoned or failed retail buildings. Such initiatives are among the most current tendencies to help the nation's market grow. Some new companies find it challenging to join the market due to entry hurdles from the established ones due to well-established businesses throughout the country, including Public Storage, Extra Space Storage, and U-Haul.
Key Market Trends
One of the key elements promoting market expansion is the world's increasing urbanization. More people living in cities means smaller, more costly housing options and an increase in renters who move around more often.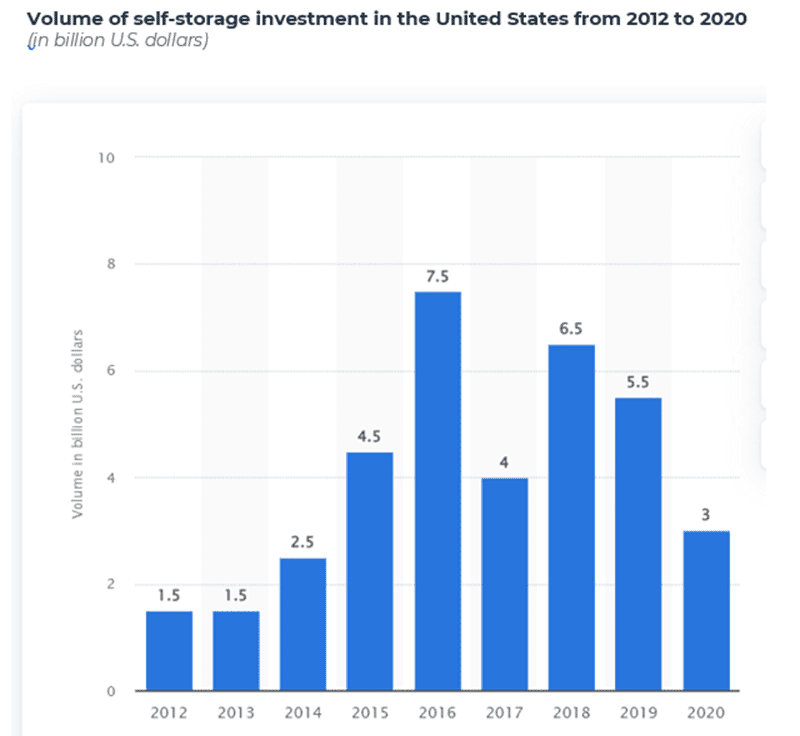 People have less room for their stuff when they relocate to urban living quarters. The storage business is also heavily influenced by people downsizing to smaller houses everywhere. The population is being forced to live in increasingly densely populated cities because rural opportunities are dwindling due to business consolidation, where the examined market addresses the fundamental issue of space allocation. By keeping stuff that one does not have room for at home, self-storage provides a practical and affordable solution to free up space.
Market Size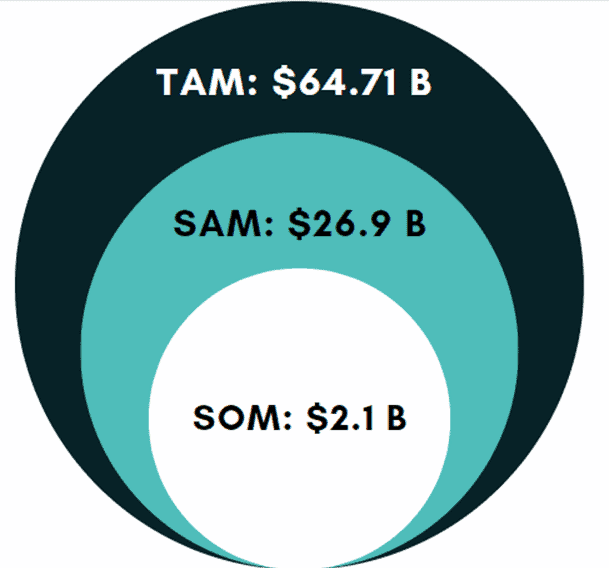 Competitive Landscape
The existence of several significant businesses in the area, like Public Storage and U-Haul International Inc., among others, has increased the level of competition in the US self-storage sector. Their capacity to continuously reinvent their products has given them a competitive edge over rivals. These firms have contributed significantly to the market's expansion via mergers and acquisitions, strategic collaborations, and research and development.
Choosing where to rent a self-storage unit is most often influenced by convenience. Hicksville and Huntington, for instance, don't have any self-storage facilities. People decide to rent one in a neighboring town, perhaps due to its closeness to the renter's commuter route. Renters will go farther out if no flats are close. If no elevator is accessible, units on the ground level are preferred.
Key Players:
Public Storage. A free-size guide from Public Storage can help you rent the precise amount of space needed for your storage requirements. Public Storage has hundreds of locations worldwide (and the US's square feet of rental space). They have been in business for over 40 years, giving them plenty of time to determine precisely what customers want from self-storage, including delicious sign-on offers like $1 deals on your first month of renting a storage space.
Extra Space Storage. In terms of scale, Extra Space Storage is the second-largest self-storage company, behind only Public Storage in terms of available space and rental rates. More than 1,700 storage facilities are located throughout the United States, and they include several security features that help explain in part why Extra Space Storage has become such a pillar of the business. These precautions include controlled access entrance gates, video monitoring, and on-site supervisors to keep your belongings as secure as possible.
U-Haul. Moving truck rentals are simply one aspect of U-Haul. Self-storage facilities may be found throughout the United States and Canada, among the many storage choices provided by the industry behemoth. In terms of U-Haul, everything you can imagine can be stored. There are specialized climate-controlled self-storage alternatives available for commodities like wine and art and large items like RVs, yachts, and automobiles.
Marketing Plan
A marketing plan of a Self Storage business plan outlines the company's strategy to promote its products or services to its target audience. It includes specific tactics and channels the business will use to reach potential customers. This section defines the company's unique value proposition, identifies the target market segments, and discusses the competitive landscape. It also includes insight into budget allocation, projected outcomes and key performance indicators to measure success. Marketing plan helps businesses demonstrate their understanding of the market dynamics, their positioning within the industry and their approach to driving customer engagement and sales.
Compact Self Storage will concurrently advertise its services to the two main client segments—residential and small business customers—since the demand for local self-storage services far exceeds the local supply. As a result of the restricted service breadth, it can provide to such clients at the current facilities. The firm will not pursue a sizable business area.
According to the market data, local self-storage charges are far higher than the national norms. Compact Self Storage will promote itself as a high-quality, reasonably priced self-storage facility for both consumer categories.
Marketing Budget
Total budget for projected years: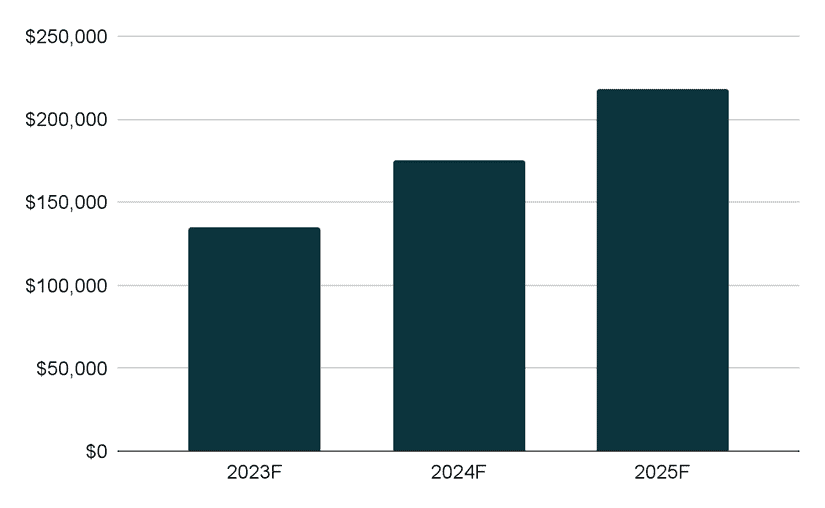 The following graphs indicate budget allocation across projected years: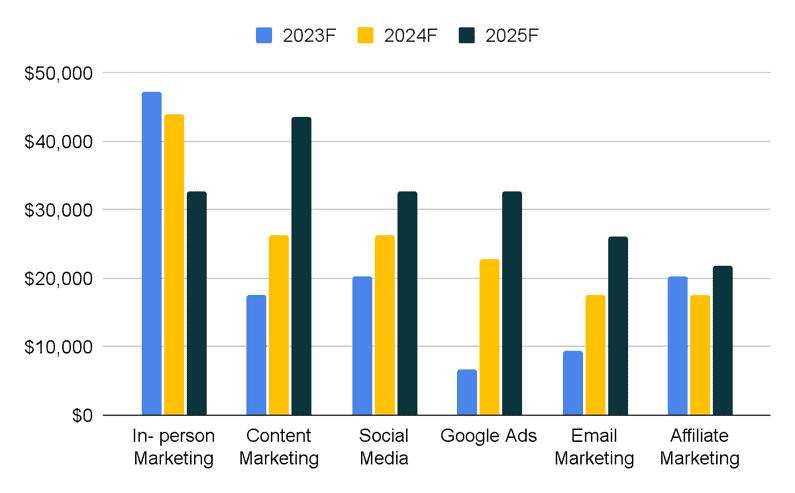 Marketing Channels
Social Media: Both Facebook and Instagram are on our list of preferred social media sites. First, we'll advertise our content and specials to get new followers. We will combine the two when we reach a particular number of organic and paid followers. Over time, increased competition will drive up the channel's CAC.
Google Ads: Brand awareness increased income, and preliminary content quality testing may all benefit from using Google Ads. Even though there won't be many visits at first, we can use Google Analytics data to determine how our target market responds. It will allow us to gauge how well our articles are received. The channel's CAC will rise over time due to increasing levels of competition.
Email Marketing: Due to the limited size of our email list and the absence of launch-phase content on our website, our first allocation for email marketing will be minimal. Our attention will shift to email marketing in the second year. Because increased competition has minimal effect, the CAC for this channel is expected to stay relatively constant over time.
In-person Marketing: Marketing professionals will go door-to-door, visiting companies, event planners, and other vital sites to raise awareness among stakeholders. Since we need to raise awareness via word of mouth, we will first devote a higher budget to this channel. Keeping the lines open with key influencers beyond that first point of contact, you can steadily drive down this channel's customer acquisition cost (CAC).
Event Sponsorship: We may directly approach the event's organizers or plan our activities under the sponsorship umbrella. In conjunction with these activities, we will be able to distribute promotional coupons and use other marketing strategies to increase brand recognition and sales.
Content Marketing: This includes producing content like blog posts, videos, responses to queries on Quora, social media updates, etc. We'll do some research to find the right keywords to write about topics that get a lot of traffic but aren't too challenging. The CAC for this channel is expected to rise over time due to intensifying competition.
Financials
A financial plan of a Self Storage business plan provides a comprehensive projection of a company's financial health and its anticipated monetary performance over a specified period. This section encompasses a range of financial statements and projections such as profit and loss statements, balance sheets, cash flow statements and capital expenditure budgets. It outlines the business's funding requirements, sources of finance and return on investment predictions. The financial plan gives stakeholders particularly potential investors and lenders a clear understanding of the company's current financial position. A financial plan helps businesses demonstrate their financial prudence, sustainability, and growth potential.
Earnings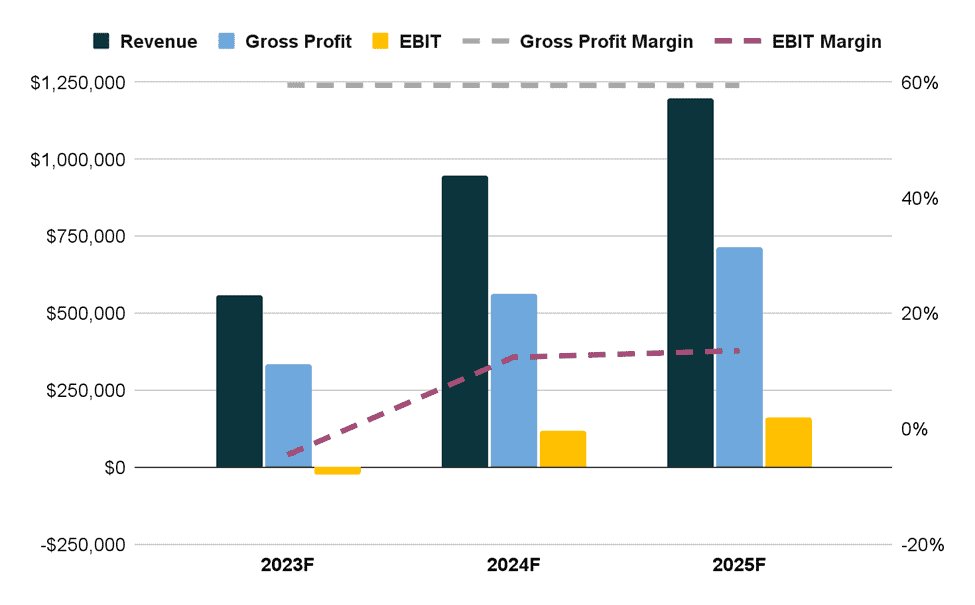 Liquidity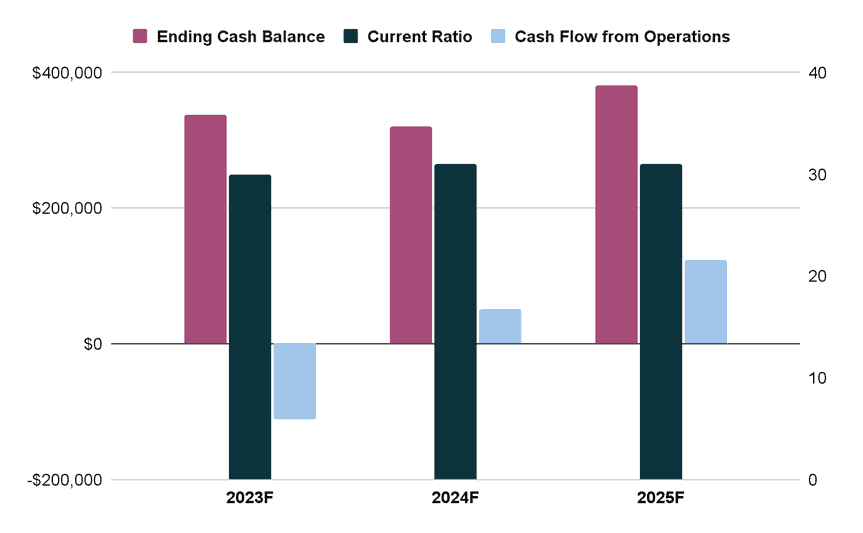 Revenue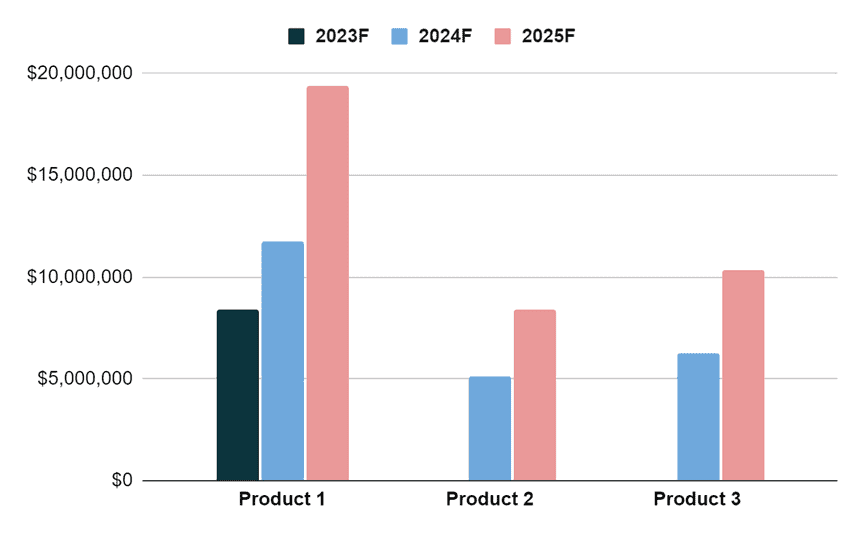 Cost of Goods Sold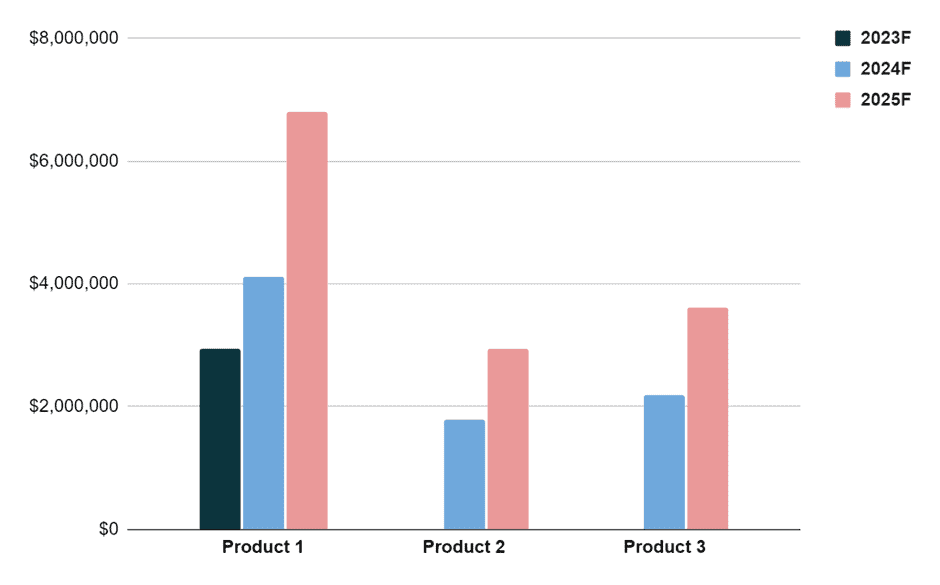 Operating Cost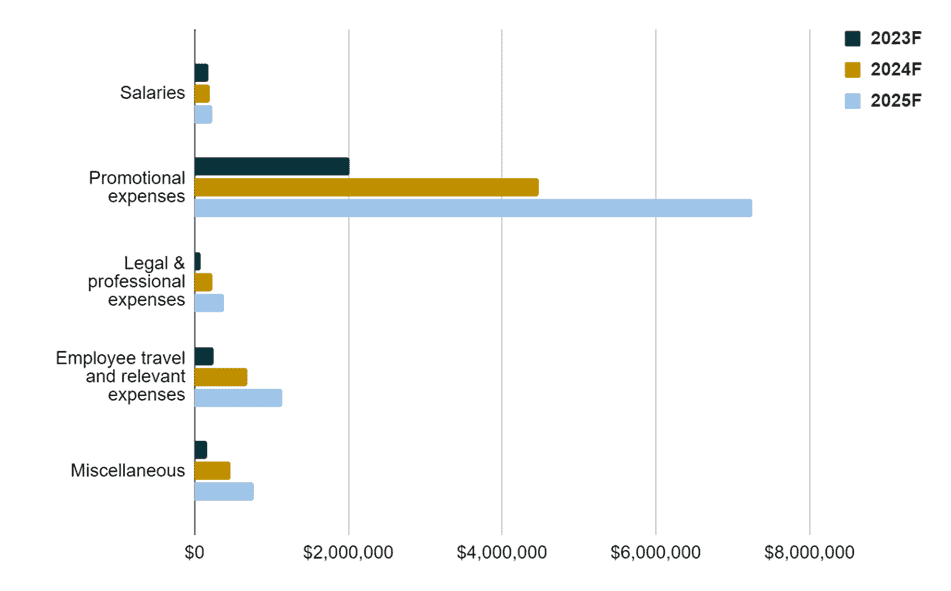 | | | | |
| --- | --- | --- | --- |
| Cash Flow Statement | 2023F | 2024F | 2025F |
| Cash Flow from Operating Activities | | | |
| EBIT | -$25,471 | $117,410 | $162,139 |
| Depreciation | $2,000 | $3,351 | $4,634 |
| Payables | | | |
| Salaries payables | $14,750 | $16,000 | $19,400 |
| Total payables | $14,750 | $16,000 | $19,400 |
| change in payables | $14,750 | $1,250 | $3,400 |
| Receivables | | | |
| Revenue related receivables | $46,688 | $79,064 | $99,960 |
| Total receivables | $46,688 | $79,064 | $99,960 |
| change in receivables | -$46,688 | -$32,376 | -$20,896 |
| Inventory | | | |
| COGS inventory | $56,725 | $96,102 | $121,502 |
| Total inventory | $56,725 | $96,102 | $121,502 |
| change in inventory | -$56,725 | -$39,377 | -$25,399 |
| Net cash flow from operating activities | -$112,134 | $50,259 | $123,877 |
| Cash Flow from Investing Activities | | | |
| R&D | $25,000 | $50,680 | $48,083 |
| Web Development | $15,000 | $10,136 | $9,617 |
| Miscellaneous | $10,000 | $6,757 | $6,411 |
| Net cash flow from investing activities | -$50,000 | -$67,573 | -$64,110 |
| Cash Flow from Financing Activities | | | |
| Equity | $500,000 | | |
| Net cash flow from financing activities | $500,000 | | |
| Net (decrease)/ increase in cash/ cash equivalents | $337,866 | -$17,315 | $59,767 |
| Cash and cash equivalents at the beginning of the year | $0 | $337,866 | $320,551 |
| Cash & cash equivalents at the end of the year | $337,866 | $320,551 | $380,318 |
| | | | |
| --- | --- | --- | --- |
| Balance Sheet | 2023F | 2024F | 2025F |
| Non- Current Assets | | | |
| R&D | $25,000 | $75,680 | $123,763 |
| Web Development | $15,000 | $25,136 | $34,753 |
| Miscellaneous | $10,000 | $16,757 | $23,168 |
| Total non- current assets | $50,000 | $117,573 | $181,683 |
| Accumulated Depreciation | -$2,000 | -$5,351 | -$9,985 |
| Net non- current assets | $48,000 | $112,222 | $171,698 |
| Current Assets | | | |
| Inventory | $56,725 | $96,102 | $121,502 |
| Cash | $337,866 | $320,551 | $380,318 |
| Receivables | $46,688 | $79,064 | $99,960 |
| Total current- assets | $441,279 | $495,717 | $601,780 |
| Total assets | $489,279 | $607,939 | $773,478 |
| Liabilities | | | |
| Accounts payable | $14,750 | $16,000 | $19,400 |
| Total liabilities | $14,750 | $16,000 | $19,400 |
| Equities | | | |
| Equity | $500,000 | $500,000 | $500,000 |
| Retained earnings | -$25,471 | $91,939 | $254,078 |
| Total equity | $474,529 | $591,939 | $754,078 |
| Total liabilities & equities | $489,279 | $607,939 | $773,478 |
| | | | |
| --- | --- | --- | --- |
| Salaries | 2023F | 2024F | 2025F |
| Management & Operations | | | |
| CEO | $24,000 | $24,000 | $24,000 |
| COO | $0 | $0 | $21,600 |
| Head of HR | $0 | $0 | $0 |
| Total | $24,000 | $24,000 | $45,600 |
| Marketing & Sales | | | |
| Marketing Manager | $15,000 | $30,000 | $30,000 |
| Regional Representative | $108,000 | $108,000 | $108,000 |
| Online Store Manager | $12,000 | $12,000 | $12,000 |
| Digital Marketer | $0 | $0 | $19,200 |
| Total | $135,000 | $150,000 | $169,200 |
| Finance & Accounting | | | |
| CFO | $0 | $0 | $0 |
| Bookkeeping Personnel | $18,000 | $18,000 | $18,000 |
| Audit Personnel | $0 | $0 | $0 |
| Total | $18,000 | $18,000 | $18,000 |
| Total Salaries | $177,000 | $192,000 | $232,800 |
| | | | |
| --- | --- | --- | --- |
| Non- Current Asset Schedule | 2023F | 2024F | 2025F |
| R&D | $25,000 | $75,680 | $126,147 |
| depreciation | NA | NA | NA |
| accumulated Depreciation | NA | NA | NA |
| Net book value | $25,000 | $75,680 | $126,147 |
| Web Development | $15,000 | $25,136 | $35,229 |
| depreciation | NA | NA | NA |
| accumulated Depreciation | NA | NA | NA |
| Net book value | $15,000 | $25,136 | $35,229 |
| Miscellaneous | $10,000 | $16,757 | $23,486 |
| depreciation | $2,000 | $3,351 | $4,697 |
| accumulated Depreciation | $2,000 | $5,351 | $10,049 |
| Net book value | $8,000 | $11,406 | $13,438 |
| Total Net book value | $48,000 | $112,222 | $174,814 |
| Total Depreciation | $2,000 | $3,351 | $4,697 |
| Total Accumulated Depreciation | $2,000 | $5,351 | $10,049 |
Assumptions
| | | | |
| --- | --- | --- | --- |
| Investment Assumptions | 2023F | 2024F | 2025F |
| Equity Injection | $500,000 | | |
| Total Capital | $500,000 | | |
| R&D | $25,000 | $50,680 | $48,083 |
| % of initial equity | 5% | | |
| % of last year's ending cash balance | | 15% | 15% |
| Web Development | $15,000 | $10,136 | $9,617 |
| % of initial equity | 3% | | |
| % of last year's ending cash balance | | 3% | 3% |
| Miscellaneous | $10,000 | $6,757 | $6,411 |
| % of initial equity | 2% | | |
| % of last year's ending cash balance | | 2% | 2% |
| Working capital | $450,000 | $270,293 | $256,441 |
| % of initial equity | 90% | | |
| % of last year's ending cash balance | | 80% | 80% |
| | | | |
| --- | --- | --- | --- |
| No. of Sales Assumptions | 2023F | 2024F | 2025F |
| Total Promotional Budget | $135,000 | $175,690 | $217,975 |
| as % of working capital | 30% | 65% | 85% |
| In- person Marketing | | | |
| proportion of total budget | 35% | 25% | 15% |
| spending | $47,250 | $43,923 | $32,696 |
| CAC | $25 | $10 | $7 |
| No. of Sales | 1,890 | 4,392 | 4,671 |
| Event Sponsorship | | | |
| proportion of total budget | 10% | 12% | 13% |
| spending | $13,500 | $21,083 | $28,337 |
| CAC | $25 | $30 | $35 |
| No. of Sales | 540 | 703 | 810 |
| Content Marketing | | | |
| proportion of total budget | 13% | 15% | 20% |
| spending | $17,550 | $26,354 | $43,595 |
| CAC | $15 | $20 | $25 |
| No. of Sales | 1,170 | 1,318 | 1,744 |
| Social Media | | | |
| proportion of total budget | 15% | 15% | 15% |
| spending | $20,250 | $26,354 | $32,696 |
| CAC | $15 | $15 | $15 |
| No. of Sales | 1,350 | 1,757 | 2,180 |
| Google Ads | | | |
| proportion of total budget | 5% | 13% | 15% |
| spending | $6,750 | $22,840 | $32,696 |
| CAC | $30 | $35 | $40 |
| No. of Sales | 225 | 653 | 817 |
| Email Marketing | | | |
| proportion of total budget | 7% | 10% | 12% |
| spending | $9,450 | $17,569 | $26,157 |
| CAC | $10 | $10 | $10 |
| No. of Sales | 945 | 1,757 | 2,616 |
| Affiliate Marketing | | | |
| proportion of total budget | 15% | 10% | 10% |
| spending | $20,250 | $17,569 | $21,797 |
| CAC | $15 | $20 | $25 |
| No. of Sales | 1,350 | 878 | 872 |
| | | | |
| --- | --- | --- | --- |
| Revenue Assumptions | 2023F | 2024F | 2025F |
| Light Knee Pad for Women | | | |
| % of total sales | 100% | 50% | 50% |
| No. of sales | 7,470 | 5,729 | 6,855 |
| unit price | $75 | $75 | $75 |
| Aggressive Knee Pad with Shin Guard for Women | | | |
| % of total sales | 0% | 25% | 25% |
| No. of sales | 0 | 2,864 | 3,427 |
| unit price | $65 | $65 | $65 |
| Spine Protector for Women | | | |
| % of total sales | 0% | 25% | 25% |
| No. of sales | 0 | 2,864 | 3,427 |
| unit price | $80 | $80 | $80 |
| | | | |
| --- | --- | --- | --- |
| COGS Assumptions | 2023F | 2024F | 2025F |
| Light Knee Pad for Women | | | |
| unit cost | $26.3 | $26.3 | $26.3 |
| Aggressive Knee Pad with Shin Guard for Women | | | |
| unit cost | $22.8 | $22.8 | $22.8 |
| Spine Protector for Women | | | |
| unit cost | $28 | $28 | $28 |
| Payment processing fees | | | |
| as % of revenue | 3% | 3% | 3% |
| Packaging fess | | | |
| as % of revenue | 1% | 1% | 1% |
| In- bound shipping cost | | | |
| as % of revenue | 1.5% | 1.5% | 1.5% |
| | | | |
| --- | --- | --- | --- |
| OpEx Assumptions | 2023F | 2024F | 2025F |
| Legal & professional expenses | | | |
| as % of revenue | 1% | 1% | 1% |
| Employee travel and relevant expenses | | | |
| as % of revenue | 3% | 3% | 3% |
| Miscellaneous | | | |
| as % of revenue | 2% | 2% | 2% |
| Spillage & wastage | | | |
| as % of revenue | 2% | 2% | 2% |
| | | | |
| --- | --- | --- | --- |
| Cash Flow Assumptions | 2023F | 2024F | 2025F |
| Payables | | | |
| Salaries payables as % of total salaries | 8% | 8% | 8% |
| period in months | 1 | 1 | 1 |
| Receivables | | | |
| as % of revenue | 8% | 8% | 8% |
| period in months | 1 | 1 | 1 |
| Inventory | | | |
| as % of revenue | 25% | 25% | 25% |
| period in months | 3 | 3 | 3 |