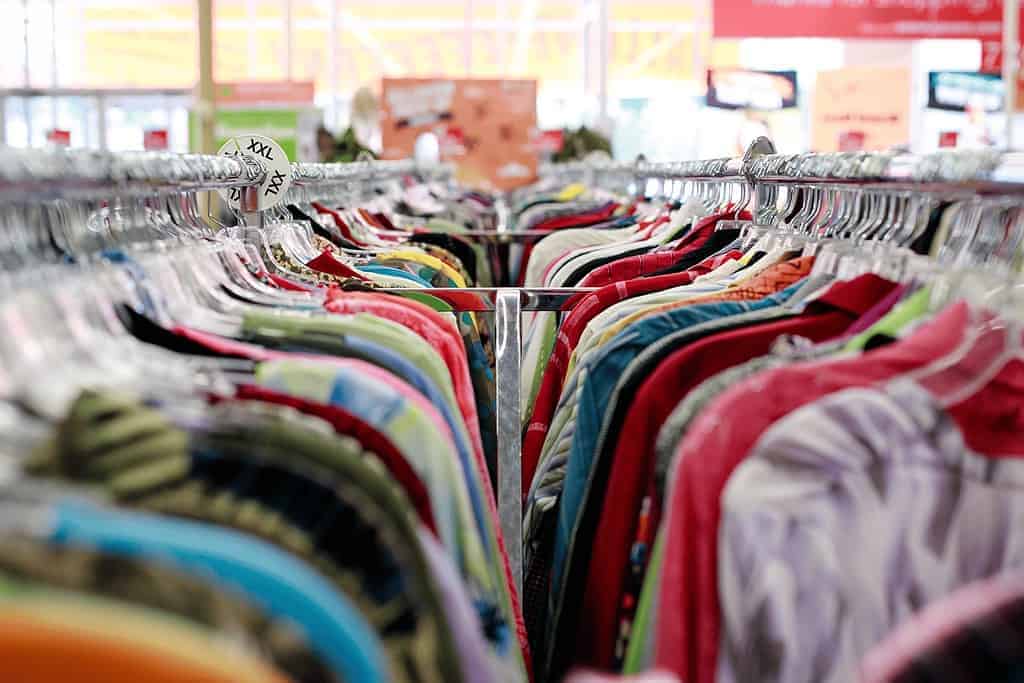 Thrift Store Business Plan is an outline of your overall Thrift Store business. The business plan includes a 5 year projection, marketing plan, industry analysis, organizational overview, operational overview and finally the executive summary. Remember to write your executive summary at the end as it is considered as a snapshot of the overall business plan. The creation of a Thrift Store business plan requires careful consideration of various factors that might impact the business's success. Ultimately, a Thrift Store business plan serves as a roadmap to guide the company's direction.
Table of Contents
Executive Summary
Urban Thrift Closet aims to collect worn products that may be used once more and sell them for reasonable rates. Urban Thrift Closet strives to maintain a constantly attractive display of used clothing, toys, books, and furniture in the shop. People from average financial backgrounds will be our clients. Most of San Francisco's Bay Area residents struggle to pay their bills in a wealthy city. These folks like purchasing secondhand goods and yearn over things like clothing, furniture, etc. Our Store also needs to draw famous and rich individuals to increase contributions; these individuals won't be our clients; instead, they will be our requirements. We'll plan seminars and use social media to make a plea for their donation. We want to manage the Urban Thrift Closet as a company that treats its clients with the utmost respect. With every prospective consumer visiting our shop, we have already thought of a way to establish and maintain a personal connection.
Problem Summary: Currently, San Francisco is the city with the most significant levels of income disparity. The wealthy population often discards items that are still in excellent or sometimes functional condition just because they are bored. Such folks often place contributions of clothing and other things outside of their homes, where someone will get them and deliver them to the needy.
Solution Summary: To launch a secondhand business, Urban Thrift Closet had to engage several drivers and social workers to scour San Francisco for things. We decided to collect these products and operate a consignment business to assist his community's low-income and typical homes.
Industry Overview:
The worldwide market for used and resold clothing was projected to be worth 96 billion dollars in 2021. In the following years, its value is expected to increase quickly, doubling in size between 2021 and 2025 before reaching a value of 218 billion dollars in 2026. Younger customers are primarily responsible for the secondhand clothing market's expansion. According to a 2021 worldwide poll, Generation Z and millennials were the generations most likely to purchase used clothing. It is seen as a less expensive and more ecologically responsible method of buying clothing, both of which are issues that are particularly important to younger customers. Secondhand clothing's lower pricing can make goods that might otherwise be out of reach more affordable. The market for used personal luxury items has increased due to this.
Financial Forecast: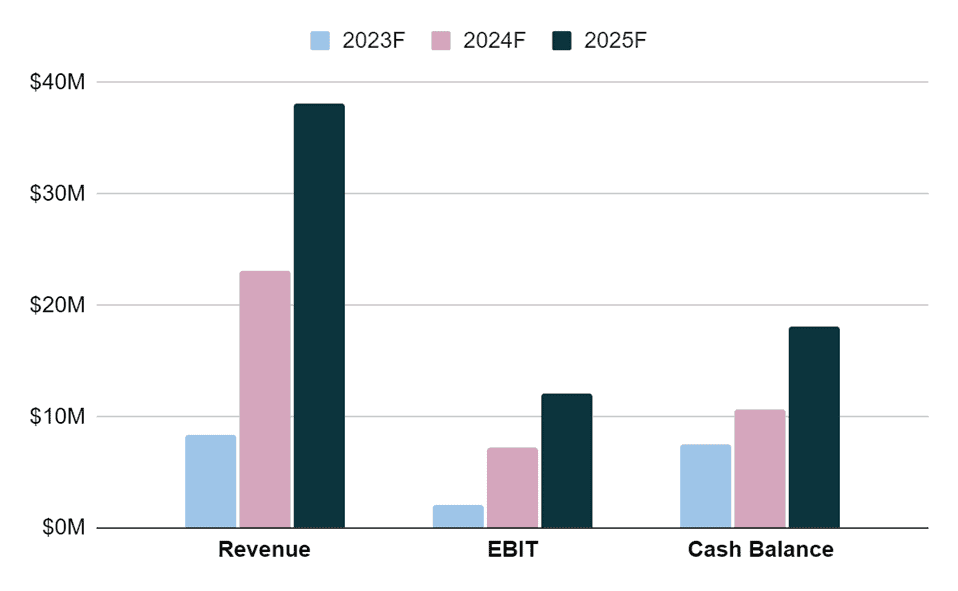 Business Description
Business Name: Urban Thrift Closet
Owner/CEO: Erick Muller
Management Team:
| | |
| --- | --- |
| Name | Designation |
| Brian Sargent | General Manager |
| Lucas Hopkins | Operations Manager |
| Hayley Peterson | Accountant |
| Larry Simpson | Sales Personnel |
| Connie Sumner | Marketing & Sales Manager |
Legal Structure: LLC
Location: Urban Thrift Closet will be situated on Howard Street, one of San Francisco's busiest streets.
Mission: Our mission is to assist the city's poor population and to provide excellent services that are better than those offered by our competitors.
Vision: Our vision is to become both the most popular and the most dependable thrift shop in our community from the perspective of contributors.
Services: The used items might be damaged, and our professional repairer could make them functional again. The following things are what our shop will sell.
✅used apparel
✅furniture and home decor,
✅musical instruments
✅used sports equipment
✅and leisure and cultural products
Financial Overview
Fund Usage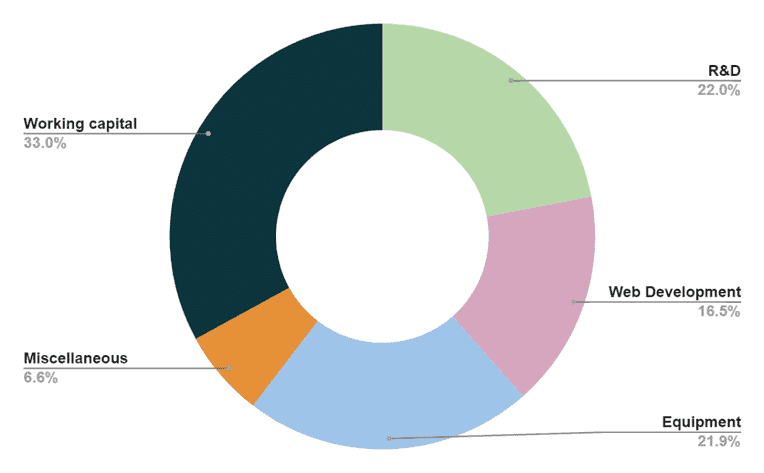 Key Metrics
| | | | |
| --- | --- | --- | --- |
| | 2023F | 2024F | 2025F |
| Earnings | | | |
| Revenue | $8M | $23M | $38M |
| Gross Profit | $5M | $14M | $23M |
| Gross Margin | 60% | 59% | 59% |
| EBIT | $2M | $7M | $12M |
| EBIT Margin | 25% | 31% | 32% |
| Liquidity | | | |
| Current Ratio | 5 | 6 | 6 |
| Cash Ratio | 4 | 5 | 5 |
| Others | | | |
| Average CAC | $18 | $20 | $22 |
| Inventory Turnover | 11 | 11 | 11 |
SWOT ANALYSIS
A SWOT analysis is integral to a Thrift Store business plan. it offers a clear lens into a company's strengths, weaknesses, opportunities, and threats. This self-awareness enables effective resource allocation and strategic positioning against competitors. Businesses can mitigate risks, make informed decisions, and set realistic goals. In addition, presenting a SWOT analysis in a business plan communicates to stakeholders that the company possesses a deep understanding of its market environment. In essence, SWOT ensures a business's strategy is grounded in reality enhancing its chances of success.
| | |
| --- | --- |
| STRENGTH | WEAKNESS |
| We offer a welcoming and cozy atmosphere, and our professional and courteous staff treats our clients and customers with the highest respect.Online product sales proficiencyA prominent websiteMinimal Starting-up risk | Alternative items may be offered promptly by rivalsExpensive transportationLimited pricing flexibility |
| OPPORTUNITY | THREAT |
| • Ongoing growth in internet sales • Capability of opening new shops • Partnerships with relevant suppliers • Creation of proprietary goo | • The effects of changing regulations on business • Products are already available from significant rivals • Price input increases may result in higher prices. |
Organogram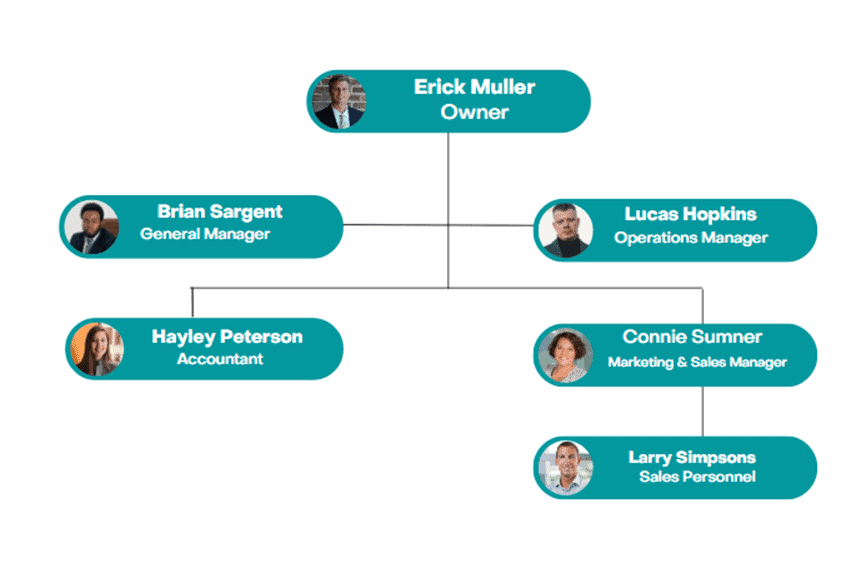 Industry Analysis
Industry Overview
Stores that sell derivative products (often donated) intending to give a significant percentage of the sales to charity make up this economic sector. This sector is a subsection of the Used Goods Stores business.. However, it does not include consignment stores, antique stores, rare book stores, used record stores, or other resale stores that do not devote a substantial part of their profits to philanthropic endeavors.
Thrift stores' income has risen due to rising consumer expenditure and the desire for sustainable consumption strategies. In the past, the sector depended on consumers buying used items out of need. Nevertheless, thrift shops are rapidly serving a broad range of clients looking for one-of-a-kind products, high-quality goods at reduced rates, or minimizing their carbon footprint by recycling clothes and other items. The industry has benefitted from rising disposable income and consumer spending by seeing an increase in the volume and value of purchases made at businesses in the sector. However, the industry will probably face increased external competition from conventional shops, for-profit thrift stores, and online secondhand goods merchants.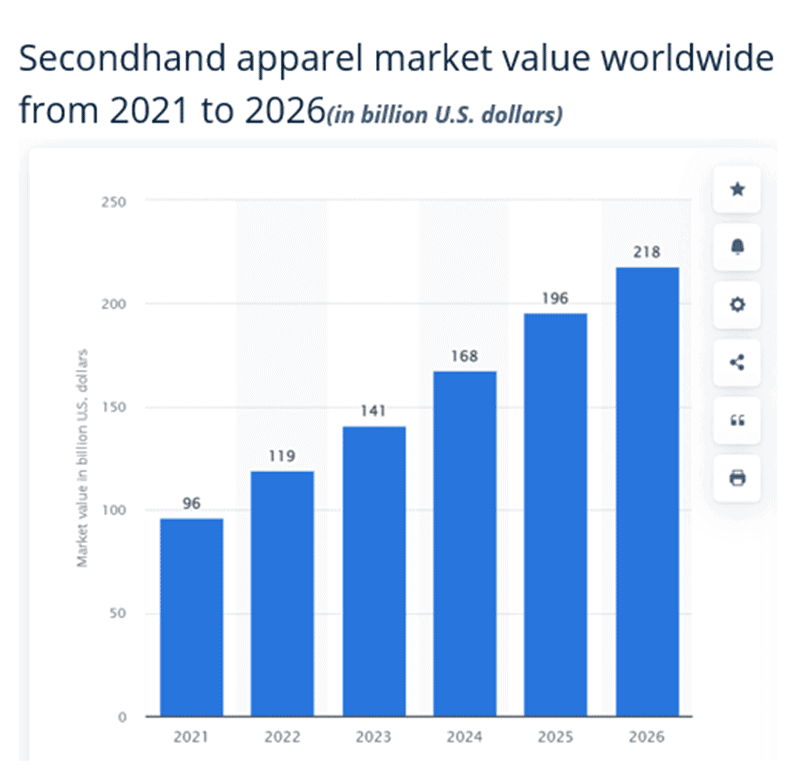 The thrift shop business consists of establishments selling donated old things to earn money for charity organizations. Consignment stores, antique stores, used record stores, and other resale businesses that are not connected to a charity are not included in this subcategory of the Used Goods Stores sector. Most of the time, consumer spending increased, and consumer interest in buying used goods has grown, which has helped boost industry income. IBISWorld anticipates that during the five years to 2022, industry revenue will rise at an annualized rate of 1.1% to $10.8 billion.
People are increasingly attempting to cut down on their discretionary spending and are drawn to the concept of purchasing secondhand items at fair rates due to the city's growing economic disparity and the strain it is placing on the ordinary person and the poor. The market for derivative products is expanding noticeably at a pace of 2.6% yearly. IBISWorld estimates that 84,037 of these companies operate in the United States, employing over 267 thousand people nationwide. The market size of the thrift stores sector is projected to rise by 0.9% in 2022 and, on average, by 1.1% annually between 2017 and 2022. It expanded more slowly than the Consumer Goods and Services industry. A key determinant of consumer spending patterns is the disposable income per capita. Consumer spending and consequent revenue growth across all retail sectors, including the business of thrift stores, are often fueled by higher per capita disposable income. The rising practice of recycling clothes and other products has been advantageous to the industry, even if customers may be more inclined to seek out new products during times of high spending money. The sector may have a chance in 2022 since per capita disposable income is predicted to fall.
Market Size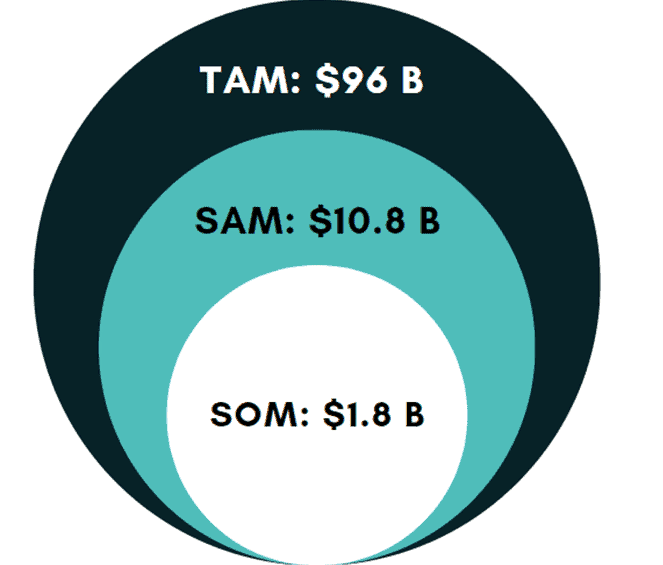 Competitive Landscape
After thorough investigation and analysis, the site we selected represents our most significant competitive advantage. Our shop is situated on San Francisco's main street, a roadway that every city resident passes when moving about the city since it links residential areas to workplaces, educational institutions, and recreational areas. Numerous visitors walking by our store will undoubtedly be drawn to our lovely display by the expansive windows. Our superior management structure is our second competitive edge. For our customers' convenience, we will gather the items in excellent shape daily and exhibit them in neatly arranged different areas in our shops. Additionally, we offer a speedy transit service for wealthy persons who want to give us significant quantities of their products.
Marketing Plan
A marketing plan of a Thrift Store business plan outlines the company's strategy to promote its products or services to its target audience. It includes specific tactics and channels the business will use to reach potential customers. This section defines the company's unique value proposition, identifies the target market segments, and discusses the competitive landscape. It also includes insight into budget allocation, projected outcomes and key performance indicators to measure success. Marketing plan helps businesses demonstrate their understanding of the market dynamics, their positioning within the industry and their approach to driving customer engagement and sales.
To increase sales, we will promote our shop in regional periodicals, newspapers, and social media. Additionally, we will hand out our fliers to surrounding universities and institutions. We'll display our banners in affluent neighborhoods.
Email Database. Encourage potential consumers and clients to join your email list. We send you a brief e-newsletter or other communication promoting deals, events, and new items after we have gathered enough email addresses.
Online. Our newly renovated website provides brief information about what makes our shop unique, enticing potential customers.
Special Events. We will run special deals to draw customers into the shop around essential occasions and holidays. Create flyers and distribute them to your top clients and most prospective leads.
Social media. Facebook and Twitter provide extra opportunities to reach a wider audience. We will post interactive messages announcing new items, discounts or specials, special events, and other retail promotions on your company's Facebook page. Include images of your store's outside and interior and the products you offer. Send short messages to your Twitter followers about new products, sales events, and other topics to encourage people to visit your business.
Marketing Budget
Total budget for projected years: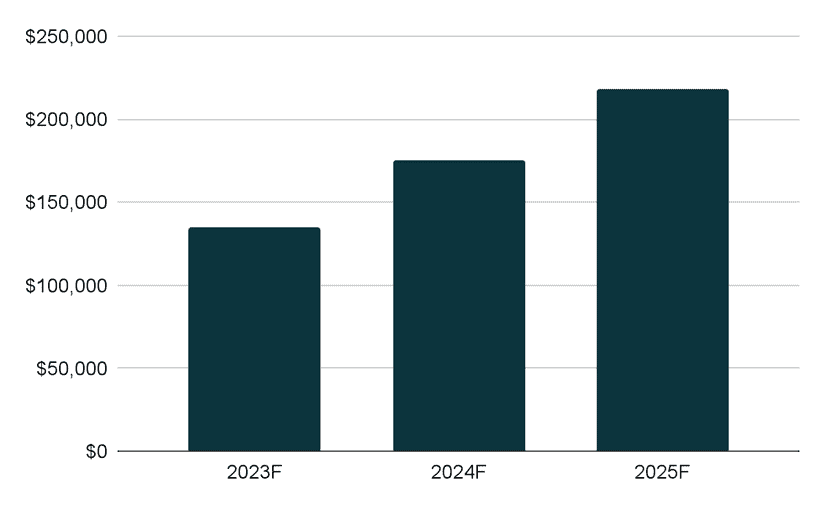 The following graphs indicate budget allocation across projected years: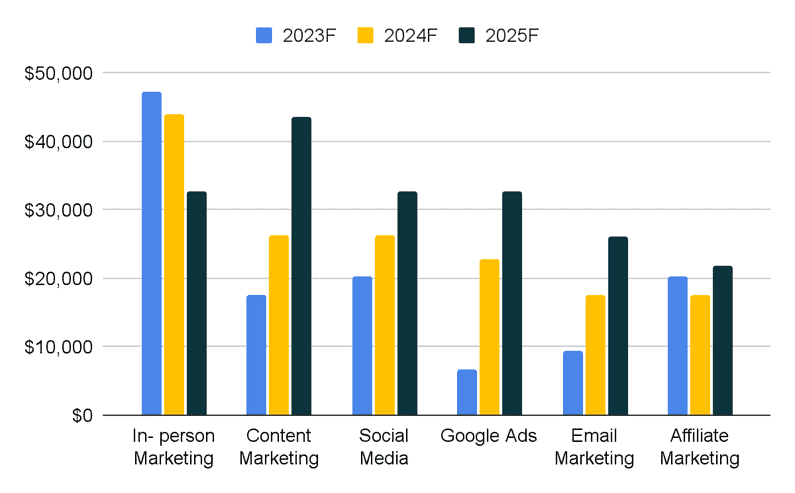 Financials
A financial plan of a Thrift Store business plan provides a comprehensive projection of a company's financial health and its anticipated monetary performance over a specified period. This section encompasses a range of financial statements and projections such as profit and loss statements, balance sheets, cash flow statements and capital expenditure budgets. It outlines the business's funding requirements, sources of finance and return on investment predictions. The financial plan gives stakeholders particularly potential investors and lenders a clear understanding of the company's current financial position. A financial plan helps businesses demonstrate their financial prudence, sustainability, and growth potential.
Earnings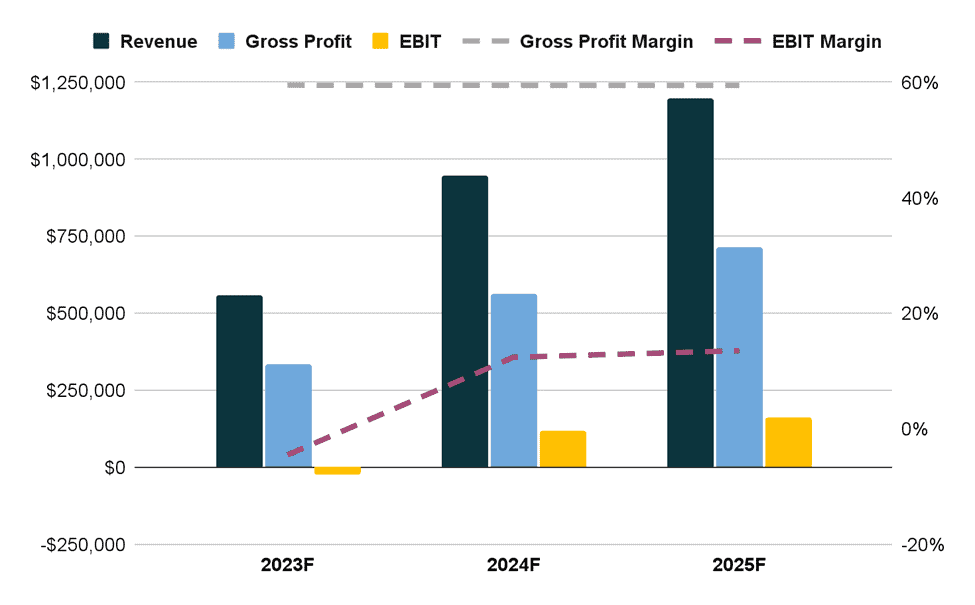 Liquidity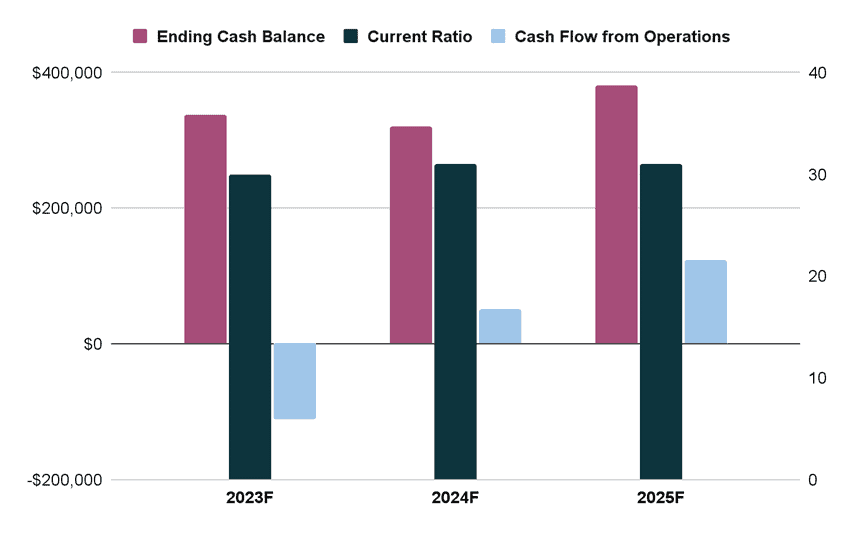 Revenue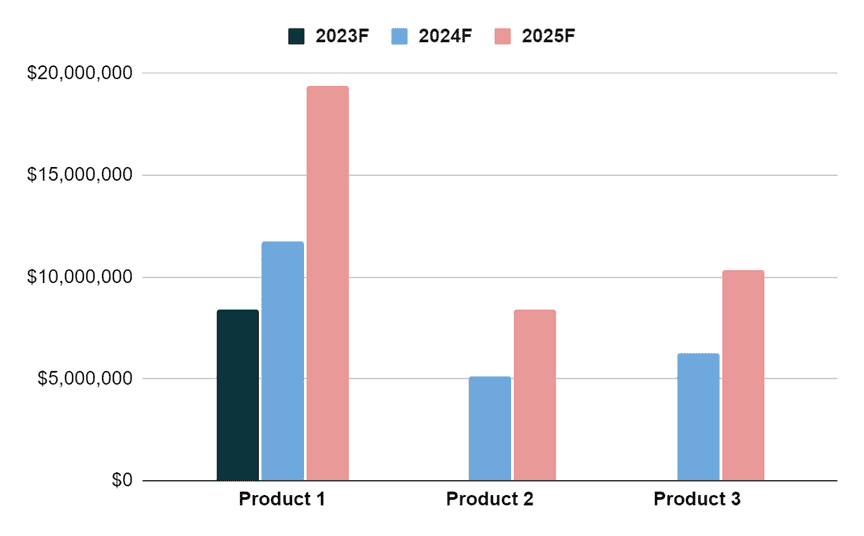 Cost of Goods Sold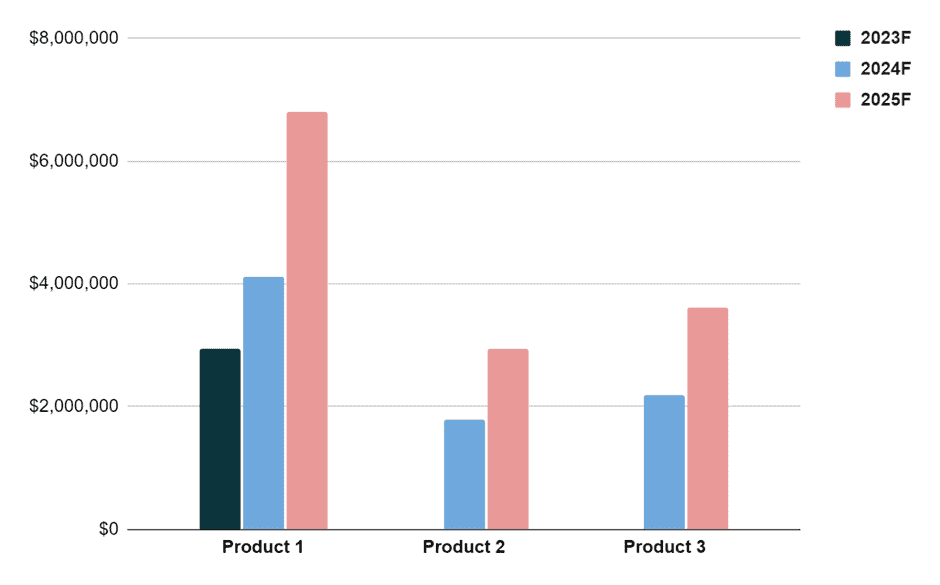 Operating Cost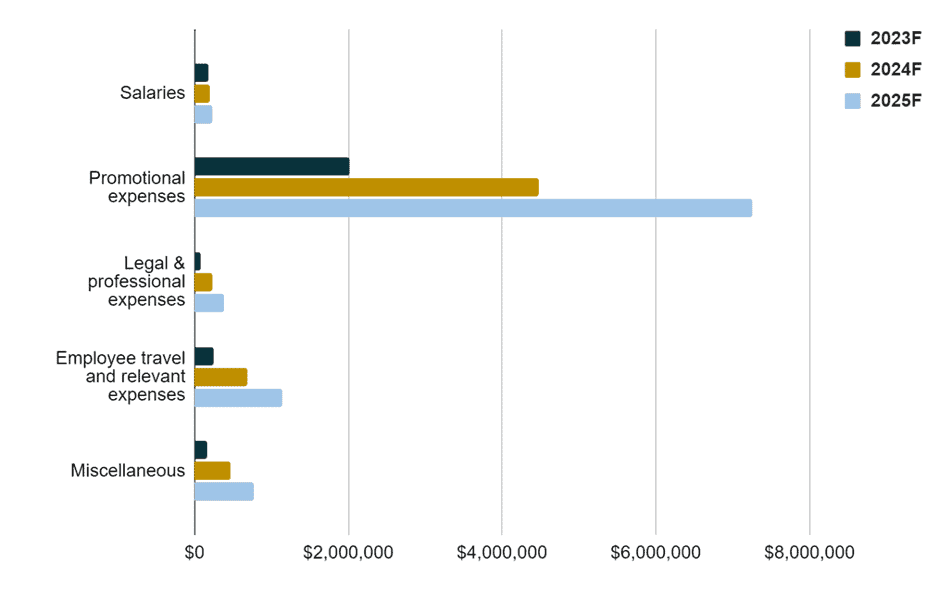 | | | | |
| --- | --- | --- | --- |
| Cash Flow Statement | 2023F | 2024F | 2025F |
| Cash Flow from Operating Activities | | | |
| EBIT | -$25,471 | $117,410 | $162,139 |
| Depreciation | $2,000 | $3,351 | $4,634 |
| Payables | | | |
| Salaries payables | $14,750 | $16,000 | $19,400 |
| Total payables | $14,750 | $16,000 | $19,400 |
| change in payables | $14,750 | $1,250 | $3,400 |
| Receivables | | | |
| Revenue related receivables | $46,688 | $79,064 | $99,960 |
| Total receivables | $46,688 | $79,064 | $99,960 |
| change in receivables | -$46,688 | -$32,376 | -$20,896 |
| Inventory | | | |
| COGS inventory | $56,725 | $96,102 | $121,502 |
| Total inventory | $56,725 | $96,102 | $121,502 |
| change in inventory | -$56,725 | -$39,377 | -$25,399 |
| Net cash flow from operating activities | -$112,134 | $50,259 | $123,877 |
| Cash Flow from Investing Activities | | | |
| R&D | $25,000 | $50,680 | $48,083 |
| Web Development | $15,000 | $10,136 | $9,617 |
| Miscellaneous | $10,000 | $6,757 | $6,411 |
| Net cash flow from investing activities | -$50,000 | -$67,573 | -$64,110 |
| Cash Flow from Financing Activities | | | |
| Equity | $500,000 | | |
| Net cash flow from financing activities | $500,000 | | |
| Net (decrease)/ increase in cash/ cash equivalents | $337,866 | -$17,315 | $59,767 |
| Cash and cash equivalents at the beginning of the year | $0 | $337,866 | $320,551 |
| Cash & cash equivalents at the end of the year | $337,866 | $320,551 | $380,318 |
| | | | |
| --- | --- | --- | --- |
| Balance Sheet | 2023F | 2024F | 2025F |
| Non- Current Assets | | | |
| R&D | $25,000 | $75,680 | $123,763 |
| Web Development | $15,000 | $25,136 | $34,753 |
| Miscellaneous | $10,000 | $16,757 | $23,168 |
| Total non- current assets | $50,000 | $117,573 | $181,683 |
| Accumulated Depreciation | -$2,000 | -$5,351 | -$9,985 |
| Net non- current assets | $48,000 | $112,222 | $171,698 |
| Current Assets | | | |
| Inventory | $56,725 | $96,102 | $121,502 |
| Cash | $337,866 | $320,551 | $380,318 |
| Receivables | $46,688 | $79,064 | $99,960 |
| Total current- assets | $441,279 | $495,717 | $601,780 |
| Total assets | $489,279 | $607,939 | $773,478 |
| Liabilities | | | |
| Accounts payable | $14,750 | $16,000 | $19,400 |
| Total liabilities | $14,750 | $16,000 | $19,400 |
| Equities | | | |
| Equity | $500,000 | $500,000 | $500,000 |
| Retained earnings | -$25,471 | $91,939 | $254,078 |
| Total equity | $474,529 | $591,939 | $754,078 |
| Total liabilities & equities | $489,279 | $607,939 | $773,478 |
| | | | |
| --- | --- | --- | --- |
| Salaries | 2023F | 2024F | 2025F |
| Management & Operations | | | |
| CEO | $24,000 | $24,000 | $24,000 |
| COO | $0 | $0 | $21,600 |
| Head of HR | $0 | $0 | $0 |
| Total | $24,000 | $24,000 | $45,600 |
| Marketing & Sales | | | |
| Marketing Manager | $15,000 | $30,000 | $30,000 |
| Regional Representative | $108,000 | $108,000 | $108,000 |
| Online Store Manager | $12,000 | $12,000 | $12,000 |
| Digital Marketer | $0 | $0 | $19,200 |
| Total | $135,000 | $150,000 | $169,200 |
| Finance & Accounting | | | |
| CFO | $0 | $0 | $0 |
| Bookkeeping Personnel | $18,000 | $18,000 | $18,000 |
| Audit Personnel | $0 | $0 | $0 |
| Total | $18,000 | $18,000 | $18,000 |
| Total Salaries | $177,000 | $192,000 | $232,800 |
| | | | |
| --- | --- | --- | --- |
| Non- Current Asset Schedule | 2023F | 2024F | 2025F |
| R&D | $25,000 | $75,680 | $126,147 |
| depreciation | NA | NA | NA |
| accumulated Depreciation | NA | NA | NA |
| Net book value | $25,000 | $75,680 | $126,147 |
| Web Development | $15,000 | $25,136 | $35,229 |
| depreciation | NA | NA | NA |
| accumulated Depreciation | NA | NA | NA |
| Net book value | $15,000 | $25,136 | $35,229 |
| Miscellaneous | $10,000 | $16,757 | $23,486 |
| depreciation | $2,000 | $3,351 | $4,697 |
| accumulated Depreciation | $2,000 | $5,351 | $10,049 |
| Net book value | $8,000 | $11,406 | $13,438 |
| Total Net book value | $48,000 | $112,222 | $174,814 |
| Total Depreciation | $2,000 | $3,351 | $4,697 |
| Total Accumulated Depreciation | $2,000 | $5,351 | $10,049 |
Assumptions
| | | | |
| --- | --- | --- | --- |
| Investment Assumptions | 2023F | 2024F | 2025F |
| Equity Injection | $500,000 | | |
| Total Capital | $500,000 | | |
| R&D | $25,000 | $50,680 | $48,083 |
| % of initial equity | 5% | | |
| % of last year's ending cash balance | | 15% | 15% |
| Web Development | $15,000 | $10,136 | $9,617 |
| % of initial equity | 3% | | |
| % of last year's ending cash balance | | 3% | 3% |
| Miscellaneous | $10,000 | $6,757 | $6,411 |
| % of initial equity | 2% | | |
| % of last year's ending cash balance | | 2% | 2% |
| Working capital | $450,000 | $270,293 | $256,441 |
| % of initial equity | 90% | | |
| % of last year's ending cash balance | | 80% | 80% |
| | | | |
| --- | --- | --- | --- |
| No. of Sales Assumptions | 2023F | 2024F | 2025F |
| Total Promotional Budget | $135,000 | $175,690 | $217,975 |
| as % of working capital | 30% | 65% | 85% |
| In- person Marketing | | | |
| proportion of total budget | 35% | 25% | 15% |
| spending | $47,250 | $43,923 | $32,696 |
| CAC | $25 | $10 | $7 |
| No. of Sales | 1,890 | 4,392 | 4,671 |
| Event Sponsorship | | | |
| proportion of total budget | 10% | 12% | 13% |
| spending | $13,500 | $21,083 | $28,337 |
| CAC | $25 | $30 | $35 |
| No. of Sales | 540 | 703 | 810 |
| Content Marketing | | | |
| proportion of total budget | 13% | 15% | 20% |
| spending | $17,550 | $26,354 | $43,595 |
| CAC | $15 | $20 | $25 |
| No. of Sales | 1,170 | 1,318 | 1,744 |
| Social Media | | | |
| proportion of total budget | 15% | 15% | 15% |
| spending | $20,250 | $26,354 | $32,696 |
| CAC | $15 | $15 | $15 |
| No. of Sales | 1,350 | 1,757 | 2,180 |
| Google Ads | | | |
| proportion of total budget | 5% | 13% | 15% |
| spending | $6,750 | $22,840 | $32,696 |
| CAC | $30 | $35 | $40 |
| No. of Sales | 225 | 653 | 817 |
| Email Marketing | | | |
| proportion of total budget | 7% | 10% | 12% |
| spending | $9,450 | $17,569 | $26,157 |
| CAC | $10 | $10 | $10 |
| No. of Sales | 945 | 1,757 | 2,616 |
| Affiliate Marketing | | | |
| proportion of total budget | 15% | 10% | 10% |
| spending | $20,250 | $17,569 | $21,797 |
| CAC | $15 | $20 | $25 |
| No. of Sales | 1,350 | 878 | 872 |
| | | | |
| --- | --- | --- | --- |
| Revenue Assumptions | 2023F | 2024F | 2025F |
| Light Knee Pad for Women | | | |
| % of total sales | 100% | 50% | 50% |
| No. of sales | 7,470 | 5,729 | 6,855 |
| unit price | $75 | $75 | $75 |
| Aggressive Knee Pad with Shin Guard for Women | | | |
| % of total sales | 0% | 25% | 25% |
| No. of sales | 0 | 2,864 | 3,427 |
| unit price | $65 | $65 | $65 |
| Spine Protector for Women | | | |
| % of total sales | 0% | 25% | 25% |
| No. of sales | 0 | 2,864 | 3,427 |
| unit price | $80 | $80 | $80 |
| | | | |
| --- | --- | --- | --- |
| COGS Assumptions | 2023F | 2024F | 2025F |
| Light Knee Pad for Women | | | |
| unit cost | $26.3 | $26.3 | $26.3 |
| Aggressive Knee Pad with Shin Guard for Women | | | |
| unit cost | $22.8 | $22.8 | $22.8 |
| Spine Protector for Women | | | |
| unit cost | $28 | $28 | $28 |
| Payment processing fees | | | |
| as % of revenue | 3% | 3% | 3% |
| Packaging fess | | | |
| as % of revenue | 1% | 1% | 1% |
| In- bound shipping cost | | | |
| as % of revenue | 1.5% | 1.5% | 1.5% |
| | | | |
| --- | --- | --- | --- |
| OpEx Assumptions | 2023F | 2024F | 2025F |
| Legal & professional expenses | | | |
| as % of revenue | 1% | 1% | 1% |
| Employee travel and relevant expenses | | | |
| as % of revenue | 3% | 3% | 3% |
| Miscellaneous | | | |
| as % of revenue | 2% | 2% | 2% |
| Spillage & wastage | | | |
| as % of revenue | 2% | 2% | 2% |
| | | | |
| --- | --- | --- | --- |
| Cash Flow Assumptions | 2023F | 2024F | 2025F |
| Payables | | | |
| Salaries payables as % of total salaries | 8% | 8% | 8% |
| period in months | 1 | 1 | 1 |
| Receivables | | | |
| as % of revenue | 8% | 8% | 8% |
| period in months | 1 | 1 | 1 |
| Inventory | | | |
| as % of revenue | 25% | 25% | 25% |
| period in months | 3 | 3 | 3 |