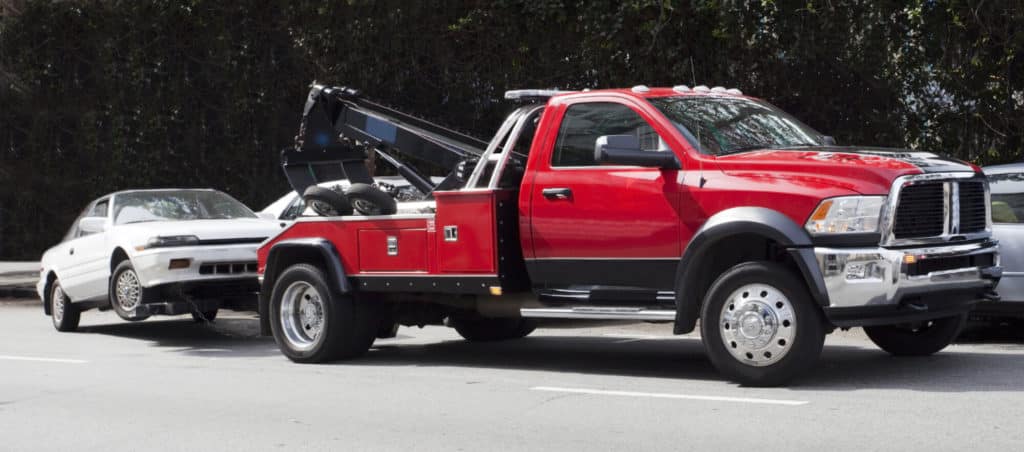 If you are planning to write the Tow Truck business plan on your own, then this sample Tow Truck business plan can be great for guidance. However, if you are looking for a professional business plan writer for a business loan, SBA loan or to find out the possibility of success for your new business then let's talk!
Executive Summary
Overview: Buffalo Towing Services, was founded in November of 2013 as a small family-owned and operated Roadside Assistance firm in Buffalo, NY. We began as a one-man enterprise that offered towing, jump starts, car unlocking, flat tire assistance, and fuel recovery services. Michael H, the owner, is a young, hardworking professional that offers all services and resides in South Buffalo. He is a 33-year-old Married Father of three kids who likes providing his services to the community and the surrounding regions on a daily basis. Buffalo Towing Services, supplied by MCH Enterprises, is the best option for all your Towing & Roadside Assistance requirements 24 hours a day, seven days a week if you're seeking an Honest, Reliable, Affordable, and Trustworthy firm.
Mission: Be prepared to deliver the greatest services in the business across WNY and its surrounding locations with our top-of-the-line Buffalo Towing Services to create a workforce that works as a superior team.
Vision: To be the best, we will constantly give above and above training and be a part of any new industry techniques to ensure that our drivers are well equipped to manage any circumstance they may meet on the road.
Industry Overview: During the forecast period for 2018 to 2028, the worldwide tow truck market is predicted to increase at a CAGR of 5.5 percent. The rising demand for tow trucks from different end-use sectors, such as machine-building, metallurgical, furniture, appliance, and others, might be linked to the market's expansion. Due to its cheap cost and ease of mobility, the light-duty tow truck category will likely dominate the worldwide market throughout the forecast period.
Financial Overview: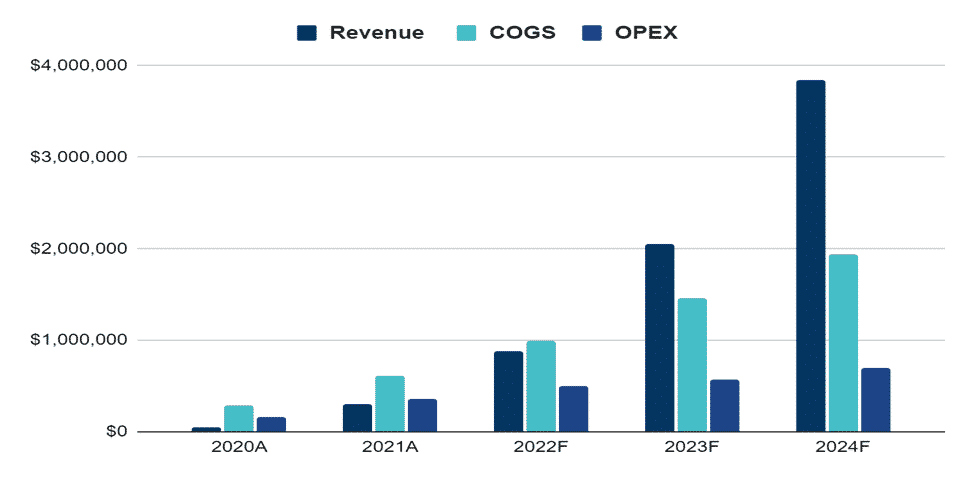 Financials is one of the most important sections of a Tow Truck business plan. You can get an idea of your projected revenue, required investment amount, is the business sustainable without additional funding, etc.
Financial Highlights:
| | | | | | |
| --- | --- | --- | --- | --- | --- |
| Liquidity | 2020A | 2021A | 2022F | 2023F | 2024F |
| Current ratio | 6 | 12 | 23 | 32 | 42 |
| Quick ratio | 6 | 11 | 22 | 31 | 40 |
| DSO | 8 | 8 | 8 | 8 | 8 |
| Solvency | | | | | |
| Interest coverage ratio | | | 8.2 | 11.1 | 14.2 |
| Debt to asset ratio | 0.01 | 0.01 | 0.2 | 0.18 | 0.16 |
| Profitability | | | | | |
| Gross profit margin | 51% | 51% | 53% | 53% | 53% |
| EBITDA margin | 12% | 14% | 21% | 22% | 22% |
| Return on asset | 5% | 6% | 13% | 14% | 14% |
| Return on equity | 5% | 6% | 16% | 17% | 17% |
FUND USAGE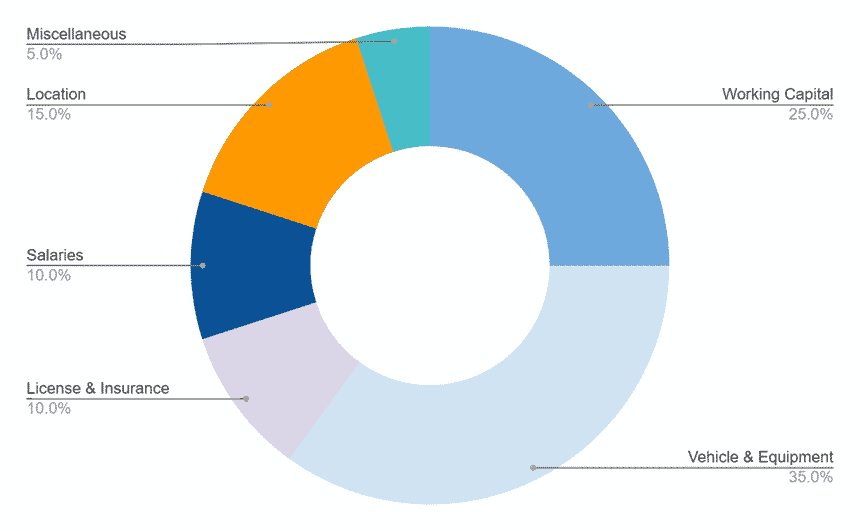 Industry Analysis
The industry analysis section of the Tow Truck business plan will help you get better insights into competitors, market growth, and overall industry prospects. You can order a custom market research report for your Tow Truck business.
Nobody knows when anything awful can happen, so it's always a good idea to be as prepared as possible for any towing emergencies you might encounter while driving. Having a roadside assistance plan is the greatest way to be prepared for any emergency while on the road. When your car is incapacitated due to mechanical or electrical failure, one of the most common reasons for requesting roadside help is. Most of the time, a towing service will be required to ensure that your vehicle is not left stranded and perhaps impounded.
Since the number of automobiles on the road increases, so does the number of drivers breaking traffic laws, as vehicle owners prefer to park their vehicles in locations other than those allocated for parking. This encourages governments and municipalities to increase their towing truck fleets in order to remove the automobiles off the road, promoting the market's development. Another element driving the global towing vehicle market is the fast-expanding e-commerce and logistics industry throughout the globe. Due to rising traffic congestion and the frequency of road accidents, Asia Pacific accounts for a significant portion of the worldwide towing vehicle industry.
During the forecast period, the global towing vehicle market is expected to increase at a CAGR of 3.98 percent, reaching a total market value of US$9,190.542 million in 2025, up from US$7,270.833 million in 2019. The growing frequency of traffic accidents throughout the globe is one of the primary reasons pushing the global towing vehicle market forward. As the frequency of road accidents continues to rise despite rigorous road safety rules, demand for towing vehicle fleets rises as well, favorably influencing the worldwide towing vehicle market. Because of increased urbanization and buying power, the number of automobiles on the road is rising, as is the number of vehicle breakdowns and collisions.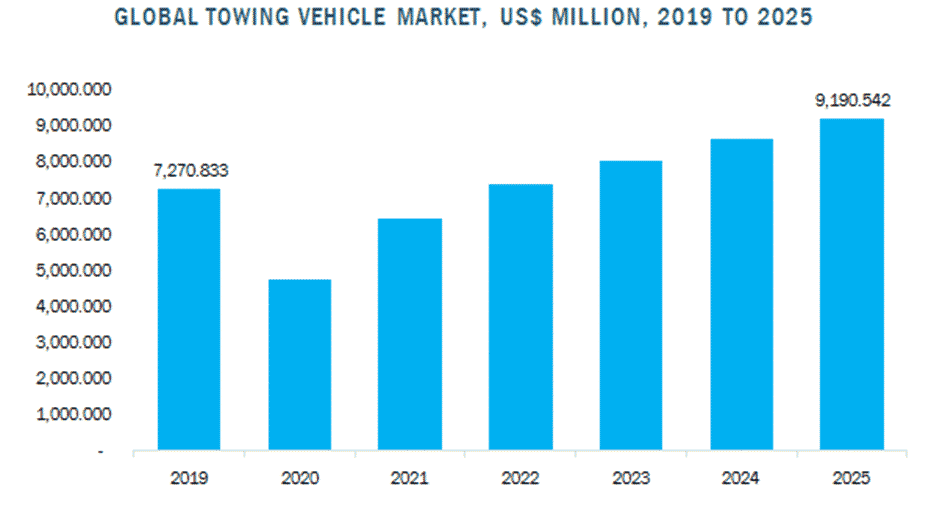 While working on the industry analysis section of the Tow Truck business plan make sure that you add significant number of stats to support your claims and use proper referencing so that your lender can validate the data.
Despite advancements in passive safety measures, including seat belts, airbags, and lights, the frequency of automobile accidents and the death rate linked with them are on the rise across the globe. Each year, over 1.35 million people die in traffic accidents, according to the World Health Organization (WHO). Most nations lost 3% of their GDP as a result of this, resulting in the loss of both human lives and public property, as well as significant financial damages to the economy. According to research released by the World Health Organization and the World Bank, the situation is predicted to worsen, with the number of persons killed in car accidents anticipated to climb by 65 percent by 2020. The constant growth in the frequency of automobile accidents is mostly due to drivers' inattention and distraction.
According to National Traffic Safety Administration in the United States, driver drowsiness is responsible for over 100,000 accidents each year. Despite tighter regulations on fines, driver suspensions, and possibly prison time if they inflict physical injury, drunk driving remains a top cause of road collisions in Canada. According to the International Transport Forum, speeding accounts for 15 to 35 percent of fatal road incidents in all nations, while drunk driving accounts for 10 to 30 percent of fatal road crashes in most countries. The demand for towing vehicles across various regions/countries to tow the car involved in the accident is dramatically increasing as a result of the growing incidence of road collisions.
North America, South America, Europe, the Middle East, Africa, and the Asia Pacific are the regions that make up the worldwide towing vehicle market. The Asia Pacific towing vehicle market is expected to grow at a significant rate throughout the forecast period due to expanding population and rising disposable income in countries such as China and India, which are bolstered by a thriving automotive sector. According to China's National Bureau of Statistics, the number of private automobiles in the nation (measured in 10,000 units) grew from 16,330 in 2016 to 22,513 in 2019. Furthermore, due to high disposable incomes and living standards, as well as an increase in the frequency of traffic accidents in the area, North America and Europe combined account for a significant portion of the worldwide towing vehicle market.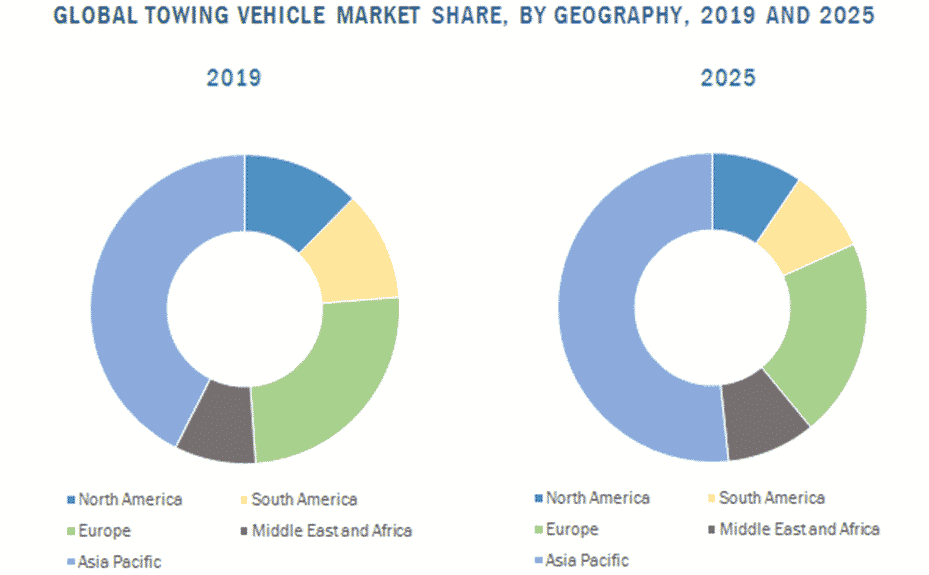 Danco Products, Dual-Tech. Inc., Miller Industries Inc., Worldwide Towing Systems Kft, Johnson's Heavy Towing, Fiault SAS, MONZA J. ESTEBAN, SL, Erkin World Power, Falkom B.V., and Jost's Engineering Company Limited are among the key industry participants in the global towing vehicle market. To get a competitive edge over their rivals in this industry, businesses in the global towing vehicle market are using a variety of growth methods. Major market players have been profiled, along with their respective competitive positions and strategies, and the study also includes information on recent agreements and investments made by various industry participants in recent years. The business overview, financial performance (for public businesses) over the last few years, significant goods and services supplied, as well as recent transactions and investments of these key players in the worldwide towing vehicle market are all detailed in the company profiles section.
Marketing Plan
A key part of the marketing plan in a Tow Truck business plan is the marketing budget. The growth in the number of customers is proportional to the budget and dependent on the CAC.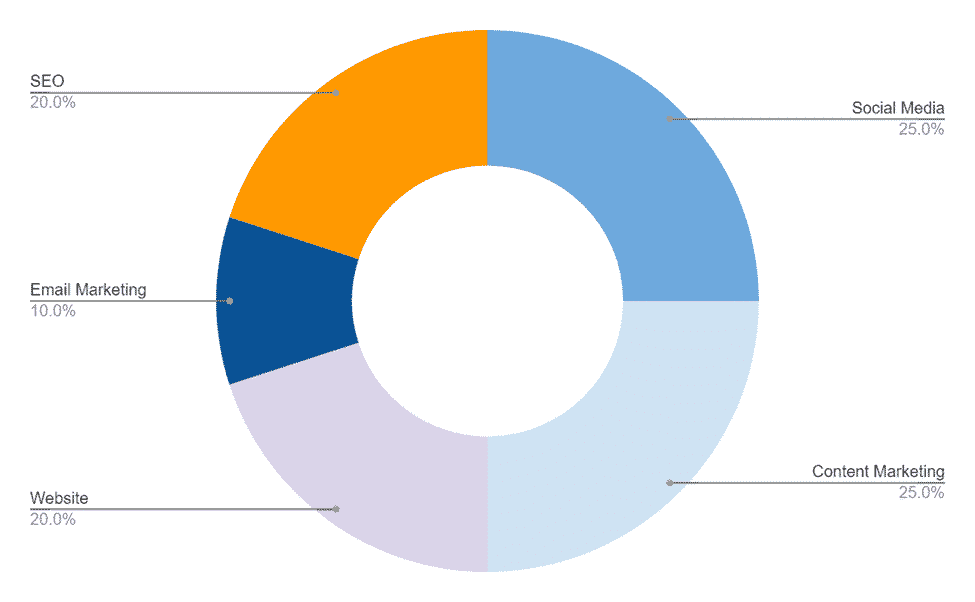 Content Marketing: Buffalo Towing Services creates useful blogs and posts them on YouTube to show viewers our services.
Social Media: Posting photos and promos by Buffalo Towing Services gain confidence from prospective customers.
Email Marketing We create a list of subscribers and send them emails regarding Buffalo Towing Services can offer..
Website: The material on the website of Buffalo Towing Services is well-organized, with simple navigation that is easy for searchers to follow.
SEO (Search Engine Optimization) When a customer enters a search box, Buffalo Towing Services wants to appear at the top of the list.
Organogram: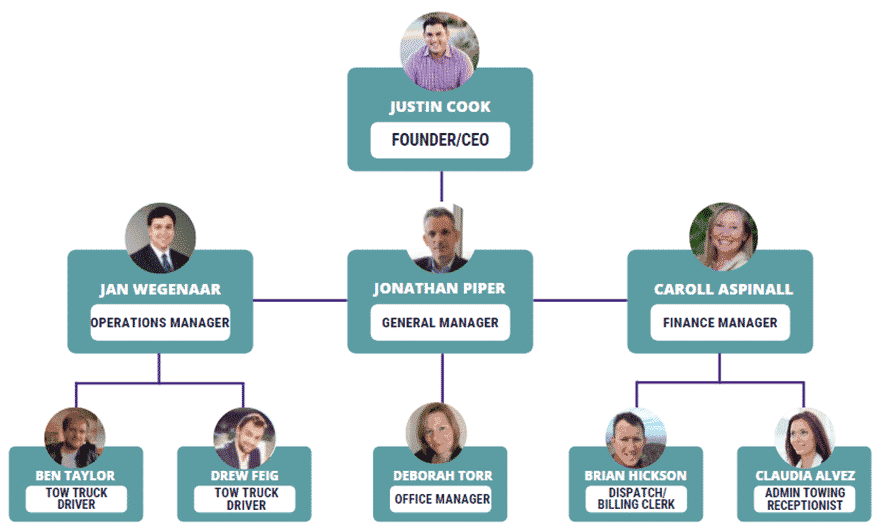 Financial Plan
This section of the Tow Truck business plan helps your lender figure out whether you will be able to pay off the loan, whether the business is sustainable, what are the growth prospects, etc.
Earnings:
Break-Even Analysis: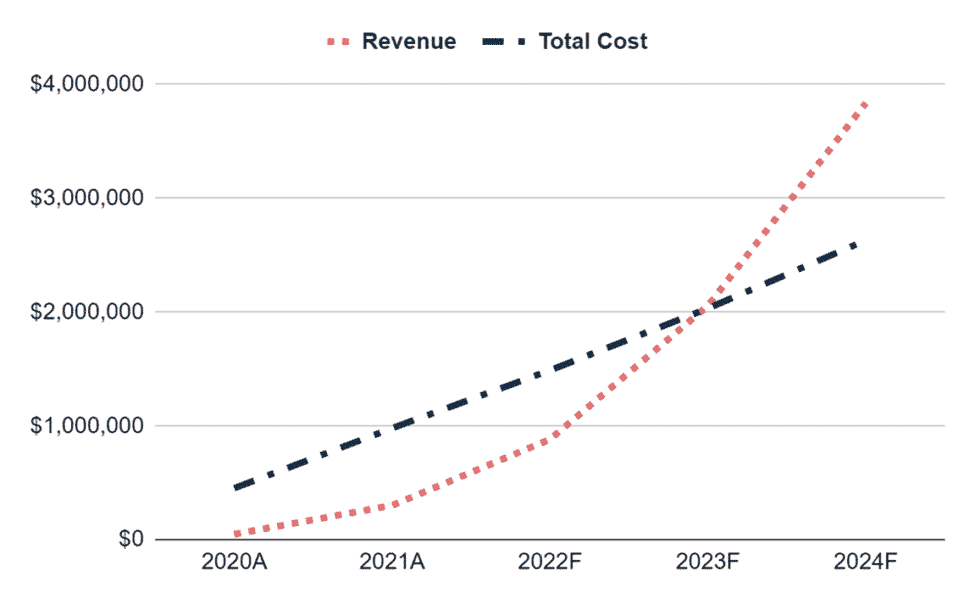 Income Statement:
| | | | | | |
| --- | --- | --- | --- | --- | --- |
| | 2020A | 2021A | 2022F | 2023F | 2024F |
| ANNUAL REVENUE | | | | | |
| Item 1 | 9,217 | 59,117 | 175,410 | 415,277 | 781,357 |
| Item 2 | 34,701 | 222,558 | 660,368 | 1,563,394 | 2,941,580 |
| Item 3 | 4,067 | 19,561 | 46,432 | 78,519 | 114,905 |
| Total annual revenue | 47,985 | 301,236 | 882,211 | 2,057,189 | 3,837,842 |
| % increase | | 528% | 193% | 133% | 87% |
| COST of REVENUE | | | | | |
| Item 1 | 360 | 2,259 | 6,617 | 15,429 | 28,784 |
| Item 2 | 480 | 3,012 | 8,822 | 20,572 | 38,378 |
| Item 3 | 52,000 | 65,000 | 78,000 | 91,000 | 104,000 |
| Item 4 | 720 | 3,615 | 8,822 | 16,458 | 23,027 |
| Item 5 | 140,000 | 336,000 | 560,000 | 840,000 | 1,120,000 |
| Item 6 | 60,000 | 144,000 | 240,000 | 360,000 | 480,000 |
| Item 7 | 32,000 | 61,333 | 85,533 | 112,153 | 141,435 |
| Total Cost of Revenue | 285,560 | 615,220 | 987,794 | 1,455,612 | 1,935,625 |
| as % of revenue | 595% | 204% | 112% | 71% | 50% |
| Gross Profit | -237,575 | -313,984 | -105,583 | 601,578 | 1,902,218 |
| SELLING & ADMIN EXPENSES | | | | | |
| Item 1 | 28,000 | 96,800 | 154,880 | 175,692 | 193,261 |
| Item 2 | 75,000 | 105,000 | 120,000 | 120,000 | 120,000 |
| Item 3 | 36,000 | 96,000 | 108,000 | 120,000 | 120,000 |
| Item 4 | 8,000 | 12,000 | 12,000 | 12,000 | 12,000 |
| Item 5 | 3,839 | 18,074 | 44,111 | 61,716 | 115,135 |
| Item 6 | 3,359 | 12,049 | 26,466 | 41,144 | 76,757 |
| Item 7 | 5,600 | 10,000 | 12,904 | 15,034 | 17,376 |
| Item 8 | 6,667 | 14,000 | 22,067 | 30,940 | 40,701 |
| Total selling & admin expenses | 166,464 | 363,924 | 500,428 | 576,525 | 695,230 |
| as % of revenue | 347% | 121% | 57% | 28% | 18% |
| Net profit | -404,039 | -677,907 | -606,011 | 25,052 | 1,206,987 |
| Accumulated net profit | -404,039 | -1,081,947 | -1,687,957 | -1,662,905 | -455,918 |
Cash Flow Statement:
| | | | | | |
| --- | --- | --- | --- | --- | --- |
| | 2020A | 2021A | 2022F | 2023F | 2024F |
| CASH FLOW from OPERATING ACTIVITIES | | | | | |
| Net profit before tax | -$404,039 | -$677,907 | -$606,011 | $25,052 | $1,206,987 |
| Depreciation | $44,267 | $85,333 | $120,504 | $158,127 | $199,512 |
| Payables | | | | | |
| Item 1 | $4,333 | $5,417 | $6,500 | $7,583 | $8,667 |
| Item 2 | $11,667 | $28,000 | $46,667 | $70,000 | $93,333 |
| Item 3 | $6,250 | $8,750 | $10,000 | $10,000 | $10,000 |
| Item 4 | $3,000 | $8,000 | $9,000 | $10,000 | $10,000 |
| Item 5 | $667 | $1,000 | $1,000 | $1,000 | $1,000 |
| Total payables | $25,917 | $51,167 | $73,167 | $98,583 | $123,000 |
| change in payables | $25,917 | $25,250 | $22,000 | $25,417 | $24,417 |
| Receivables | | | | | |
| Item 1 | $320 | $1,506 | $3,676 | $5,143 | $9,595 |
| Item 2 | $360 | $1,807 | $4,411 | $8,229 | $11,514 |
| Total receivables | $680 | $3,314 | $8,087 | $13,372 | $21,108 |
| change in receivables | -$680 | -$2,634 | -$4,773 | -$5,285 | -$7,736 |
| Net cash flow from operating activities | -$334,536 | -$569,958 | -$468,280 | $203,311 | $1,423,180 |
| | | | | | |
| CASH FLOW from INVESTING ACTIVITIES | | | | | |
| Item 1 | $16,000 | $13,200 | $14,520 | $15,972 | $17,569 |
| Item 2 | $20,000 | $22,000 | $24,200 | $26,620 | $29,282 |
| Item 3 | $28,000 | $22,000 | $14,520 | $10,648 | $11,713 |
| Item 4 | $96,000 | $88,000 | $72,600 | $79,860 | $87,846 |
| Item 5 | $20,000 | $22,000 | $24,200 | $26,620 | $29,282 |
| Net cash flow/ (outflow) from investing activities | -$180,000 | -$167,200 | -$150,040 | -$159,720 | -$175,692 |
| | | | | | |
| CASH FLOW from FINANCING ACTIVITIES | | | | | |
| Equity | $400,000 | $440,000 | $484,000 | $532,400 | $585,640 |
| Net cash flow from financing activities | $400,000 | $440,000 | $484,000 | $532,400 | $585,640 |
| Net (decrease)/ increase in cash/ cash equivalents | -$114,536 | -$297,158 | -$134,320 | $575,991 | $1,833,128 |
| Cash and cash equivalents at the beginning of the year | – | -$114,536 | -$411,693 | -$546,014 | $29,978 |
| Cash & cash equivalents at the end of the year | -$114,536 | -$411,693 | -$546,014 | $29,978 | $1,863,105 |
Balance Sheet:
| | | | | | |
| --- | --- | --- | --- | --- | --- |
| | 2020A | 2021A | 2022F | 2023F | 2024F |
| NON-CURRENT ASSETS | | | | | |
| Item 1 | $16,000 | $29,200 | $43,720 | $59,692 | $77,261 |
| Item 2 | $20,000 | $42,000 | $66,200 | $92,820 | $122,102 |
| Item 3 | $28,000 | $50,000 | $64,520 | $75,168 | $86,881 |
| Item 4 | $96,000 | $184,000 | $256,600 | $336,460 | $424,306 |
| Item 5 | $20,000 | $42,000 | $66,200 | $92,820 | $122,102 |
| Total | $180,000 | $347,200 | $497,240 | $656,960 | $832,652 |
| Accumulated depreciation | $44,267 | $129,600 | $250,104 | $408,231 | $607,743 |
| Net non-current assets | $135,733 | $217,600 | $247,136 | $248,729 | $224,909 |
| | | | | | |
| CURRENT ASSETS | | | | | |
| Cash | -$114,536 | -$411,693 | -$546,014 | $29,978 | $1,863,105 |
| Accounts receivables | $680 | $3,314 | $8,087 | $13,372 | $21,108 |
| Total current assets | -$113,856 | -$408,380 | -$537,927 | $43,349 | $1,884,214 |
| Total Assets | $21,878 | -$190,780 | -$290,791 | $292,078 | $2,109,122 |
| | | | | | |
| LIABILITIES | | | | | |
| Account payables | $25,917 | $51,167 | $73,167 | $98,583 | $123,000 |
| Total liabilities | $25,917 | $51,167 | $73,167 | $98,583 | $123,000 |
| | | | | | |
| EQUITIES | | | | | |
| Owner's equity | $400,000 | $840,000 | $1,324,000 | $1,856,400 | $2,442,040 |
| Accumulated net profit | -$404,039 | -$1,081,947 | -$1,687,957 | -$1,662,905 | -$455,918 |
| Total equities | -$4,039 | -$241,947 | -$363,957 | $193,495 | $1,986,122 |
| Total liabilities & equities | $21,878 | -$190,780 | -$290,791 | $292,078 | $2,109,122 |