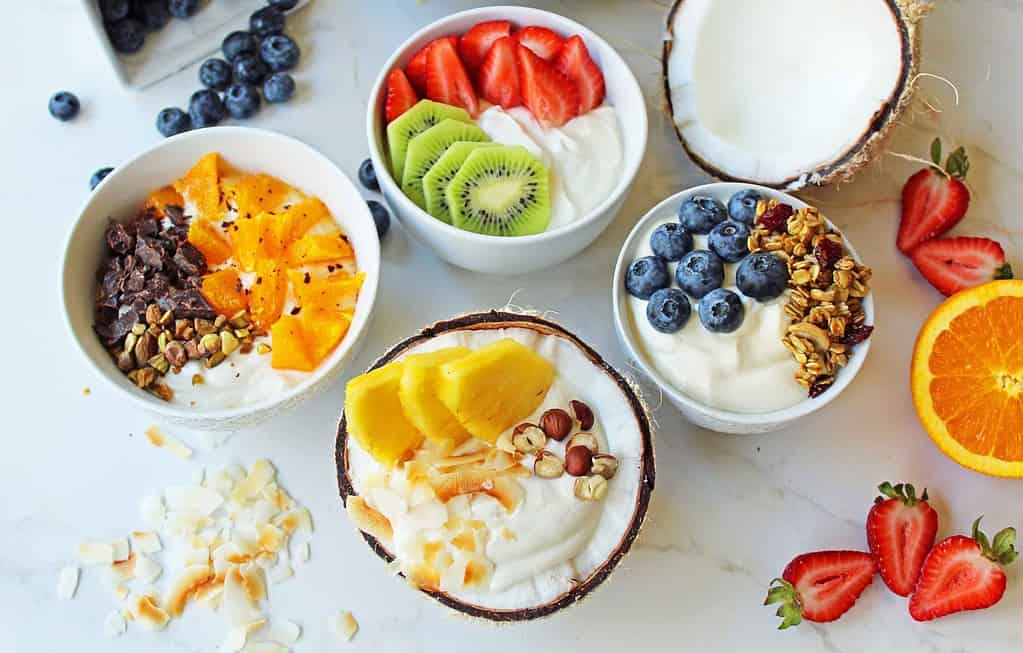 In order to write a Yogurt Business Plan you need to start with executive summary. In order to write an executive summary for a yogurt business plan you need to mention- what your business is about and what you'll sell. Talk about who will buy your yogurt and why it's special. Explain how you'll get people to buy it. The executive summary should be written at the end. Then you should write a Business Description mentioning goals, objectives, mission and vision. Some of the major sections or components of a Yogurt Business Plan involves Fund Usage Plan, Marketing Plan, Industry Analysis, Organizational Overview, Operational Overview and Financials.
This article will provide you a step by step process to write your Yogurt Business Plan. Get a free Yogurt Business Plan Template at the end!
Executive Summary
Executive Summary of a yogurt business plan can be divided into 5 sections:
Overview
In the overview of your executive summary for your yogurt business plan explain what your business is all about. Briefly explain- what your business is and what it wants to do. You should also talk about what makes the product stand out in the market. The first paragraph should be interesting and show the reader what you want the business to be. The goal is to get people's attention and get them interested right away.
Problem
A shortage of quality, natural, or varied yogurt-based goods, or a lack of community-oriented businesses where people may unwind while enjoying a nutritious snack, might be the issue that a yogurt company seeks to solve. Current offers may not satisfy the needs of customers who are concerned about their health or who have special dietary requirements, which might be highlighted in the issue statement.
Solution
You can be part of the solution by expanding your yogurt selection to include dairy-free, sugar-free, and probiotic-rich varieties. You may set yourself apart from the competition by offering a community-focused atmosphere or by sourcing all of your ingredients locally. The issue you've identified should be solved by your solution, making it a marketable product.
Industry Overview
The market analysis should demonstrate familiarity with the yogurt market or the dairy market at large, as well as its current and future trends and growth potential. The demand for yogurt goods, the competitive environment, consumer behavior, and your company's place in this market are all factors to consider. An increase in demand for healthier options, probiotic meals, or regionally sourced products might indicate a shift in the market.
Financial Overview
In the financial overview portion of your business plan, you should include projections for startup costs, revenue, and expenditures. Expenses such as rent for a physical location, employee wages and benefits, fuel, advertising, and license fees are all included here. Considering variables like location, price, and market demand, you may set more reasonable sales goals and more accurately predict your revenue. Include a break-even analysis here to find out when your firm will start making money.
Download the Yogurt Business Plan Template to get full Access
Business Description
Business Name: Yogurt Delights
Founder: Jacob Harrison
Management Team:
| | |
| --- | --- |
| Name | Designation |
| Jacob Harrison | Store Manager |
| Sophia Martinez | Yogurt Chef |
| Benjamin Johnson | Marketing Manager |
Legal Structure: LLC
Location: Miami, Florida
Mission: "To provide delicious, nutritious, and high-quality yogurt to a friendly, inviting customer base. "
Vision: "To become the industry leader in providing exceptional, freshly made yogurt products while maintaining a firm dedication to ethical business practices and protecting the environment."
Goals:
Establishing a solid foothold in the area during the first year may be an important short-term objective. This may be accomplished through providing high-quality goods, providing outstanding customer service, and fostering strong connections within the neighborhood. You may decide on a quarterly sales goal and check in on your progress every week to make course corrections.
Expansion should be one of your intermediate-term goals. The establishment of a second shop within the next two years may be an objective, depending on the success of the first. This would entail establishing a reliable client base, keeping financial performance high, and learning about the needs of the local market.
Goals in the long run may include gaining more notoriety and branching out into other areas. In a span of five years, you may work to make your yogurt brand a household name in your area. This might be accomplished by maintenance of high standards, creative advertising, and the introduction of brand-new product lines.
Since the yogurt industry is related to health and wellbeing, another worthwhile long-term objective would be to consistently improve product offers in response to health trends. This may entail the introduction of novel tastes, alternatives to dairy and sugar, and even products containing probiotics.
Products:
One of the primary items may be frozen yogurt. Self-serve options with several flavor options let consumers create their own treat by mixing and matching their favorite ingredients.
Make a variety of smoothies using yogurt as the basis, then add in healthy ingredients like fresh fruit and superfoods.
Yogurt parfaits are a nutritious and filling breakfast or snack option that may be made by layering yogurt, granola, and fresh fruit.
Yogurt-based desserts: put your culinary imagination to work and make yogurt cheesecakes, yogurt popsicles, and yogurt panna cotta, to name a few.
Yogurt Loaded with Probiotics Appeal to health-conscious consumers by providing yogurts loaded with probiotics, which have been shown to improve gastrointestinal health.
You should provide dairy-free and sugar-free yogurt alternatives to cater to clients with special dietary needs.
Use the products to project revenue and profit:
Find out how you can use the above products to project future revenue using our financial model & create a chart like this. Download Yogurt business plan to get full access.
Funding Request
The first step in writing a successful financing proposal is figuring out exactly how much money your yogurt company will require. It is essential to be specific, comprehensive, and forthright when discussing expected expenses and returns.
You should calculate how much it will cost to launch your business. This includes everything from renting or buying a location to buying merchandise to complying with government regulations to paying for advertising. Remember to include in running costs, even if income isn't expected to cover them in the beginning.
The purpose of the monies being requested should be made clear in the request for assistance. Investors want to know how their money will expand the firm and turn a profit, thus every expense must be defended in terms of the business strategy.
Cash flow predictions and income statements should be included as part of a comprehensive set of financial projections. As a result, prospective investors will have a better idea of when they may anticipate a return on their money.
The goal is trust and confidence among possible investors, so keep that in mind. Your financing proposal should demonstrate that you are a financially astute company owner with a thorough strategy for turning a profit. Keep the lines of communication open with potential investors and be prepared to answer any queries they may have.
Mention you fund usage plan with a chart like this:
Download yogurt business plan to get access to 57 more automatically generated charts
Business Model Canvas
SWOT
Organizational Overview
Founder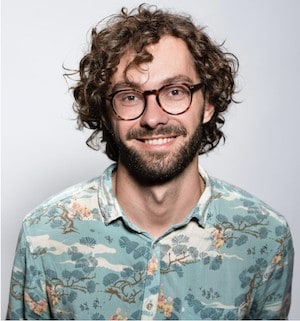 Jacob Harrison
Store Manager
Your business plan should include a section introducing the people behind the company. Investors may learn more about the team behind the enterprise, their backgrounds, and the responsibilities they will play in the company. Here's a suggested outline for this paragraph:
In the first paragraph, identify and describe each founder who helped start the company. Jobs in the goat fattening industry might range from managing operations and finances to working with customers and selling products.
Give some background on the founders by outlining their relevant educational and professional experiences. One co-founder could have a background in agriculture or marketing, while another has a degree in animal science or is a veterinarian.
Competencies and Abilities Present the specific abilities and experiences that each founder has that contribute to the success of the company. This might be anything from familiarity with goat husbandry to knowledge of fattening methods to business acumen.
Discuss the founders' notable accomplishments and awards, as they might provide legitimacy to the company. Examples of this can be a history of professional achievement, academic recognition, or an award in a relevant field.
Responsibility: Lay down the roles that each founder will have in running the company. How will day-to-day tasks be managed? When it comes to money, who will be in charge? Who will take charge of advertising and gross margins? Potential investors will see that you have a competent and well-organized management staff if you provide this information clearly.
Finally, explain the concept that drove the company's inception. Passion, dedication, and ambition are just as, if not more, vital to prospective investors than degrees and experience, and you have the chance to demonstrate all three here.
The founders section should give investors faith in your team's abilities to steer the company to success. Remember that you're selling not just your company concept but also yourself as its leaders, so stick to the facts and keep your pitch brief.
Staff Positions
The general manager is responsible for directing the daily activities of the yogurt company. Hiring and supervising employees, establishing and implementing policies on customer service, and coordinating with vendors are all possible responsibilities.
A yogurt company needs a strong production manager since that individual will be in charge of making the yogurt. They make sure the yogurt is of high quality and the manufacturing line functions efficiently.
A quality control specialist is an essential member of any food manufacturing team. They're in charge of checking that everything is safe for human consumption, keeping the items under constant observation, and keeping the machinery in good working order.
The Marketing and Sales Manager is in charge of spreading the word about the company and its wares. They devise promotional plans, oversee advertising initiatives, and network with shop owners to get the company's wares on store shelves.
An accountant or financial manager is responsible for overseeing the monetary operations of a company. They also provide advice on more practical matters, such pricing tactics and potential investments.
If your yogurt shop has a physical location, you'll need sales and customer service staff to greet visitors, process their purchases, and keep the shop looking neat and tidy.
Marketing Plan
To get started, it's important to study the market carefully. To do this, one must investigate the tastes of the intended clientele, identify the market niche that will be serviced, and analyze the products and services offered by rival companies. This may imply catering to those who are concerned about their health or who have a penchant for high-end or unusual foods in the case of a yogurt shop.
Next, you need to find a way to set your yogurt company apart from the others by developing a USP. It might be a novel taste, a distinctive recipe, or the exclusive use of organic or regionally-grown ingredients. A unique selling proposition (USP) may help a company find its niche in the market and provide consumers a reason to buy its goods.
Another step is to develop distinct marketing targets that fit in with the larger corporate strategy. This might mean recruiting more consumers, raising revenue, or raising general knowledge of the company.
Pick the advertising methods that will provide you the most exposure with your desired demographic. This may involve both analog channels like TV, radio, and print, and digital ones like social media, email, and search engine optimization. Which channels to choose will rely heavily on where your ideal clients spend their time and energy.
Create advertising plans that will reach your target audience. Various strategies, such as price cuts, limited-edition releases, and collaborations with similar firms in the area, are all viable options.
Set aside some money in the budget for advertising. This has to be practical and take into consideration the prices of various advertising avenues.
Finally, be sure to establish metrics for gauging the performance of your marketing campaigns. Sales, internet traffic, social media activity, and responses from customers are all examples. Keeping a close eye on the results of your marketing efforts and making any necessary adjustments can get you closer to your objectives.
Download Our 30 Page Yogurt Business Plan. It comes with a detailed specialized yogurt marketing plan along with charts and graphs for marketing budget and other necessary info.
Industry Analysis
To begin, let's take a look at the yogurt market as a whole, including its size, growth rate, and other important factors. If you want to sell your goods abroad, you need to research both the home and foreign markets. Analyze how things like shifting tastes and rising health consciousness are influencing the yogurt market. Take note of the growing popularity of non-dairy, low-sugar, or sugar-free yogurts, the trend toward yogurts made with plant-based ingredients or probiotics, and the trend toward more adventurous tastes. Your company's choices will have more context with this kind of trend data.
Next, you should do a detailed study of the competition. Figure out who you're up against and what you can do to succeed. Examine their offerings, advertising campaigns, sales methods, and commitment to customers. With this data at hand, you'll be able to provide your yogurt company a distinct selling point.
The third procedure involves investigating the supplier chain. Every step of the supply chain, from obtaining raw materials through final packaging and distribution, is fraught with potential gains and losses. Learn the ins and outs of establishing a reliable and cost-efficient supply chain.
Additionally, consider the influence of legislation on the yogurt market. Labeling requirements, waste and emissions rules, and other environmental laws are all examples. For a company to succeed, it is essential that its operations adhere to these rules.
In the end, you should do a SWOT analysis (of your yogurt company's Strengths, Weaknesses, Opportunities, and Threats). Your company's value lies in the fact that it offers something the competition doesn't. Possible weaknesses include restricted marketing resources and/or price increases. Possibilities may arise as a result of the rising demand for healthy foods or the penetration of adjacent market or segment
Download our 30 page Yogurt Business Plan, which already comes with a detailed industry analysis.
Financial Plan
Your revenue forecast should be your first step. Calculate how much yogurt you think you can sell daily, monthly, and annually. Think about the breadth of your potential customer base, the share you can realistically hope to capture, how much you'll charge for your yogurt, and how often people will buy it. It's better to under-estimate revenue and over-deliver than the other way around, so play it safe when making projections.
The next step is to calculate your cost of goods sold (COGS), which covers everything from the price of raw materials (milk, cultures, fruit, sugar, etc.) to the price of finished products and direct labor. Always factor in potential pricing adjustments owing to things like seasonality, supply chain concerns, or fluctuations in material costs.
The next thing to examine is your running costs. Rent, utilities, wages of non-COGS staff, marketing, advertising, insurance, permits, licensing, and maintenance all fall under this category. Consider the potentially large initial investment required to establish a yogurt manufacturing factory.
Gross profit margin, operational profit margin, and net profit margin may all be determined after forecasting revenues and expenses. You may use these numbers to estimate how much money you might make from selling yogurt.
Cash flow forecasting is also important. Forecasting the timing of cash inflows and outflows from sales and costs, respectively. Managing cash flow is essential for every organization, but more so for startups.
Finally, you may want to calculate your break-even point. When your income is equal to your expenses, you are not earning a profit and are not losing money, either. Identifying your break-even point will help you better predict when you will begin to see a profit.