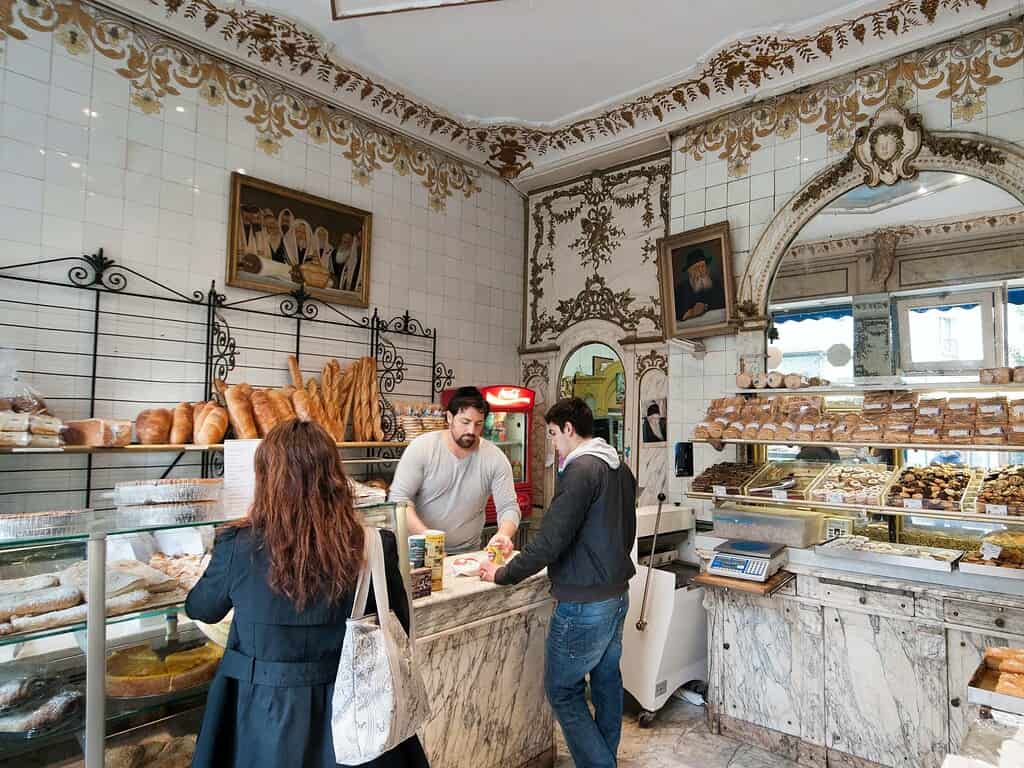 Executive Summary
Overview: For decades, Prantl's Bakery has been a staple. The original Burnt Almond Torte, dubbed "the greatest cake in America" by the Huffington Post, is made at the Bakery, a Pittsburgh icon. After visiting a national baker's conference in 1970, Henry Prantl came up with the torte. When an Anaheim baker displayed the Burnt Almond Cake during the presentation, Prantl took meticulous notes. He changed the formula when he went back to Pittsburgh. He made a lovely yellow sponge cake with custard between the layers. Prantl preserved the cake's name and square form. The firm was sold in 2007 when Henry and Jane Prantl retired. Prantl's Bakery is still hailed as an iconic bakery by the local and national press. The Prantl Bakery is regarded as one of the best bakeries in the nation, with over 100 different delicacies.
Mission: We are dedicated to creating delicious, creative goods that enhance every meal. We will never compromise the quality of our products or our principles as a family, and we will strive to surpass client expectations one order at a time.
Vision: Our vision is to supply consistently high-quality items to our consumers. We inform customers about the ingredients used in our goods and where they come from. "Prantl's Bakery develops and bakes exceptional items!" we want to achieve in the eyes of our consumers.
Industry Overview: The bakery industry is a multibillion-dollar sector that caters to people's cravings for delectable bread, cakes, pies, and sweet rolls. According to the American Bakers Association, bakery goods account for 2.1 percent of the United States' gross domestic product. That's a lot of bread consumption. Every year, the baking sector earns more than $30 billion. There are roughly 3,000 commercial bakeries and 6,000 retail bakeries in this business. Even though the market for small bakery stores is highly fragmented, three manufacturers (Flowers Foods, Grupo Bimbo, and Campbell Soup Co.) account for 55% of the total commercial bakery income. According to the American Bakers Association, baked products made and sold in the United States generate $423 billion in economic effect. Commercial bakeries sell $31 billion worth of goods, while retail bakeries make roughly $3 billion. However, due to the growing wheat and sugar prices, earnings are not very significant. By increasing pricing, bakeries aren't always able to pass on these higher expenses to their customers.
Financial Overview: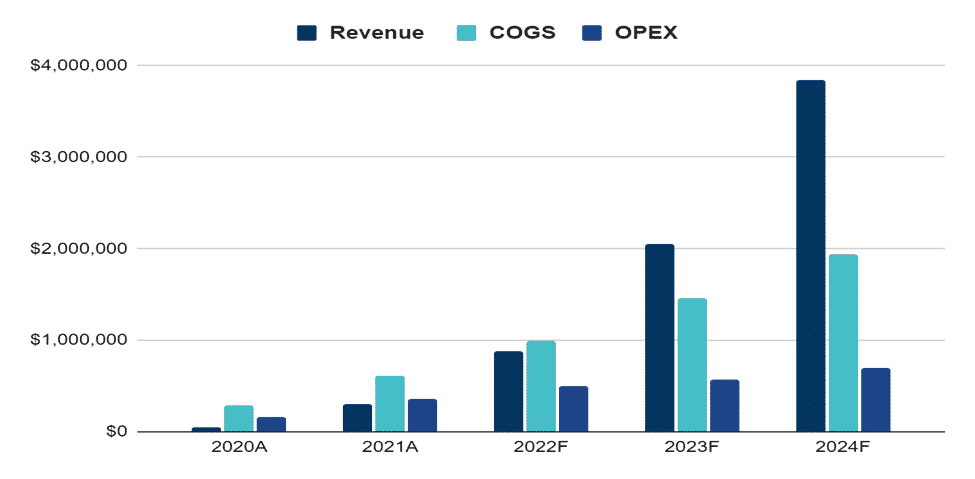 Financial Highlights:
| | | | | | |
| --- | --- | --- | --- | --- | --- |
| Liquidity | 2020A | 2021A | 2022F | 2023F | 2024F |
| Current ratio | 6 | 12 | 23 | 32 | 42 |
| Quick ratio | 6 | 11 | 22 | 31 | 40 |
| DSO | 8 | 8 | 8 | 8 | 8 |
| Solvency | | | | | |
| Interest coverage ratio | | | 8.2 | 11.1 | 14.2 |
| Debt to asset ratio | 0.01 | 0.01 | 0.2 | 0.18 | 0.16 |
| Profitability | | | | | |
| Gross profit margin | 51% | 51% | 53% | 53% | 53% |
| EBITDA margin | 12% | 14% | 21% | 22% | 22% |
| Return on asset | 5% | 6% | 13% | 14% | 14% |
| Return on equity | 5% | 6% | 16% | 17% | 17% |
FUND USAGE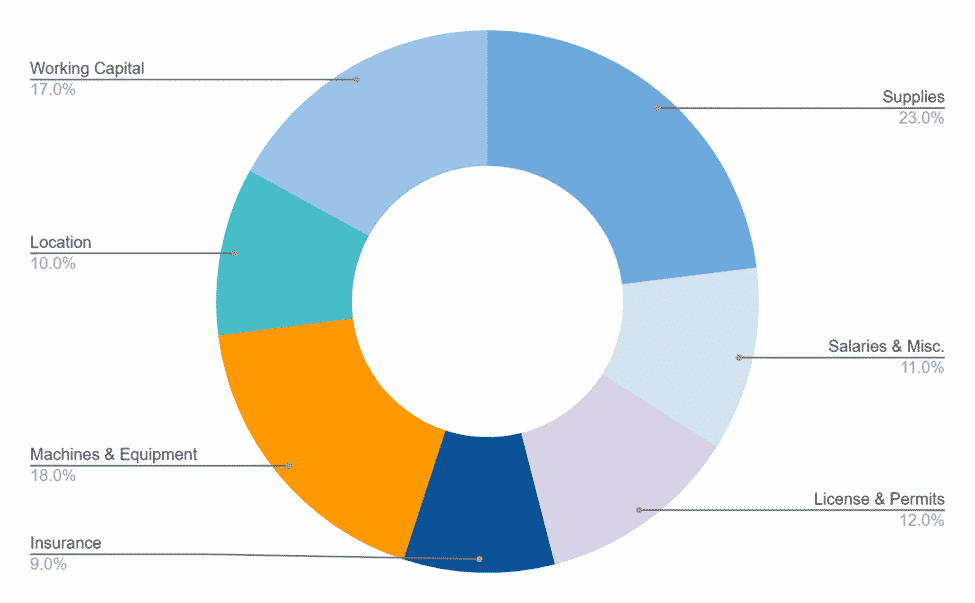 Industry Analysis
Sixty-five percent of bakeries employ less than ten people; 44 percent employ one to four people, and most small businesses have just one location. The baking business employs almost 800,000 people and generates $44 billion in direct compensation. To become a significant commercial bakery, you'll need a lot of money to buy equipment, and you'll be up against much competition from established companies. A small retail Bakery takes less capital and is less difficult to establish. Smaller bakeries may build a dedicated following of local consumers by offering specialty items like whole-grain bread.
Large commercial bakeries continue to dominate the competition because the other businesses are tiny, and the industry is severely fragmented. Major commercial bakeries, such as Grupo Bimbo, will continue to expand via the acquisition of other brands and regional bakeries.
Over the five years leading up to 2021, the Bakery Cafes business performed well. Bakery cafés have raced ahead, benefiting from altering customer tastes, with both disposable income and consumer confidence on the upswing for much of the time. People desire the convenience of fast food establishments without sacrificing quality. Industry businesses strive to provide high-quality meals with healthy alternatives while delivering quick service. Consequently, sector revenue is predicted to climb by an average of 1.7 percent to $11.7 billion over five years to 2021, with a 3.6 percent gain in 2021 alone as the economy improves and customers become more comfortable dining out.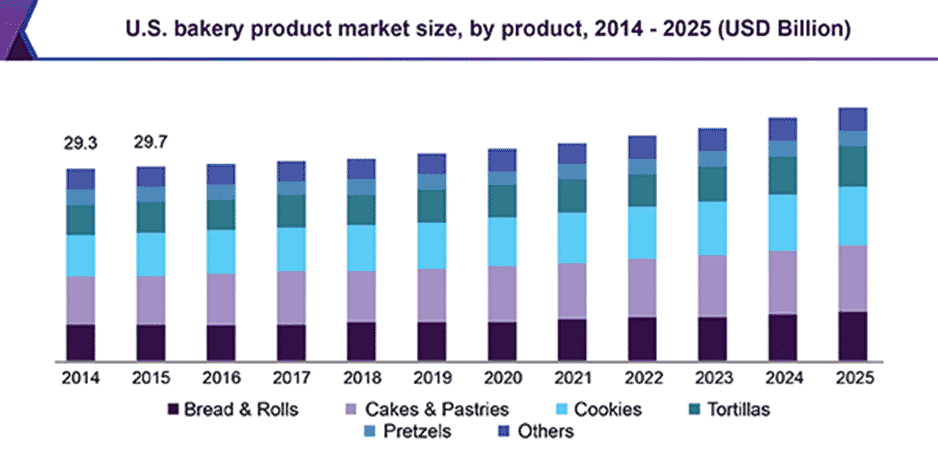 From 2019 to 2025, the worldwide bakery product market is expected to grow at a CAGR of 3.2 percent. Over the anticipated years, rising consumption of ready-to-eat meals worldwide is expected to increase product demand. In Europe, the rising demand for bread items has been driven by a growing appetite for ethnic foods and the popularity of Thai and Mexican cuisine in restaurants.
To win more market share, major corporations are expanding their global footprint. The firms' ability to create joint warehouses in strategic locations remains a significant success element. Due to rising snack consumption, the cakes and pastries market is expected to grow at the quickest rate between 2019 and 2025.
Because of the high presence of important corporations in rising nations like China, India, Singapore, and Japan, Asia Pacific is predicted to grow quickly throughout the projection years. Furthermore, increased per capita income in these nations will aid regional market expansion. Milk, emulsifiers, fat, stabilizers, flavors, sugar, and flour are the most common essential ingredients used in bread items.
The cost of these components and their availability has a significant impact on the price of bakery goods. Like Associated British Foods, Dawn Foods, and Bakels, many organizations have integrated backward to fight supply-demand mismatches and volatility. Because the product must be carried in specifically constructed automobile components with state-of-the-art refrigeration capabilities, the bakery product industry uses a lot of energy. It has a lot of transportation and storage expenses. To some degree, these constraints may limit the market growth.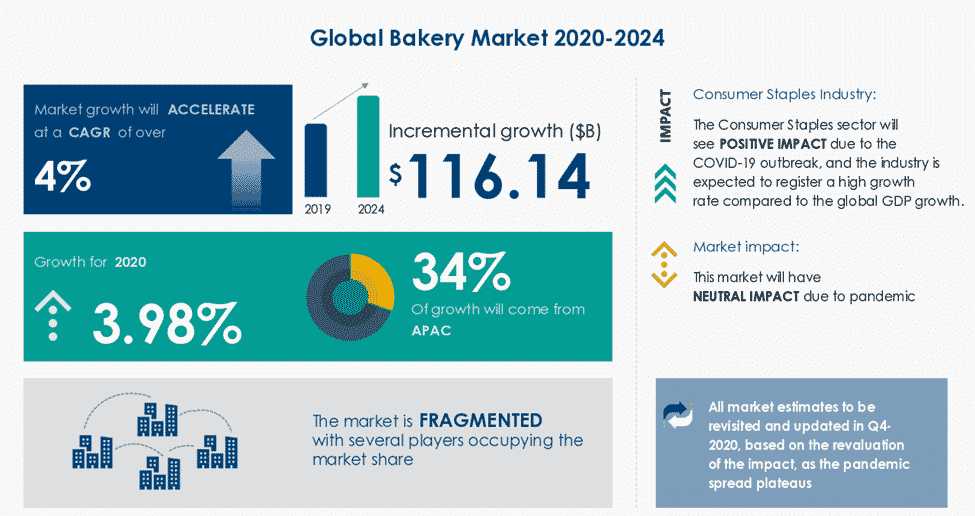 Flavors and fat content and texture, and sweetness are all variables impacting the industry's development. The bread and rolls sector is predicted to develop significantly due to increased demand in North America and the Asia Pacific. Because of the introduction of unique tastes and growing consumer disposable income levels, the cakes and pastries category is predicted to develop the quickest during the projection period, accounting for the highest market share. As Asia Pacific's population grows, long-term prospects for industry players will be created. Because of the introduction of new flavors, forms, and textures to the product, the cookies product sector is expected to develop strongly.
The market is split into hypermarkets and supermarkets, convenience shops, specialty stores, and others based on distribution channels. The worldwide market's primary distribution channels are specialty shops and convenience stores. Specialty retailers are likely to be the most prominent and fastest-growing category throughout the projected period. By 2025, it is predicted to have a market share of over 33%.
Because of the increasing demand for baked goods, such as gluten-free, high-fiber, and Trans fat products, which staple foods, Europe is predicted to be the dominating and second-fastest-growing regional market. Because of expanding population and per-capita income, developing markets are expected to present growth prospects. Furthermore, the rising demand for breakfast grains and cereals in China and India will fuel the industry. Due to brand loyalty and large capital expenditures, high entry barriers are likely to keep competition fierce. Major corporations strive for maximum commercial expansion using a variety of growth tactics, including joint ventures, mergers and acquisitions, strategic collaborations with regional manufacturers, and distribution channel diversification. Kraft Food Group, Inc., Nestle S.A., Bimbo Bakeries USA, Britannia Industries Ltd., General Mills, Associated British Foods, and Campbell Soup Company are just a few of the major players in the business.
Marketing Plan: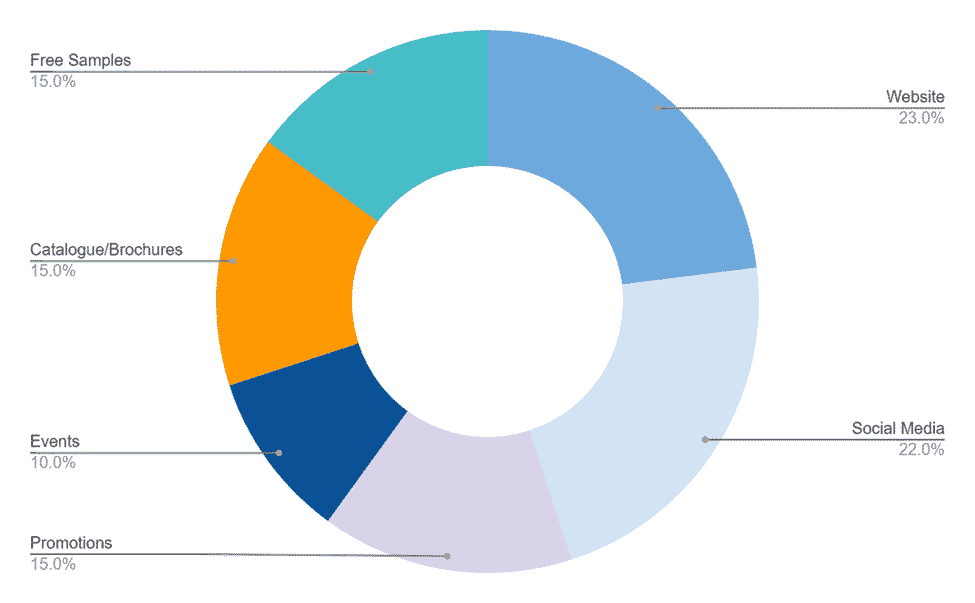 Website: A promotional banner will be posted on Prantl's Bakery website so visitors will know about our new products.
Social Media: Prantl's Bakery will be posting photos of our new bread and pastries on our Facebook and Instagram pages to reach a broad audience through this platform.
Promotions & Events: Prantl's Bakery offers weekly classes on cake decorations. Attending events and giving free samples is an excellent opportunity to promote Prantl's Bakery products.
Catalog/Brochures: Sending Digital Catalog and distributing printed brochures is also a means of promoting Prantl's Bakery.
Free Samples: We will be sending samples to retail venues like restaurants and cafes to show how delicious our new products are.
Organogram: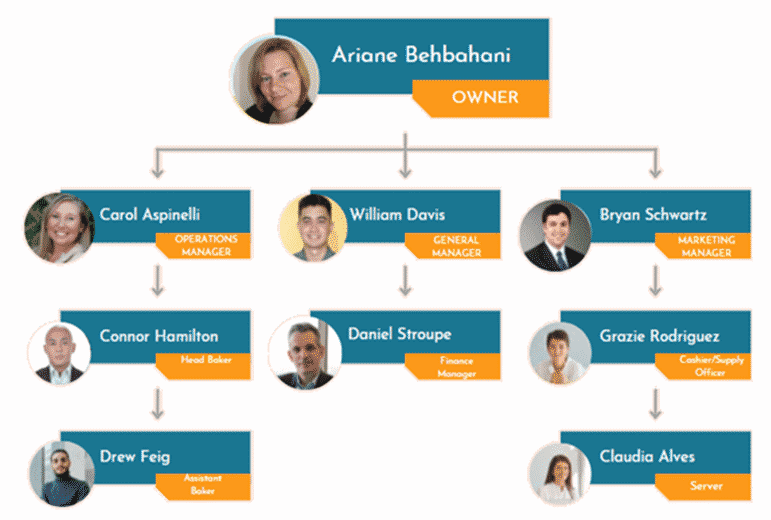 Financial Plan:
Earnings: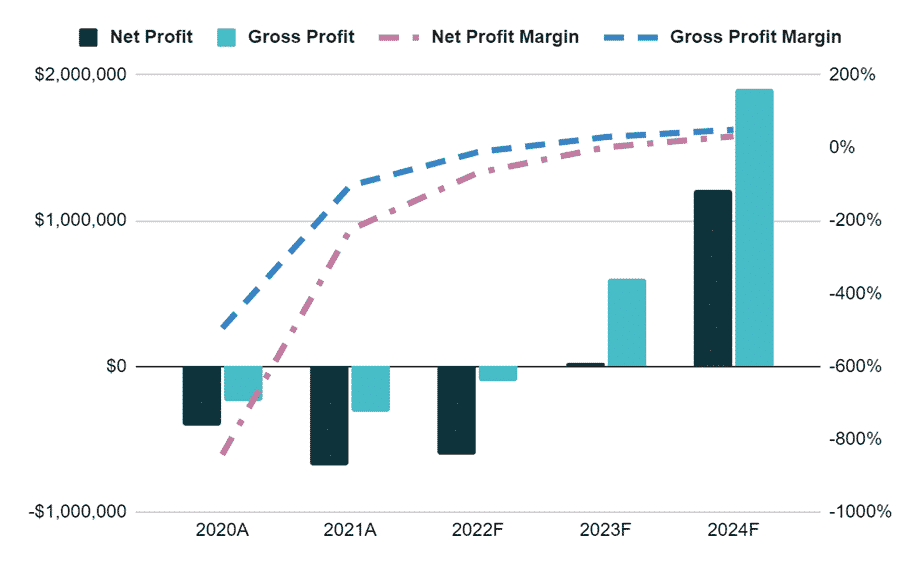 Break-Even Analysis: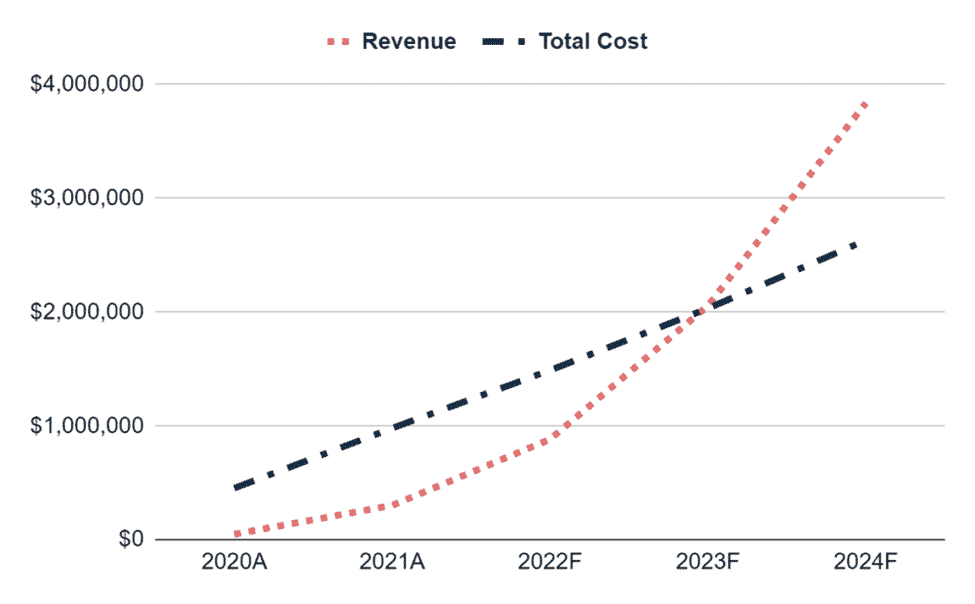 Income Statement:
| | | | | | |
| --- | --- | --- | --- | --- | --- |
| | 2020A | 2021A | 2022F | 2023F | 2024F |
| ANNUAL REVENUE | | | | | |
| Item 1 | 9,217 | 59,117 | 175,410 | 415,277 | 781,357 |
| Item 2 | 34,701 | 222,558 | 660,368 | 1,563,394 | 2,941,580 |
| Item 3 | 4,067 | 19,561 | 46,432 | 78,519 | 114,905 |
| Total annual revenue | 47,985 | 301,236 | 882,211 | 2,057,189 | 3,837,842 |
| % increase | | 528% | 193% | 133% | 87% |
| COST of REVENUE | | | | | |
| Item 1 | 360 | 2,259 | 6,617 | 15,429 | 28,784 |
| Item 2 | 480 | 3,012 | 8,822 | 20,572 | 38,378 |
| Item 3 | 52,000 | 65,000 | 78,000 | 91,000 | 104,000 |
| Item 4 | 720 | 3,615 | 8,822 | 16,458 | 23,027 |
| Item 5 | 140,000 | 336,000 | 560,000 | 840,000 | 1,120,000 |
| Item 6 | 60,000 | 144,000 | 240,000 | 360,000 | 480,000 |
| Item 7 | 32,000 | 61,333 | 85,533 | 112,153 | 141,435 |
| Total Cost of Revenue | 285,560 | 615,220 | 987,794 | 1,455,612 | 1,935,625 |
| as % of revenue | 595% | 204% | 112% | 71% | 50% |
| Gross Profit | -237,575 | -313,984 | -105,583 | 601,578 | 1,902,218 |
| SELLING & ADMIN EXPENSES | | | | | |
| Item 1 | 28,000 | 96,800 | 154,880 | 175,692 | 193,261 |
| Item 2 | 75,000 | 105,000 | 120,000 | 120,000 | 120,000 |
| Item 3 | 36,000 | 96,000 | 108,000 | 120,000 | 120,000 |
| Item 4 | 8,000 | 12,000 | 12,000 | 12,000 | 12,000 |
| Item 5 | 3,839 | 18,074 | 44,111 | 61,716 | 115,135 |
| Item 6 | 3,359 | 12,049 | 26,466 | 41,144 | 76,757 |
| Item 7 | 5,600 | 10,000 | 12,904 | 15,034 | 17,376 |
| Item 8 | 6,667 | 14,000 | 22,067 | 30,940 | 40,701 |
| Total selling & admin expenses | 166,464 | 363,924 | 500,428 | 576,525 | 695,230 |
| as % of revenue | 347% | 121% | 57% | 28% | 18% |
| Net profit | -404,039 | -677,907 | -606,011 | 25,052 | 1,206,987 |
| Accumulated net profit | -404,039 | -1,081,947 | -1,687,957 | -1,662,905 | -455,918 |
Cash Flow Statement:
| | | | | | |
| --- | --- | --- | --- | --- | --- |
| | 2020A | 2021A | 2022F | 2023F | 2024F |
| CASH FLOW from OPERATING ACTIVITIES | | | | | |
| Net profit before tax | -$404,039 | -$677,907 | -$606,011 | $25,052 | $1,206,987 |
| Depreciation | $44,267 | $85,333 | $120,504 | $158,127 | $199,512 |
| Payables | | | | | |
| Item 1 | $4,333 | $5,417 | $6,500 | $7,583 | $8,667 |
| Item 2 | $11,667 | $28,000 | $46,667 | $70,000 | $93,333 |
| Item 3 | $6,250 | $8,750 | $10,000 | $10,000 | $10,000 |
| Item 4 | $3,000 | $8,000 | $9,000 | $10,000 | $10,000 |
| Item 5 | $667 | $1,000 | $1,000 | $1,000 | $1,000 |
| Total payables | $25,917 | $51,167 | $73,167 | $98,583 | $123,000 |
| change in payables | $25,917 | $25,250 | $22,000 | $25,417 | $24,417 |
| Receivables | | | | | |
| Item 1 | $320 | $1,506 | $3,676 | $5,143 | $9,595 |
| Item 2 | $360 | $1,807 | $4,411 | $8,229 | $11,514 |
| Total receivables | $680 | $3,314 | $8,087 | $13,372 | $21,108 |
| change in receivables | -$680 | -$2,634 | -$4,773 | -$5,285 | -$7,736 |
| Net cash flow from operating activities | -$334,536 | -$569,958 | -$468,280 | $203,311 | $1,423,180 |
| | | | | | |
| CASH FLOW from INVESTING ACTIVITIES | | | | | |
| Item 1 | $16,000 | $13,200 | $14,520 | $15,972 | $17,569 |
| Item 2 | $20,000 | $22,000 | $24,200 | $26,620 | $29,282 |
| Item 3 | $28,000 | $22,000 | $14,520 | $10,648 | $11,713 |
| Item 4 | $96,000 | $88,000 | $72,600 | $79,860 | $87,846 |
| Item 5 | $20,000 | $22,000 | $24,200 | $26,620 | $29,282 |
| Net cash flow/ (outflow) from investing activities | -$180,000 | -$167,200 | -$150,040 | -$159,720 | -$175,692 |
| | | | | | |
| CASH FLOW from FINANCING ACTIVITIES | | | | | |
| Equity | $400,000 | $440,000 | $484,000 | $532,400 | $585,640 |
| Net cash flow from financing activities | $400,000 | $440,000 | $484,000 | $532,400 | $585,640 |
| Net (decrease)/ increase in cash/ cash equivalents | -$114,536 | -$297,158 | -$134,320 | $575,991 | $1,833,128 |
| Cash and cash equivalents at the beginning of the year | – | -$114,536 | -$411,693 | -$546,014 | $29,978 |
| Cash & cash equivalents at the end of the year | -$114,536 | -$411,693 | -$546,014 | $29,978 | $1,863,105 |
Balance Sheet:
| | | | | | |
| --- | --- | --- | --- | --- | --- |
| | 2020A | 2021A | 2022F | 2023F | 2024F |
| NON-CURRENT ASSETS | | | | | |
| Item 1 | $16,000 | $29,200 | $43,720 | $59,692 | $77,261 |
| Item 2 | $20,000 | $42,000 | $66,200 | $92,820 | $122,102 |
| Item 3 | $28,000 | $50,000 | $64,520 | $75,168 | $86,881 |
| Item 4 | $96,000 | $184,000 | $256,600 | $336,460 | $424,306 |
| Item 5 | $20,000 | $42,000 | $66,200 | $92,820 | $122,102 |
| Total | $180,000 | $347,200 | $497,240 | $656,960 | $832,652 |
| Accumulated depreciation | $44,267 | $129,600 | $250,104 | $408,231 | $607,743 |
| Net non-current assets | $135,733 | $217,600 | $247,136 | $248,729 | $224,909 |
| | | | | | |
| CURRENT ASSETS | | | | | |
| Cash | -$114,536 | -$411,693 | -$546,014 | $29,978 | $1,863,105 |
| Accounts receivables | $680 | $3,314 | $8,087 | $13,372 | $21,108 |
| Total current assets | -$113,856 | -$408,380 | -$537,927 | $43,349 | $1,884,214 |
| Total Assets | $21,878 | -$190,780 | -$290,791 | $292,078 | $2,109,122 |
| | | | | | |
| LIABILITIES | | | | | |
| Account payables | $25,917 | $51,167 | $73,167 | $98,583 | $123,000 |
| Total liabilities | $25,917 | $51,167 | $73,167 | $98,583 | $123,000 |
| | | | | | |
| EQUITIES | | | | | |
| Owner's equity | $400,000 | $840,000 | $1,324,000 | $1,856,400 | $2,442,040 |
| Accumulated net profit | -$404,039 | -$1,081,947 | -$1,687,957 | -$1,662,905 | -$455,918 |
| Total equities | -$4,039 | -$241,947 | -$363,957 | $193,495 | $1,986,122 |
| Total liabilities & equities | $21,878 | -$190,780 | -$290,791 | $292,078 | $2,109,122 |