Last updated on December 3rd, 2023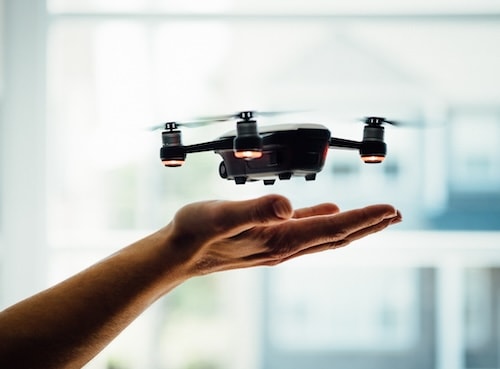 Executive Summary
SkyView Aerial Solutions is the gold standard in drone technology innovation and skill. Our organization which was founded by the brilliant Jordan Smith and has quickly risen to popularity is a leading provider of aerial photography, videography, mapping and surveillance. SkyView uses state-of-the-art drone technology and the founder's extensive expertise to provide ground-breaking aerial solutions that push the limits of photography and data collecting.
Mission: Our mission is to revolutionize the business of gathering aerial data and images by providing our clients fresh perspectives and insights. Dedicated to meet the unique requirement of each customer via the provision of reliable innovative solutions.
Vision: SkyView Aerial Solutions' long-term goal is to establish itself as Miami's go-to drone service by providing cutting-edge technology, excellent customer care and innovative solutions. Our goal is to be on the leading edge of technology and responsive to the changing demands of our customers by incorporating new developments on a regular basis.
Industry Overview:
Thanks to advances in technology growing demand from a variety of industries and encouraging government policy, the U.S. drone business is booming. The market for drones is expected to develop rapidly reaching $42.3 billion by 2028 at a CAGR of 14.4 percent.
Financial Highlights:
Business Description
Business Name: SkyView Aerial Solutions
Founders: Jordan Smith
Management Team: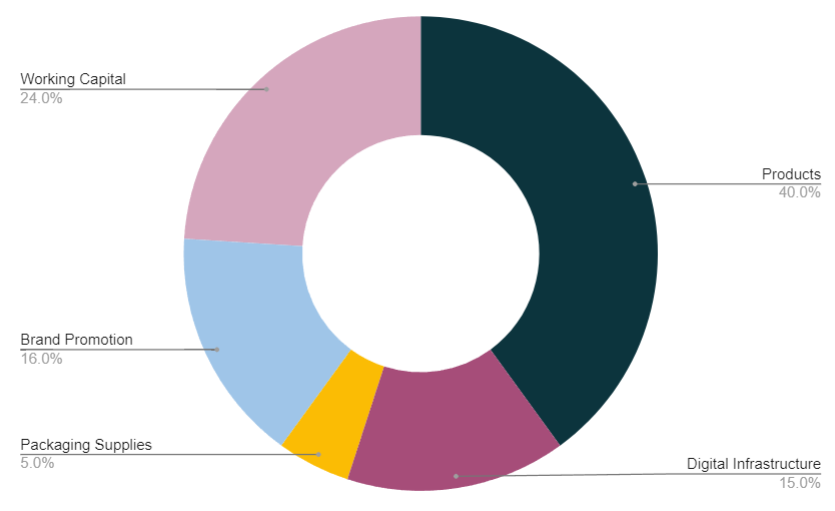 Legal Structure: LLC
Location: Miami
Goals & Objectives:
✔️Market Expansion: Within the following two years expand your service area to include other markets in Florida and nearby states. Sectors of interest might range from environmental tracking to emergency response to city planning.
✔️Technology Advancement: Maintain a steady stream of improvements to the drone fleet with at least one major update or new feature added each year. Improved camera quality, longer battery life or more powerful methods of data processing are all examples.
✔️Client Diversification: Within the following 18 months increase the number of industries you serve by at least three such as insurance, filmmaking or building. This diversity will lessen rely on any particular market segment.
✔️Safety and Compliance: Always follow all FAA rules and regulations as well as any other laws that may apply. To guarantee the greatest levels of safety it is essential to provide continual training programs for pilots and crew.
✔️Customer Satisfaction: Achieve and maintain a customer satisfaction rating of above 95%. This may be gauged by looking at customer evaluations, referral rates and overall satisfaction.
Services:
✔️Aerial Photography and Videography: Provide high-resolution aerial photos and videos for real estate listings, commercial advertising, film production and events such as weddings or festivals.
✔️Surveying and Mapping: Provide comprehensive aerial surveys and mapping services for industries like building, mining, farming and city planning. Land use planning, 3D models and topographical maps all fall under this category.
✔️Infrastructure Inspection: Make use of unmanned aerial vehicles (UAVs) for checking on things like bridges, buildings, power lines and wind turbines. This service may aid in detecting maintenance requirements and analyzing damage following natural catastrophes.
✔️Agricultural Monitoring: Promote crop evaluation, water use analysis and yield forecasting as part of your precision agricultural offerings. This may assist farmers enhance crop management and boost efficiency.
✔️Environmental Monitoring and Conservation: Help the conservation community by offering flying services for environmental research and animal tracking. The charting of habitats, the monitoring of coastlines and the evaluation of forest health are all examples.
Products:
✔️Customized Drone Packages: Promote drone bundles geared for the demands of certain sectors such as those of agriculture, real estate and surveying. These bundles could include drones outfitted with sensors and cameras, data analysis software and instructional materials.
✔️Drone Accessories and Spare Parts: Batteries, propellers, camera mounts, carrying cases and protective gear are just some of the drone components you may sell. This is useful for both experienced pilots and novices.
✔️Drone Photography and Videography Kits: Assemble and sell drones with high-quality cameras, stabilizers, filters and memory cards to anyone who are interested in taking aerial photos and videos.
✔️Software Solutions for Data Analysis: Create and market photogrammetry software, mapping tools or agricultural data analysis software for processing and interpreting data acquired by drones.
✔️Training and Educational Materials: Provide drone pilots and hobbyists with training opportunities and instructional resources. Examples in this category include virtual classrooms, e-books, videos and in-person seminars.
Business Model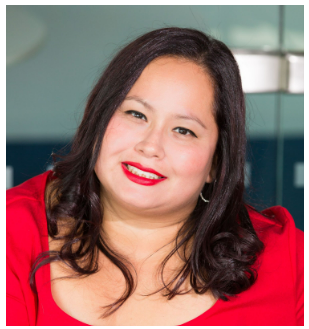 SWOT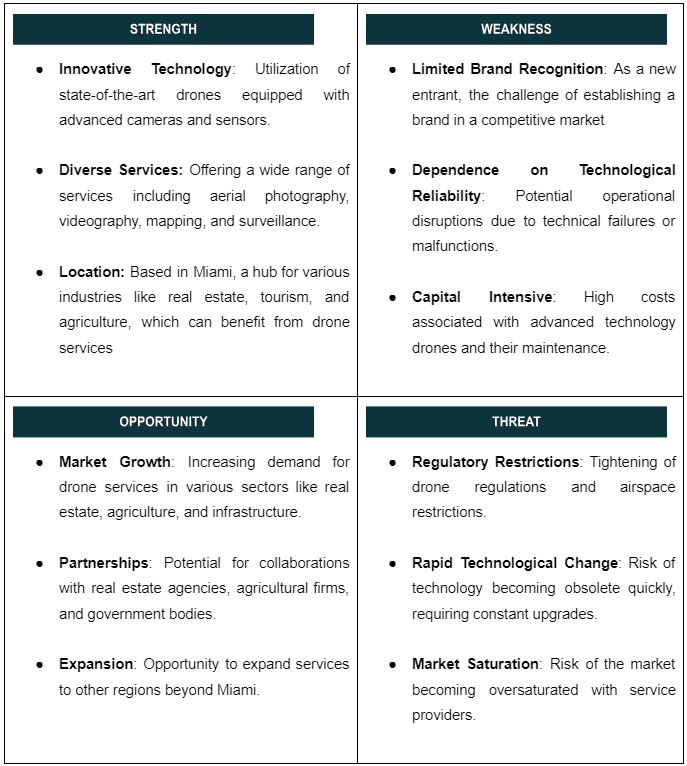 Marketing Plan
Promotional Channels
Social Media Marketing – $15,000 (30%)
✔️Platform Focus: Make use of social media and other online resources like LinkedIn and YouTube. Features such as "before and after" images of completed projects and customer testimonials should be highlighted.
✔️Paid Ads: Target ads towards industries like real estate, agriculture, construction and event planning.
✔️Content Strategy: The drone technology, completed projects and informative blogs should be shared.
Website and SEO – $10,000 (20%)
✔️Website Revamp: Make sure the site is appealing to the eye features your work and is simple to explore and understand.
✔️Blog Content: Publish articles related to drone technology trends, case studies and practical tips for industries using drone services.
✔️SEO: Focus on keywords related to drone services, aerial photography and industry-specific terms to improve search rankings.
Email Marketing – $5,000 (10%)
✔️Newsletter: Report periodically on the latest services, technologies and project successes.
✔️Segmentation: Tailor your material for certain audiences whether they are large corporations, medium-sized organizations or individual customers.
Local Partnerships – $7,000 (14%)
✔️Community Events: Join forces with neighborhood celebrations to broadcast live from above or spread the word about your business.
✔️Business Collaborations: Participate in joint marketing efforts with nearby real estate, building and tourist enterprises.
Influencer and Industry Expert Collaborations – $6,000 (12%)
✔️Collaborations: Join together with prominent people in your field or in the community to create promotional materials.
✔️Sponsorships: Provide your expertise at major events or on major projects in return for publicity.
Direct Mail and Local Advertising – $4,000 (8%)
✔️Direct Mail: Distribute pamphlets and promotional materials to prospective customers in your target market.
✔️Local Media: Place ads in regional business publications, on radio and on community bulletin boards.
Referral Program – $3,000 (6%)
✔️An efficient and low-cost strategy for expanding customer base is to implement a referral program that rewards existing customers for bringing in new ones.
Brand Management
Social Media Marketing
✔️Brand Voice and Visual Identity: Whether your target audience consists of large corporations, small farms or individual consumers you need a brand voice that will connect with all of them. Make use of a unified aesthetic approach to showcasing the breathtaking aerial video your drones are capable of.
✔️User-Generated Content: Inspire customers to tell others about their drone-captured adventures. With the client's permission repost them to establish your expertise and highlight your company's practical use of its products.
✔️Live Demonstrations: Host live demonstrations of drone flights or Q&A sessions with your team to engage your audience and showcase your expertise.
Search Engine Marketing (SEM) and Local SEO
✔️Ad Copy: Write ads that highlight your company's specialties. For example, aerial mapping with pinpoint accuracy, real estate photography or event coverage.
✔️Website Optimization: Ensure your website is engaging, showcases your portfolio and is optimized for search engines with relevant keywords.
✔️Google My Business: Keep your Google My Business profile updated with high-quality images, service details and contact information for improved local visibility.
Email Marketing
✔️Newsletter: Share information about new drone technology, project displays, special deals and industry insights.
✔️Segmentation: Personalize email messages for various target audiences such as large and small enterprises, entrepreneurs and consumers.
Local Partnerships and Sponsorships:
✔️Community Events and Festivals: Collaborate with local events for aerial footage improving exposure among community members.
✔️Educational Collaborations: Partner with schools and universities for educational programs or demonstrations, nurturing future clients and talent.
Content Marketing
✔️Educational Content: Create blog posts and videos about drone technology, safety regulations and innovative use cases.
✔️Project Highlights: Share stories and footage from successful projects, illustrating the impact and capabilities of your services.
Go To Market Strategy
Online Presence and Community Engagement
✔️Professional Website: Launch an engaging website showcasing your range of drone services, stunning aerial footage, client testimonials and a streamlined booking system.
✔️Content Marketing: SEO may be improved with the regular publication of blog entries or articles that discuss the many uses of drone technology best practices for keeping people safe and emerging developments in the field.
✔️Local Directory Listings: Boost SkyView Aerial Solutions' regional and specialized exposure by including the company in appropriate web directories and drone service portals.
✔️Partnerships: Collaborate with local businesses, educational institutions and event organizers to offer drone services fostering a strong local network.
Studio Promotional Offers and Events
✔️Service Launch Event: Promote your offerings by holding a special event. Organize a live drone demonstration and invite local companies, community leaders and prospective customers to attend.
✔️Introductory Discounts: Offer promotional rates for first-time clients or package deals for different services to attract a diverse clientele.
Digital Marketing and Customer Relations
✔️Social Media Campaigns: Utilize sites like Instagram, LinkedIn and YouTube for promoting your projects offering feedback from clients and behind-the-scenes appears into drone operations.
✔️Email Marketing: Develop a newsletter to keep subscribers informed about new services, technology updates and industry news.
✔️Loyalty Program: Create a discount or incentive system for loyal customers to keep them coming back.
Brand Awareness and Public Relations
✔️Local Media Outreach: Engage with local media for coverage sharing unique stories about your drone projects or insights into the drone industry.
✔️Community Involvement: Showcase your drone services and make a positive impact in the local community by taking part in or sponsoring upcoming events.
✔️Influencer Collaborations: To expand your reach team up with authorities in your field or in your area for specific initiatives.
Performance Tracking and Adaptation
✔️Analytics and Feedback: Regularly monitor the effectiveness of your marketing efforts through analytics tools and customer feedback surveys.
✔️Strategy Adaptation: Always be open to revising your tactics in light of new information and the shifting landscape of the industry.
Organizational Overview
Founder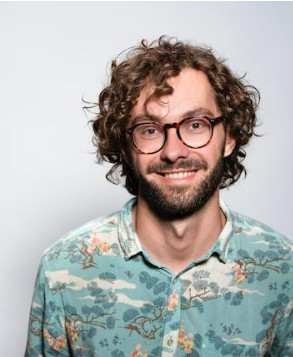 After establishing SkyView Aerial Solutions in Miami, Jordan Smith has taken the lead in the aerial innovation industry. Entered the field of drone technology because he has a strong belief in the revolutionary potential of aerial viewpoints and an enthusiasm for cutting-edge innovation.
Starting with an early interest in aviation and technology, Jordan eventually founded SkyView Aerial Solutions. To better prepare himself for his business endeavor he decided to study drone technology and aeronautics in depth. This mix of enthusiasm, technical understanding and hands-on experience in drone operations has given Jordan with a unique skill set in this fast expanding area.
Jordan's experience has given him a great understanding of the many ways in which these devices may be put to use from basic mapping and surveillance to more sophisticated forms of aerial photography and surveying. His experience in so many fields allows him to adapt to the demands of a wide range of businesses making him a valuable asset to any organization.
Positions and Responsibilities
Chief Executive Officer (CEO) – Jordan Smith
Jordan Smith leads the development, strategy and management as its chief executive officer. This involves acting as the representative in negotiations creating long-term goals for the organization and making sure that day-to-day operations are in line with those goals.
Operations Manager
The Operations Manager is crucial in managing the day-to-day operations of the organization. They control the flight schedule for the drones and make sure the services are up to par with what the customer wants and what the law requires.
Drone Pilots/Technicians
During missions, these experts are in charge of piloting the drones. They keep the drones flying smoothly, get good video or data and fix the broken parts. They must have a deep grasp of drone technology, flying laws and safety practices.
Data Analyst
The Data Analyst's job is to go through and make sense of all the information gleaned during drone flights. Their work may include data mapping, photogrammetry analysis or agricultural data processing all with the goal of providing valuable insights to their customers.
Customer Service Representative
This role involves managing client relations, handling inquiries, bookings and providing general administrative support. They ensure clients have a seamless experience from initial contact through to project completion.
Organogram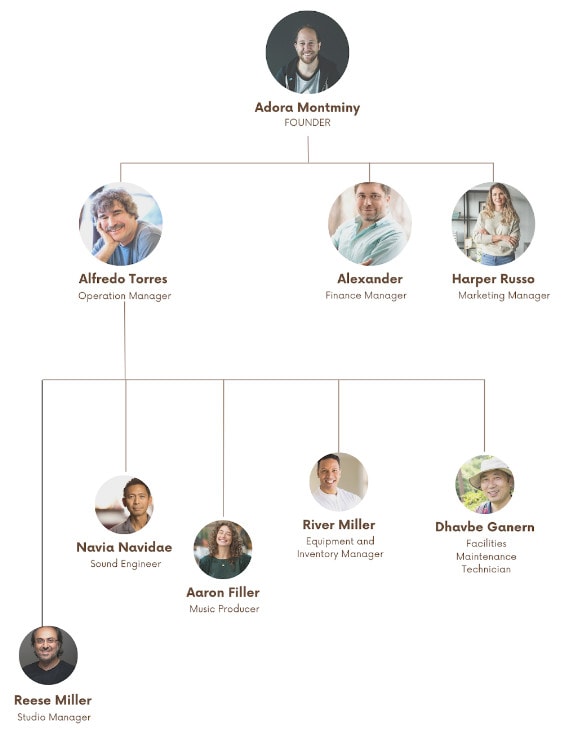 Operational Overview
Services
Aerial Photography and Videography
✔️Offer high-resolution aerial photographs and movies which may be used in a variety of contexts including commercial advertising, filmmaking and real estate listings.
✔️Flexible booking options to cater to various project sizes and client needs.
Surveying and Mapping Services
✔️Offer detailed aerial surveys and mapping for industries like construction, mining, agriculture and urban planning.
✔️Utilize modern drone technology for topographical mapping, 3D modeling and land use planning.
Infrastructure Inspection
✔️Use drones to check out things like bridges, buildings, power lines and wind turbines.
✔️Provide useful data for maintenance, safety inspections and post-disaster reviews.
Agricultural Monitoring
✔️Use unmanned aerial vehicles for precise agricultural monitoring, irrigation control and yield forecasting.
✔️Develop specialized solutions for farmers to enhance crop management and productivity.
Environmental Monitoring and Conservation
✔️Facilitate environmental assessments including logging conditions, beach erosion and animal spotting.
✔️Offer valuable data for environmental studies and conservation efforts.
Industry Analysis
There is a lot of potential in the commercial drone business which is expanding quickly. With a CAGR of 28.6% between 2023 and 2030 the worldwide commercial drone market is expected to grow from a 2021 valuation of USD 7.2 Bn to a 2030 valuation of USD 69.2 Bn. More than 40 percent of all commercial drones sold worldwide are purchased in the United States. The market for commercial drones in the United States was worth $899.5 million in 2020 and is expected to reach $3.755 million by 2030 growing at a CAGR of 15.8 percent between 2021 and 2030.
There are variety of reasons driving the expansion of the commercial drone business. Drones are being used for a growing number of purposes in the business and nonprofit sectors including aerial photography, inspections and deliveries. Due to improvement in price durability and flexibility drones are gaining popularity among a larger spectrum of consumers. New regulation are being developed by governments all over the world to ensure the safe and responsible operation of drones making the environment more favorable for business.
The most prominent uses for commercial drones include agriculture, construction and logistics.
There are already over 7 million commercial drones in use throughout the globe.
The commercial drone sector is predicted to produce over 100,000 employment in the United States by 2025.
It is projected that the worldwide commercial drone market will be worth USD 43.14 billion by 2024 expanding at a CAGR of 67.3% between 2021 and 2024.
Industry Problems
✔️Availability and Scheduling Conflicts: Customers may have trouble scheduling appointments for your services at convenient times due to strong demand or their own hectic schedules.
✔️Weather Dependencies: Conditions must be favorable for drone flights. Customers may have disruptions in their plans as a result of rescheduling or cancellations due to inclement weather.
✔️Regulatory Compliance Issues: Drone pilots face a maze of restrictions that may be difficult to decipher. Customers could experience challenges if their desired service falls in prohibited zones or doesn't comply with local restrictions.
✔️Privacy Concerns: Concerns about privacy may arise when drones are flown near homes or other private property. Customers can be worried about infringing on third-party privacy rights during drone operations.
✔️Limited Understanding of Drone Capabilities: Some clients may have unrealistic expectations of the services you can provide since they are unaware of the advantages and disadvantages of drone technology.
Industry Opportunities
✔️Availability and Scheduling Conflicts: Your drone services company has the difficulty of availability and scheduling conflicts which provides an opportunity to increase operational efficiency. Bookings may managed with the help of cutting-edge booking and scheduling software.
✔️Weather Dependencies: Drone operations are generally dependent on favorable weather although this limitation may be used. Making arrangements for any weather-related delays such as other times or days is a good idea. Diversifying services that are less weather-dependent might help reduce this problem and enable more constant service offers.
✔️Regulatory Compliance Issues: Customers may find it difficult to get around the maze of rules and regulations that govern drone flying. This is a golden chance to set yourself apart from the competition and brand your company as the go-to authority on drone laws. The value you bring to your client relationships might increase dramatically if you provide consulting services or informational resources related to regulatory compliance.
✔️Privacy Concerns: Clients' worries about invasions of privacy caused by drone use are legitimate. Trust may be bolstered by directly addressing these concerns via the creation of stringent privacy rules and transparent communication techniques. Communicating openly about your privacy practices demonstrates your dedication to protecting the privacy of your customers and flying responsibly.
✔️Limited Understanding of Drone Capabilities: Customers may have serious concerns about their privacy in relation to drone use. Building trust requires addressing these issues by creating open lines of communication. Your dedication to customer anonymity and safe drone operation will be appreciated and strengthened by your openness on how you manage privacy concerns.
Target Market Segmentation
Geographic Segmentation
✔️Miami-Dade County Businesses and Residents : Target local companies in the building and farming industries as well as individuals who may need drone services for one-off projects or routine needs such as taking photos at a wedding or inspecting crops.
✔️Specific Miami Neighborhoods and Surrounding Areas: Coastal locations for environmental monitoring, metropolitan centers for real estate and commercial advertising and similar places are prime targets for drone services.
Demographic Segmentation
✔️Corporate vs. Individual Clients: Differentiate between corporate clients (like real estate agencies, construction companies) and individual clients (like homeowners or event organizers) recognizing their distinct needs.
✔️Income Levels and Budget Constraints: Offer a range of services to accommodate different budgets from basic aerial photography for small individual projects to comprehensive surveying packages for larger corporate clients.
Psychographic Segmentation
✔️Technology Enthusiasts and Innovators: Find customers like tech-savvy real estate agents and construction managers that are interested in adopting cutting-edge technology to improve their business or personal projects.
✔️Environmental and Conservation Groups: Cater to organizations or individuals focusing on environmental protection and monitoring delivering specific services like animal tracking or vegetation health monitoring.
Behavioral Segmentation
✔️Regular vs. One-Time Clients: Clients that need continuing drone services (such as building site monitoring) should be treated differently from those who need just one-time services (such as event coverage or property photography).
✔️Project-Specific Needs: Find potential customers that share the needs of your current project whether it's agricultural surveillance during harvest season or property photography for your online listing.
✔️Emergency and Time-Sensitive Services: Focus on clients who require urgent or emergency services such as search and rescue operations or disaster assessment.
Market Size
✔️Total Addressable Market (TAM) for Drone Services: SkyView Aerial Solutions' whole Addressable Market (TAM) includes the whole potential US market for drone services. Customers in this sector may be found in a variety of industries including real estate, agriculture, construction, the environment, event planning and individual consumers. TAM covers a wide area which is indicative of the entire potential in the expanding drone services market. The proliferation of drone use across industries the development of more sophisticated drone and the growth in demand for drone-based services all play a role in driving growth in the TAM.
✔️Serviceable Addressable Market (SAM) for Drone Services: Your SAM is the subset of the TAM that SkyView Aerial Solutions is most likely to be able to successfully target. Your specific location in Miami, Florida the kind of drone services you provide and the types of businesses you cater to will all help establish your niche in this market. For example, if you specialize in high-resolution aerial photography for real estate marketing or precision agricultural services, your SAM would vary from a firm specializing exclusively on surveillance or large-scale industrial inspections. Determining your SAM allows you to concentrate on the areas of the market where your services will have the most impact and greatest demand.
✔️Serviceable Obtainable Market (SOM) for Drone Services: The SOM for SkyView Aerial Solutions is the percentage of your SAM that you can realistically capture given your existing resources and market status. This number is significant as it shows the possible market share considering aspects like the quality of your drone technology, the competence of your team, your business's reputation and your marketing and sales methods. Client acquisition, monetary targets and expansion opportunities are all within reach of your SOM. It allows you to zero in on the most promising and easily accessible subsets of the drone services industry and focus your efforts there.
Industry Forces
Market Demand and Drone Industry Trends
Miami's requirement for drone services is affected by changes in other industries. Aerial photography, land surveys, crop monitoring and building inspections are just some of the many new applications for drones that represent the industry's rapid growth. Enhanced drone technology and expanded commercial use are other major factors. Offering a range of drone services that will appeal to sectors as diverse as construction and rescue.
Competition
A wide variety of businesses from solo entrepreneurs to multinational conglomerates provide drone services. SkyView Aerial Solutions must stand out from the competition by providing unique offerings, using cutting-edge technology, providing unmatched support to customers and focusing on particular markets. Identifying and using your unique selling features can help you stand out in the competitive market.
Technological Advances
Staying current with the newest drone technology and equipment is vital for retaining a competitive advantage. Your services may stand out from the competition if you invest in cutting-edge drone technology with superior image capabilities, increased flying duration and more safety features. Customer engagement and operational efficacy may both be improved by using digital technologies like as online booking systems, customer relationship management software and social media marketing.
Regulatory Environment
All drone flights must strictly comply to local, state, federal regulations pertaining to airspace, privacy and other pertinent topics. Proper operation and protecting your company's brand need that you keep up with the ever-evolving drone regulations.
Economic Factors
The economic climate can impact the investment capacity of clients in drone services. Understanding how economic shifts affect your target sectors such as real estate or construction can help in adjusting your business strategies to align with market realities.