Last updated on November 14th, 2023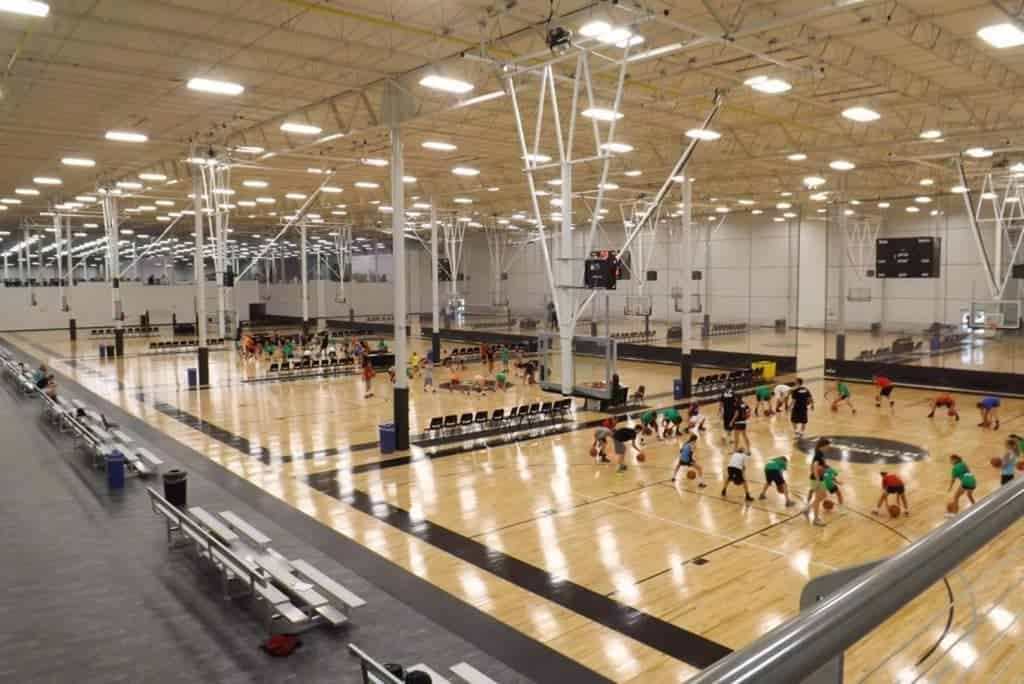 How to Write a Sports Complex Business Plan?
In Sports Complex Business Plan is an outline of your overall Sports Complex business. The business plan includes a 5 year projection, marketing plan, industry analysis, organizational overview, operational overview and finally the executive summary. Remember to write your executive summary at the end as it is considered as a snapshot of the overall business plan. The creation of a Sports Complex business plan requires careful consideration of various factors that might impact the business's success. Ultimately, a Sports Complex business plan serves as a roadmap to guide the company's direction

Table of Contents
Executive Summary
Overview: UW Health Sports Factory was one of the Midwest's largest sports facilities. The Rockford Park District manages it, and The Rockford Area Convention & Visitors Bureau aids the park district with tournament promotion and booking. The old Ingersoll plant, situated in the middle of a key industrial cluster in Rockford, is now known as the UW Health Sports Factory. The last factory's exterior may still be seen today.
Mission: The UW Health Sports Factory's principal objective is to play an active part in the health, recreational, fitness, and educational lives of the people of Rockford and the surrounding region. Safe, high-quality child, adult, and family programming and outreach initiatives to meet the needs of underprivileged local communities are among the specific goals.
Vision: Through education and leisure, the UW Health Sports Factory's goal is to create extraordinary opportunities for the people we serve to enjoy a lifetime of health and pleasure.
Industry Overview:
In 2022, the Sports Facilities Management industry will have a market size of $1.4 billion dollars, as measured by revenue. In 2022, the Sports Facilities Management industry's market size is predicted to grow by 4%. Between 2017 to 2022, the market size of the Sports Facilities Management industry in the United States decreased by 1.3 percent every year on average. The Sports Facilities Management sector in the United States shrank faster than the broader economy. In the United States, the market size of the Sports Facilities Management business shrank faster than that of the Specialist Engineering, Infrastructure, and Contractors sector as a whole.
Financial Overview: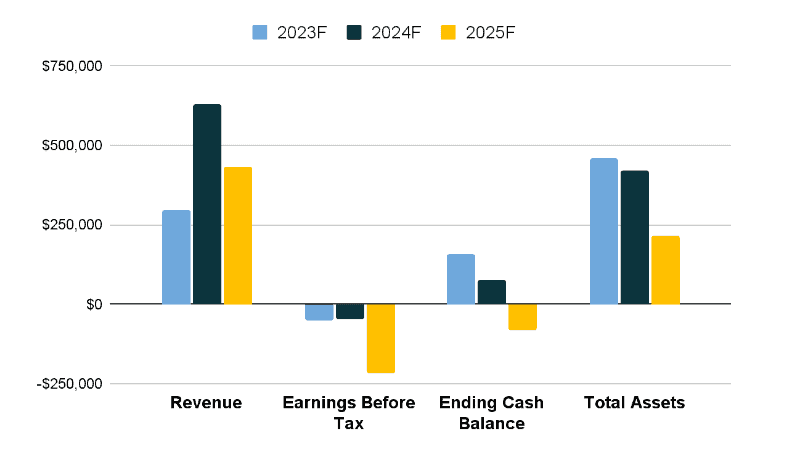 Business Description
Business Name:
Founder: Jacob Harris
Management Team:


Legal Structure: LLC
Location:
Mission: "At [Sports Complex], our mission is to provide a state-of-the-art sports complex that offers a wide range of sports and recreational activities for individuals, families and teams of all ages and skill levels.  "
Vision: "Our vision is to be the leading sports complex in the region, known for our exceptional facilities, diverse programming, and commitment to fostering a vibrant and active community. "
Goals:
✅Build a strong brand identity for the complex that reflects its values, mission, and vision, and that resonates with members and the community.
✅Attract and retain a large number of members, who will participate in the various sports and activities offered at the complex.
✅Provide excellent customer service to members and visitors, by training staff and volunteers to be friendly, helpful, and responsive to customer needs.
Products:
✅[Mention your services in bullet points]
Download Free Sports Complex Business Plan Template
Write a plan in just 2 days!
Financial Overview
Fund Usage Plan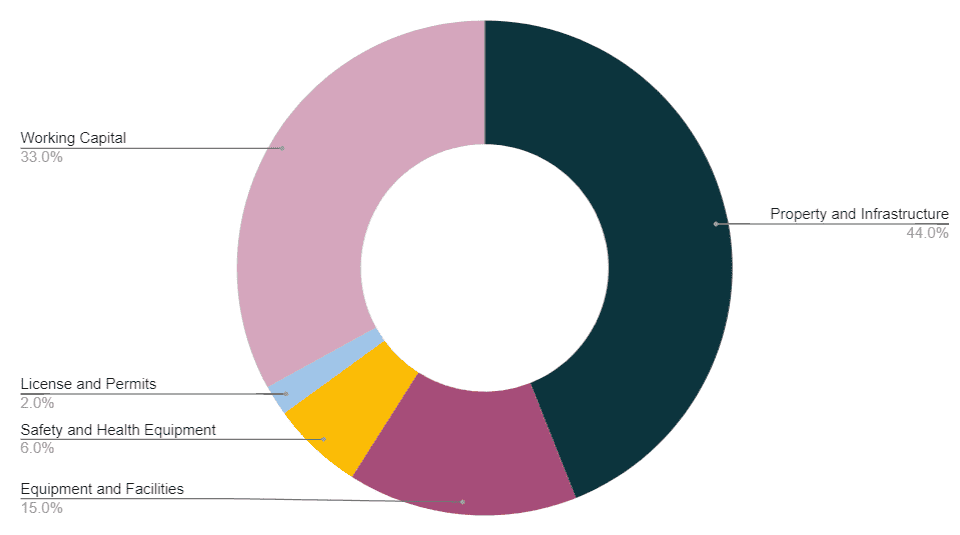 Key Metrics:


Business Model Canvas
The Canvas summarizes the business model of the entire Sports Complex business plan. It comprises nine key components – customer segments and value propositions to revenue streams and cost structures. The canvas provides a clear and concise way to map out, analyze, and communicate the intricacies of a business idea. It offers a holistic view of how a business creates, delivers, and captures value. It also aids entrepreneurs in refining concepts, fostering innovation, and making informed strategic choices. It serves as a versatile tool for brainstorming, planning, and presenting business models to stakeholders.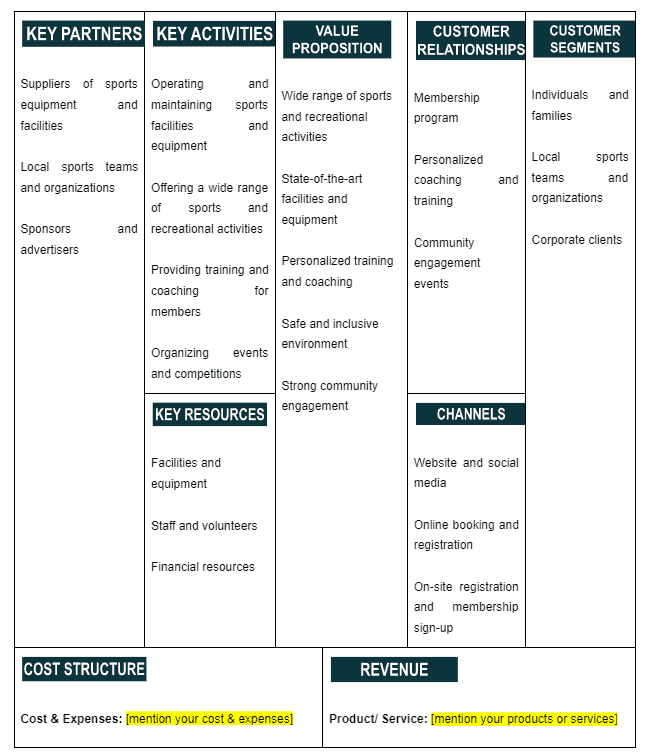 SWOT
A SWOT analysis is integral to the Sports Complex business plan. it offers a clear lens into a company's strengths, weaknesses, opportunities, and threats. This self-awareness enables effective resource allocation and strategic positioning against competitors. Businesses can mitigate risks, make informed decisions, and set realistic goals. In addition, presenting a SWOT analysis in a business plan communicates to stakeholders that the company possesses a deep understanding of its market environment. In essence, SWOT ensures a business's strategy is grounded in reality enhancing its chances of success.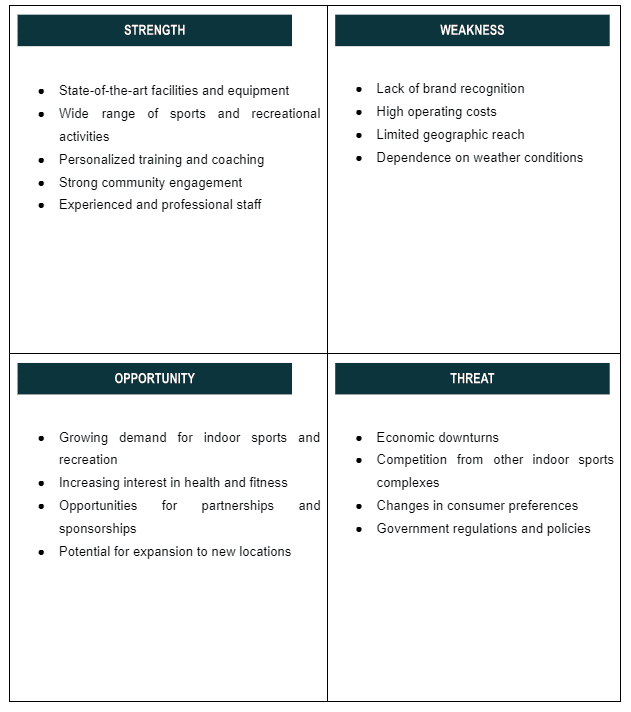 Organizational Overview
Organizational overview in a Sports Complex business plan provides a snapshot of how a company is structured and operates. It outlines the ownership structure, roles, responsibilities of key management personnel, and the reporting hierarchy within the organization. This section offers stakeholders, investors and other readers a clear understanding of the company's leadership and its chain of command. Additionally, it may give insight into the company's culture, values and operational philosophy.
Founder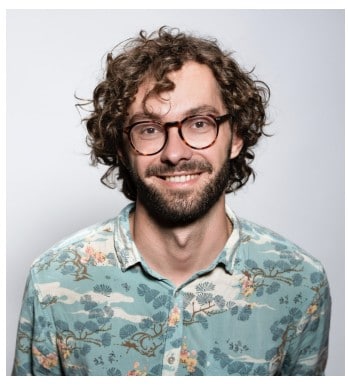 My name is Jacob Harris, and I run an entrepreneurial enterprise that is an sports facility. My life has always placed a considerable emphasis on sports and physical activity, and I am a firm believer in the capacity of athletics to bring people together, encourage the promotion of health, and assist in the development of a feeling of community. As a result of this enthusiasm, I've made it my mission to establish a cutting-edge sports facility that welcomes competitors of all ages, experience levels, and skill sets.
I started my own sports complex with the goal of giving those who are passionate about sports a place where they can perform all of their favorite activities. I took great care in designing the facility so that it could host a variety of sporting events, including anything from basketball and volleyball to soccer and tennis. My objective is to provide a setting that promotes healthy lives, fosters talent development, and offers a secure and welcoming atmosphere for athletes to pursue their interests in a manner that is true to who they are.
As the proprietor of a sports complex, it is my mission to provide first-rate training opportunities, state-of-the-art facilities, and cutting-edge athletic gear. I am aware of the significance of cultivating an environment that is upbeat and encouraging, one in which athletes are able to practice, compete, and test the boundaries of their capabilities. My goal is to help athletes improve their performance and realize their full potential by providing chances for them to do well in competition, such as through organizing leagues and tournaments and conducting specific training programs.
Organogram
Industry Analysis
Total recreation spending and involvement in sports are the two most important positive elements impacting this business. Total recreation expenditure refers to the total amount of money spent on recreation services by US consumers each year. Consumer expenditure on leisure activities is highly correlated with disposable income per capita. Furthermore, overall recreation spending is linked to leisure time. Consumers will be increasingly likely to spend recreational money on services offered by industry operators as their spare time increases. Total recreation spending is predicted to increase in 2022, providing an opportunity for sector operators.
From 2017 to 2023, the global fitness and recreational sports centers market is predicted to grow at a CAGR of 4.4 percent, from $83,680 million in 2016 to $113,116 million in 2023. Establishments or facilities with equipment for exercising and other active physical fitness conditioning activities such as skating, swimming, or racquet sports make up fitness and leisure sports centers.
Factors such as a rise in the middle-class population, a change in consumer desire for improved health, and an increase in the prevalence of obesity are driving the expansion of the worldwide fitness and recreational sports center market. Furthermore, government support for health and fitness, as well as the availability of a wide range of equipment and tailored fitness training programs at fitness and leisure sports facilities, have aided market expansion. However, high startup costs for fitness facilities, high membership prices, and a sedentary lifestyle are expected to slow industry development. The driving factors are projected to have a greater influence than the constraints. Conversely, the worldwide market is predicted to benefit from a growth in the young population in developing nations, as well as a spike that incorporates innovations, acquisitions, and expansions in the sector.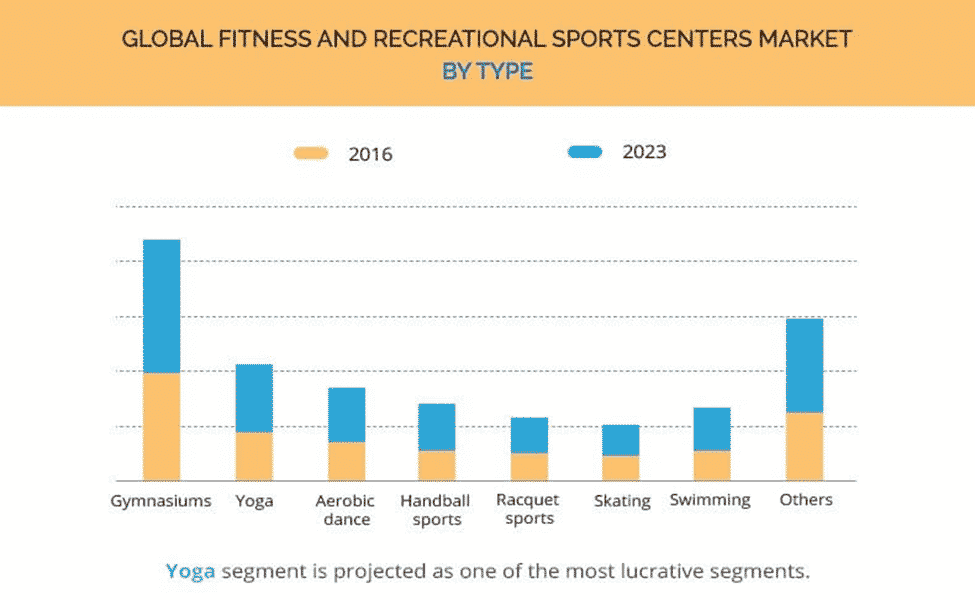 The worldwide fitness and recreational sports center market is examined by type, age group, and region in this study. Gyms, yoga, aerobic dancing, handball, racquet, skating, swimming, and other activities are all part of the worldwide market. It is divided into three age groups: 35 and under, 35-54, and 55 and over. The income produced by fitness and recreational sports facilities in North America, Europe, Asia-Pacific, and LAMEA is included in the study.
Sports or leisure facilities and health and wellness firms have a natural alignment. Working with medical partners helps sports facility developers in a variety of ways. Receiving development money, income from long-term leases and name rights, and in-kind advantages, such as the availability of trainers and wellness programs for participating athletes, are all examples. Medical partners benefit from collaborating with sports facilities in various ways, including having a partner who can help them grow strategically (this is especially true for midsize brands looking to expand their regional presence), revenue from venue traffic, and overall community visibility. The final advantage is especially significant because certain medical partners have functioned as hubs for essential services, pop-up hospitals, and distribution sites for first responders throughout the pandemic.
Increased sports participation, such as soccer and other versions of outdoor games like flag football, lacrosse, field hockey, baseball, and softball, has benefitted the Sports Facilities Management sector during the last decade. In addition, rising public scrutiny of public health and dietary patterns and expanding general understanding of the advantages of physical exercise aided adult lifestyle changes, resulting in increased demand for sports facilities. In addition, historically, low-interest rates created a favorable financing environment for new building activities, resulting in the development of new sports facilities during the next five years.
Because the global fitness and recreational sports centers market is extremely fragmented, its development has slowed. However, due to the growing fitness consciousness among the youthful population, the industry is expected to see rapid end-to-end overall expansion in the near future. Gymnasiums, yoga, aerobic dancing, handball sports, racquet sports, skating, swimming, and other fitness and leisure sports facilities are available. These facilities have aided the public in achieving their fitness objectives and managing their health issues.
In the last decade, the worldwide fitness and leisure sports centers sector has grown significantly. The aging population is causing health and fitness clubs to broaden their target audience beyond the conventional 18-35-year-old. Operators in the industry are rapidly broadening their target demographic to include those aged 35 to 54 and those under the age of 18. Female members make up around 40% of fitness and recreational sports center members, a number that has risen in recent years. The rise in the number of female-only health club facilities is most likely to blame for the increase in female involvement. Depending on age category, the worldwide market is segmented into 35 and under, 35-54, and 55 and over.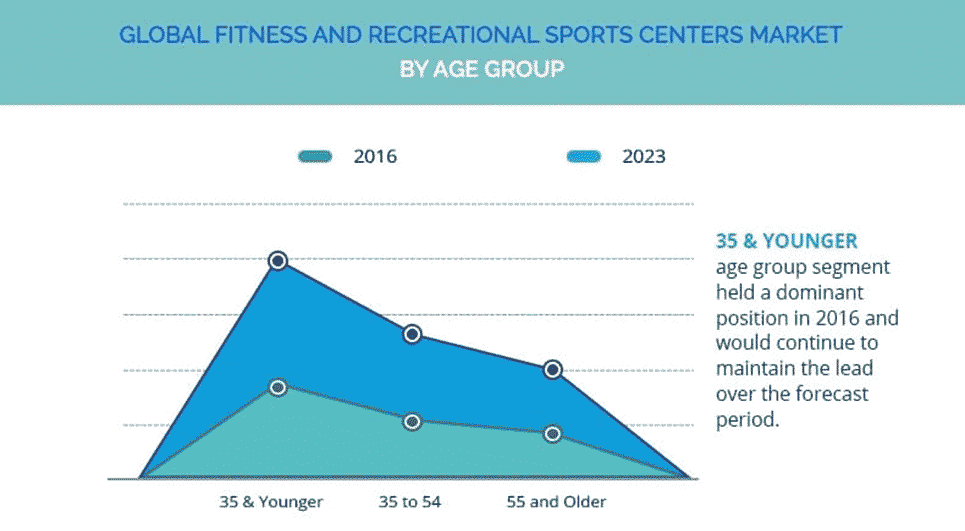 The situation for fitness and recreational sports centers differs by area and is mostly influenced by health awareness, the prevalence of lifestyle diseases, the youthful population, and per capita income.
Marketing Plan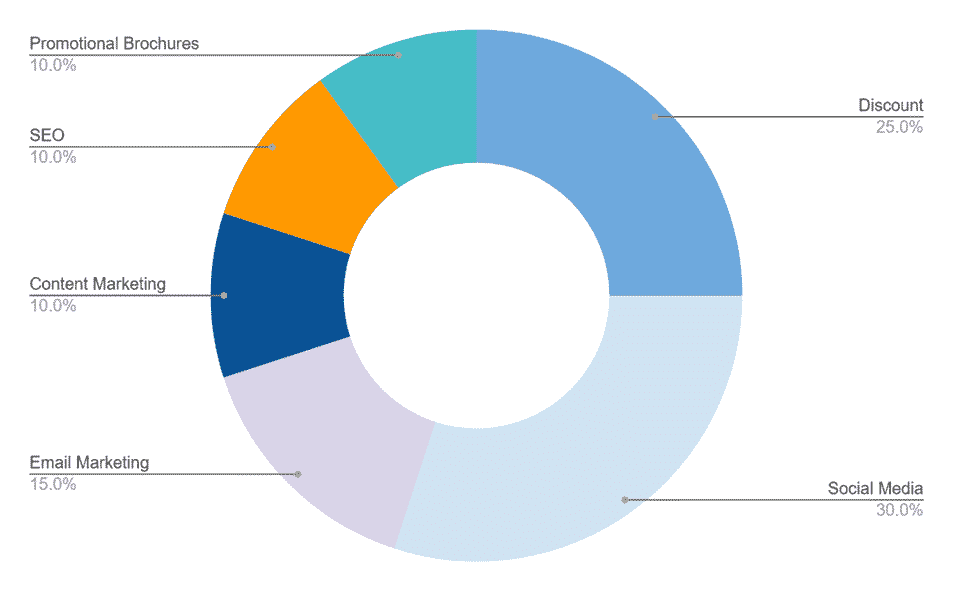 Content Marketing: Create a blog on your Blackbird Acupuncture website on what you has to offer to prospective customers.
Discounts: Provide multiple rewards or incentives to Blackbird Acupuncture's frequent customers, you'll be more likely to attract them. Create a member referral scheme, for example, where members get a discount if they successfully recommend someone.
Social Media: Engage and promote Blackbird Acupuncture on Twitter, publish news on Facebook, and utilize Instagram to promote curated photos of your clinic.
SEO (Search Engine Optimization) Local SEO makes it easier for local consumers to find out what you have to offer and creates trust with potential members seeking for what your clinic has to offer.

Email Marketing: Blackbird Acupuncture will be sending automated in-product and website communications to reach out to consumers at the right time. Remember that if your client or target views your email to be really important, they are more likely to forward it or share it with others, so be sure to include social media share.
Financials
A financial plan of a Sports complex business plan provides a comprehensive projection of a company's financial health and its anticipated monetary performance over a specified period. This section encompasses a range of financial statements and projections such as profit and loss statements, balance sheets, cash flow statements and capital expenditure budgets. It outlines the business's funding requirements, sources of finance and return on investment predictions. The financial plan gives stakeholders particularly potential investors and lenders a clear understanding of the company's current financial position. A financial plan helps businesses demonstrate their financial prudence, sustainability, and growth potential.
Earnings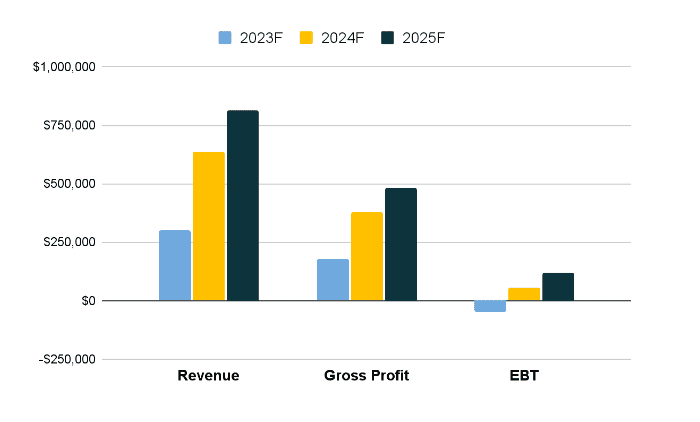 Liquidity