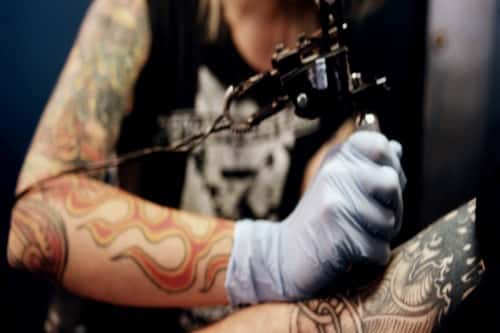 Tattoo Studio Business Plan is an outline of your overall Tattoo Studio business. The business plan includes a 5 year projection, marketing plan, industry analysis, organizational overview, operational overview and finally the executive summary. Remember to write your executive summary at the end as it is considered as a snapshot of the overall business plan. The creation of a Tattoo Studio business plan requires careful consideration of various factors that might impact the business's success. Ultimately, a Tattoo Studio business plan serves as a roadmap to guide the company's direction.
Table of Contents
Executive Summary
Overview: East Coast Worldwide Tattoo and Piercing Studio, We are the top-rated studio in the North Florida region. We believe in complete openness with all of our customers. Each consumer deserves the highest level of protection and happiness. We provide a relaxing environment with a competent body art team dedicated to delivering high-quality art and comfort. We can also confidently state that no studio in Florida is cleaner.
Mission: it is our objective to offer you high-quality, personalized tattoos and piercings created by our brilliant artists and excellent customer service
Vision: To become the world's most respected, successful, and well-known tattoo and piercing studio, not just by deed but also through friendship, understanding, and integrity.

Industry Overview: Rising industry trends are driving the worldwide tattoo market. In 2022-2027, the industry is predicted to increase at a CAGR of roughly 9.60 percent. This sector comprises businesses that offer tattoo services by injecting ink beneath the skin to change the skin's color permanently. Tattoo-related maintenance, design, and alteration services are also available in this market; however, laser tattoo removal is not.
Financial Overview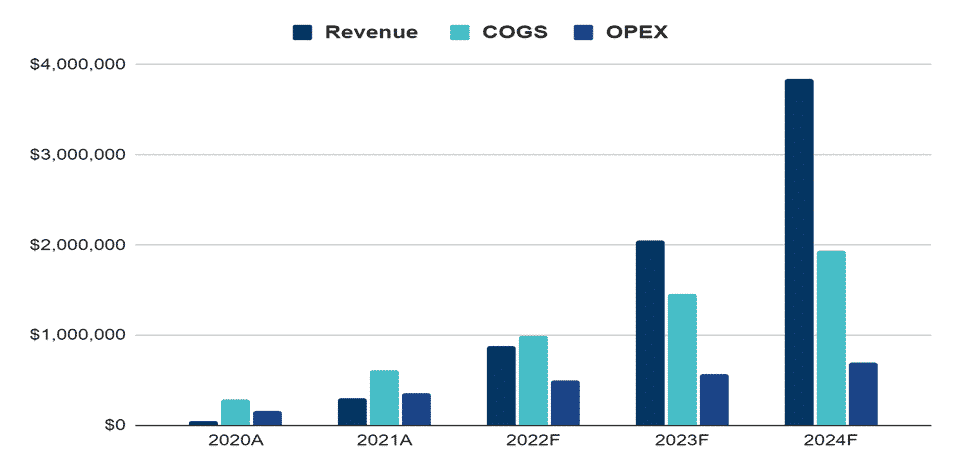 Get the Free Business Plan Template
Get the template over email
Financial Highlights
| | | | | | |
| --- | --- | --- | --- | --- | --- |
| Liquidity | 2020A | 2021A | 2022F | 2023F | 2024F |
| Current ratio | 6 | 12 | 23 | 32 | 42 |
| Quick ratio | 6 | 11 | 22 | 31 | 40 |
| DSO | 8 | 8 | 8 | 8 | 8 |
| Solvency | | | | | |
| Interest coverage ratio | | | 8.2 | 11.1 | 14.2 |
| Debt to asset ratio | 0.01 | 0.01 | 0.2 | 0.18 | 0.16 |
| Profitability | | | | | |
| Gross profit margin | 51% | 51% | 53% | 53% | 53% |
| EBITDA margin | 12% | 14% | 21% | 22% | 22% |
| Return on asset | 5% | 6% | 13% | 14% | 14% |
| Return on equity | 5% | 6% | 16% | 17% | 17% |
Fund Usage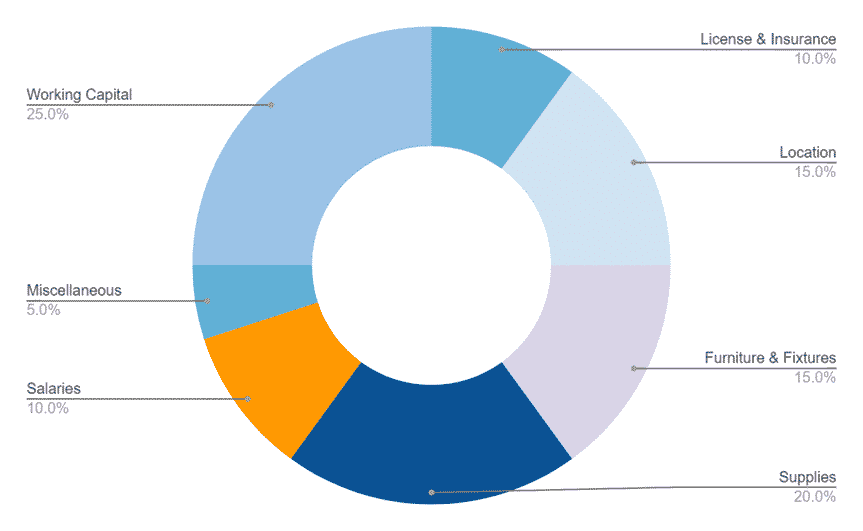 Industry Analysis
Tattooing is a fast-growing fashion trend that has captivated millions of teenagers and young adults. Tattooing and piercing have become more prevalent in Western culture. Young people feel that having a tattoo enhances their attractiveness. In this market, Millennials and Generation Z are the most critical customers. As a result of the increased desire for tattoos among teenagers, the industry is expected to develop. In addition, innovations in tattooing techniques have aided industry expansion. The development of tattoo machine technology to meet various consumer requests is projected to open up new markets in the tattoo industry. Because they see the commercial potential, many innovative designers are launching tattoo shops. Product demand is projected to be fueled by rising consumer knowledge of tattoo technologies that do not have any adverse effects. The increasing fashion and entertainment industries fuel the tattoo industry's expansion.

Tattoos have grown in popularity throughout the next five years until 2021. Tattoos have grown more commonly acceptable with each passing generation. At least one tattoo is worn by 46.0 percent of Americans. The popularity of tattoos among millennials, almost half of whom have at least one tattoo, has fueled a fast boom in the Tattoo Artists sector in the five years leading up to 2021, propelling it from a countercultural niche to a vast business.
North America is one of the main locations for tattoos due to a considerable increase in demand among the region's young. In North America, tattooing is growing increasingly popular among teenagers and young people. Design innovation at the local and regional levels is driving product demand. Millennials in North America have an excellent market for colorful tattoos.
Because of the rising popularity of tattoos among many young people, the Asia Pacific is expected to be the fastest-growing market for tattoos over the projected period. Another critical element propelling the tattoo industry in the Asia Pacific is technological developments in tattooing equipment and needles in the area. Furthermore, the increasing number of tattoo parlors in emerging countries like India, China, Bangladesh, and Sri Lanka will likely drive market expansion.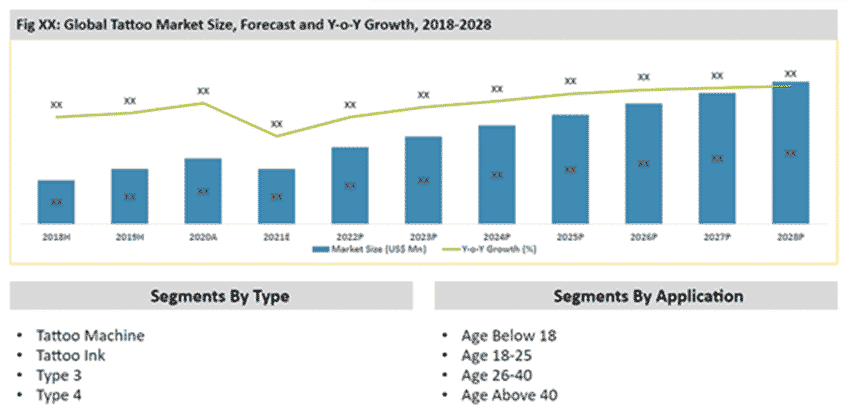 While working on the industry analysis section of the tattoo studio business plan make sure that you add significant number of stats to support your claims and use proper referencing so that your lender can validate the data.
According to market research, the tattoo business will earn an expected $1.7 billion in sales in 2020, up from $1.6 billion in 2019. U.S. Tattoo Parlors, Tattoo Removal, and Body Piercing Services: Research Director and Author, an Industry Analysis weigh-in. "Tattoos and body art have recently gained popularity in the United States, particularly among Millennials, supporting an industry of 20,000 tattoo parlors or studios." The $3 billion markets, including body piercing and tattoo removal, are rapidly expanding."
The industry is predicted to increase at almost 8% each year over the next ten years. Its cultural significance may be attributed to its success. This nearly 8% rise is due to the growing popularity of tattoos and younger generations opting for more costly bespoke work over less expensive predesigned (or flash) graphics. Customer return rates skyrocket once they've been tattooed. While the overall number of tattoo customers grew, earnings per tattoo grew, with millennials between the ages of 18 to 35 leading the way.
According to the Harris Poll, a small company industry research organization, about 47% of millennials have at least one tattoo, 37% have two, and 15% have five or more. Tattoo removal has become more common as the tattoo business has grown in prominence. According to American Academy for Dermatologic Surgery, 687,450 tattoos have been erased since 2010. today's tattoos, the operation is not only time-consuming but also costly.
The global tattoo market has been developing quicker with considerable growth rates in recent years, and it is expected to rise considerably in the anticipated period, 2019 to 2026.
For the projected period (2017–2026), the Global Tattoo Industry study offers a comprehensive market analysis. The research is divided into sections and includes an analysis of the market's trends and dynamics. These elements, referred to as market dynamics, have the drivers, constraints, opportunities, and challenges and the market's effect on these aspects. Market intrinsic variables are drivers and restrictions, while extrinsic market aspects are opportunities and challenges. The Global Tattoo Market report forecasts revenue growth throughout the forecast period.
In 2022, the Tattoo Artists sector will have a market size of 1.4 billion dollars in sales. In 2022, the Tattoo Artists market is estimated to grow by 5.4%. Between 2017 and 2022, the Tattoo Artists market in the United States grew at an annual rate of 8.4 percent. The Tattoo Artists industry grew at a greater rate than the real economy in the United States. The Tattoo Artists industry grew faster than the Consumer Goods and Services sector in the United States. The number of people aged 20 to 64 is the most significant negative element impacting this business. At the same time, an increasing life cycle stage is the most important positive aspect. Tattoo demand is driven mainly by adults between the ages of 20 and 64. This group is the most likely to have a tattoo, mainly before 50. The number of persons aged 20 to 64 is predicted to rise in 2021, providing the business with a potential opportunity.
Marketing Plan
A marketing plan of a Tattoo Studio business plan outlines the company's strategy to promote its products or services to its target audience. It includes specific tactics and channels the business will use to reach potential customers. This section defines the company's unique value proposition, identifies the target market segments, and discusses the competitive landscape. It also includes insight into budget allocation, projected outcomes and key performance indicators to measure success. Marketing plan helps businesses demonstrate their understanding of the market dynamics, their positioning within the industry and their approach to driving customer engagement and sales.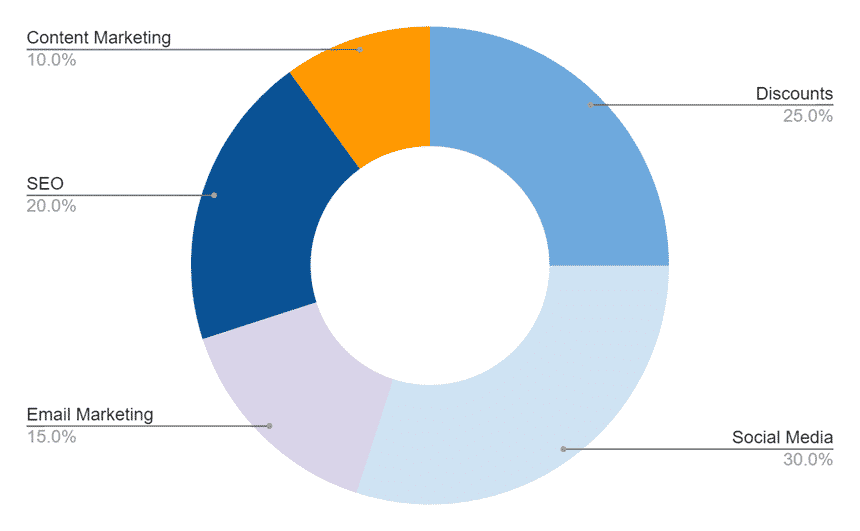 Content Marketing: Create a blog on the website with material catering to prospective customers of East Coast Worldwide Tattoo and Piercing Studio.
Discounts: Provide multiple rewards or incentives where members of East Coast Worldwide Tattoo and Piercing Studio get a deal if they successfully recommend someone.
Social Media: Engage and promote on Twitter, publish news on Facebook, and utilize Instagram to promote curated photos of your space and events. Think about if you have a place in your budget for Facebook Marketing or other social media-focused ads.
SEO (Search Engine Optimization) Local SEO makes it easier for local consumers to find out what you have to offer. It creates trust with potential members seeking what your place offers.

Email Marketing: Sending automated in-product and website communications to reach out to consumers at the right time. Remember that if your client or target views your email as really important, they are more likely to forward it or share it with others, so include social media share buttons in every email.
Organogram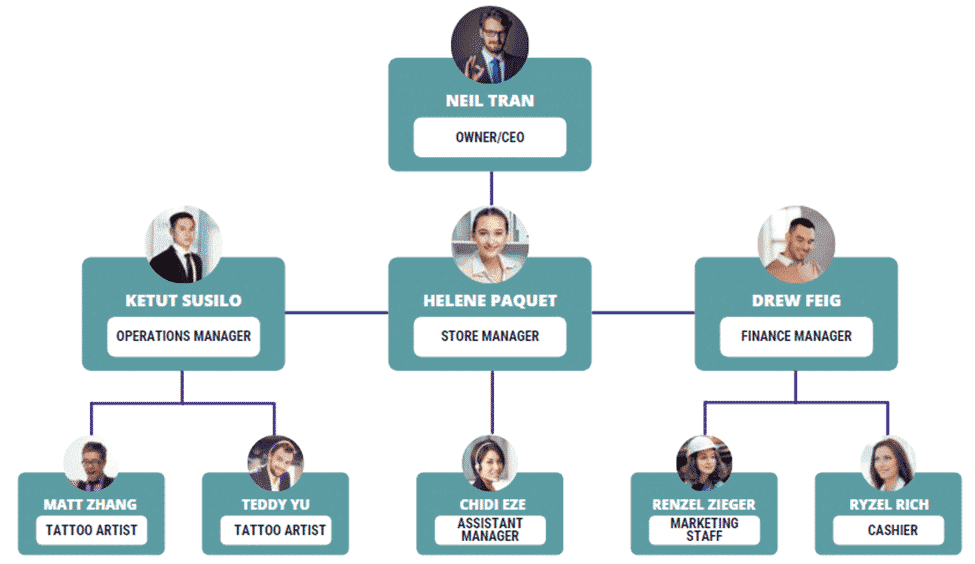 Financial Plan
A financial plan of a Barber Studio business plan provides a comprehensive projection of a company's financial health and its anticipated monetary performance over a specified period. This section encompasses a range of financial statements and projections such as profit and loss statements, balance sheets, cash flow statements and capital expenditure budgets. It outlines the business's funding requirements, sources of finance and return on investment predictions. The financial plan gives stakeholders particularly potential investors and lenders a clear understanding of the company's current financial position. A financial plan helps businesses demonstrate their financial prudence, sustainability, and growth potential.
Earnings: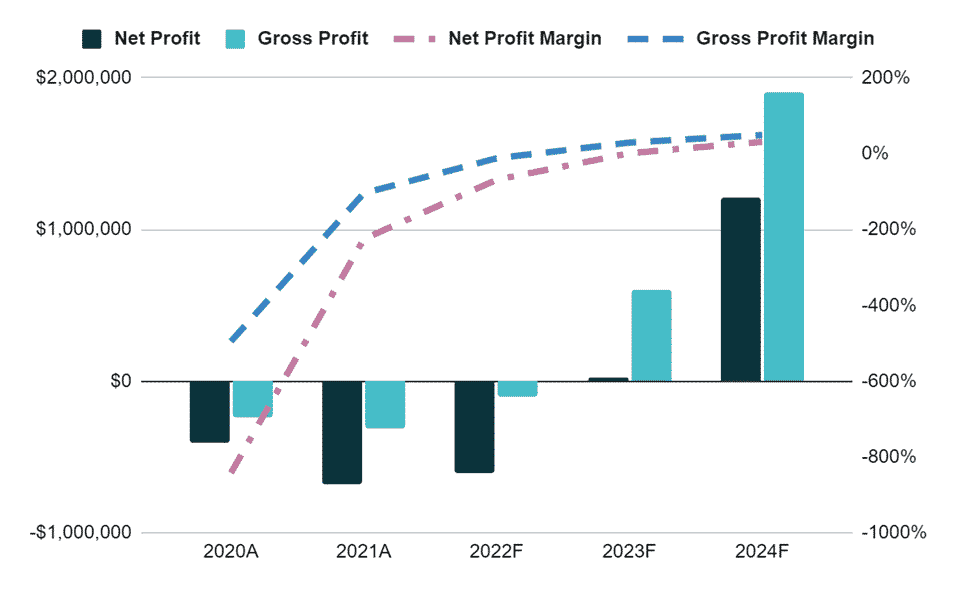 Break-Even Analysis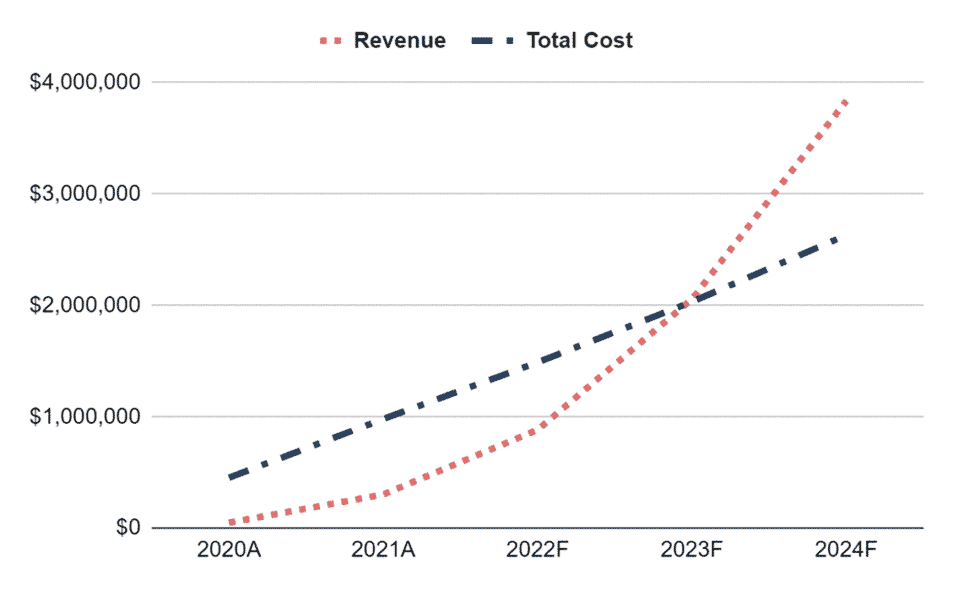 Income Statement
| | | | | | |
| --- | --- | --- | --- | --- | --- |
| | 2020A | 2021A | 2022F | 2023F | 2024F |
| ANNUAL REVENUE | | | | | |
| Item 1 | 9,217 | 59,117 | 175,410 | 415,277 | 781,357 |
| Item 2 | 34,701 | 222,558 | 660,368 | 1,563,394 | 2,941,580 |
| Item 3 | 4,067 | 19,561 | 46,432 | 78,519 | 114,905 |
| Total annual revenue | 47,985 | 301,236 | 882,211 | 2,057,189 | 3,837,842 |
| % increase | | 528% | 193% | 133% | 87% |
| | | | | | |
| COST of REVENUE | | | | | |
| Item 1 | 360 | 2,259 | 6,617 | 15,429 | 28,784 |
| Item 2 | 480 | 3,012 | 8,822 | 20,572 | 38,378 |
| Item 3 | 52,000 | 65,000 | 78,000 | 91,000 | 104,000 |
| Item 4 | 720 | 3,615 | 8,822 | 16,458 | 23,027 |
| Item 5 | 140,000 | 336,000 | 560,000 | 840,000 | 1,120,000 |
| Item 6 | 60,000 | 144,000 | 240,000 | 360,000 | 480,000 |
| Item 7 | 32,000 | 61,333 | 85,533 | 112,153 | 141,435 |
| Total Cost of Revenue | 285,560 | 615,220 | 987,794 | 1,455,612 | 1,935,625 |
| as % of revenue | 595% | 204% | 112% | 71% | 50% |
| Gross Profit | -237,575 | -313,984 | -105,583 | 601,578 | 1,902,218 |
| | | | | | |
| SELLING & ADMIN EXPENSES | | | | | |
| Item 1 | 28,000 | 96,800 | 154,880 | 175,692 | 193,261 |
| Item 2 | 75,000 | 105,000 | 120,000 | 120,000 | 120,000 |
| Item 3 | 36,000 | 96,000 | 108,000 | 120,000 | 120,000 |
| Item 4 | 8,000 | 12,000 | 12,000 | 12,000 | 12,000 |
| Item 5 | 3,839 | 18,074 | 44,111 | 61,716 | 115,135 |
| Item 6 | 3,359 | 12,049 | 26,466 | 41,144 | 76,757 |
| Item 7 | 5,600 | 10,000 | 12,904 | 15,034 | 17,376 |
| Item 8 | 6,667 | 14,000 | 22,067 | 30,940 | 40,701 |
| Total selling & admin expenses | 166,464 | 363,924 | 500,428 | 576,525 | 695,230 |
| as % of revenue | 347% | 121% | 57% | 28% | 18% |
| Net profit | -404,039 | -677,907 | -606,011 | 25,052 | 1,206,987 |
| Accumulated net profit | -404,039 | -1,081,947 | -1,687,957 | -1,662,905 | -455,918 |
Cash Flow Statement
| | | | | | |
| --- | --- | --- | --- | --- | --- |
| | 2020A | 2021A | 2022F | 2023F | 2024F |
| CASH FLOW from OPERATING ACTIVITIES | | | | | |
| Net profit before tax | -$404,039 | -$677,907 | -$606,011 | $25,052 | $1,206,987 |
| Depreciation | $44,267 | $85,333 | $120,504 | $158,127 | $199,512 |
| Payables | | | | | |
| Item 1 | $4,333 | $5,417 | $6,500 | $7,583 | $8,667 |
| Item 2 | $11,667 | $28,000 | $46,667 | $70,000 | $93,333 |
| Item 3 | $6,250 | $8,750 | $10,000 | $10,000 | $10,000 |
| Item 4 | $3,000 | $8,000 | $9,000 | $10,000 | $10,000 |
| Item 5 | $667 | $1,000 | $1,000 | $1,000 | $1,000 |
| Total payables | $25,917 | $51,167 | $73,167 | $98,583 | $123,000 |
| change in payables | $25,917 | $25,250 | $22,000 | $25,417 | $24,417 |
| Receivables | | | | | |
| Item 1 | $320 | $1,506 | $3,676 | $5,143 | $9,595 |
| Item 2 | $360 | $1,807 | $4,411 | $8,229 | $11,514 |
| Total receivables | $680 | $3,314 | $8,087 | $13,372 | $21,108 |
| change in receivables | -$680 | -$2,634 | -$4,773 | -$5,285 | -$7,736 |
| Net cash flow from operating activities | -$334,536 | -$569,958 | -$468,280 | $203,311 | $1,423,180 |
| | | | | | |
| CASH FLOW from INVESTING ACTIVITIES | | | | | |
| Item 1 | $16,000 | $13,200 | $14,520 | $15,972 | $17,569 |
| Item 2 | $20,000 | $22,000 | $24,200 | $26,620 | $29,282 |
| Item 3 | $28,000 | $22,000 | $14,520 | $10,648 | $11,713 |
| Item 4 | $96,000 | $88,000 | $72,600 | $79,860 | $87,846 |
| Item 5 | $20,000 | $22,000 | $24,200 | $26,620 | $29,282 |
| Net cash flow/ (outflow) from investing activities | -$180,000 | -$167,200 | -$150,040 | -$159,720 | -$175,692 |
| | | | | | |
| CASH FLOW from FINANCING ACTIVITIES | | | | | |
| Equity | $400,000 | $440,000 | $484,000 | $532,400 | $585,640 |
| Net cash flow from financing activities | $400,000 | $440,000 | $484,000 | $532,400 | $585,640 |
| Net (decrease)/ increase in cash/ cash equivalents | -$114,536 | -$297,158 | -$134,320 | $575,991 | $1,833,128 |
| Cash and cash equivalents at the beginning of the year | – | -$114,536 | -$411,693 | -$546,014 | $29,978 |
| Cash & cash equivalents at the end of the year | -$114,536 | -$411,693 | -$546,014 | $29,978 | $1,863,105 |
Balance Sheet
| | | | | | |
| --- | --- | --- | --- | --- | --- |
| | 2020A | 2021A | 2022F | 2023F | 2024F |
| NON-CURRENT ASSETS | | | | | |
| Item 1 | $16,000 | $29,200 | $43,720 | $59,692 | $77,261 |
| Item 2 | $20,000 | $42,000 | $66,200 | $92,820 | $122,102 |
| Item 3 | $28,000 | $50,000 | $64,520 | $75,168 | $86,881 |
| Item 4 | $96,000 | $184,000 | $256,600 | $336,460 | $424,306 |
| Item 5 | $20,000 | $42,000 | $66,200 | $92,820 | $122,102 |
| Total | $180,000 | $347,200 | $497,240 | $656,960 | $832,652 |
| Accumulated depreciation | $44,267 | $129,600 | $250,104 | $408,231 | $607,743 |
| Net non-current assets | $135,733 | $217,600 | $247,136 | $248,729 | $224,909 |
| | | | | | |
| CURRENT ASSETS | | | | | |
| Cash | -$114,536 | -$411,693 | -$546,014 | $29,978 | $1,863,105 |
| Accounts receivables | $680 | $3,314 | $8,087 | $13,372 | $21,108 |
| Total current assets | -$113,856 | -$408,380 | -$537,927 | $43,349 | $1,884,214 |
| Total Assets | $21,878 | -$190,780 | -$290,791 | $292,078 | $2,109,122 |
| | | | | | |
| LIABILITIES | | | | | |
| Account payables | $25,917 | $51,167 | $73,167 | $98,583 | $123,000 |
| Total liabilities | $25,917 | $51,167 | $73,167 | $98,583 | $123,000 |
| | | | | | |
| EQUITIES | | | | | |
| Owner's equity | $400,000 | $840,000 | $1,324,000 | $1,856,400 | $2,442,040 |
| Accumulated net profit | -$404,039 | -$1,081,947 | -$1,687,957 | -$1,662,905 | -$455,918 |
| Total equities | -$4,039 | -$241,947 | -$363,957 | $193,495 | $1,986,122 |
| Total liabilities & equities | $21,878 | -$190,780 | -$290,791 | $292,078 | $2,109,122 |