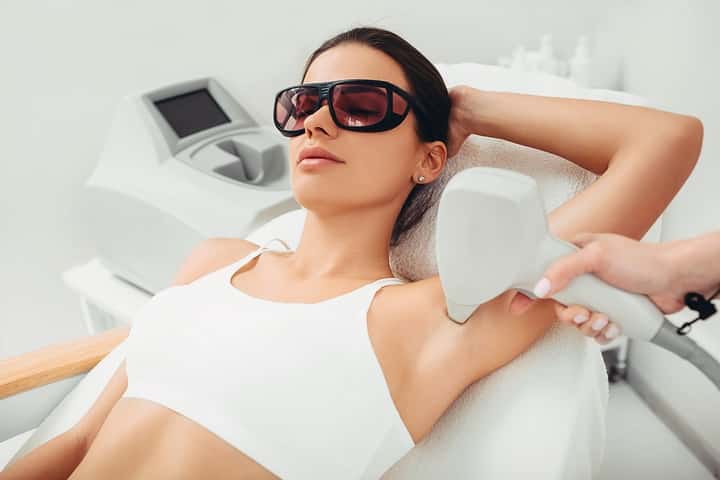 Executive Summary
Overview: Laser Hair Removal, Electrolysis, and Microdermabrasion are all services offered at Laser Dreams. We are a professional facility with cutting-edge technology and high-quality service. Our top priority is to meet the needs of our patients.
We offer FDA-approved, mild, and effective hair removal at a fraction of the expense and time associated with other permanent hair removal techniques. We specialize in cases that are tough to solve. Lasers of the latest generation can now treat unwanted hair swiftly and effectively.
The GentleLASETM Plus and Lightsheer Diode lasers are the lasers of choice, as they are both FDA approved for "PERMANENT HAIR REDUCTION" and provide astonishing results that our customers may enjoy at the speed of light. The skin's surface is cooled while active hair follicles are destroyed since both machines have superior cooling technologies.
Laser Dreams is located in the Millman Building in the heart of downtown. Laser Dreams considers 6,000+ urban professionals as possible consumers, and the facility is easily accessible to them. Over the last five years, downtown Monroe has seen remarkable expansion. The downtown area has seen a resurgence of businesses and professions.
Our clients value convenience. They are always seeking for new methods to get more time out of each day. Because of Laser Dreams' convenient location, you may visit the facility and be back at work in less than 30 minutes.
Laser Dreams' co-owners, Joe Jackson and Allison Fremont, believe that their location is their competitive advantage. Both Joe and Allison have worked in laser hair removal clinics. They have a combined ten years of experience. They feel that while the location would attract customers, it will be only exceptional customer service that will keep them coming back and produce referrals.
Mission: The following is Laser Dreams' mission: 1. Create a customer-centric environment that encourages word-of-mouth referrals. 2. Encourage our clients to achieve their beauty objectives.
Vision: Our vision is to be the industry's revolutionary leader in health and esthetics. We are committed to providing chances for men and women to improve themselves from the outside in.
Industry Overview: The Laser Hair Removal market report examines global, regional, and country-level market sizes, segmentation market growth, market share, competitive landscape, sales analysis, impact of domestic and global market players, value chain optimization, trade regulations, recent developments, opportunities analysis, strategic market growth analysis, product launches, area marketplace expansion, and technological innovations.
The most likely (base case) scenario is that global Laser Hair Removal sales will increase by xx percent between 2019 and 2020, from Laser Hair Removal million in 2019. Furthermore, according to the latest study, the Covid-19 will be under control in key countries such as the United States, Western Europe, and East Asia by the end of Q2 (June), and will resume normal production in Q3 and Q4, with the global Laser Hair Removal market expected to grow at xx percent or more annually for the next five years.
The influence of the Covid-19 epidemic on the Laser Hair Removal sector also investigated and evaluated in this paper, including potential opportunities and difficulties, as well as drivers and dangers. We give an impact analysis of Covid-19's effects on Laser Hair Removal, as well as market growth projections based on several scenarios (optimistic, pessimistic, very optimistic, most likely etc.).
Financials is one of the most important sections of a Laser Hair Removal business plan. You can get an idea of your projected revenue, required investment amount, is the business sustainable without additional funding, etc.
Financial Overview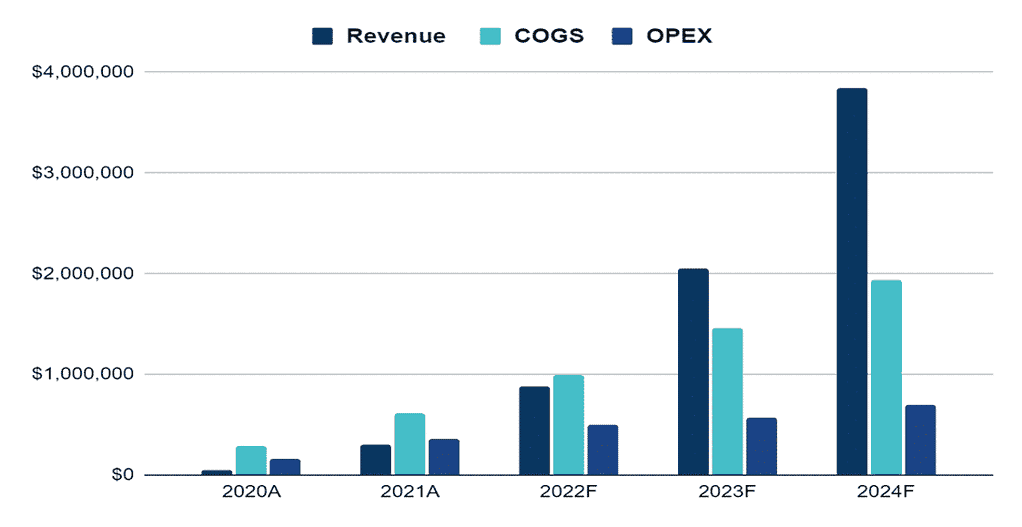 Financial Highlights
| | | | | | |
| --- | --- | --- | --- | --- | --- |
| Liquidity | 2020A | 2021A | 2022F | 2023F | 2024F |
| Current ratio | 6 | 12 | 23 | 32 | 42 |
| Quick ratio | 6 | 11 | 22 | 31 | 40 |
| DSO | 8 | 8 | 8 | 8 | 8 |
| Solvency | | | | | |
| Interest coverage ratio | | | 8.2 | 11.1 | 14.2 |
| Debt to asset ratio | 0.01 | 0.01 | 0.2 | 0.18 | 0.16 |
| Profitability | | | | | |
| Gross profit margin | 51% | 51% | 53% | 53% | 53% |
| EBITDA margin | 12% | 14% | 21% | 22% | 22% |
| Return on asset | 5% | 6% | 13% | 14% | 14% |
| Return on equity | 5% | 6% | 16% | 17% | 17% |
Use of Funds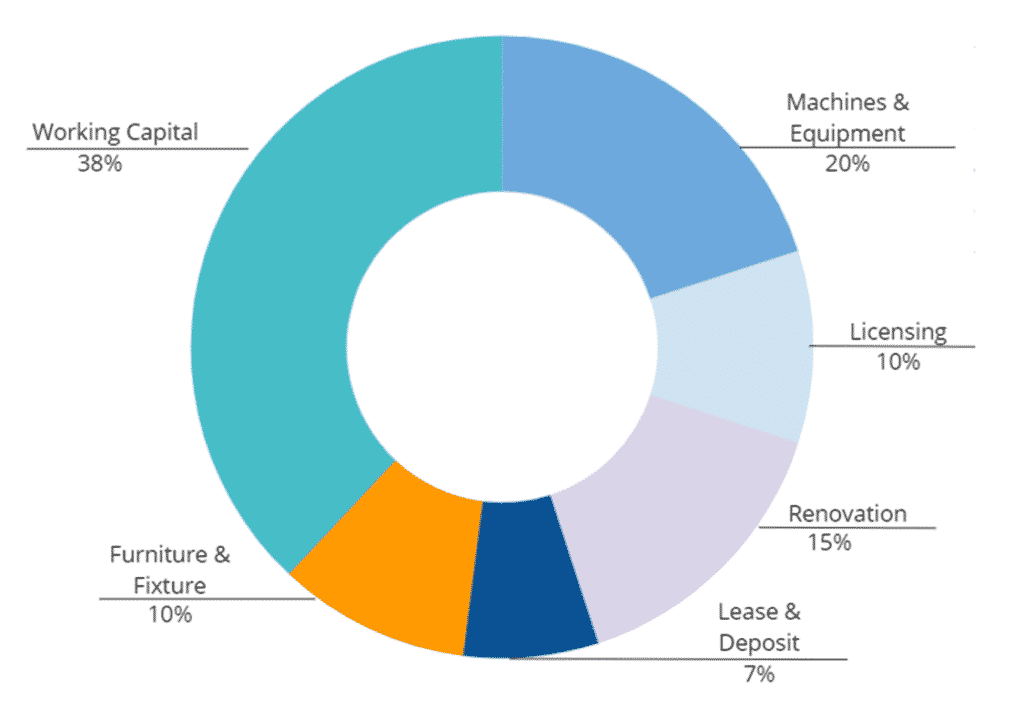 Industry Analysis
The industry analysis section of the Laser Hair Removal business plan will help you get better insights into competitors, market growth, and overall industry prospects. You can order a custom market research report for your Laser Hair Removal business.
From 2021 to 2028, the global laser hair removal market is predicted to increase at a compound annual growth rate (CAGR) of 20.6 percent, with a market value of USD 443.84 million in 2020. One of the market's significant drivers is the shifting trend for maintaining ideal visual appearance. Aesthetic lasers have seen numerous technological improvements, which has aided market expansion. One of the most recent breakthroughs in the industry is the mixing of modalities, which was pioneered by Quanta Systems in the Thunder MT system. Other therapies, such as blue veins, can also benefit from this technique, which cannot be treated only with Nd:YAG. With outstanding outcomes in just one treatment, combining modalities is becoming increasingly popular. It enables specialists to do photo-rejuvenation facials in a more efficient manner.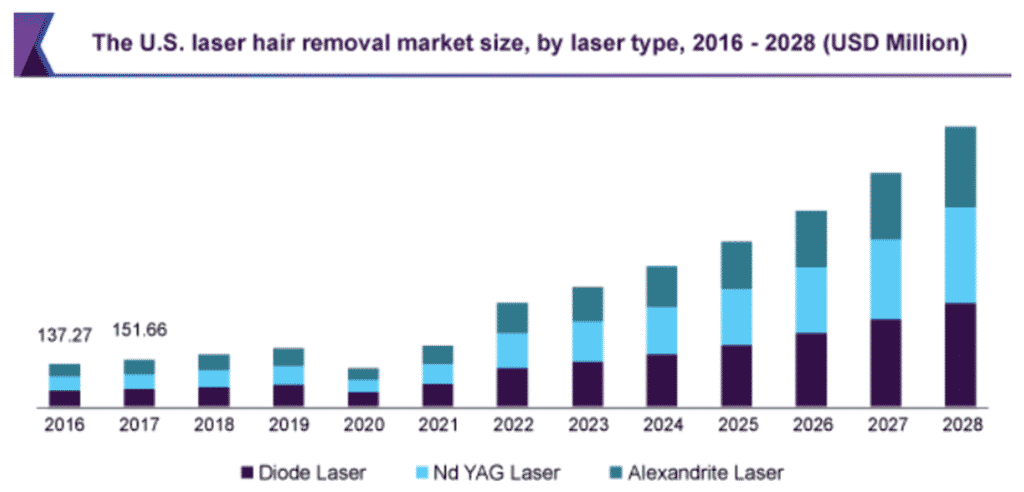 While working on the industry analysis section of the Laser Hair Removal business plan make sure that you add significant number of stats to support your claims and use proper referencing so that your lender can validate the data.
The industry also has driven by rising worries about facial hair, including as hair development on the lips, neck, chin, and sideburn area. Laser hair removal is a popular cosmetic surgery that involves focusing extremely focused light beams on hair follicles, absorbing existing pigment, and destroying the hair. Furthermore, the widespread availability of these devices at medical stores that provide personal care items is increasing product demand and boosting market expansion.
The expensive expense of hair removal therapy at beauty centers or dermatological clinics, on the other hand, is providing a market issue. The expanding number of FDA-approved goods that are comparatively less expensive than treatments, on the other hand, will present a growth potential for the market. The FDA has approved products such as Veet Infini'Silk Pro, Remington IPL6000 I-Light Pro, Silk'n Flash&Go, and others because to their safety and efficiency.
Rising disposable income levels and significant growth prospects in developing regions such as Asia Pacific would also aid market growth. The Covid-19 pandemic has wreaked havoc on a number of businesses around the world, including the beauty industry. In terms of the market, most non-emergency dermatological consultations were terminated or discouraged at first. Telecommunication became widespread as a preferred means of contact for both patients and physicians during this time. Due to the simplicity with which shutdown limitations can be implemented, services have recently restored in a gradual fashion, with tight procedures to be observed in most nations.
In 2020, the beauty clinics sector had the biggest market share of more than 53%, and it is expected to grow at the fastest rate over the forecast period. The rapid adoption and widespread use of technologically advanced items in beauty clinics can be linked to this increase.

Furthermore, the growing demand for non-invasive hair removal procedures is fueling the expansion of the segment. Laser treatments, unlike traditional procedures like waxing and hair plucking, are painless. As a result, the segment's growth is influenced by the rising popularity of the targeted treatment. Because of the enhanced safety and efficacy of dermatologists' treatments, the dermatology clinics market is predicted to rise at a stable rate.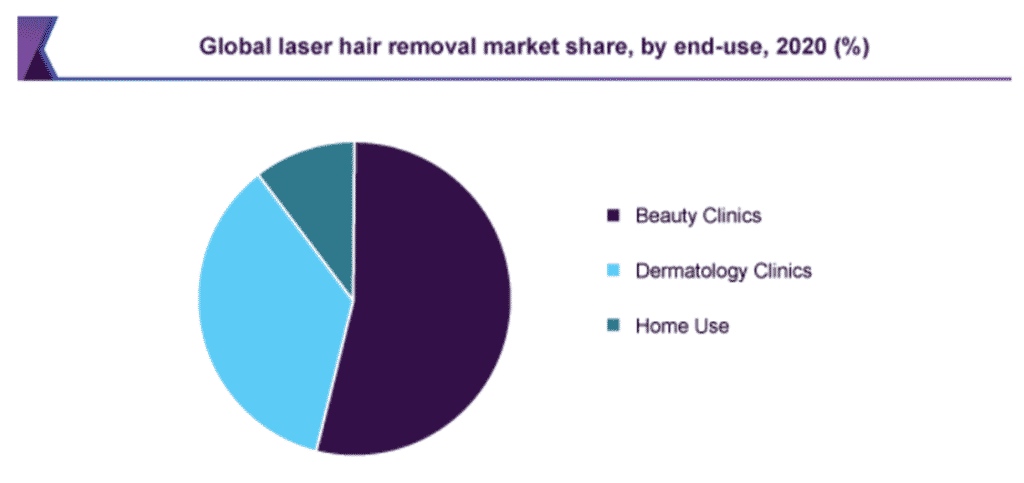 Due to the increased demand for painless hair removal operations, beauty clinics are rapidly embracing FDA-approved laser hair removal systems. With the use of sophisticated technologies, this treatment is effective. While operating in sensitive areas, some patients may require topical anesthetic. Red, puffy skin that looks like sunburn is one of the most prevalent side effects of laser treatment. However, these negative effects only last a few hours, providing a long-term cure.
Marketing Plan
A key part of the marketing plan in a Laser Hair Removal business plan is the marketing budget. The growth in the number of customers is proportional to the budget and dependent on the CAC.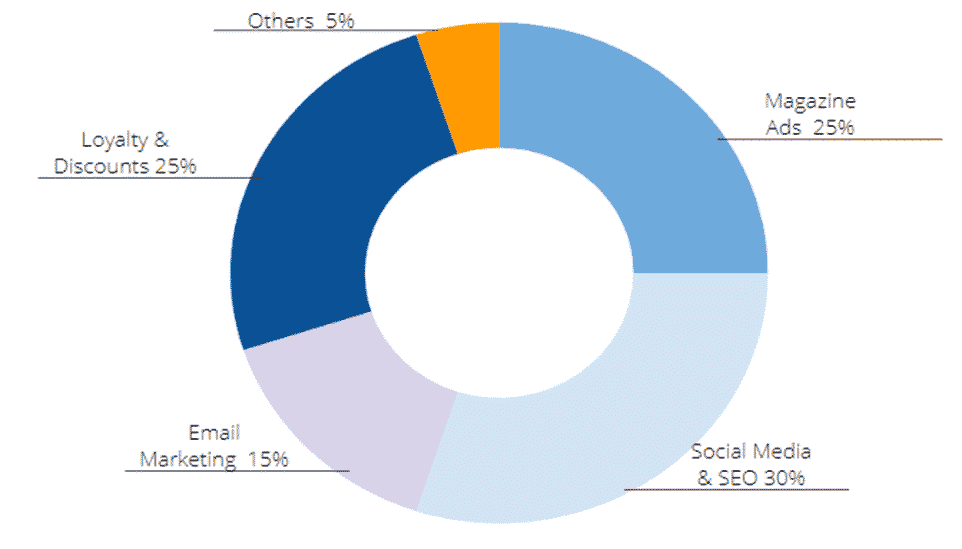 Social Media & SEO: Following the trend of surfing the Internet every second of customers, Online advertisement has become a blatant tool used by every business. Laser Dreams will be promoted on Facebook, Instagram, and other social media platform.
Magazine: A magazine with Laser Dreams' logo will be distributed, and the pages contain thorough information about Laser Dreams.
Email Marketing: We uses email tool that we utilize to send commercial messages and generate sales. We will send cart abandonment emails or as sophisticated as running multiple email nurturing campaigns to cultivate long-term connections and increase long-term sales.

Loyalty & Discounts: To demonstrate our gratitude for your support to our success, Laser Dreams offers loyalty and discount programs to our clients.
Organizational Plan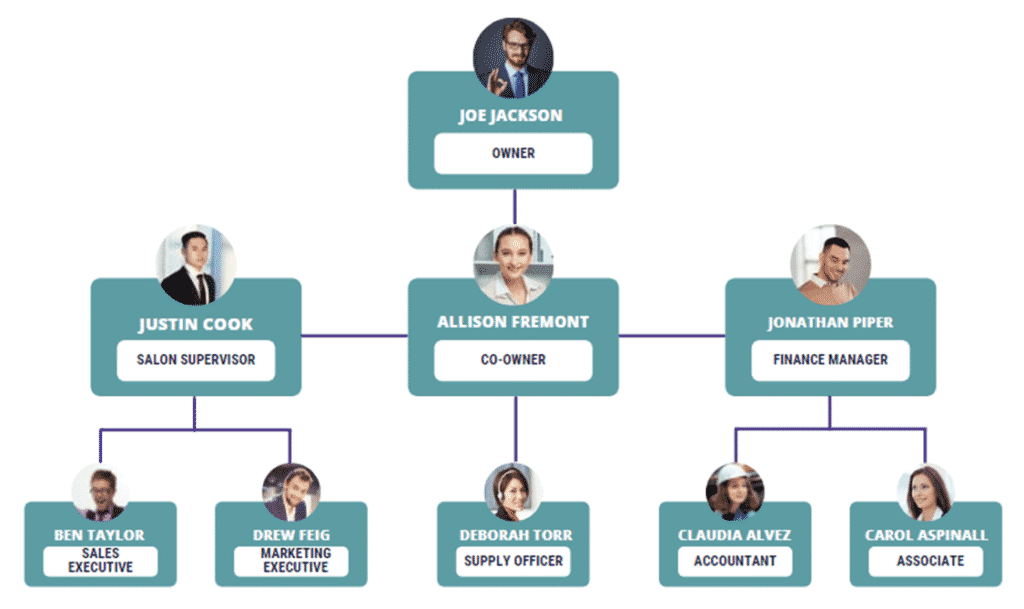 Financial Plan
Earnings: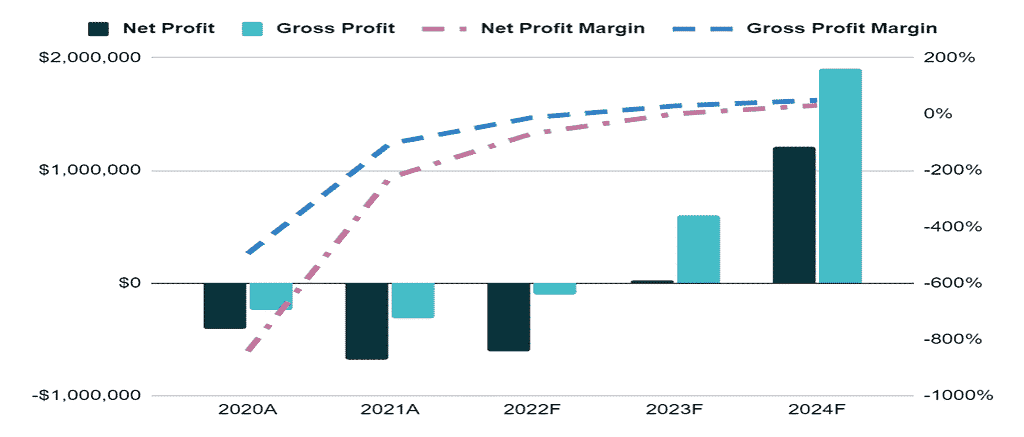 Income Statement:
| | | | | | |
| --- | --- | --- | --- | --- | --- |
| | 2020A | 2021A | 2022F | 2023F | 2024F |
| ANNUAL REVENUE | | | | | |
| Item 1 | 9,217 | 59,117 | 175,410 | 415,277 | 781,357 |
| Item 2 | 34,701 | 222,558 | 660,368 | 1,563,394 | 2,941,580 |
| Item 3 | 4,067 | 19,561 | 46,432 | 78,519 | 114,905 |
| Total annual revenue | 47,985 | 301,236 | 882,211 | 2,057,189 | 3,837,842 |
| % increase | | 528% | 193% | 133% | 87% |
| COST of REVENUE | | | | | |
| Item 1 | 360 | 2,259 | 6,617 | 15,429 | 28,784 |
| Item 2 | 480 | 3,012 | 8,822 | 20,572 | 38,378 |
| Item 3 | 52,000 | 65,000 | 78,000 | 91,000 | 104,000 |
| Item 4 | 720 | 3,615 | 8,822 | 16,458 | 23,027 |
| Item 5 | 140,000 | 336,000 | 560,000 | 840,000 | 1,120,000 |
| Item 6 | 60,000 | 144,000 | 240,000 | 360,000 | 480,000 |
| Item 7 | 32,000 | 61,333 | 85,533 | 112,153 | 141,435 |
| Total Cost of Revenue | 285,560 | 615,220 | 987,794 | 1,455,612 | 1,935,625 |
| as % of revenue | 595% | 204% | 112% | 71% | 50% |
| Gross Profit | -237,575 | -313,984 | -105,583 | 601,578 | 1,902,218 |
| SELLING & ADMIN EXPENSES | | | | | |
| Item 1 | 28,000 | 96,800 | 154,880 | 175,692 | 193,261 |
| Item 2 | 75,000 | 105,000 | 120,000 | 120,000 | 120,000 |
| Item 3 | 36,000 | 96,000 | 108,000 | 120,000 | 120,000 |
| Item 4 | 8,000 | 12,000 | 12,000 | 12,000 | 12,000 |
| Item 5 | 3,839 | 18,074 | 44,111 | 61,716 | 115,135 |
| Item 6 | 3,359 | 12,049 | 26,466 | 41,144 | 76,757 |
| Item 7 | 5,600 | 10,000 | 12,904 | 15,034 | 17,376 |
| Item 8 | 6,667 | 14,000 | 22,067 | 30,940 | 40,701 |
| Total selling & admin expenses | 166,464 | 363,924 | 500,428 | 576,525 | 695,230 |
| as % of revenue | 347% | 121% | 57% | 28% | 18% |
| Net profit | -404,039 | -677,907 | -606,011 | 25,052 | 1,206,987 |
| Accumulated net profit | -404,039 | -1,081,947 | -1,687,957 | -1,662,905 | -455,918 |