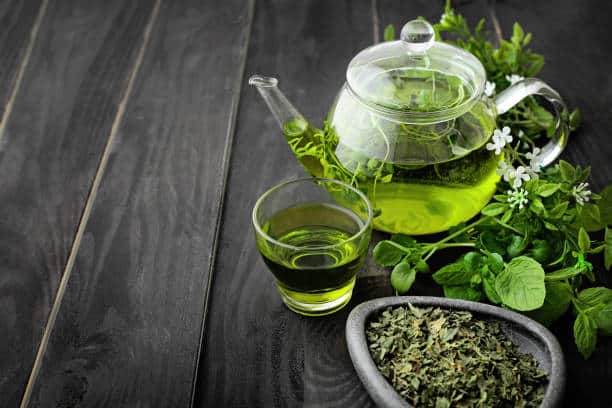 If you are planning to write the Green Tea business plan on your own, then this sample Green Tea business plan can be great for guidance. However, if you are looking for a professional business plan writer for a business loan, SBA loan or to find out the possibility of success for your new business then let's talk!
Executive Summary
Overview: The Great Mississippi Tea Farm aspires to be more than simply a great tea producer. We're working to modernize and bring a once-ancient sector closer to home. The Great Mississippi Tea Company is on a mission to create a working model for commercial tea farming in the First World that will serve as a model for the rest of the world to use mechanization and innovative thinking to produce and sell an ethically sustainable crop for the masses while avoiding the industry's traditional labor standards.
Mission: We intend to change the tea business, starting with our farm. We'll do this by becoming a leader in tea science, labor standards, and sustainability in the United States. All the while producing an exceptional cup of tea from afar.
Vision: To become America's most famous tea business.

Industry Overview: The worldwide green tea market was valued at USD 12.80 billion in 2019 and is expected to rise at an annual rate of 8.0 percent to USD 23.66 billion by 2027. Thanks to growing consumer knowledge of its health advantages, Green tea's worldwide industry is booming. Tea has become more popular as a source of nutrients to help prevent lifestyle-related diseases. Because of the growing popularity of functional drinks among millennials, key companies have been forced to create new sorts and forms of green tea in order to meet current customer needs. In the future years, the market expansion will be fueled by a rising number of studies and scientific research demonstrating tea's beneficial effect in the prevention of certain ailments.
Financial Overview: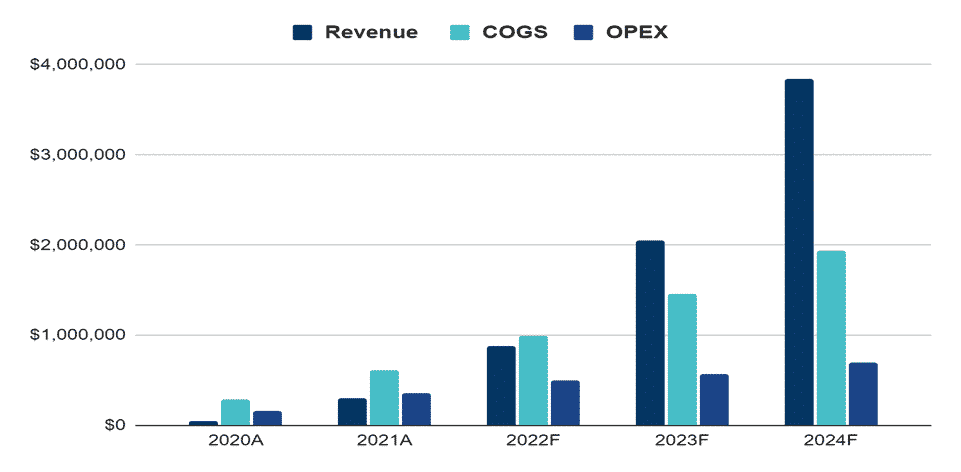 Financials is one of the most important sections of a Green Tea business plan. You can get an idea of your projected revenue, required investment amount, is the business sustainable without additional funding, etc.
Financial Highlights:
| | | | | | |
| --- | --- | --- | --- | --- | --- |
| Liquidity | 2020A | 2021A | 2022F | 2023F | 2024F |
| Current ratio | 6 | 12 | 23 | 32 | 42 |
| Quick ratio | 6 | 11 | 22 | 31 | 40 |
| DSO | 8 | 8 | 8 | 8 | 8 |
| Solvency | | | | | |
| Interest coverage ratio | | | 8.2 | 11.1 | 14.2 |
| Debt to asset ratio | 0.01 | 0.01 | 0.2 | 0.18 | 0.16 |
| Profitability | | | | | |
| Gross profit margin | 51% | 51% | 53% | 53% | 53% |
| EBITDA margin | 12% | 14% | 21% | 22% | 22% |
| Return on asset | 5% | 6% | 13% | 14% | 14% |
| Return on equity | 5% | 6% | 16% | 17% | 17% |
Fund Usage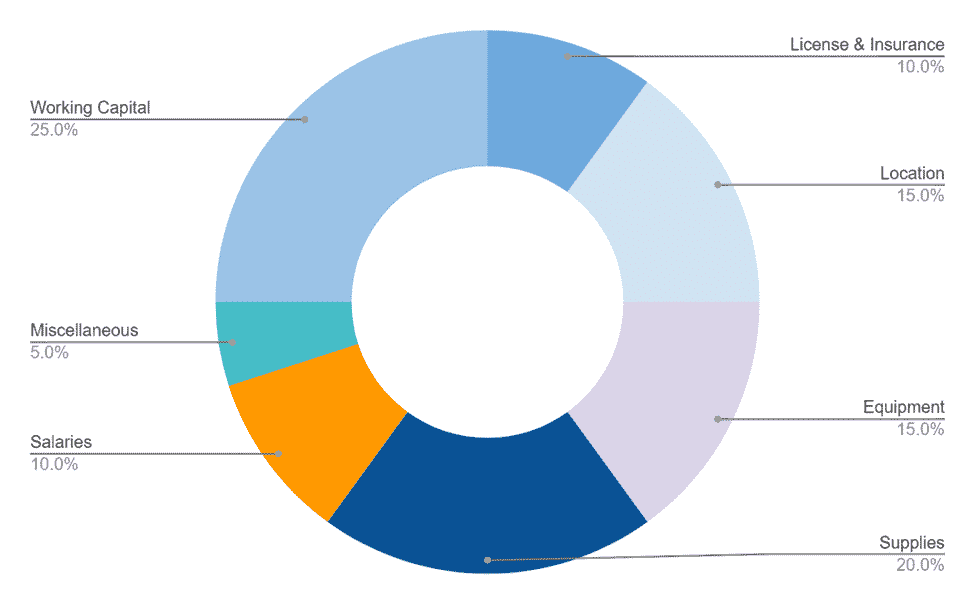 Industry Analysis
The industry analysis section of the Green Tea business plan will help you get better insights into competitors, market growth, and overall industry prospects. You can order a custom market research report for your Green Tea business.
The increasing demand for functional drinks is fueling the industry. Consumer demand for available drinks has expanded dramatically due to the growing trend of on-the-go nutrition and good hydration. Green tea includes a high level of antioxidants that aid in cellular and tissue aging and regular physiological function. The market is growing due to the increasing demand for nutrient-rich drinks to help people avoid specific diseases. Increased research and development operations to produce new tea kinds, such as naturally flavored, organic, pure, and environmentally friendly tea types, are also helping to sustain the industry. In the future, technological advancements in the development of new tea packaging are projected to fuel market expansion. However, the higher cost of green tea compared to black tea and a lack of knowledge, particularly in developing countries, are expected to limit the worldwide Green Tea Market's development in the coming years. Nonetheless, the leading players in the worldwide Green Tea Market are expected to benefit from the development of their product range and increased marketing and promotional activity.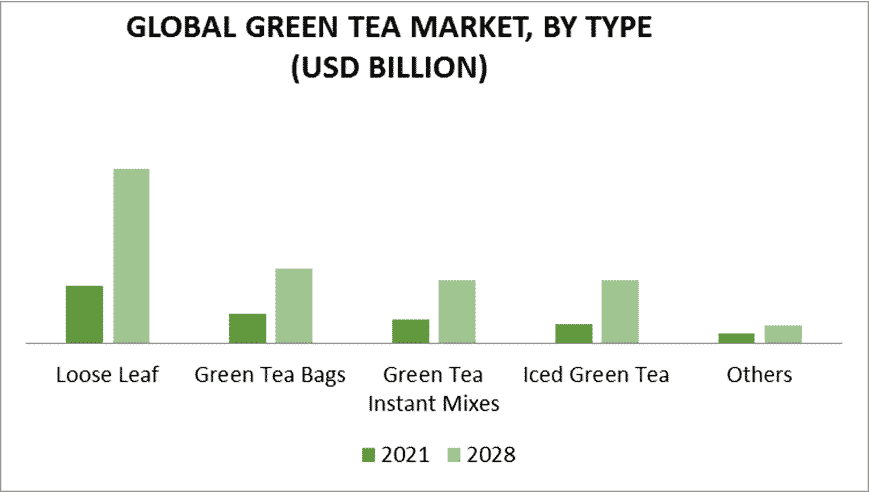 While working on the industry analysis section of the Green Tea business plan make sure that you add significant number of stats to support your claims and use proper referencing so that your lender can validate the data.
Iced Green Tea, Loose Leaf, Green Tea Bags, Green Tea Instant Mixes, and Others are the many types of green tea available. During the projection period, demand for loose-leaf segments is predicted to expand fastest; in 2018, the green tea bags segment had the most significant share of the Green Tea Market. Filtered paper, food-grade plastic, and silk cotton are the most common materials used in the bags. Green tea bags with varieties including ginger, mint, and lemon are available. Green tea is utilized in creating cosmetics and pharmaceutical items in teabags because it helps improve brain function, decrease fat levels, and lessen cancer risk, among other benefits.
The plant Camellia sinensis is used to make green tea. Green tea is made from these plants' flower buds and dried leaves. These leaves are pan-fried, steamed, and then dried. Green tea may help with depression, as well as other diseases, including lung cancer, liver cancer, colon cancer, and stomach cancer. Green tea use has also been shown to improve cognitive abilities and decrease cholesterol and triglyceride levels in the body, according to several scientific research. Green tea has recently acquired popularity among Indian consumers, owing to its health advantages. Green tea helps to improve the immune system, keep weight under control, decrease physical stress, and keep skin redness at bay when consumed on a regular basis.
Rising consumer awareness regarding the health advantages and a growing emphasis on living a healthy lifestyle are expected to drive the market growth during the projected period. Furthermore, the global demand for green tea is likely to rise as obese individuals and persons suffering from cardiovascular ailments rise. Green tea is thought to lower LDL cholesterol and cancer cells and relieve head and body pains. Green tea helps you lose weight. In the following years, these factors are expected to drive market expansion.
Due to the emergence of the COVID-19 pandemic, the worldwide supply of numerous sorts of teas has been thrown into disarray. Lockdowns in many nations have hindered the expansion of the green-type tea sector by disrupting trade activity. However, rising worries about immunity and general health have re-established demand for nutritious drinks across retail channels, which is projected to persist during the pandemic and thereafter. Grocery store sales were up at 99 percent in mid-March and 25 percent higher in April 2020 than they were last year, according to the United States Department of Agriculture. Tea consumption is projected to rise further during and after the pandemic as people become more interested in eating antioxidant-rich foods and drinks to lower their risk of sickness. The market is primarily driven by preserving overall health and wellbeing via the consumption of nutrient-dense foods and drinks. Consumers' purchasing tastes have shifted in recent years to goods with functional ingredients to reduce the risk of lifestyle-related health issues. Obesity, diabetes, and cardiovascular disease have all become more common as a result of today's stressed and sedentary lifestyle. Over 88 million Americans are prediabetic, according to the CDC's National Diabetes Statistics Report. Green-type tea's popularity is expanding as more people become aware of the vital link between antioxidant-rich foods and drinks and general health. The increased popularity of ready-to-drink functional drinks among millennials has fueled the demand for ready-to-drink teas. The growing popularity of flavored beverages has a significant influence on the worldwide industry, expected to rise in the coming years.
Marketing Plan
A key part of the marketing plan in a Green Tea business plan is the marketing budget. The growth in the number of customers is proportional to the budget and dependent on the CAC.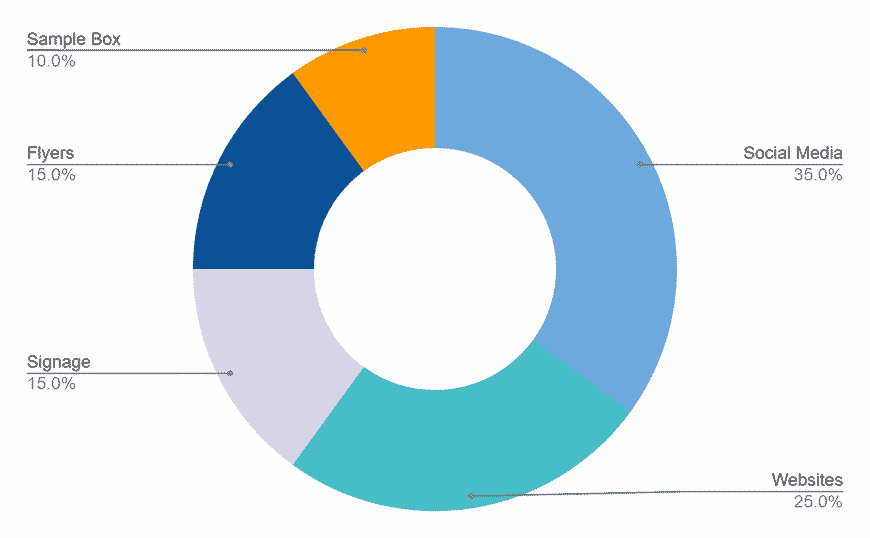 Social Media: Create a social media account for The Great Mississippi Tea Farm, upload photos and videos about the benefit of green tea, and encourage the viewers to share your page.
Websites: A good website needs to educate consumers about The Great Mississippi Tea Farm products and the services it can offer.
Signage: Make easy-to-see signage of The Great Mississippi Tea Farm, especially if your target market is driving.
Flyers: Post flyers that have a clear print and easy-to-understand words about The Great Mississippi Tea Farm in high-traffic areas to spread the word, and more people can see it.

Sample Box: Customers sometimes want evidence to convince them that your offering is exceptional. To get started, put together a sample package with a selection of your favorite teas. Make this box unique and package it to appeal to a broad range of people.
Organogram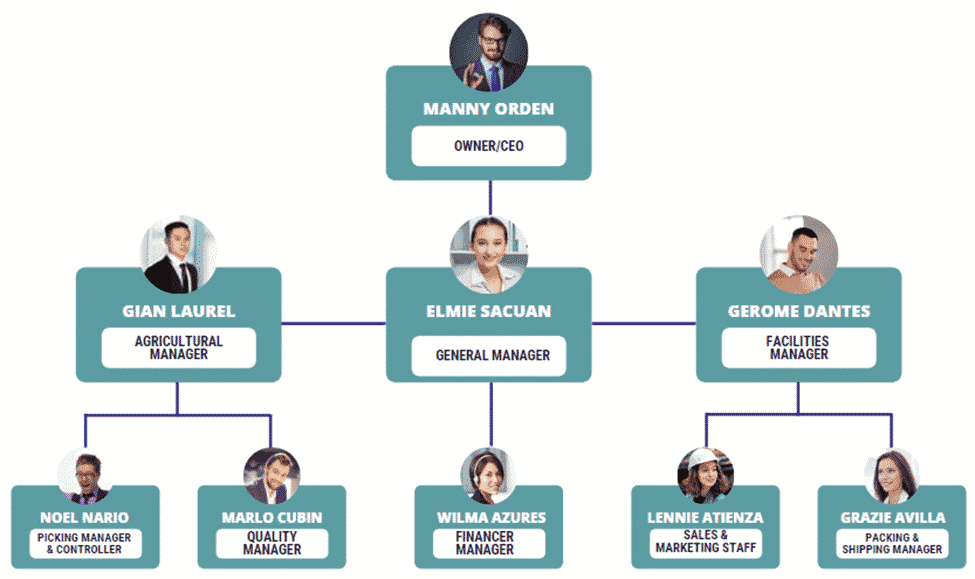 Financial Plan
This section of the Green Tea business plan helps your lender figure out whether you will be able to pay off the loan, whether the business is sustainable, what are the growth prospects, etc.
Earnings: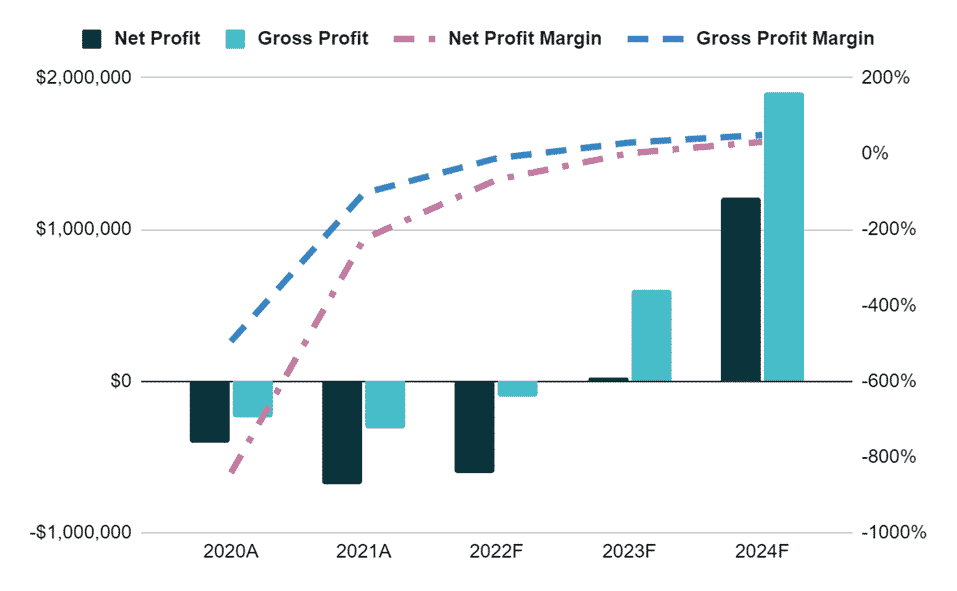 Break-Even Analysis: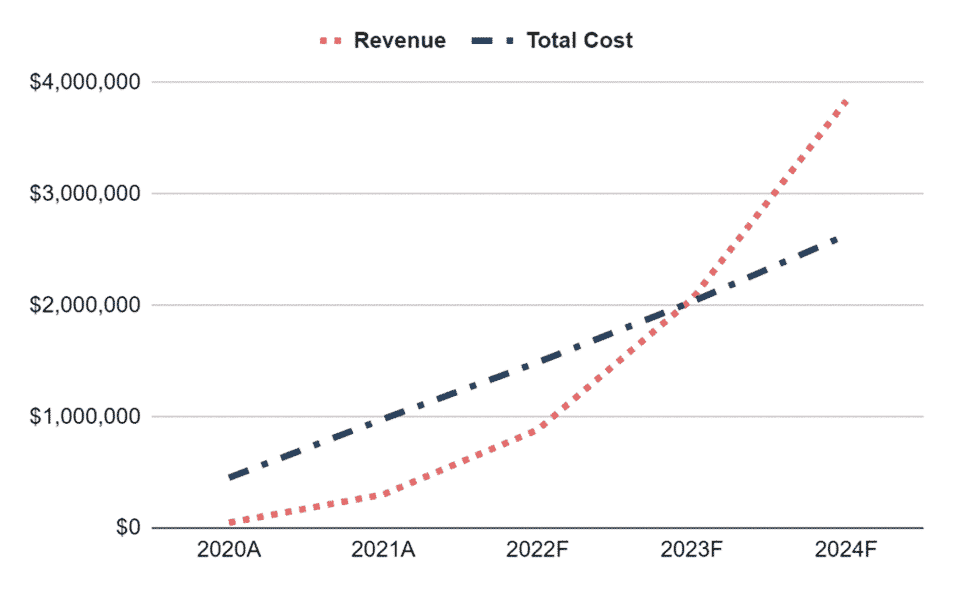 Income Statement:
| | | | | | |
| --- | --- | --- | --- | --- | --- |
| | 2020A | 2021A | 2022F | 2023F | 2024F |
| ANNUAL REVENUE | | | | | |
| Item 1 | 9,217 | 59,117 | 175,410 | 415,277 | 781,357 |
| Item 2 | 34,701 | 222,558 | 660,368 | 1,563,394 | 2,941,580 |
| Item 3 | 4,067 | 19,561 | 46,432 | 78,519 | 114,905 |
| Total annual revenue | 47,985 | 301,236 | 882,211 | 2,057,189 | 3,837,842 |
| % increase | | 528% | 193% | 133% | 87% |
| | | | | | |
| COST of REVENUE | | | | | |
| Item 1 | 360 | 2,259 | 6,617 | 15,429 | 28,784 |
| Item 2 | 480 | 3,012 | 8,822 | 20,572 | 38,378 |
| Item 3 | 52,000 | 65,000 | 78,000 | 91,000 | 104,000 |
| Item 4 | 720 | 3,615 | 8,822 | 16,458 | 23,027 |
| Item 5 | 140,000 | 336,000 | 560,000 | 840,000 | 1,120,000 |
| Item 6 | 60,000 | 144,000 | 240,000 | 360,000 | 480,000 |
| Item 7 | 32,000 | 61,333 | 85,533 | 112,153 | 141,435 |
| Total Cost of Revenue | 285,560 | 615,220 | 987,794 | 1,455,612 | 1,935,625 |
| as % of revenue | 595% | 204% | 112% | 71% | 50% |
| Gross Profit | -237,575 | -313,984 | -105,583 | 601,578 | 1,902,218 |
| | | | | | |
| SELLING & ADMIN EXPENSES | | | | | |
| Item 1 | 28,000 | 96,800 | 154,880 | 175,692 | 193,261 |
| Item 2 | 75,000 | 105,000 | 120,000 | 120,000 | 120,000 |
| Item 3 | 36,000 | 96,000 | 108,000 | 120,000 | 120,000 |
| Item 4 | 8,000 | 12,000 | 12,000 | 12,000 | 12,000 |
| Item 5 | 3,839 | 18,074 | 44,111 | 61,716 | 115,135 |
| Item 6 | 3,359 | 12,049 | 26,466 | 41,144 | 76,757 |
| Item 7 | 5,600 | 10,000 | 12,904 | 15,034 | 17,376 |
| Item 8 | 6,667 | 14,000 | 22,067 | 30,940 | 40,701 |
| Total selling & admin expenses | 166,464 | 363,924 | 500,428 | 576,525 | 695,230 |
| as % of revenue | 347% | 121% | 57% | 28% | 18% |
| Net profit | -404,039 | -677,907 | -606,011 | 25,052 | 1,206,987 |
| Accumulated net profit | -404,039 | -1,081,947 | -1,687,957 | -1,662,905 | -455,918 |
Cash Flow Statement:
| | | | | | |
| --- | --- | --- | --- | --- | --- |
| | 2020A | 2021A | 2022F | 2023F | 2024F |
| CASH FLOW from OPERATING ACTIVITIES | | | | | |
| Net profit before tax | -$404,039 | -$677,907 | -$606,011 | $25,052 | $1,206,987 |
| Depreciation | $44,267 | $85,333 | $120,504 | $158,127 | $199,512 |
| Payables | | | | | |
| Item 1 | $4,333 | $5,417 | $6,500 | $7,583 | $8,667 |
| Item 2 | $11,667 | $28,000 | $46,667 | $70,000 | $93,333 |
| Item 3 | $6,250 | $8,750 | $10,000 | $10,000 | $10,000 |
| Item 4 | $3,000 | $8,000 | $9,000 | $10,000 | $10,000 |
| Item 5 | $667 | $1,000 | $1,000 | $1,000 | $1,000 |
| Total payables | $25,917 | $51,167 | $73,167 | $98,583 | $123,000 |
| change in payables | $25,917 | $25,250 | $22,000 | $25,417 | $24,417 |
| Receivables | | | | | |
| Item 1 | $320 | $1,506 | $3,676 | $5,143 | $9,595 |
| Item 2 | $360 | $1,807 | $4,411 | $8,229 | $11,514 |
| Total receivables | $680 | $3,314 | $8,087 | $13,372 | $21,108 |
| change in receivables | -$680 | -$2,634 | -$4,773 | -$5,285 | -$7,736 |
| Net cash flow from operating activities | -$334,536 | -$569,958 | -$468,280 | $203,311 | $1,423,180 |
| | | | | | |
| CASH FLOW from INVESTING ACTIVITIES | | | | | |
| Item 1 | $16,000 | $13,200 | $14,520 | $15,972 | $17,569 |
| Item 2 | $20,000 | $22,000 | $24,200 | $26,620 | $29,282 |
| Item 3 | $28,000 | $22,000 | $14,520 | $10,648 | $11,713 |
| Item 4 | $96,000 | $88,000 | $72,600 | $79,860 | $87,846 |
| Item 5 | $20,000 | $22,000 | $24,200 | $26,620 | $29,282 |
| Net cash flow/ (outflow) from investing activities | -$180,000 | -$167,200 | -$150,040 | -$159,720 | -$175,692 |
| | | | | | |
| CASH FLOW from FINANCING ACTIVITIES | | | | | |
| Equity | $400,000 | $440,000 | $484,000 | $532,400 | $585,640 |
| Net cash flow from financing activities | $400,000 | $440,000 | $484,000 | $532,400 | $585,640 |
| Net (decrease)/ increase in cash/ cash equivalents | -$114,536 | -$297,158 | -$134,320 | $575,991 | $1,833,128 |
| Cash and cash equivalents at the beginning of the year | – | -$114,536 | -$411,693 | -$546,014 | $29,978 |
| Cash & cash equivalents at the end of the year | -$114,536 | -$411,693 | -$546,014 | $29,978 | $1,863,105 |
Balance Sheet:
| | | | | | |
| --- | --- | --- | --- | --- | --- |
| | 2020A | 2021A | 2022F | 2023F | 2024F |
| NON-CURRENT ASSETS | | | | | |
| Item 1 | $16,000 | $29,200 | $43,720 | $59,692 | $77,261 |
| Item 2 | $20,000 | $42,000 | $66,200 | $92,820 | $122,102 |
| Item 3 | $28,000 | $50,000 | $64,520 | $75,168 | $86,881 |
| Item 4 | $96,000 | $184,000 | $256,600 | $336,460 | $424,306 |
| Item 5 | $20,000 | $42,000 | $66,200 | $92,820 | $122,102 |
| Total | $180,000 | $347,200 | $497,240 | $656,960 | $832,652 |
| Accumulated depreciation | $44,267 | $129,600 | $250,104 | $408,231 | $607,743 |
| Net non-current assets | $135,733 | $217,600 | $247,136 | $248,729 | $224,909 |
| | | | | | |
| CURRENT ASSETS | | | | | |
| Cash | -$114,536 | -$411,693 | -$546,014 | $29,978 | $1,863,105 |
| Accounts receivables | $680 | $3,314 | $8,087 | $13,372 | $21,108 |
| Total current assets | -$113,856 | -$408,380 | -$537,927 | $43,349 | $1,884,214 |
| Total Assets | $21,878 | -$190,780 | -$290,791 | $292,078 | $2,109,122 |
| | | | | | |
| LIABILITIES | | | | | |
| Account payables | $25,917 | $51,167 | $73,167 | $98,583 | $123,000 |
| Total liabilities | $25,917 | $51,167 | $73,167 | $98,583 | $123,000 |
| | | | | | |
| EQUITIES | | | | | |
| Owner's equity | $400,000 | $840,000 | $1,324,000 | $1,856,400 | $2,442,040 |
| Accumulated net profit | -$404,039 | -$1,081,947 | -$1,687,957 | -$1,662,905 | -$455,918 |
| Total equities | -$4,039 | -$241,947 | -$363,957 | $193,495 | $1,986,122 |
| Total liabilities & equities | $21,878 | -$190,780 | -$290,791 | $292,078 | $2,109,122 |