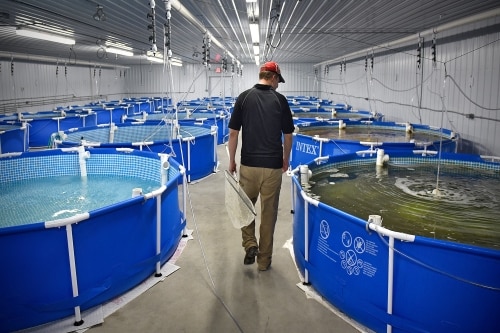 One of the few sectors that will never go out of business is the food industry. This indoor shrimp farm business plan is a great place to start if you want to start your own business. You may start this business with a little amount of money and make a lot of money. This guide will teach you all you need to know about setting up a shrimp farm. Shrimp farming has only recently become a successful business. We're putting up a detailed business plan for this startup that you may use to launch your own firm. Many aspects of this business resemble those of an oyster farming business plan.
Summary of the Report
The Company
Packard Shrimp Farm will be a recognized and insured saltwater shrimp farming operation near Tucson, Arizona. Fresh shrimp and other seafood will be provided to the area by the firm. We'll start with a shrimp farm and then move on to other types of seafood. We must have a strong management structure, just like we did in the indoor shrimp farming business plan for the farmers market, in order to run the firm efficiently and successfully.
Indoor Shrimp Farming Business Management
To address the question of how to start a shrimp farm, the first step is to establish a comprehensive management structure for the business that will monitor various aspects of operations.
This business plan may be used to convince investors that the firm would be run by the owner, with three executives engaged to handle various aspects of the company on a daily basis.
Clients of the Indoor Shrimp Farming Company
Buyers for this company will come from all walks of life, as well as all social and economic groupings since shrimp is a delicacy enjoyed by everybody. The following are the customers who will be the most significant to this company:
Customers in the US who need shrimp for personal use.
There are a few supermarkets in the region.
Two examples are restaurants and hotels.
Seafood distributors
Business Objective
The company's purpose is to take advantage of the fact that there isn't a single service provider in the area that provides fresh shrimp. This goal will be broken down into the following actionable goals:
Make a name for yourself as a long-term supplier for business customers.
Fresh shrimp of the highest grade in the area.
Product demand in the area is matched with output.
Obtaining and maintaining a 100% customer satisfaction rating.
Summary of the Business
Owner of a business
John Packard will be the sole owner of the corporation. John is the only person on the seven continents who knows how to raise saltwater shrimp. He's been doing this since he was 15 years old and knows all there is to know about it.
What is the purpose of the Indoor Shrimp Farm?
You must first comprehend why a freshwater shrimp farm is being started before you can learn how to start one. We may be able to get the answers we're looking for if we look at the shrimp supply in the area. There isn't a single business in the area that can provide you with fresh shrimp. People are tired of purchasing frozen shrimp from the store and want to buy fresh shrimp instead. This suggests that there is a significant demand for the goods on the market.
Another reason John is starting a shrimp farm is that he just quit his job and now wants to start his own business, and this is the only skill he has.
How will the Indoor Shrimp Farm get off the ground?
The next step in this indoor shrimp farming business plan is to figure out how the firm will get started. The procedure is as follows:
Step 1: Research the market.
The first step in launching this business is to figure out whether the product has a market. It is vital to have a good idea of the product's demand while starting a business. After doing a thorough market study, John came to the conclusion that there is sufficient demand for the product and that the company may be lucrative.
Step 2: Setup and Operation of the Farm
After determining the market's need, the following stage in determining how to start an indoor shrimp farm is to set up the farm in line with the market's demand. This will be accomplished by obtaining land, constructing the farm, and equipping it with everything necessary to operate it properly.
The Third Step Is To Open A Retail Store
The next stage is to set up a point of sale where customers may buy the goods. This will be constructed at a prominent location in town where we will be able to quickly attract a big number of customers.
Step 4: Look for information on the internet.
Because everyone currently buys and searches for items on the internet, having an online presence is essential. The farm and all of its products will be publicized on the internet, and an online shop will be put up to sell them.
Services
The next step in creating an indoor shrimp farming business plan is to figure out what services the farm will provide. Similar to a pig farming business plan, having a vision of the services before starting the business is critical since only then will we be able to optimize operations. Even though everyone understands how to set up a shrimp farm, they all fail. This is owing to the fact that most people's shrimp farm business plans are lacking part of the services.
You won't be able to run your indoor shrimp farming business plan successfully if you don't know what services the farm will give. So, here's how to write a business plan for indoor shrimp farming based on the services you'll provide:
Availability of Fresh Shrimp
The company's core function will be the distribution of fresh shrimp throughout the area.
Availability of Seafood
In addition, the organization will create and provide any other kind of seafood that isn't widely available in the area.
Seafood Production Experimentation
A part of the company will be dedicated to research and development in order to find new and more efficient ways to grow seafood.
Seafood that has been prepared and is ready to eat
Customers will be able to heat and eat the farm's pre-cooked fish.
Indoor Shrimp Farm Marketing Analysis
One of the most important steps in learning how to build a shrimp farm is to do a marketing analysis of the company. This may not seem to be a big deal, but it's crucial to the company's success. This is where we look at the feasibility of starting the business and how the shrimp farm should be constructed to make the money we seek. Examining market trends as well as the company's marketing segmentation is part of this step.
Market Developments
If you want to understand more about how to start a shrimp farming business, look into market trends in the field. The demand for the product has increased quickly in recent years, making it a very lucrative firm for newcomers. A part of the income might be attributed to the easy shrimp growing process.
Segmentation of the Market
You must first decide which market segments you will serve if you want to start shrimp growing inside. Approximate marketing segmentation for shrimp farming is as follows:
Customers from the private sector
For us, the most important market segment will be individuals who love shrimp and want to buy it fresh.
Businesses in the Retail Sector
Seafood shops and supermarkets in the area will be a big market for us.
Restaurants and Hotels
Local hotels and restaurants will get the shrimp and other delicacies.
Wholesalers
Enterprises that offer shrimp and other seafood to other firms on a wholesale basis will be one of our target markets.
Business Objective
To become the leading shrimp provider in the region.
To become the exclusive supplier of shrimp to local retail outlets.
To become the principal source of shrimp for local restaurants.
To establish a reliable brand for the organization.
Pricing of Products
Because the commodities are not available from any other source in the area, they will be sold at a premium.
Marketing Techniques
Even if you're starting a small-scale indoor shrimp farming company, as a cannabis business, you'll need a solid marketing strategy to make it viable. Many indoor shrimp growing systems fail due to a lack of a solid sales and marketing strategy. Before you start building an indoor shrimp farm, you must have a sales strategy in place.
If you want to start an indoor shrimp growing company at home, here is a competitive analysis and sales approach you may use.
Analysis of Competitors
1. There isn't a single seafood store in the area that offers fresh shrimp or other seafood.
2. In the area, indoor freshwater shrimp farming is in great demand.
3. People are eager to pay whatever a shrimp farm is prepared to charge for its products.
Strategy for Selling
We'll strike long-term deals with local businesses and hotels.
We will give discounted rates at first.
When it comes to the quality of the services we give, we will not cut shortcuts.
Monthly Sales
Yearly Sales
Forecasted Sales
Personnel strategy
This company, like a mushroom farming business plan, needs a large number of employees to run, which is why a solid people strategy is crucial to the success of an indoor saltwater shrimp farming company.
Employees of the company
The following individuals will be needed to handle the indoor aquaculture shrimp farming company:
John Packard will be the company's owner and CEO.
The farm's day-to-day activities will be overseen by three supervisors.
There are four agricultural workers on staff.
There are two delivery people on the job.
a single store owner
There is just one cashier on the premises.
There is just one guard on duty.
Employees' Average Salary
Plan your finances
For sale is a profitable indoor shrimp farming business.
If you wish to start shrimp farming, you may either buy a shrimp firm for sale or build one from scratch. In your indoor shrimp growing company approach, it's vital to spend as little money as while getting the most bang for your buck. The following are the costs connected with forming a business. As you can see, the pricing is quite comparable to those in the indoor shrimp growing business plan for a fish farm.
The expense of the real estate.
Money was spent on municipal projects to start the farm.
The price of the advertisement.
Agricultural and delivery vehicles will be purchased using the funding.
Pay scales for employees.
Expenses will repeat until the farm starts to profit.
Important Assumptions
Analysis of the Break-Even Point
Profit and Loss Estimates
Monthly Profit
Yearly Profit
Monthly Gross Margin
Cash Flow Forecast
Balance Sheet Forecast
Ratios in Business
Samples of illustrative business plans
OGSCapital's top-notch business plan development, advising, and research have benefitted thousands of firms. They've assisted tens of thousands of small company owners in obtaining over $1.5 billion in funding, and they can help you as well.
Related link