Last updated on June 26th, 2023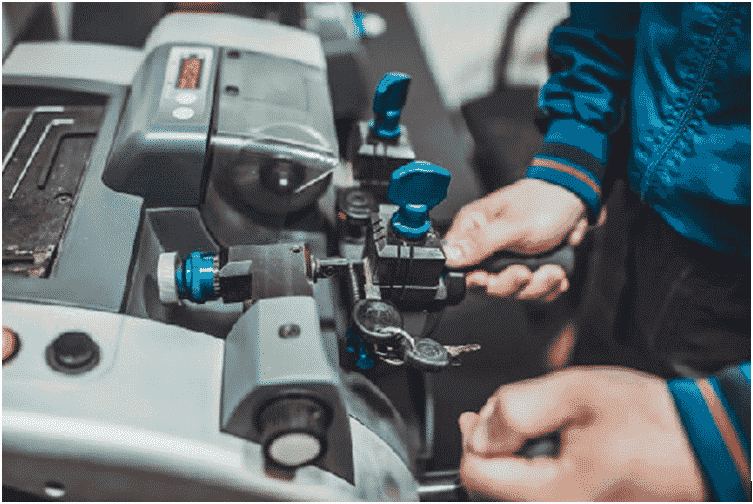 If you are planning to write the Locksmith business plan on your own, then this sample Locksmith business plan can be great for guidance. However, if you are looking for a professional business plan writer for a business loan, SBA loan or to find out the possibility of success for your new business then let's talk!
Executive Summary
Overview: We describe our company as family-owned and operated. We began operations in 1992 in Miami, Florida, as Affordable Locksmith & Security Systems. Over the first six years of hard work, constant locksmith training, and dedication, we earned a reputation on the East Coast of Florida (Miami) and among our customers. We determined in 2016 that it was time to either extend the business fleet or start a new firm to service South West Florida as the company continued to develop. Collier County Locksmith was established to service Naples, Marco Island, and the neighboring regions. At the same time, Affordable Locksmith & Security Systems was relocated to Fort Myers to cover Fort Myers, Cape Coral, Lehigh Acres, and Immokalee. The client is always foremost in our organization, and we strive to surpass your expectations regularly.
Mission: To set ourselves apart from our competition, we want to maintain long-term connections with our customers by delivering excellent customer service, high-quality goods, and sound counsel and pursuing business via innovation and sophisticated technology.
Vision: Whether you need locksmith services, architectural or electronic access gear, our vision is to consistently develop and extend our services and products to be the leading, creative supplier of security solutions.

Industry Overview: The Locksmiths business's primary activities are installing, repairing, rebuilding, and modifying mechanical or electronic locking mechanisms, safes, and security vaults. Companies that sell such gadgets and provide installation and repair services are also featured. The Locksmiths sector is predicted to grow at a 3.5 percent yearly pace to $2.8 billion in sales during the five years to 2021. The industry is expected to gain 4.4 percent in sales in 2021 alone. During that time, demand for locksmith services grew in tandem with the development in per capita disposable income, thanks to increased demand from the commercial and residential building industries.
Financial Overview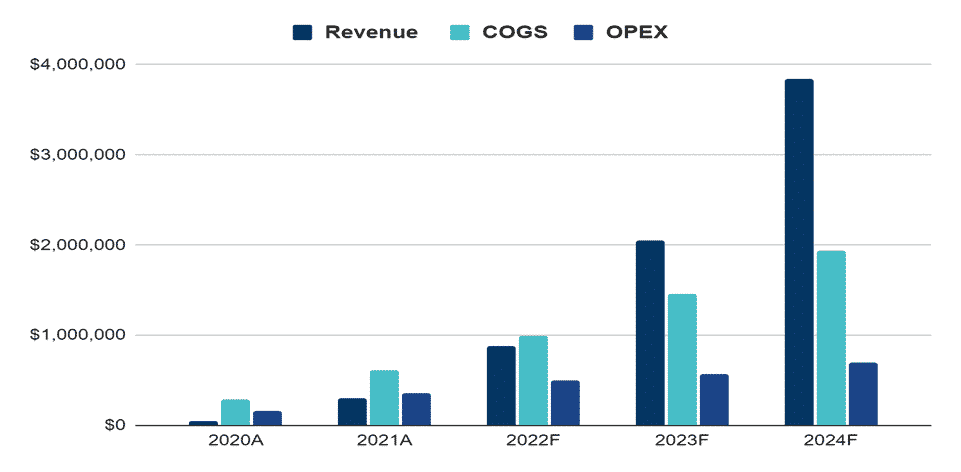 Financials is one of the most important sections of a Locksmith business plan. You can get an idea of your projected revenue, required investment amount, is the business sustainable without additional funding, etc.
Financial Highlights
| | | | | | |
| --- | --- | --- | --- | --- | --- |
| Liquidity | 2020A | 2021A | 2022F | 2023F | 2024F |
| Current ratio | 6 | 12 | 23 | 32 | 42 |
| Quick ratio | 6 | 11 | 22 | 31 | 40 |
| DSO | 8 | 8 | 8 | 8 | 8 |
| Solvency | | | | | |
| Interest coverage ratio | | | 8.2 | 11.1 | 14.2 |
| Debt to asset ratio | 0.01 | 0.01 | 0.2 | 0.18 | 0.16 |
| Profitability | | | | | |
| Gross profit margin | 51% | 51% | 53% | 53% | 53% |
| EBITDA margin | 12% | 14% | 21% | 22% | 22% |
| Return on asset | 5% | 6% | 13% | 14% | 14% |
| Return on equity | 5% | 6% | 16% | 17% | 17% |
Fund Usage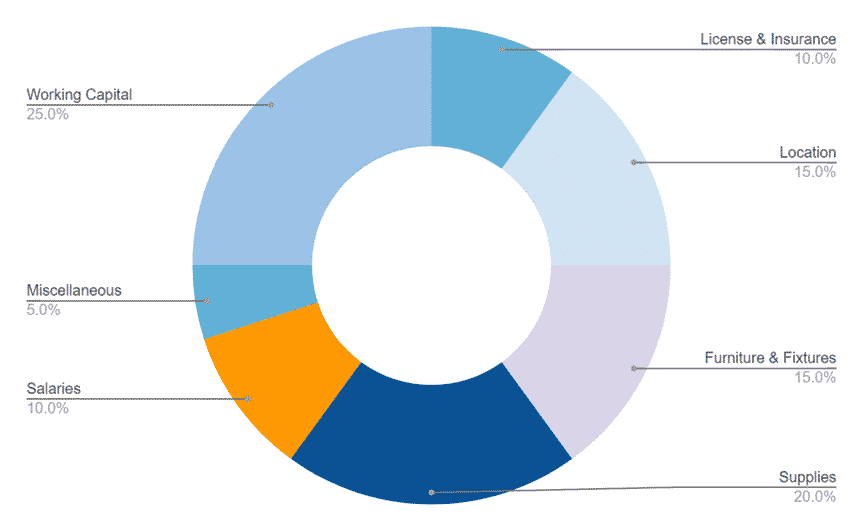 Industry Analysis
The industry analysis section of the Locksmith business plan will help you get better insights into competitors, market growth, and overall industry prospects. You can order a custom market research report for your Locksmith business.
Lock management of keying and essential control systems are installed, repaired, rebuilt, and adjusted in this business. Locks, safes, and security vaults are also available for purchase. In 2022, the Locksmiths industry will have a market size of $2.9 billion in sales. In 2022, the Locksmiths industry is predicted to grow by 3.5 percent in market size. Between 2017 and 2022, the market for Locksmiths in the United States grew at a rate of 3.1 percent each year on average. The Locksmiths industry grew quicker than the broader economy in the United States. This industry grew faster than the Consumer Goods and Services sector in the United States. Several firms and the number of motor vehicle registrations are the main positive aspects influencing this sector. Locks and security systems for newly built residences must be installed. As a result, as the number of homes starts, the need for locksmiths rises. In 2021, housing starts were predicted to grow, providing an opportunity for the sector.
Rekeying is a service that Locksmiths may give to make keys worthless without replacing the whole lock (or many locks). When you don't want someone with a key, you can't get back having access to your house or company; this might be useful. This is also an intelligent solution if a master key, or a set of keys, has been lost and a company's security is in jeopardy. Rekeying is one of the most popular locksmith services due to the low cost of critical pins in locks. It is nearly always less expensive than having your locks replaced.
Over 16,000 house and auto lockouts occur every day in the United States. AAA Insurance alone helps over 4 million individuals with vehicle lockouts each year – and they're not even a locksmith! The sheer number of auto lockouts demonstrates that misplacing or locking a key inside your car, house, or company is so prevalent that you have almost certainly done so. New lock technology, including keyless entry automobiles and home/business doors, has aided in lowering these figures but has not addressed the issue.

2.5 million break-ins occur each year, with house burglaries accounting for almost 65 percent. According to the FBI, 65 percent of all house burglaries attack between 6 a.m. and 6 p.m., when most people are at work or school. Burglaries are most prevalent between 10 a.m. and 3 p.m. during July and August in the United States and have the most significant number of break-ins. Furthermore, in the United States, one automobile theft was recorded every 41 seconds. Car theft has progressively decreased since peaking at 1.7 million in 1991, thanks to improved security and vehicle technology. While automotive break-ins are declining, house and car security are still two of the most popular locksmith service requests.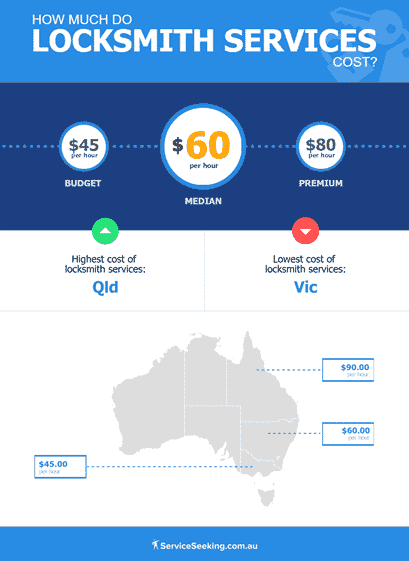 As the need for enhanced security has grown, the demand for locksmith services has only grown. While locksmiths have historically aided with lockouts, rekeying, and other key and lock services, new technology and security concerns have prompted numerous locksmiths and businesses to include security services in their service offerings and business strategies. The locksmith industry's total income reached over $2 billion in 2018 due to increased demand for locksmith services and overall sector development.
The locksmith sector has 24,371 registered enterprises, according to the United States Department of Labor's Bureau of Labor Statistics. According to some estimates, the locksmith business employs over 35,000 people; in any case, it is a large industry.
Because of the nature of houses and their demands for locks, keys, security systems, and other items, the need for locksmiths and their services is still influenced mainly by the building and housing sectors. The locksmith business is growing at a rate of 1.9 percent per year as demand for new homes rises and output rises. New security technology has made it simpler to gain entry to homes, companies, and automobiles without the need for actual keys. On the other hand, the locksmith business shows no indications of slowing down due to these improvements.
While the need for locksmiths and their services varies widely by location, locksmithing is undeniably a booming and popular sector for both customers and employees. The typical annual compensation is from $40,000 to $60,000.

Again, demand for locksmiths and their services varies greatly depending on location. This is closely related to the typical compensation depending on their site, locksmith company, and needs in their region. Locksmiths earn between $21 and $28 per hour, with the average hourly wage around $25.
Marketing Plan
A key part of the marketing plan in a Locksmith business plan is the marketing budget. The growth in the number of customers is proportional to the budget and dependent on the CAC.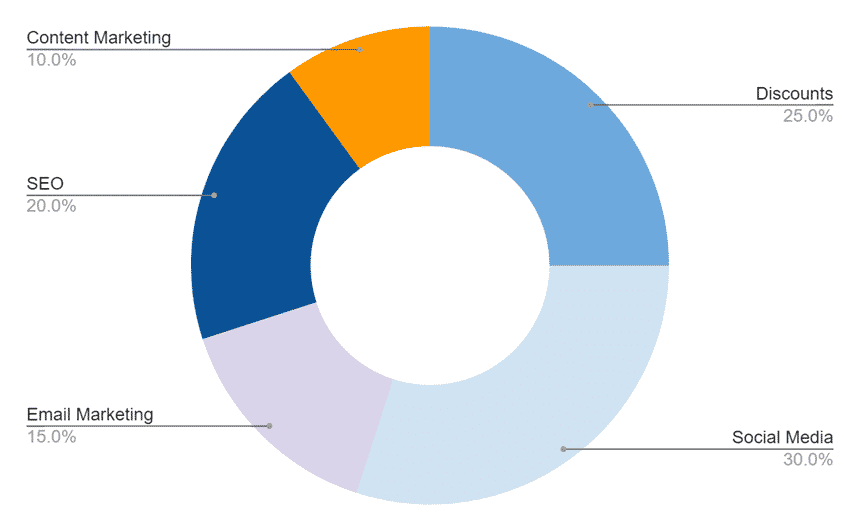 Content Marketing: Create a blog on the website with material catering to prospective customers of Collier County Locksmith.
Discounts: Provide multiple rewards or incentives where Collier County Locksmith customers get a deal if they successfully recommend someone.
Social Media: Engage and promote on Twitter, publish news on Facebook, and utilize Instagram to promote curated photos of your space and events.
SEO (Search Engine Optimization) Local SEO makes it easier for local consumers to find out what you have to offer. It creates trust with potential members seeking what your place offers.

Email Marketing: Sending automated in-product and website communications to reach out to consumers at the right time. Remember that if your client or target views your email as really important, they are more likely to forward it or share it with others, so include social media share buttons in every email.
Organogram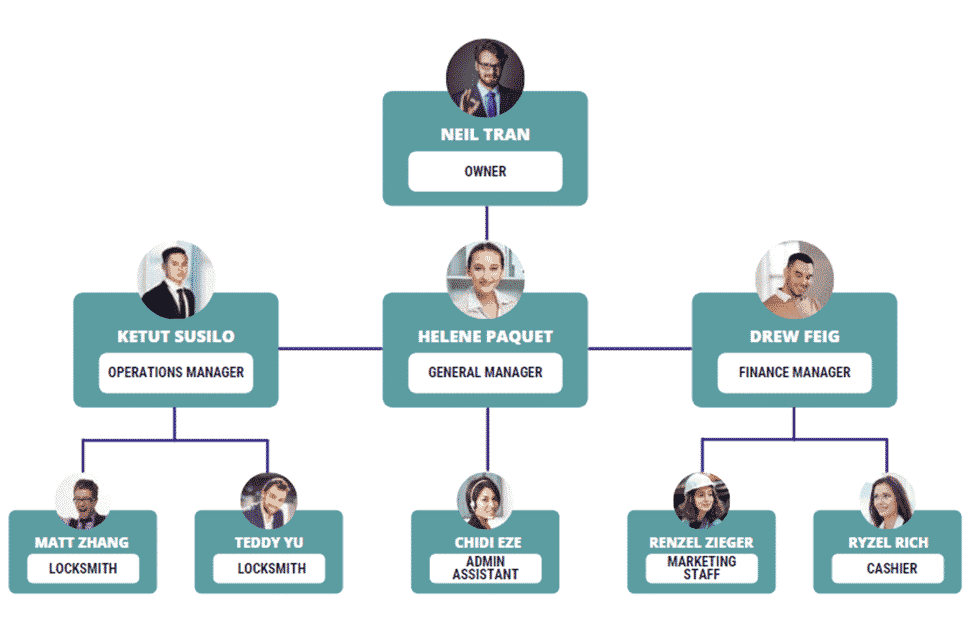 Financial Plan
This section of the Locksmith business plan helps your lender figure out whether you will be able to pay off the loan, whether the business is sustainable, what are the growth prospects, etc.
Earnings: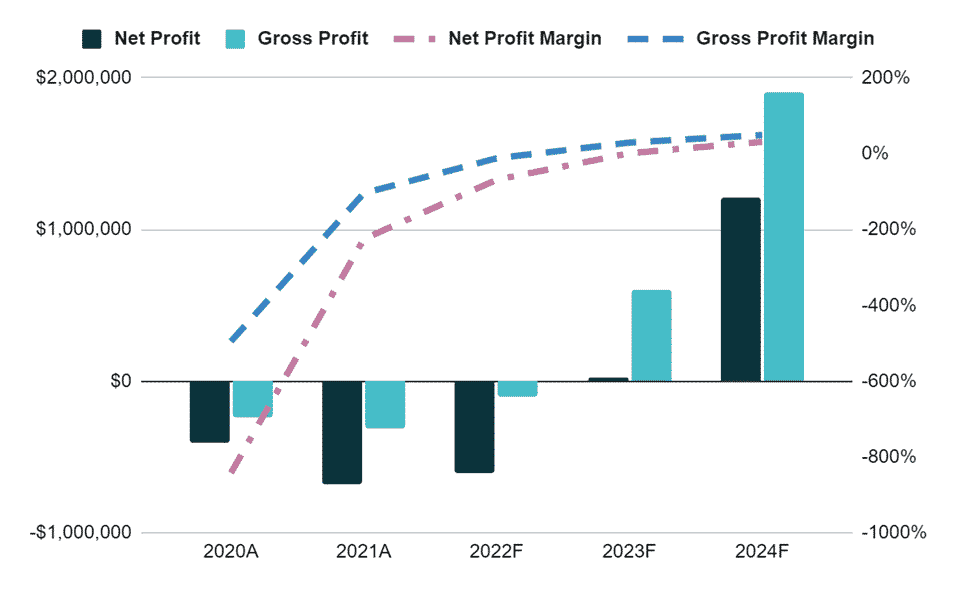 Break-Even Analysis: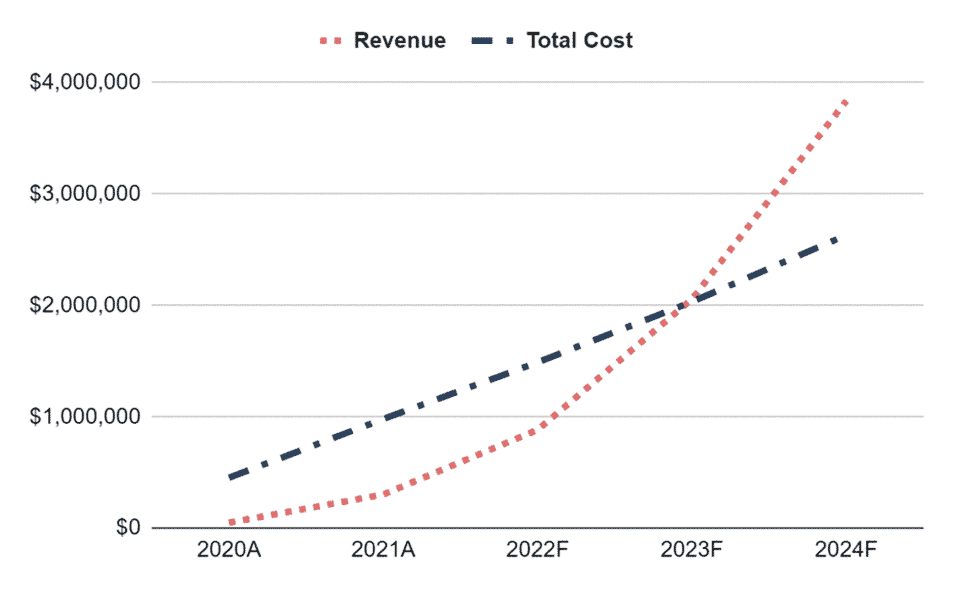 Income Statement:
| | | | | | |
| --- | --- | --- | --- | --- | --- |
| | 2020A | 2021A | 2022F | 2023F | 2024F |
| ANNUAL REVENUE | | | | | |
| Item 1 | 9,217 | 59,117 | 175,410 | 415,277 | 781,357 |
| Item 2 | 34,701 | 222,558 | 660,368 | 1,563,394 | 2,941,580 |
| Item 3 | 4,067 | 19,561 | 46,432 | 78,519 | 114,905 |
| Total annual revenue | 47,985 | 301,236 | 882,211 | 2,057,189 | 3,837,842 |
| % increase | | 528% | 193% | 133% | 87% |
| | | | | | |
| COST of REVENUE | | | | | |
| Item 1 | 360 | 2,259 | 6,617 | 15,429 | 28,784 |
| Item 2 | 480 | 3,012 | 8,822 | 20,572 | 38,378 |
| Item 3 | 52,000 | 65,000 | 78,000 | 91,000 | 104,000 |
| Item 4 | 720 | 3,615 | 8,822 | 16,458 | 23,027 |
| Item 5 | 140,000 | 336,000 | 560,000 | 840,000 | 1,120,000 |
| Item 6 | 60,000 | 144,000 | 240,000 | 360,000 | 480,000 |
| Item 7 | 32,000 | 61,333 | 85,533 | 112,153 | 141,435 |
| Total Cost of Revenue | 285,560 | 615,220 | 987,794 | 1,455,612 | 1,935,625 |
| as % of revenue | 595% | 204% | 112% | 71% | 50% |
| Gross Profit | -237,575 | -313,984 | -105,583 | 601,578 | 1,902,218 |
| | | | | | |
| SELLING & ADMIN EXPENSES | | | | | |
| Item 1 | 28,000 | 96,800 | 154,880 | 175,692 | 193,261 |
| Item 2 | 75,000 | 105,000 | 120,000 | 120,000 | 120,000 |
| Item 3 | 36,000 | 96,000 | 108,000 | 120,000 | 120,000 |
| Item 4 | 8,000 | 12,000 | 12,000 | 12,000 | 12,000 |
| Item 5 | 3,839 | 18,074 | 44,111 | 61,716 | 115,135 |
| Item 6 | 3,359 | 12,049 | 26,466 | 41,144 | 76,757 |
| Item 7 | 5,600 | 10,000 | 12,904 | 15,034 | 17,376 |
| Item 8 | 6,667 | 14,000 | 22,067 | 30,940 | 40,701 |
| Total selling & admin expenses | 166,464 | 363,924 | 500,428 | 576,525 | 695,230 |
| as % of revenue | 347% | 121% | 57% | 28% | 18% |
| Net profit | -404,039 | -677,907 | -606,011 | 25,052 | 1,206,987 |
| Accumulated net profit | -404,039 | -1,081,947 | -1,687,957 | -1,662,905 | -455,918 |
Cash Flow Statement
| | | | | | |
| --- | --- | --- | --- | --- | --- |
| | 2020A | 2021A | 2022F | 2023F | 2024F |
| CASH FLOW from OPERATING ACTIVITIES | | | | | |
| Net profit before tax | -$404,039 | -$677,907 | -$606,011 | $25,052 | $1,206,987 |
| Depreciation | $44,267 | $85,333 | $120,504 | $158,127 | $199,512 |
| Payables | | | | | |
| Item 1 | $4,333 | $5,417 | $6,500 | $7,583 | $8,667 |
| Item 2 | $11,667 | $28,000 | $46,667 | $70,000 | $93,333 |
| Item 3 | $6,250 | $8,750 | $10,000 | $10,000 | $10,000 |
| Item 4 | $3,000 | $8,000 | $9,000 | $10,000 | $10,000 |
| Item 5 | $667 | $1,000 | $1,000 | $1,000 | $1,000 |
| Total payables | $25,917 | $51,167 | $73,167 | $98,583 | $123,000 |
| change in payables | $25,917 | $25,250 | $22,000 | $25,417 | $24,417 |
| Receivables | | | | | |
| Item 1 | $320 | $1,506 | $3,676 | $5,143 | $9,595 |
| Item 2 | $360 | $1,807 | $4,411 | $8,229 | $11,514 |
| Total receivables | $680 | $3,314 | $8,087 | $13,372 | $21,108 |
| change in receivables | -$680 | -$2,634 | -$4,773 | -$5,285 | -$7,736 |
| Net cash flow from operating activities | -$334,536 | -$569,958 | -$468,280 | $203,311 | $1,423,180 |
| | | | | | |
| CASH FLOW from INVESTING ACTIVITIES | | | | | |
| Item 1 | $16,000 | $13,200 | $14,520 | $15,972 | $17,569 |
| Item 2 | $20,000 | $22,000 | $24,200 | $26,620 | $29,282 |
| Item 3 | $28,000 | $22,000 | $14,520 | $10,648 | $11,713 |
| Item 4 | $96,000 | $88,000 | $72,600 | $79,860 | $87,846 |
| Item 5 | $20,000 | $22,000 | $24,200 | $26,620 | $29,282 |
| Net cash flow/ (outflow) from investing activities | -$180,000 | -$167,200 | -$150,040 | -$159,720 | -$175,692 |
| | | | | | |
| CASH FLOW from FINANCING ACTIVITIES | | | | | |
| Equity | $400,000 | $440,000 | $484,000 | $532,400 | $585,640 |
| Net cash flow from financing activities | $400,000 | $440,000 | $484,000 | $532,400 | $585,640 |
| Net (decrease)/ increase in cash/ cash equivalents | -$114,536 | -$297,158 | -$134,320 | $575,991 | $1,833,128 |
| Cash and cash equivalents at the beginning of the year | – | -$114,536 | -$411,693 | -$546,014 | $29,978 |
| Cash & cash equivalents at the end of the year | -$114,536 | -$411,693 | -$546,014 | $29,978 | $1,863,105 |
Balance Sheet:
| | | | | | |
| --- | --- | --- | --- | --- | --- |
| | 2020A | 2021A | 2022F | 2023F | 2024F |
| NON-CURRENT ASSETS | | | | | |
| Item 1 | $16,000 | $29,200 | $43,720 | $59,692 | $77,261 |
| Item 2 | $20,000 | $42,000 | $66,200 | $92,820 | $122,102 |
| Item 3 | $28,000 | $50,000 | $64,520 | $75,168 | $86,881 |
| Item 4 | $96,000 | $184,000 | $256,600 | $336,460 | $424,306 |
| Item 5 | $20,000 | $42,000 | $66,200 | $92,820 | $122,102 |
| Total | $180,000 | $347,200 | $497,240 | $656,960 | $832,652 |
| Accumulated depreciation | $44,267 | $129,600 | $250,104 | $408,231 | $607,743 |
| Net non-current assets | $135,733 | $217,600 | $247,136 | $248,729 | $224,909 |
| | | | | | |
| CURRENT ASSETS | | | | | |
| Cash | -$114,536 | -$411,693 | -$546,014 | $29,978 | $1,863,105 |
| Accounts receivables | $680 | $3,314 | $8,087 | $13,372 | $21,108 |
| Total current assets | -$113,856 | -$408,380 | -$537,927 | $43,349 | $1,884,214 |
| Total Assets | $21,878 | -$190,780 | -$290,791 | $292,078 | $2,109,122 |
| | | | | | |
| LIABILITIES | | | | | |
| Account payables | $25,917 | $51,167 | $73,167 | $98,583 | $123,000 |
| Total liabilities | $25,917 | $51,167 | $73,167 | $98,583 | $123,000 |
| | | | | | |
| EQUITIES | | | | | |
| Owner's equity | $400,000 | $840,000 | $1,324,000 | $1,856,400 | $2,442,040 |
| Accumulated net profit | -$404,039 | -$1,081,947 | -$1,687,957 | -$1,662,905 | -$455,918 |
| Total equities | -$4,039 | -$241,947 | -$363,957 | $193,495 | $1,986,122 |
| Total liabilities & equities | $21,878 | -$190,780 | -$290,791 | $292,078 | $2,109,122 |