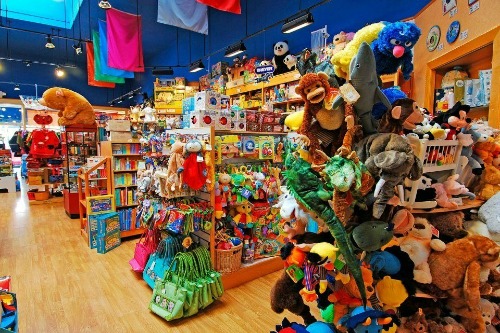 With a toy store business plan, you may open your own toy store.
Do you wish to create a toy shop of your own? Toys are a crucial part of a child's life and help them develop their creativity and talents, hence many people search for toy companies. So, if you're starting this business, your first priority should be to find a suitable location and to adopt a step-by-step approach to getting started.
To be clear about what you'll need to do, you'll need to develop a detailed company plan. If you're not sure where to begin, our 'Sean Toy Store' toy store business plan template for a startup can help.
The Company
Sean Toy Store will be a legal and registered toy store in downtown Chicago, with a diverse selection of toys and fantasy costumes for children. We'll also offer an online shopping option to make buying with us easier and more fun.
Management
Before starting a toy shop business, you must understand how to set up a toy store and which accessories to stock in order to achieve maximum appeal. Sean plans to hire shop managers, web developers, and salesmen to run the company's retail and online operations.
Customers
Parents and grandparents that reside in the area of our store will be our target market. We'll go through marketing segmentation in detail in this toy shop business plan pdf to establish our target market.
Business Objective
Our objective is to become our community's best and most well-known toy business, with a profit margin of $15k per month by the end of the first year, and to sustain that margin for the years to come.
Owner of a business
Sean Kingsley, who has a bachelor's degree in fine arts, will own Sean Toy Store. Apart from painting and artwork, he's always desired to start his own business, which he'll do by opening a toy shop.
What is the reason for the company's formation?
Sean enjoys painting and art, but he has decided to start his own business in order to have a reliable and lucrative source of income. After considering the many enterprises he may start, he has chosen to create a toy store.
How will the company get started?
A facility that was previously used as a gift shop will be leased in downtown Chicago. Sean will purchase a variety of items, including toys, dolls, games, puzzles, play sets, children's stationery, and other items. Sean will operate the business with the help of a staff of store managers, salesmen, and web developers. All of the details of Sean Toy Store are documented here for anybody interested in learning how to create a toy store.
Products
After you've learnt how to create a toy store, you'll need to build a list of the products you want to sell. Sean Toy Store has decided to provide the following products to its consumers, which will be displayed in the store and on the company's website.
Toys: We'll offer a large assortment of toys, puzzles, games, play sets, cars, railroads, dolls, animal figurines, balls, and other unique children's products.
We'll have a variety of entertaining stationery for kids, such as designed erasers, geometry boxes, pencils, crayons, printed glace sheets, cards, markers, colors, clipboards, and more.
Our children's store will sell bags, shoes, wallets, watches, jewelry, lunch boxes, bottles, character costumes, and wigs.
Bicycles, roller skates, children's scooters, badminton, cricket, darts and dartboards, basketball, and other sports equipment will be available for youngsters aged 5 to 16.
Marketing Analysis of a Toy Store
Because there are so many toy stores in the United States, if you want to stand out and be more successful than the competition, you'll need to do some market research in the region you'll be serving. This toy shop business plan template includes marketing research and segmentation for Sean Toy Store for your convenience.
Market Developments
As shown by the fact that over 21k toy store businesses are currently operating in the United States, folks with inventive ideas and a desire to find new things for children have a plethora of possibilities. These data show that if you properly arrange your business, you will not be at a loss.
Segmentation of the Market
The following target populations have been identified as prospective future clients by Sean Toy Store:
Parents and Grandparents: The bulk of our target clientele will be parents and grandparents of children under the age of 16. This group is always looking for new and creative ways to help their children have fun while also developing their creativity.
Adults: Our second target group is adults over the age of 25. These people often provide gifts to the children of their acquaintances, coworkers, and family members.
Youngsters: Our third target group consists of children who will visit our shop to buy toys, stationery, or dream clothes for themselves.
Business Objective
Our primary business objectives for the first year are to achieve a net profit margin of $15k per month by the end of the year, to balance initial expenses with produced profits at the end of the first six months, and to become the city's largest toy shop.
Pricing of Products
Our prices are almost equal to our competitors'; however, the items we will debut exclusively in toy stores will be somewhat more expensive.
Strategy
Before you launch a toy business, you need to come up with a distinctive concept that will set your store apart from the others. This sample business plan for a toy shop may teach you about Sean Toy Shop's strategy for recruiting a wide customer base.
Analysis of Competitors
Our most major competitive advantage will be the large assortment of items we will provide in our store. Our clients will be able to find whatever thing they need in our store. Second, there will be character costumes such as Elsa's Collection, Black Panther's Costume, and Belle's Signature Costume, to name a few. These dream outfits, as well as any related accessories, are only available in our local store. Finally, we shall provide outstanding customer service. Our consultant will aid our customers in picking the best and most desired item for the occasion until they are entirely satisfied.
Strategy for Selling
In addition to traditional toys, we'll use a social media campaign, a strong web presence, and eye-catching billboards and banners to promote our products. In addition, we'll be offering a 10% discount on our services for the first two weeks of our launch.
Personnel Strategy
Sean Toy Retail's staff requirements for shop operations and online purchasing are listed in this sample business plan for a toy store. We're enlisting the required employees and offering a basic job description to anybody interested in participating.
Employees of the company
Sean intends to hire the following people:
To keep track of funds, you'll need one accountant.
To sell the firm, you'll need two sales executives. 1 Shop Manager to manage the store's overall operations in collaboration with the owner
To assist with day-to-day tasks, two general assistants are required.
Customers will be assisted by one Customer Service Representative.
2 Web Developers to handle the company's website and social media accounts 1 worker to transport and deliver items
a single security officer
Plan your finances
The last component that will decide whether your company succeeds or fails is your financial plan. The financial plan should contain startup expenses, expenditures, a basic estimate of future income, and an estimated estimate to meet financial goals. It's always a good idea to hire a professional to create your financial strategy, especially if you're starting a larger business. We're offering this free toy store business plan made by a financial expert hired by Sean Toy Store as an example of how to establish a financial plan.