If you are planning to write the Golf course business plan on your own, then this sample Golf course business plan can be great for guidance. However, if you are looking for a professional business plan writer for a business loan, SBA loan or to find out the possibility of success for your new business then let's talk!
Executive Summary
Overview: Eden Golf will be a fully licensed and insured golf facility approximately 30 minutes from Manhattan. The new course will be built on an 86-acre, 18-hole site that was formerly known as Star Golf Course for ten years. Because the Star Golf Course closed seven years ago for financial reasons, it has deteriorated and requires considerable landscape repair. The work has already begun and will be completed over the next three months, in time for the course's April launch.
Mark Wilton, an American professional golfer and one of the most successful players of all time, will own and run Eden Golf. Mark Wilton will be the owner of Eden Golf. Mark is a professional golfer from the United States who is one of the most successful golfers in history. For numerous years, he was one of the highest-paid golfers in the world. Mark began playing professionally at the age of 22 after an amazing junior, college, and amateur career. In the next 20 years, he would win four PGA Tour events, earning millions of dollars. In less than a year after going pro, he rose to third place in the world golf rankings. Mark was the most well-known golfer for the previous 30 years, until his retirement last year.
A year ago, Mark had retired from the professional golf industry. His greatest interest is golf, and he cannot imagine his life without it. That is why, throughout his professional career, he had always considered starting his own golf course. This business is without a doubt the best use of his valuable time, as it allows him to maintain contact with a variety of national and international golf players from across the world. He will not only have a good time for himself, but he will also help the golf industry. Through his business, he hopes to revive the sport's appeal.
Mission: Eden Golf's goal is to become a popular course for visitors and locals alike in the Crest Canyon area.
Vision: To provide a member-based, family-friendly Golf Club with a golf course and facilities of the highest possible standard that provide a fun and challenging experience for golfers of all ages and abilities.
Industry Overview: The global golf club market was estimated at USD 3.66 billion in 2019, with a compound annual growth rate (CAGR) of 2.5 percent predicted from 2020 to 2027. The increased popularity and adoption of golf as an energetic activity is driving the industry. Golf is one of the athletic activities that premium resorts and hotels are including into their hospitality amenities. The establishment of miniature golf courses to enhance patronage and promote it as a healthy leisure activity is helping to boost golf club sales. According to the National Golf Foundation (NGF), the number of new golf players increased by almost 14.0 percent to about 2.5 million in 2015. This figure surpassed the previous high of 2.4 million set in 2000, when Tiger Woods was at the pinnacle of his career. The number of golf aficionados has been steadily increasing, including people who play golf as a favorite sport or one of their numerous recreational activities.
Financial Overview: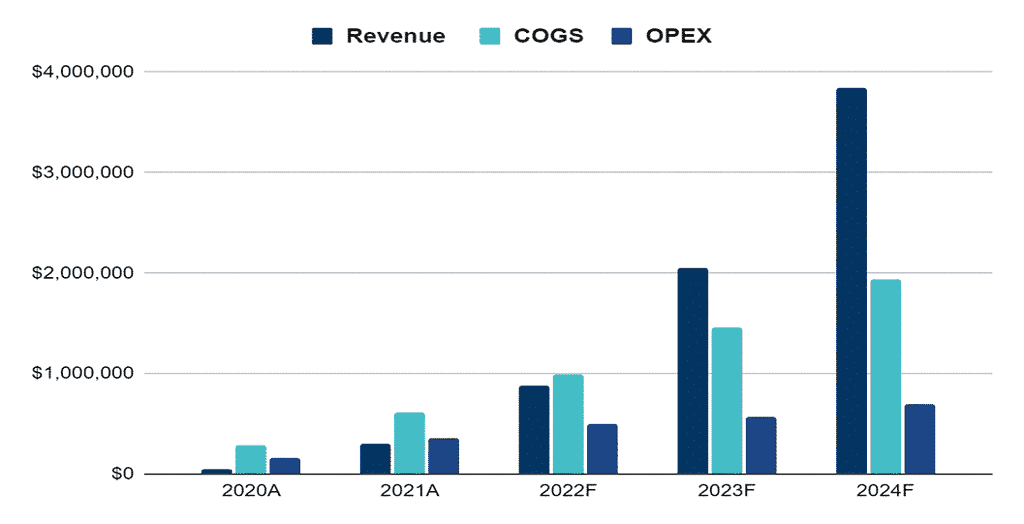 Financials is one of the most important sections of a Golf course business plan. You can get an idea of your projected revenue, required investment amount, is the business sustainable without additional funding, etc.
Financial Highlights:
| | | | | | |
| --- | --- | --- | --- | --- | --- |
| Liquidity | 2020A | 2021A | 2022F | 2023F | 2024F |
| Current ratio | 6 | 12 | 23 | 32 | 42 |
| Quick ratio | 6 | 11 | 22 | 31 | 40 |
| DSO | 8 | 8 | 8 | 8 | 8 |
| Solvency | | | | | |
| Interest coverage ratio | | | 8.2 | 11.1 | 14.2 |
| Debt to asset ratio | 0.01 | 0.01 | 0.2 | 0.18 | 0.16 |
| Profitability | | | | | |
| Gross profit margin | 51% | 51% | 53% | 53% | 53% |
| EBITDA margin | 12% | 14% | 21% | 22% | 22% |
| Return on asset | 5% | 6% | 13% | 14% | 14% |
| Return on equity | 5% | 6% | 16% | 17% | 17% |
Use of Funds: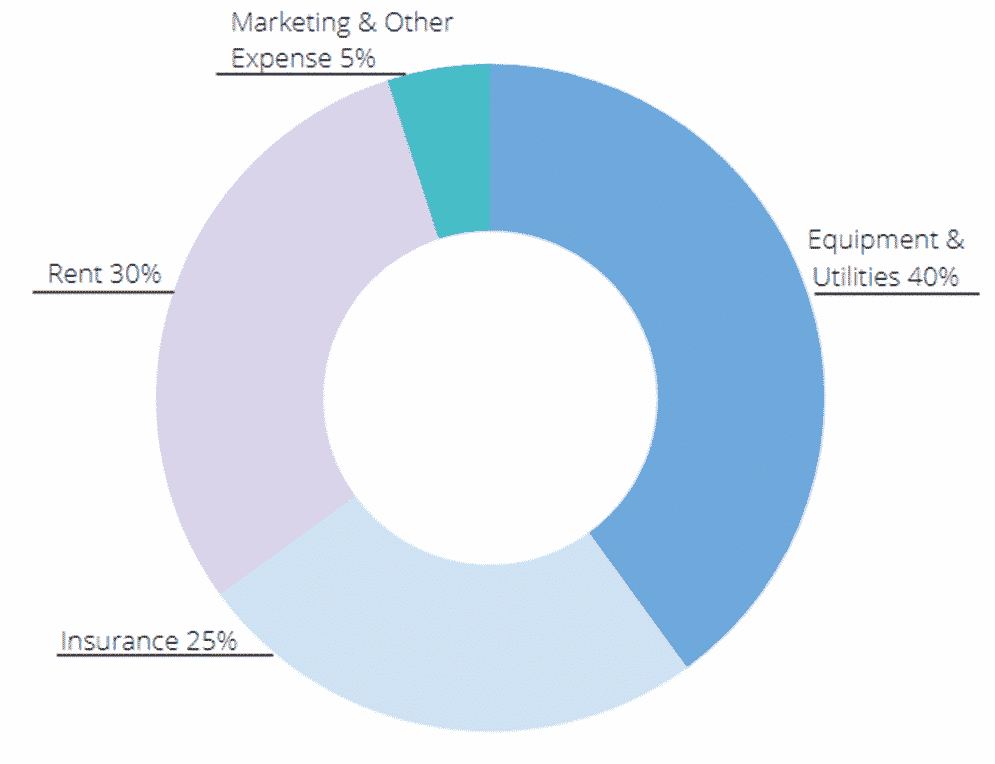 Industry Analysis
The industry analysis section of the Golf course business plan will help you get better insights into competitors, market growth, and overall industry prospects. You can order a custom market research report for your Golf course business.
Golf is still considered a very conventional and formal activity by most millennial, and hence it is still considered a very traditional and formal sport, which does not correlate with the millennial attitude. Reintroducing golf as a game for all is critical to keeping the spirit of the game alive. Topgolf, a sports entertainment firm, has created some millennial-friendly innovations and launched a platform to attract a large number of customers by making golf more entertaining and engaging.
Young people like to acquire contemporary items, whilst older people are more concerned with the equipment's technical specifications. For example, choosing the appropriate clubs has always been critical in pushing the game to the next level. When buying a club, most professional players are solely concerned with the location of the centre of gravity and the materials used. The choice of materials is also crucial. For example, the combination of incredibly heavy Tungsten and extremely light carbon fiber allows for novel techniques to change centre of gravity positions. Higher-numbered woods have a deeper club face angle and produce greater loft. Many consumers prefer hybrid clubs due to developments in product innovation. A hybrid is a relatively new style of club that combines fairway wood and iron technology. Many golfers prefer hybrids to long irons because hybrids are easier to hit than their long iron counterparts.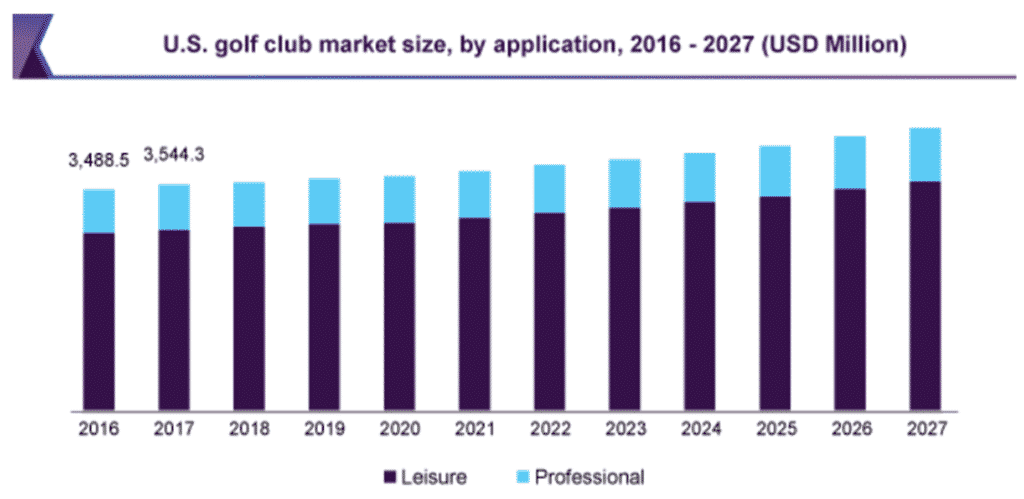 While working on the industry analysis section of the Golf course business plan make sure that you add significant number of stats to support your claims and use proper referencing so that your lender can validate the data.
Golf clubs used for leisure dominated the market in terms of revenue in 2019, with an 80.3 percent share. This is due to the growing popularity of golf as a result of the availability of golf courses in almost every city and town on the planet. Golf tourism is growing popularity among golf fans, and many people travel to certain areas solely to play golf. For example, Scotland is a fantastic vacation destination that also gives golfers centuries-old courses and a sense of history when playing on these historic grounds. The development and expansion of golf courses, as well as increased government measures to promote golf tourism, have popularized the sport, resulting in increased demand for golf equipment. From 2020 to 2027, the professional application segment is predicted to grow at a CAGR of 2.0 percent. An increase in the number of professional golfers, as well as amateur players' growing interest and efforts to become professionals, is a major driver driving the market. According to a 2019 Golf Adviser article, the sport attracted 2.6 million newcomers in the United States in 2018, nearly the same as the previous year and at or near an all-time high. In 2017, 2.5 million junior golfers (ages 6-17) participated in the sport, with another 2.2 million playing entirely off-course. Sporting goods shops topped the market in terms of revenue in 2019, with a 47.2 percent share. High-end golf clubs, which are often sold in sports goods retail outlets, are becoming increasingly popular among consumers. These shops provide a full buying experience and make it easy for customers to comprehend golf club specifications and quality. These retail outlets are typically positioned on golf courses, assuring high visibility and maximizing earnings. Furthermore, discounts are frequently offered to customers who join a club, which influences their purchasing decisions. Consumers have indicated an increased preference for Callaway Golf, Titleist, Wilson, TaylorMade, and other trusted brands in terms of brand preference.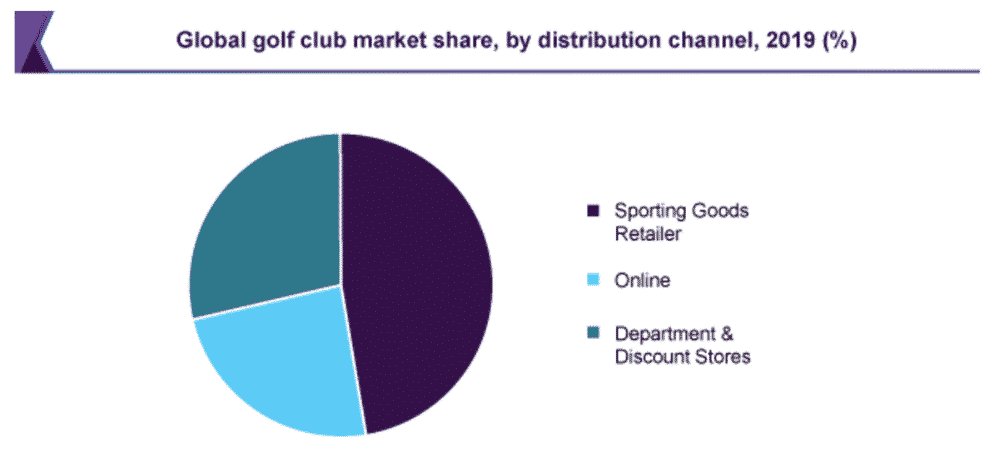 Marketing Plan
A key part of the marketing plan in a Golf course business plan is the marketing budget. The growth in the number of customers is proportional to the budget and dependent on the CAC.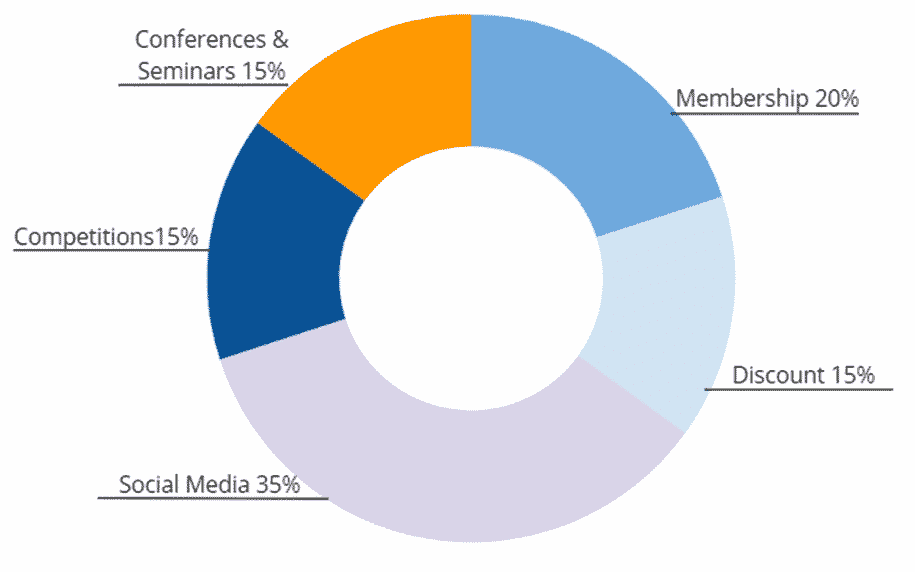 Social Media: Our advertisement will be promoted through a large-scale social media campaign.
Membership: For the first three months after the introduction, there are discounts on membership.
Conferences & Seminars: Mark will speak at a number of golf conventions and seminars about his new enterprise. He will also hand out his golf course business cards to the attendees.
Discount: Annual members of our course will receive a 20% discount on the snacks bar and pro shop.
Competitions: Organizing annual golf competitions at the national level.
Organizational Plan: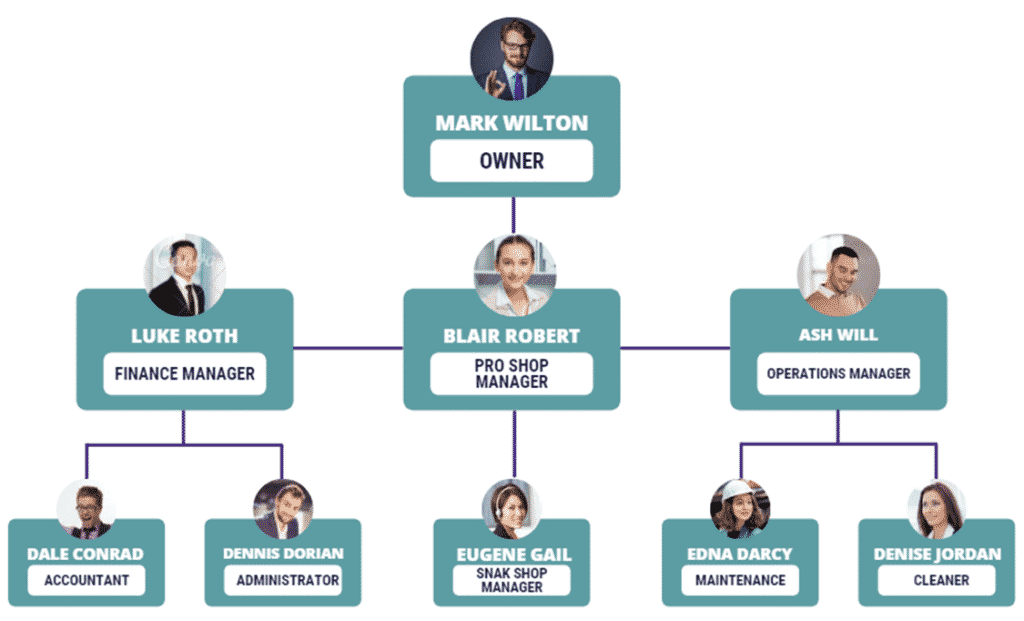 Financial Plan
This section of the Golf course business plan helps your lender figure out whether you will be able to pay off the loan, whether the business is sustainable, what are the growth prospects, etc.
Earnings: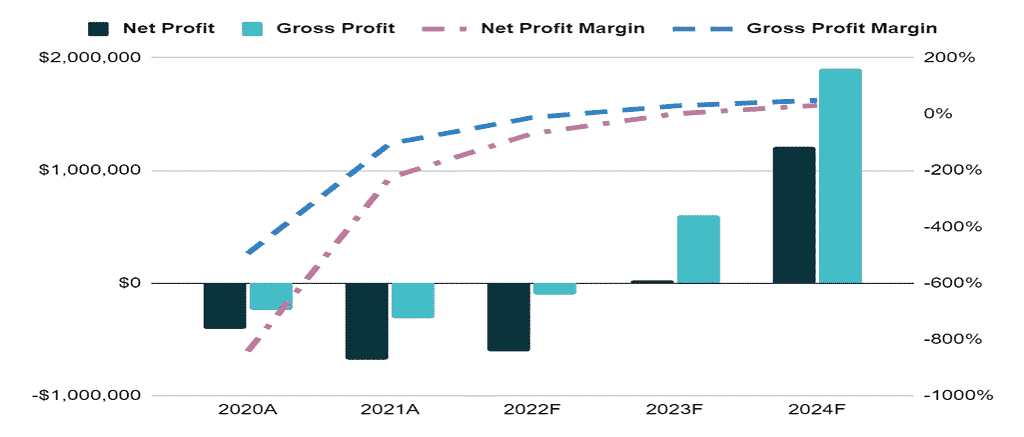 Income Statement:
| | | | | | |
| --- | --- | --- | --- | --- | --- |
| | 2020A | 2021A | 2022F | 2023F | 2024F |
| ANNUAL REVENUE | | | | | |
| Item 1 | 9,217 | 59,117 | 175,410 | 415,277 | 781,357 |
| Item 2 | 34,701 | 222,558 | 660,368 | 1,563,394 | 2,941,580 |
| Item 3 | 4,067 | 19,561 | 46,432 | 78,519 | 114,905 |
| Total annual revenue | 47,985 | 301,236 | 882,211 | 2,057,189 | 3,837,842 |
| % increase | | 528% | 193% | 133% | 87% |
| COST of REVENUE | | | | | |
| Item 1 | 360 | 2,259 | 6,617 | 15,429 | 28,784 |
| Item 2 | 480 | 3,012 | 8,822 | 20,572 | 38,378 |
| Item 3 | 52,000 | 65,000 | 78,000 | 91,000 | 104,000 |
| Item 4 | 720 | 3,615 | 8,822 | 16,458 | 23,027 |
| Item 5 | 140,000 | 336,000 | 560,000 | 840,000 | 1,120,000 |
| Item 6 | 60,000 | 144,000 | 240,000 | 360,000 | 480,000 |
| Item 7 | 32,000 | 61,333 | 85,533 | 112,153 | 141,435 |
| Total Cost of Revenue | 285,560 | 615,220 | 987,794 | 1,455,612 | 1,935,625 |
| as % of revenue | 595% | 204% | 112% | 71% | 50% |
| Gross Profit | -237,575 | -313,984 | -105,583 | 601,578 | 1,902,218 |
| SELLING & ADMIN EXPENSES | | | | | |
| Item 1 | 28,000 | 96,800 | 154,880 | 175,692 | 193,261 |
| Item 2 | 75,000 | 105,000 | 120,000 | 120,000 | 120,000 |
| Item 3 | 36,000 | 96,000 | 108,000 | 120,000 | 120,000 |
| Item 4 | 8,000 | 12,000 | 12,000 | 12,000 | 12,000 |
| Item 5 | 3,839 | 18,074 | 44,111 | 61,716 | 115,135 |
| Item 6 | 3,359 | 12,049 | 26,466 | 41,144 | 76,757 |
| Item 7 | 5,600 | 10,000 | 12,904 | 15,034 | 17,376 |
| Item 8 | 6,667 | 14,000 | 22,067 | 30,940 | 40,701 |
| Total selling & admin expenses | 166,464 | 363,924 | 500,428 | 576,525 | 695,230 |
| as % of revenue | 347% | 121% | 57% | 28% | 18% |
| Net profit | -404,039 | -677,907 | -606,011 | 25,052 | 1,206,987 |
| Accumulated net profit | -404,039 | -1,081,947 | -1,687,957 | -1,662,905 | -455,918 |