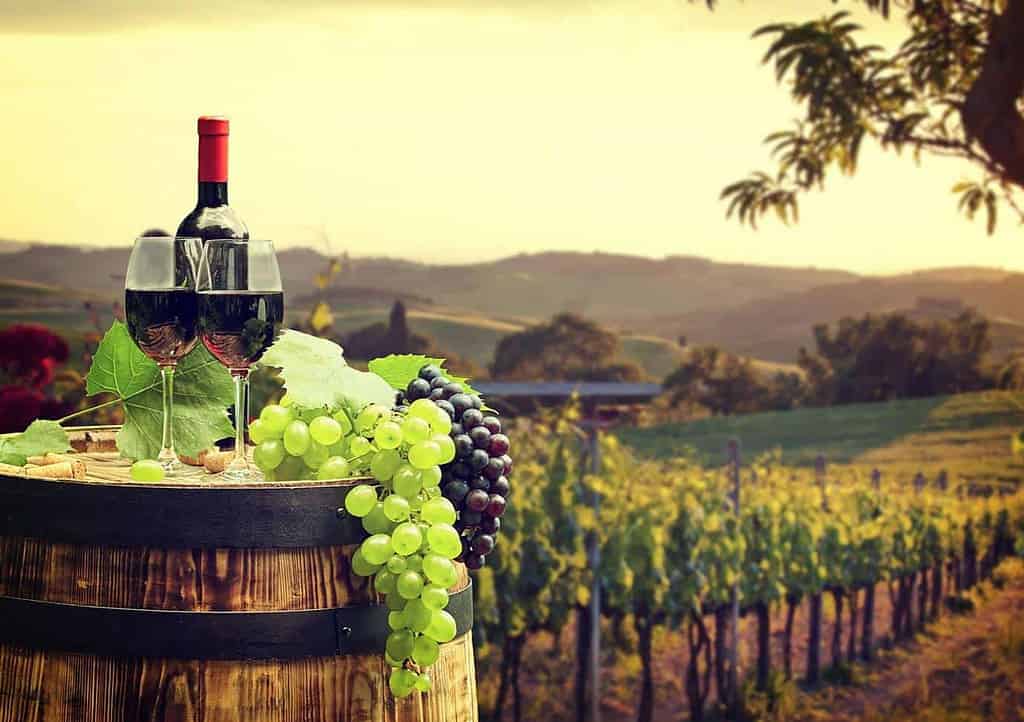 If you are planning to write the Winery business plan on your own, then this sample Winery business plan can be great for guidance. However, if you are looking for a professional business plan writer for a business loan, SBA loan or to find out the possibility of success for your new business then let's talk!
Executive Summary
Overview : In 1972, Al Scheid discovered the untapped potential in Monterey County. What began as a grape-growing enterprise that sold 100% of its products to other wineries has grown into a grapes-to-glass family business that makes original and exquisite wines. For individual customers and distributors, Scheid Family Wines also develop various locally distributed brands. We're happy to provide genuine items that promote discussion, connection, and warmth around the dinner table.
Mission: Our mission is to bring people together to appreciate and cherish life.
Vision: Our vision is for Scheid Family Wines to be one of the most well-known wine producers in the world in terms of quality, creativity, and sustainability by 2025.

Industry Overview: COVID-19 had a huge influence on the wine business since it caused the closure of on-trade wineries in nations such as the United States, the United Kingdom, India, and others to contain the pandemic's impact. On the other hand, the current climate may provide a chance for the wine sector to reclaim lost consumer attention. According to the study, overall wine volumes increase yearly as more consumers buy wine to drink at home with their meals, mainly in European and North American nations. It's unclear if the present off-trade bump will last after pantry stocks run out, the on-trade progressively reopens, and consumer behavior returns to pre-COVID-19 levels. The wine market is expected to be driven by growing demand for wine worldwide owing to its health advantages, premiumization of wine products, taste innovation, and more modern distribution networks in the future.
Financial Overview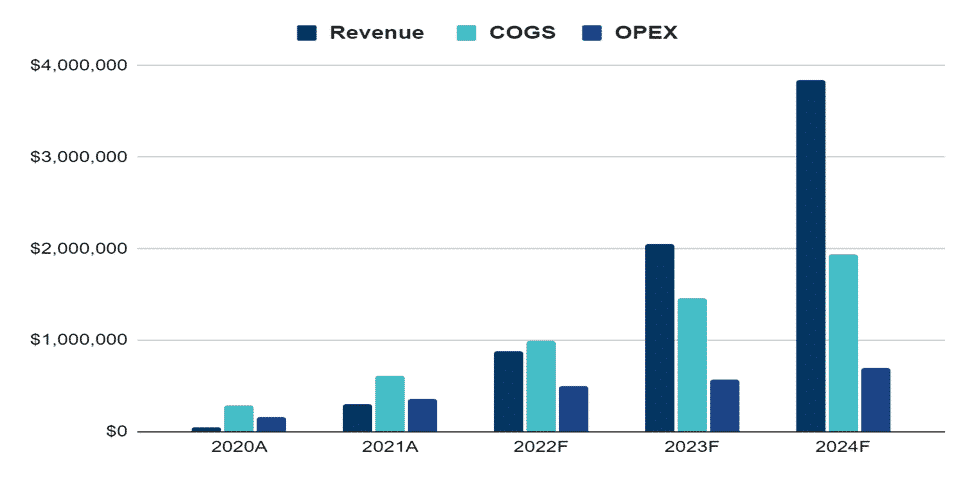 Financials is one of the most important sections of a Winery business plan. You can get an idea of your projected revenue, required investment amount, is the business sustainable without additional funding, etc.
Financial Highlights
| | | | | | |
| --- | --- | --- | --- | --- | --- |
| Liquidity | 2020A | 2021A | 2022F | 2023F | 2024F |
| Current ratio | 6 | 12 | 23 | 32 | 42 |
| Quick ratio | 6 | 11 | 22 | 31 | 40 |
| DSO | 8 | 8 | 8 | 8 | 8 |
| Solvency | | | | | |
| Interest coverage ratio | | | 8.2 | 11.1 | 14.2 |
| Debt to asset ratio | 0.01 | 0.01 | 0.2 | 0.18 | 0.16 |
| Profitability | | | | | |
| Gross profit margin | 51% | 51% | 53% | 53% | 53% |
| EBITDA margin | 12% | 14% | 21% | 22% | 22% |
| Return on asset | 5% | 6% | 13% | 14% | 14% |
| Return on equity | 5% | 6% | 16% | 17% | 17% |
FUND USAGE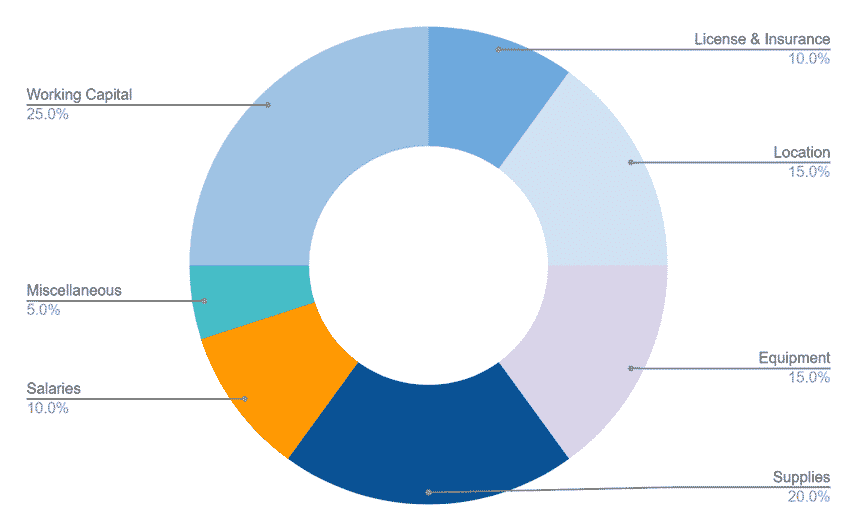 Industry Analysis
The industry analysis section of the Winery business plan will help you get better insights into competitors, market growth, and overall industry prospects. You can order a custom market research report for your Winery business.
Companies involved in at least one aspect of the winemaking process make up the Wineries business. Grow and harvest grapes, crush and press grapes into unfermented wine, and fermenting the wine are all part of this process. Wine blends, wines, and brandies made from other fruit sources are also produced in this business. During the COVID-19 (coronavirus) pandemic, operators suffered severe income losses. However, revenue is predicted to increase in 2021 as the economy improves, resulting in more extravagant consumer spending and more demand from on-premise marketplaces. Declining demand from on-premise businesses, such as restaurants, bars, and event venues, was one of the most severe consequences of the pandemic on the industry. These markets are likely to expand in revenue share as prohibitions are lifted and customers feel more comfortable entering public places, increasing growth. Despite the rising demand for industrial goods, profits remain modest. Yields are projected to remain modest owing to disrupted supply networks and persistent wage increases. Furthermore, constant growth challenges, especially in the West, are launched to make obtaining inputs even more complicated, resulting in lower returns.
Operators in the Wineries business perform at least one component of the winemaking process. The sector is vast and developing, with a mix of global giants and small, regional vineyards. Alternative alcoholic beverage makers, such as distilleries and breweries, pose a significant threat to operators. Consumer tastes switched toward distilled spirits and ready-to-drink (RTD) drinks, such as effervescent seltzers, throughout the five years leading up to 2021, resulting in near-consistent revenue decreases. The sector's dismal performance was exacerbated by unfavorable growing circumstances, notably in California, which is expected to account for 40.1 percent of industry establishments by 2021.
One of the primary drivers likely to drive the worldwide market for fortified wine to new heights in the future years is product premiumization. Leading manufacturers in the market are focusing on producing new flavored fortified wines to keep up with changing customer tastes. Marijuana-infused wines are becoming more popular in places such as the United States. It is the most important trend impacting the global alcoholic beverage industry. Consumers in markets all around the globe have been trading up to higher-value items, particularly in a variety of categories. This tendency is particularly noticeable in developed economies, such as the United States. Customers are eager to try new and unusual alcoholic drinks.
The Asia-Pacific has the highest demand for wine, with China dominating the market. Notably, drinking red wine is more of a tradition in China, where the color red is considered auspicious. As a result, China becomes one of the most important markets for red wine consumption, competing with France and Italy. In Asia-Pacific, Australia ranks second in wine consumption, followed by Japan. India is also the fastest-growing nation in wine consumption, with a growth rate of over 7%. Other Asia-Pacific wine-consuming markets include the Philippines, South Korea, and Vietnam. Hong Kong has no wine import taxes, which is a significant industry driver.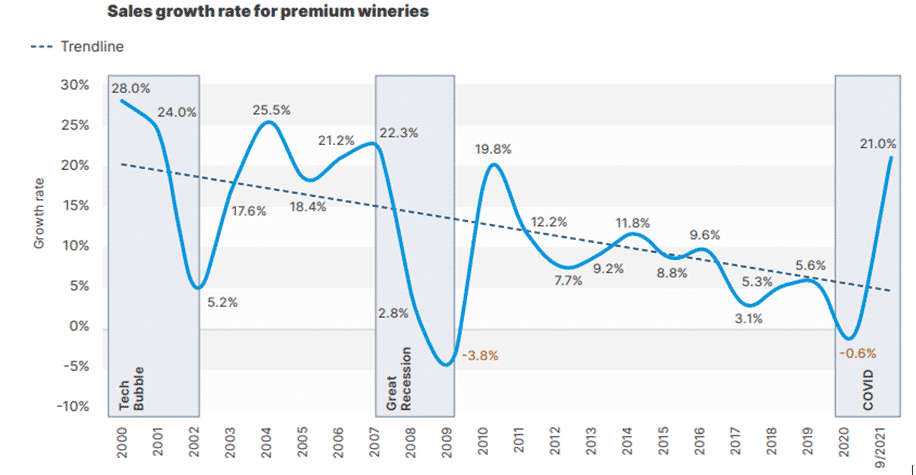 When business circumstances are challenging, premium winery sales growth may have a strong beta in recessions, with huge swings down and then equally dramatic swings up when conditions improve. Another factor worth mentioning is the decreased trend in sales growth since 2000 when sales increased by 28%! That was the narrative in the mid-to-late 1990s when wine demand was soaring, and we couldn't get enough sticks in the ground to meet it. Of course, this resulted in a grape bubble and removals, but that's the nature of farming. Most people, I believe, would welcome a 28 percent growth issue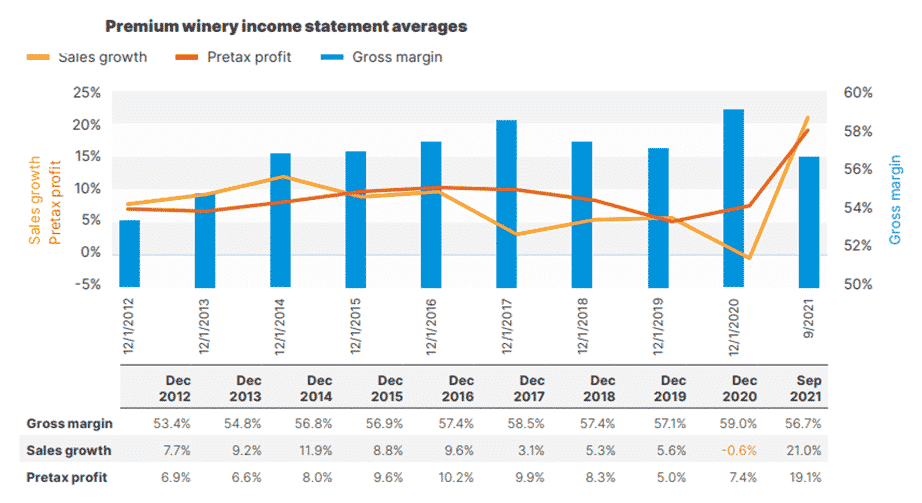 While working on the industry analysis section of the Winery business plan make sure that you add significant number of stats to support your claims and use proper referencing so that your lender can validate the data.
With less access to the off-premise channels where wine was sold during lockdowns, premium wineries decided that the best approach was to discount wine and/or give away free shipping to incentivize sales. More cases were sold in 2020 to make up for lost revenue per case, so total sales growth for 2020 was essentially flat at minus 0.6 percent.
Due to the vast number of global and regional enterprises operating in numerous nations. E. & J. Gallo Winery, Constellation Brands Inc., and The Wine Group LLC are the market leaders. Due to their wide variety of wine pricing, these enterprises enjoy a substantial market share. Because every area has several local firms with strong distribution networks, global players wanting a more significant portion of the market chose to buy them rather than beginning from scratch. Companies also use new product creation as a strategy since product differentiation helps them expand their customer base.
Wine is an alcoholic beverage made primarily from fermented grape juice. The wine market is divided into many categories based on product type, color, distribution channel, and location. The industry is divided into four: based on product type: still wine, sparkling wine, fortified wine, and vermouth. The market is divided into three types based on color: red wine, rose wine, and white wine. The market is separated into two distribution channels: on-trade and off-trade. Supermarkets/hypermarkets, specialty shops, internet channels, and other distribution channels are all part of the off-trade category. The market comprises topline data for the values of leading nations in North America, Europe, Asia-Pacific, South America, and the Middle East and Africa, based on geography. Market sizing and forecasting were done based on the value for each category (in USD million). Changing customer tastes and preferences and rising demand for new and exotic flavors like Riesling wine and other tropical fruit wines are likely to drive the wine business forward. During the forecast period (2022-2027), the global wine market is expected to grow at a CAGR of 4.28 percent.
Marketing Plan
A key part of the marketing plan in a Winery business plan is the marketing budget. The growth in the number of customers is proportional to the budget and dependent on the CAC.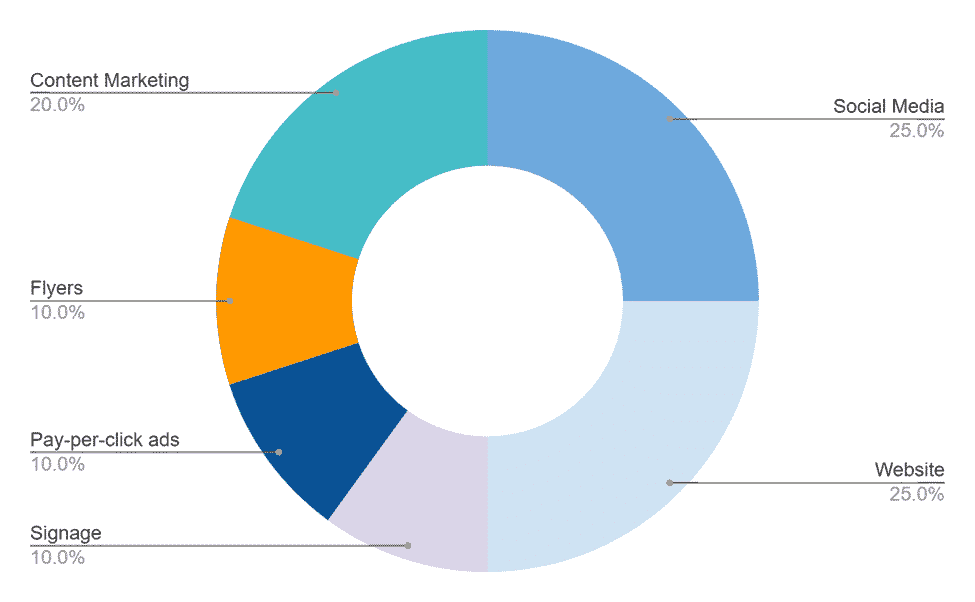 Social Media: Create a social media account for Scheid Family Wines , upload photos and videos about the winery.
Websites: A good website needs to educate consumers about Scheid Family Wines products and the services it can offer.
Signage: Make easy-to-see signage of Scheid Family Wines, especially if your target market is driving.
Pay-per-click ads: Pay-per-click ads can get your Scheid Family Wines website in front of people looking for you already.
Flyers: Post flyers that have a clear print and easy-to-understand words about Scheid Family Wines n high-traffic areas to spread the word, and more people can see it.

Content marketing: Blogging about finished products and helpful content on your Scheid Family Wines website is best to attract clients.
Organogram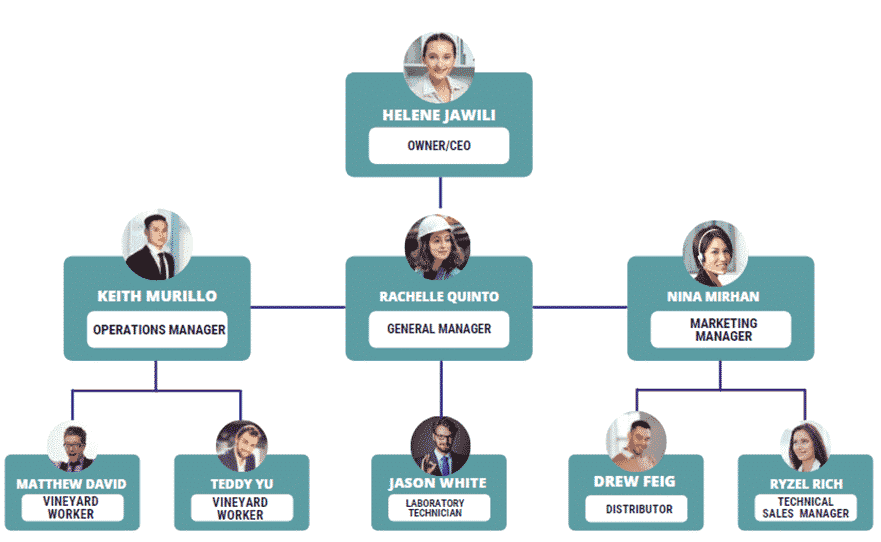 Financial Plan
This section of the Winery business plan helps your lender figure out whether you will be able to pay off the loan, whether the business is sustainable, what are the growth prospects, etc.
Earnings: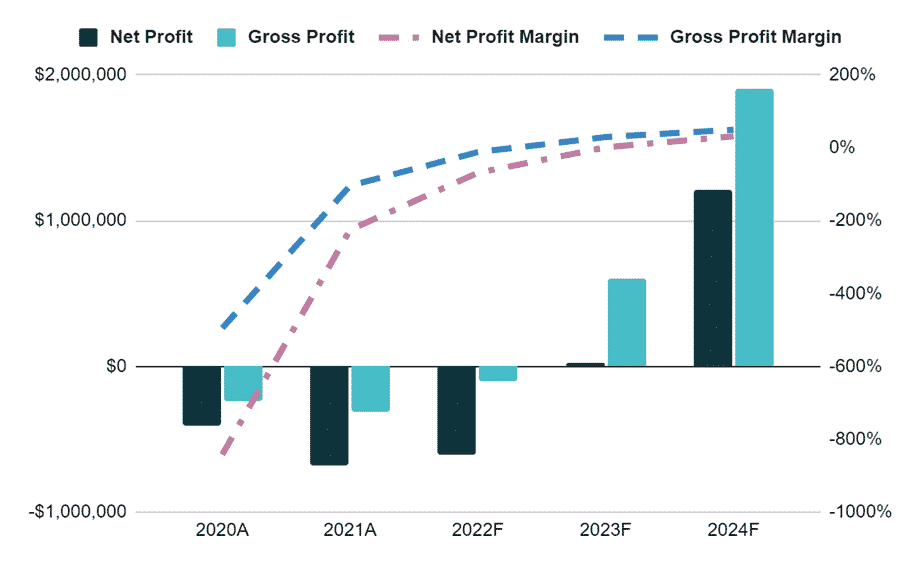 Break-Even Analysis: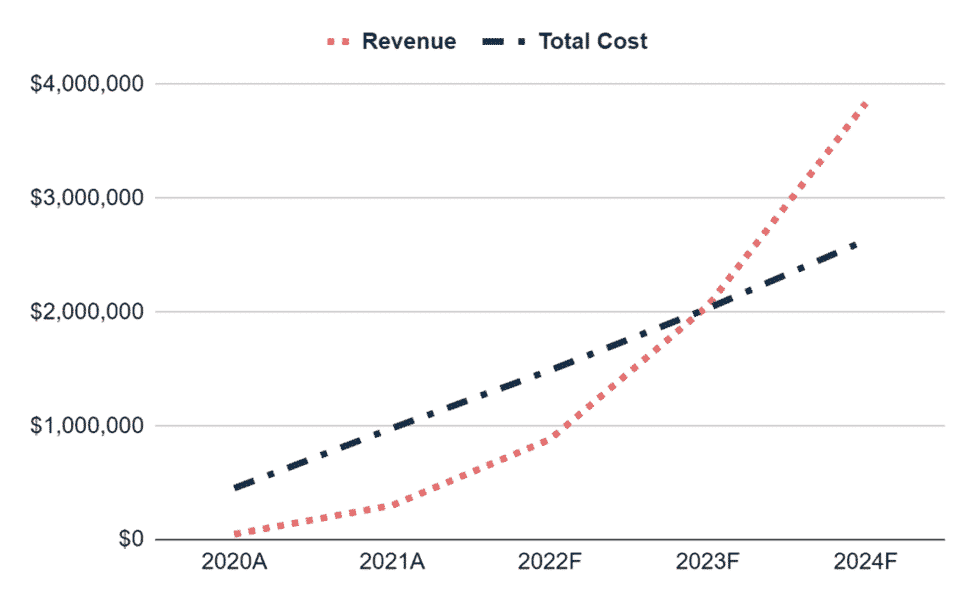 Income Statement:
| | | | | | |
| --- | --- | --- | --- | --- | --- |
| | 2020A | 2021A | 2022F | 2023F | 2024F |
| ANNUAL REVENUE | | | | | |
| Item 1 | 9,217 | 59,117 | 175,410 | 415,277 | 781,357 |
| Item 2 | 34,701 | 222,558 | 660,368 | 1,563,394 | 2,941,580 |
| Item 3 | 4,067 | 19,561 | 46,432 | 78,519 | 114,905 |
| Total annual revenue | 47,985 | 301,236 | 882,211 | 2,057,189 | 3,837,842 |
| % increase | | 528% | 193% | 133% | 87% |
| COST of REVENUE | | | | | |
| Item 1 | 360 | 2,259 | 6,617 | 15,429 | 28,784 |
| Item 2 | 480 | 3,012 | 8,822 | 20,572 | 38,378 |
| Item 3 | 52,000 | 65,000 | 78,000 | 91,000 | 104,000 |
| Item 4 | 720 | 3,615 | 8,822 | 16,458 | 23,027 |
| Item 5 | 140,000 | 336,000 | 560,000 | 840,000 | 1,120,000 |
| Item 6 | 60,000 | 144,000 | 240,000 | 360,000 | 480,000 |
| Item 7 | 32,000 | 61,333 | 85,533 | 112,153 | 141,435 |
| Total Cost of Revenue | 285,560 | 615,220 | 987,794 | 1,455,612 | 1,935,625 |
| as % of revenue | 595% | 204% | 112% | 71% | 50% |
| Gross Profit | -237,575 | -313,984 | -105,583 | 601,578 | 1,902,218 |
| SELLING & ADMIN EXPENSES | | | | | |
| Item 1 | 28,000 | 96,800 | 154,880 | 175,692 | 193,261 |
| Item 2 | 75,000 | 105,000 | 120,000 | 120,000 | 120,000 |
| Item 3 | 36,000 | 96,000 | 108,000 | 120,000 | 120,000 |
| Item 4 | 8,000 | 12,000 | 12,000 | 12,000 | 12,000 |
| Item 5 | 3,839 | 18,074 | 44,111 | 61,716 | 115,135 |
| Item 6 | 3,359 | 12,049 | 26,466 | 41,144 | 76,757 |
| Item 7 | 5,600 | 10,000 | 12,904 | 15,034 | 17,376 |
| Item 8 | 6,667 | 14,000 | 22,067 | 30,940 | 40,701 |
| Total selling & admin expenses | 166,464 | 363,924 | 500,428 | 576,525 | 695,230 |
| as % of revenue | 347% | 121% | 57% | 28% | 18% |
| Net profit | -404,039 | -677,907 | -606,011 | 25,052 | 1,206,987 |
| Accumulated net profit | -404,039 | -1,081,947 | -1,687,957 | -1,662,905 | -455,918 |
Cash Flow Statement:
| | | | | | |
| --- | --- | --- | --- | --- | --- |
| | 2020A | 2021A | 2022F | 2023F | 2024F |
| CASH FLOW from OPERATING ACTIVITIES | | | | | |
| Net profit before tax | -$404,039 | -$677,907 | -$606,011 | $25,052 | $1,206,987 |
| Depreciation | $44,267 | $85,333 | $120,504 | $158,127 | $199,512 |
| Payables | | | | | |
| Item 1 | $4,333 | $5,417 | $6,500 | $7,583 | $8,667 |
| Item 2 | $11,667 | $28,000 | $46,667 | $70,000 | $93,333 |
| Item 3 | $6,250 | $8,750 | $10,000 | $10,000 | $10,000 |
| Item 4 | $3,000 | $8,000 | $9,000 | $10,000 | $10,000 |
| Item 5 | $667 | $1,000 | $1,000 | $1,000 | $1,000 |
| Total payables | $25,917 | $51,167 | $73,167 | $98,583 | $123,000 |
| change in payables | $25,917 | $25,250 | $22,000 | $25,417 | $24,417 |
| Receivables | | | | | |
| Item 1 | $320 | $1,506 | $3,676 | $5,143 | $9,595 |
| Item 2 | $360 | $1,807 | $4,411 | $8,229 | $11,514 |
| Total receivables | $680 | $3,314 | $8,087 | $13,372 | $21,108 |
| change in receivables | -$680 | -$2,634 | -$4,773 | -$5,285 | -$7,736 |
| Net cash flow from operating activities | -$334,536 | -$569,958 | -$468,280 | $203,311 | $1,423,180 |
| | | | | | |
| CASH FLOW from INVESTING ACTIVITIES | | | | | |
| Item 1 | $16,000 | $13,200 | $14,520 | $15,972 | $17,569 |
| Item 2 | $20,000 | $22,000 | $24,200 | $26,620 | $29,282 |
| Item 3 | $28,000 | $22,000 | $14,520 | $10,648 | $11,713 |
| Item 4 | $96,000 | $88,000 | $72,600 | $79,860 | $87,846 |
| Item 5 | $20,000 | $22,000 | $24,200 | $26,620 | $29,282 |
| Net cash flow/ (outflow) from investing activities | -$180,000 | -$167,200 | -$150,040 | -$159,720 | -$175,692 |
| | | | | | |
| | | | | | |
| CASH FLOW from FINANCING ACTIVITIES | | | | | |
| Equity | $400,000 | $440,000 | $484,000 | $532,400 | $585,640 |
| Net cash flow from financing activities | $400,000 | $440,000 | $484,000 | $532,400 | $585,640 |
| Net (decrease)/ increase in cash/ cash equivalents | -$114,536 | -$297,158 | -$134,320 | $575,991 | $1,833,128 |
| Cash and cash equivalents at the beginning of the year | – | -$114,536 | -$411,693 | -$546,014 | $29,978 |
| Cash & cash equivalents at the end of the year | -$114,536 | -$411,693 | -$546,014 | $29,978 | $1,863,105 |
Balance Sheet:
| | | | | | |
| --- | --- | --- | --- | --- | --- |
| | 2020A | 2021A | 2022F | 2023F | 2024F |
| NON-CURRENT ASSETS | | | | | |
| Item 1 | $16,000 | $29,200 | $43,720 | $59,692 | $77,261 |
| Item 2 | $20,000 | $42,000 | $66,200 | $92,820 | $122,102 |
| Item 3 | $28,000 | $50,000 | $64,520 | $75,168 | $86,881 |
| Item 4 | $96,000 | $184,000 | $256,600 | $336,460 | $424,306 |
| Item 5 | $20,000 | $42,000 | $66,200 | $92,820 | $122,102 |
| Total | $180,000 | $347,200 | $497,240 | $656,960 | $832,652 |
| Accumulated depreciation | $44,267 | $129,600 | $250,104 | $408,231 | $607,743 |
| Net non-current assets | $135,733 | $217,600 | $247,136 | $248,729 | $224,909 |
| | | | | | |
| CURRENT ASSETS | | | | | |
| Cash | -$114,536 | -$411,693 | -$546,014 | $29,978 | $1,863,105 |
| Accounts receivables | $680 | $3,314 | $8,087 | $13,372 | $21,108 |
| Total current assets | -$113,856 | -$408,380 | -$537,927 | $43,349 | $1,884,214 |
| Total Assets | $21,878 | -$190,780 | -$290,791 | $292,078 | $2,109,122 |
| | | | | | |
| LIABILITIES | | | | | |
| Account payables | $25,917 | $51,167 | $73,167 | $98,583 | $123,000 |
| Total liabilities | $25,917 | $51,167 | $73,167 | $98,583 | $123,000 |
| | | | | | |
| EQUITIES | | | | | |
| Owner's equity | $400,000 | $840,000 | $1,324,000 | $1,856,400 | $2,442,040 |
| Accumulated net profit | -$404,039 | -$1,081,947 | -$1,687,957 | -$1,662,905 | -$455,918 |
| Total equities | -$4,039 | -$241,947 | -$363,957 | $193,495 | $1,986,122 |
| Total liabilities & equities | $21,878 | -$190,780 | -$290,791 | $292,078 | $2,109,122 |