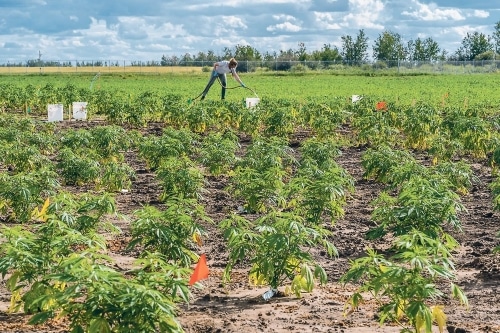 The phrase "marijuana business" was formerly used to refer to the illicit production and distribution of a purely black market narcotic. While marijuana is still illegal under federal and state law, a rising number of states have authorized it for medicinal use, and a small number of states (plus the District of Columbia) have legalized it for recreational use. While the federal government has maintained a largely "hands-off" attitude to state marijuana legislation, each jurisdiction that permits some kind of legal marijuana use has its own set of restrictions.
Since 1996, when California became the first state to legalize marijuana for medicinal purposes, the legal marijuana (or cannabis) business has expanded at an exponential rate. According to the ArcView Group, a marijuana industry investment and research company, combined marijuana retail and wholesale sales totaled $2.7 billion in 2014. For businesses prepared to navigate through a complicated and ever-changing labyrinth of rules and regulations, the legal marijuana market offers many possibilities.
This article walks readers through the fundamental procedures and legal concerns involved in starting a cannabis company. For additional information, see Medical Marijuana Laws by State and Marijuana Legalization and Decriminalization Overview.
Marijuana Businesses Come in a Variety of Shapes and Sizes
Cultivation, infused product production, and retail sales are the three major kinds of marijuana companies. These may differ based on whether you're looking for recreational or medicinal marijuana. Testing facilities, delivery services, cannabis consumption gadgets, and software or internet services are among the other marijuana-related companies.
*Cultivation: Marijuana-growing businesses are highly regulated, and these operations need significant upfront expenditures and horticultural expertise.
*Edible marijuana, tinctures, salves, and other infused cannabis products are popular among medical and recreational users.
*Retail Sales: These are usually shops that sell cannabis-based goods to approved consumers and are referred to as "dispensaries" or "collectives." These are the most difficult and costly to begin, but also the most profitable.
General Considerations When Starting a Marijuana Business
Because of the regulatory environment and its uncertainties, establishing a legal cannabis grow house or dispensary is more difficult than beginning many other types of companies. Cannabis businesses and the cannabis entrepreneurs who attempt to establish them face a variety of state regulations. Before determining whether or not the cannabis business is suitable for you, consider the following factors:
*Costs vary depending on the region, state regulations, and kind of company. The expenses of license, rent, utilities, equipment, supplies, marketing, security, and personnel should all be considered.
*Residency: Virtually all marijuana company licenses (and, in certain instances, investors) must be residents of the state. In Colorado, for example, obtaining a license requires a two-year residence.
*Most states make it illegal for criminals who have been convicted of a drug offense (or a violent crime) to apply for a marijuana business license.
*Due to its infancy and the constantly shifting legal framework, the sector is very hazardous, but the benefits may be enormous.
*Make sure you're ready and able to wait many months for your license application to be processed. In California, this may take three to ten months, while in Washington, it can take up to 18 months.
*Investors and Partners: You'll need money to get started, just like any other business, but bear in mind that some investors are hesitant of investing in something that is still illegal under federal law. Private investors, not banks, provide the majority of financing for marijuana businesses.
How to Start a Marijuana Business: A Step-by-Step Guide
Startups, regardless of sector, need the proper mix of market distinctiveness, funding, and savvy management. Although changing laws and federal marijuana prohibition complicate things, the basics of starting a cannabis-based company are not substantially different. When beginning your marijuana company, keep the following fundamental procedures in mind:
Write a Business Plan
A business plan lays out your company's objectives, starting expenses, timeframes and milestones, financials, and other important details. It will keep you organized and on track, as well as serve as a kind of "résumé" while looking for new investors.
Locate a Location
Local and/or county zoning rules and restrictions (not to mention real estate prices) will mainly decide where you site your cannabis-related company, regardless of state licensing requirements.
Create Your Company's Structure
Before applying for a license, you must first establish your company within the legal and regulatory limitations that apply to it, as well as identify the firm's partners.
Obtain the required license(s): It may take many months for any relevant permits to be approved, and it can take much longer if you make errors in your application or company formation.
Get Your Operational Infrastructure Up and Running
Once you've acquired all of the required licenses, you'll need to put the regulatory procedures in place in your company to ensure compliance (in accordance with the terms of your license application).
Contract with Partners
Depending on the kind of company, you'll need to establish contractual agreements with different types of partners. Dispensary proprietors (retailers), for example, often work with growers and infused product distributors.
Promote Your Business
Retailers have access to a variety of advertising platforms (such as weekly tabloid-style newspapers) and internet directories. Cultivators and other distributors may consider placing ads in trade publications and visiting marijuana industry trade events.
Do you want to start a new business? First, talk about business opportunities and compliance.
Starting a marijuana company is a major endeavor that requires a great deal of patience, commitment, and a thorough knowledge of the complicated laws and legal changes involved. Consider contacting with a cannabis law attorney that is familiar with the marijuana business if you have any further questions or need legal help.
Note that marijuana production, distribution, and possession are still prohibited under federal law. The federal government's position on state marijuana legislation is fluid.