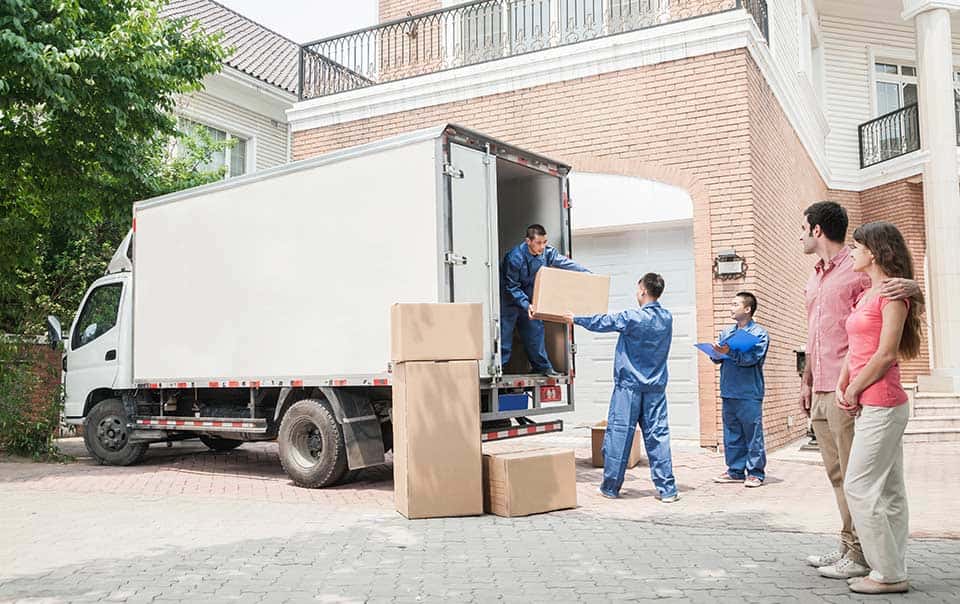 Moving Company Business Plan is an outline of your overall Moving Company business. The business plan includes a 5 year projection, marketing plan, industry analysis, organizational overview, operational overview and finally the executive summary. Remember to write your executive summary at the end as it is considered as a snapshot of the overall business plan. The creation of a Moving Company business plan requires careful consideration of various factors that might impact the business's success. Ultimately, a Moving Company business plan serves as a roadmap to guide the company's direction.
Table of Contents
Executive Summary
Overview: We at Xpress Movers are a Boston-based full-service Licensed and bonded moving company covering the United States and Canada. We create value and strive for greatness by relying on our clients' pleasure and continuously high-quality services to propel us forward. We are sure that giving you the most excellent moving experience will leave you happy and inspire you to start a new chapter in your life
Mission: Our mission is to welcome each client with a cheerful smile and do all possible to meet their moving requirements.
Vision: Our vision is to become a customer-focused firm that provides the most excellent possible service to all of our customers.

Industry Overview: The expansion of real estate agents is the primary element driving development in the US moving services industry. The improvement in the real estate situation in the United States from 2010 to 2016 has fueled the rise of relocation services. Existing house sales grew by $4.45 billion to $5.56 billion in 2016, up from $4.45 billion in 2010. This is due to high hiring and job sales in the United States. The entire housing market is predicted to increase moderately quickly during the projection period. The market for relocation services will be driven by an increase in buyer interest, improved credit rates, and an overabundance of transactions. Buyers are investing in properties with the help of affordable housing loans, which would boost the US real estate industry. Low mortgage rates, population expansion, and increased buyer interest increase demand for available property.
Financial Overview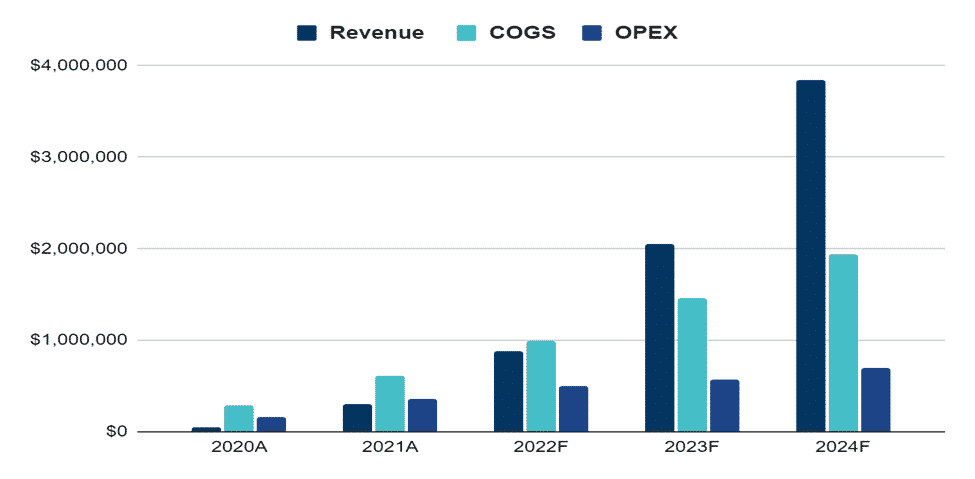 Financial Highlights
| | | | | | |
| --- | --- | --- | --- | --- | --- |
| Liquidity | 2020A | 2021A | 2022F | 2023F | 2024F |
| Current ratio | 6 | 12 | 23 | 32 | 42 |
| Quick ratio | 6 | 11 | 22 | 31 | 40 |
| DSO | 8 | 8 | 8 | 8 | 8 |
| Solvency | | | | | |
| Interest coverage ratio | | | 8.2 | 11.1 | 14.2 |
| Debt to asset ratio | 0.01 | 0.01 | 0.2 | 0.18 | 0.16 |
| Profitability | | | | | |
| Gross profit margin | 51% | 51% | 53% | 53% | 53% |
| EBITDA margin | 12% | 14% | 21% | 22% | 22% |
| Return on asset | 5% | 6% | 13% | 14% | 14% |
| Return on equity | 5% | 6% | 16% | 17% | 17% |
FUND USAGE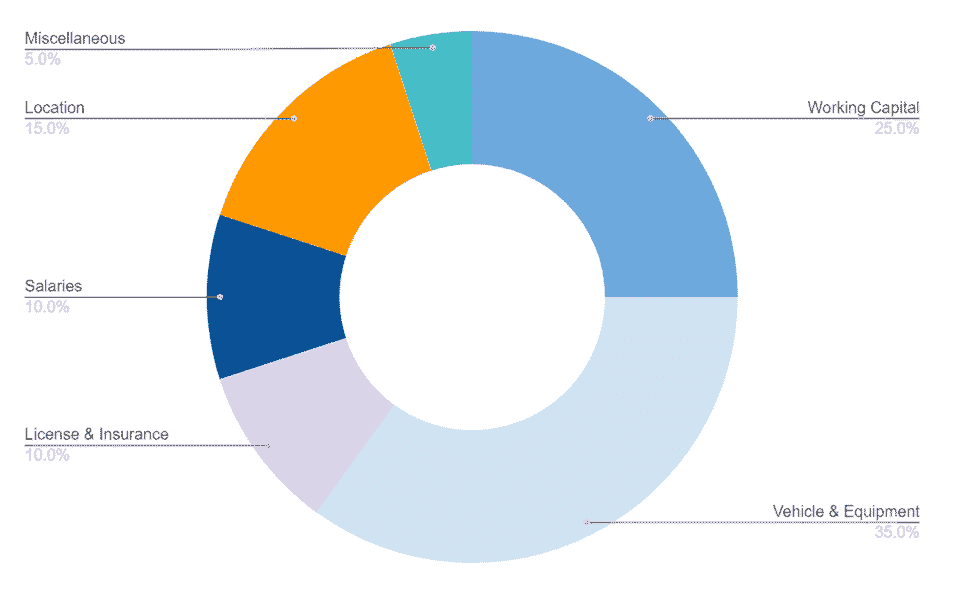 Industry Analysis
According to Technavio, the moving services market in the United States is expected to increase by USD 1.95 billion between 2019 and 2024, with a CAGR of 2%. The residential segment's market share rise will be essential for revenue creation in the United States. People are increasingly renting outhouses as the number of home purchasers declines. Furthermore, rising property prices are causing individuals to relocate from high-cost locations such as California, Arizona, and Colorado to lower-cost cities such as Texas, Massachusetts, and North Carolina.

However, during the projection period, the high prices associated with relocation services will significantly threaten the US moving services market. Relocation costs a lot of money, whether it's a residential or business move. When a relocation service operator is employed to do the task, it costs considerably more. Even though relocation services offer an estimate for moving, the final cost numbers are always 35 percent to 40% more than the predicted cost. Furthermore, equipment/personnel possessions that are damaged incur additional expenditures. This is primarily a worry for businesses since any damage to the facility during the move process might result in higher lease costs. Clients anticipate that transferring across states would cost roughly USD4,000-USD4,800, and moving interstate will cost around USD800-USD900. However, the average cost of relocating interstate for business and residential services is between USD 1,150 and USD 2,500. Moving across states is about USD5,300-USD6,000, or around 35% higher than the anticipated cost.
In the United States, the moving services industry is fragmented, and providers compete by using organic and inorganic expansion techniques. Some of the key players in the industry are AGS Worldwide Movers, ArcBest Corp., Armstrong Relocation and Companies, Arpin Van Lines, Atlas World Group Inc., Beltmann Relocation Group, Coleman World Group, UniGroup CA, U-Pack, and Wheaton World Wide Moving.

The COVID-19 (coronavirus) pandemic caused revenue in the Moving Services business to fall by 0.7 percent in 2020. The industry will rise 5.4 percent as the economy recovers, and movements are rebooked. During the pandemic, the industry's profitability was harmed by increasing labor costs and increasing fuel prices in the face of poor demand. As the general economy improved in 2021, economic uncertainty will likely decrease. However, revenue growth is projected to be slowed when the housing market reaches a plateau. Despite the continuing coronavirus epidemic, the Moving Services sector has grown in the five years leading to 2021. Industry revenue is predicted to climb by 5.4 percent in 2021, outpacing reductions earlier, especially in 2020. Due to the industry's status as a critical service, it has remained operational for the duration of the epidemic. In addition, in 2020, an increase in existing house sales and housing starts helped offset the pandemic's revenue consequences.
About 7,000 moving firms handle roughly 14,000 sites throughout the United States, generating $86 billion in income. Professional movers are only one of several options for local, international, or long-distance relocation. This only demonstrates that the moving business is far broader than most people know, and it has a tremendous influence on the US economy and everyday life.
Small businesses are well-known as the backbone of the US economy, and the moving industry is no exception, with over half of all moving firms employing less than five people. This is another example of how the destiny of the relocation business and the migratory patterns and habits of Americans are inextricably linked to the US economy's future and success. Hardworking movers, drivers, and packers play a significant role in facilitating migration throughout the United States. The consequences of recent technical improvements have been felt by moving firms and the industry. Those businesses that embrace technological advancements will be able to provide a more seamless relocation experience, attracting more customers and increasing profits.

Meetings, frequent calls, and interminable discussions were part of the relocation process. Clients and businesses were required to go through every element of the relocation. Relocation specialists are expected to provide high levels of efficiency these days, and the easiest way to do it is to automate recurrent and time-consuming operations. Moving firms should use virtual reality and artificial intelligence (AI) since they have the potential to transform the industry as we know it.
Number of enterprises in the moving services market
in the U.S. between 2018 and 2021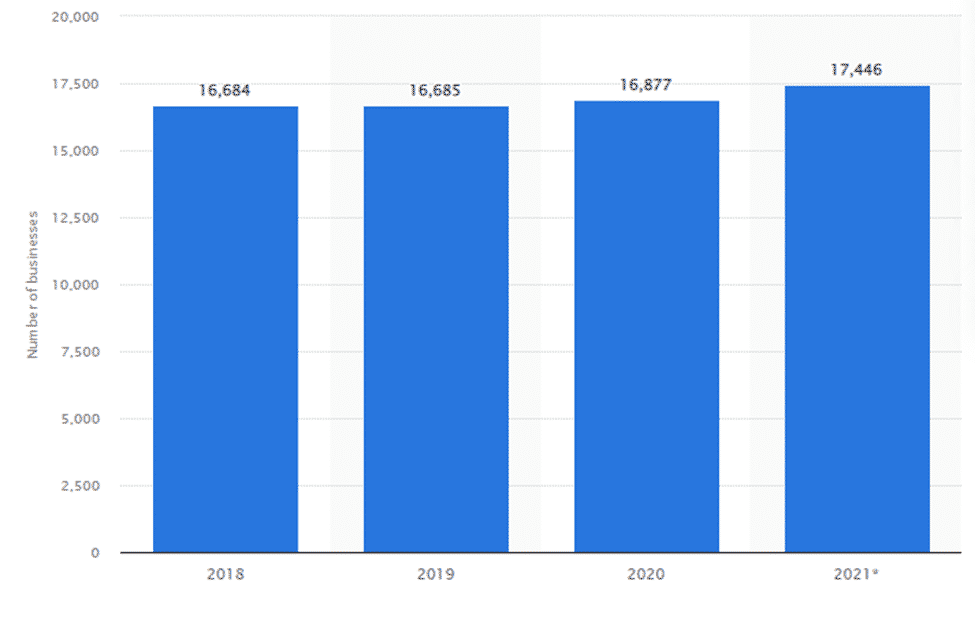 Many businesses have previously incorporated a variety of high-tech advances to enhance their service quality. Those who haven't yet will undoubtedly do so in the future, as technology makes the moving process more pleasant and efficient for both clients and professional movers. Self-booking is an example of a digital trend that many businesses use. Clients may use one of the numerous applications available to book last-minute moving services in this manner. Clients may also get real-time service updates via household item monitoring. They may use an internet app to keep track of their stuff. The customer will feel more in charge and secure in this situation.
Marketing Plan
A marketing plan of a Moving Company business plan outlines the company's strategy to promote its products or services to its target audience. It includes specific tactics and channels the business will use to reach potential customers. This section defines the company's unique value proposition, identifies the target market segments, and discusses the competitive landscape. It also includes insight into budget allocation, projected outcomes and key performance indicators to measure success. Marketing plan helps businesses demonstrate their understanding of the market dynamics, their positioning within the industry and their approach to driving customer engagement and sales.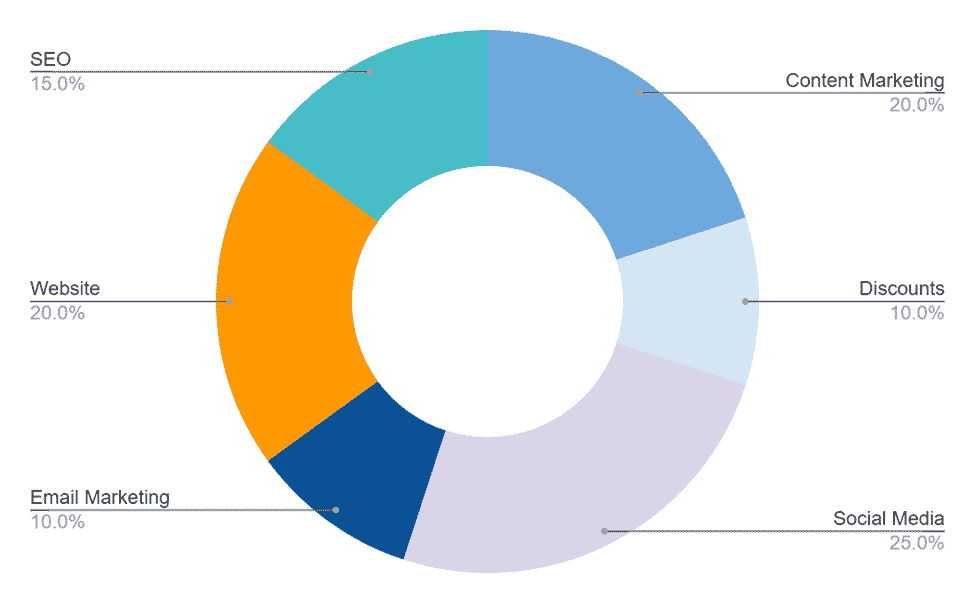 Content Marketing Xpress Movers posts a blog on YouTube to show viewers our services.
Discounts: Create a plan allowing Xpress Movers' regular customers to get a discount if they successfully refer a new customer.
Social Media: Posting photos and promos by Xpress Movers gain confidence from prospective customers.
Email Marketing We create a list of subscribers and send them emails regarding Xpress Movers' services.
Website: The material on the website of Xpress Movers is well-organized, with simple navigation that is easy to follow.

SEO (Search Engine Optimization) When a customer enters a search box, Xpress Movers wants to appear at the top of the list.
Organogram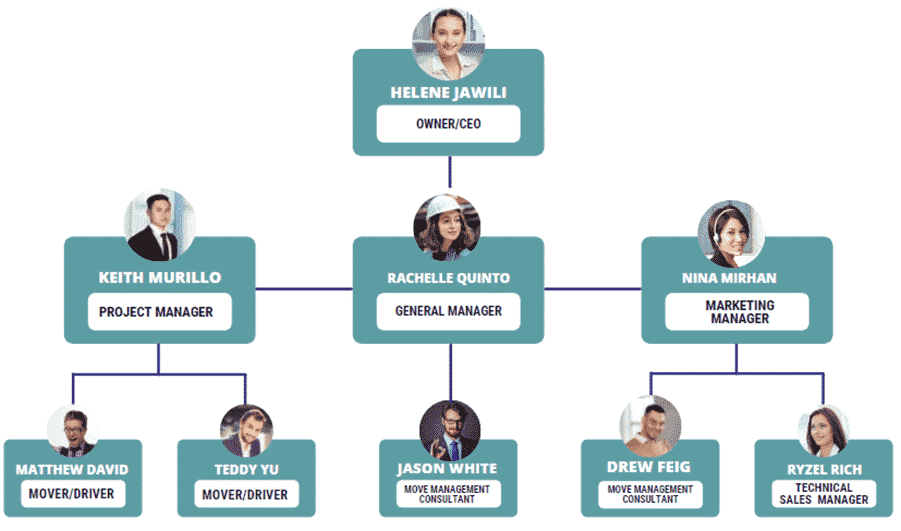 Financial Plan
A financial plan of a Moving Company business plan provides a comprehensive projection of a company's financial health and its anticipated monetary performance over a specified period. This section encompasses a range of financial statements and projections such as profit and loss statements, balance sheets, cash flow statements and capital expenditure budgets. It outlines the business's funding requirements, sources of finance and return on investment predictions. The financial plan gives stakeholders particularly potential investors and lenders a clear understanding of the company's current financial position. A financial plan helps businesses demonstrate their financial prudence, sustainability, and growth potential.
Earnings: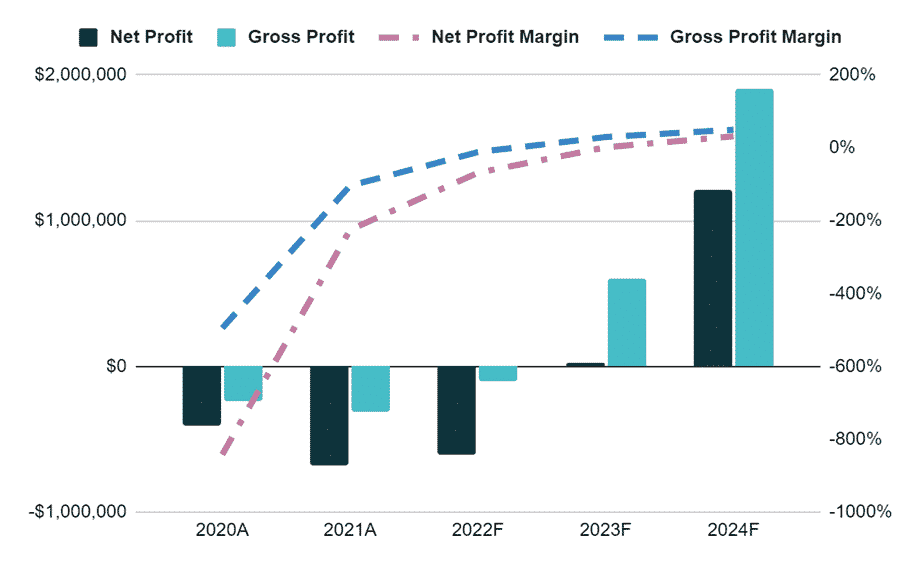 Break-Even Analysis: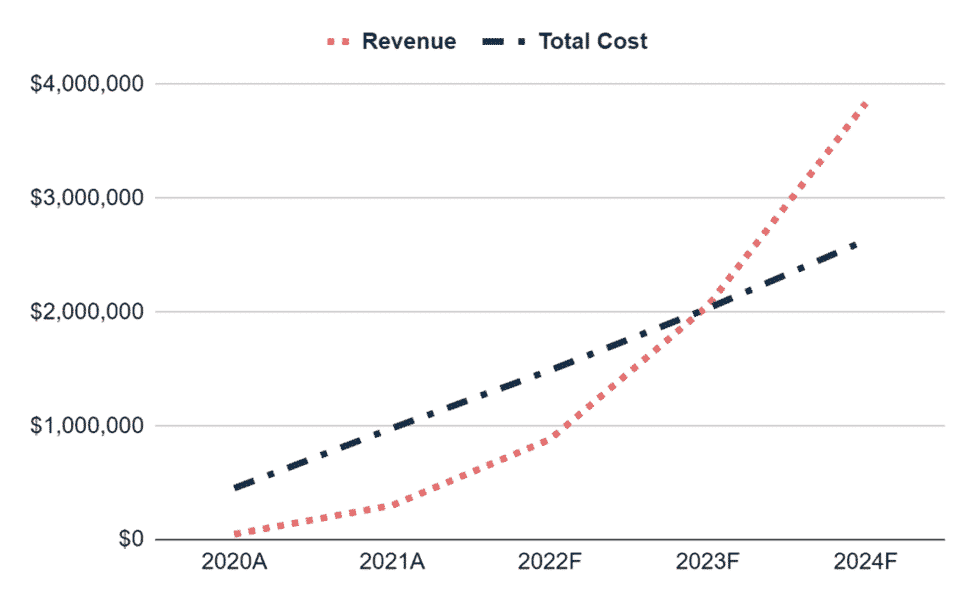 Income Statement:
| | | | | | |
| --- | --- | --- | --- | --- | --- |
| | 2020A | 2021A | 2022F | 2023F | 2024F |
| ANNUAL REVENUE | | | | | |
| Item 1 | 9,217 | 59,117 | 175,410 | 415,277 | 781,357 |
| Item 2 | 34,701 | 222,558 | 660,368 | 1,563,394 | 2,941,580 |
| Item 3 | 4,067 | 19,561 | 46,432 | 78,519 | 114,905 |
| Total annual revenue | 47,985 | 301,236 | 882,211 | 2,057,189 | 3,837,842 |
| % increase | | 528% | 193% | 133% | 87% |
| COST of REVENUE | | | | | |
| Item 1 | 360 | 2,259 | 6,617 | 15,429 | 28,784 |
| Item 2 | 480 | 3,012 | 8,822 | 20,572 | 38,378 |
| Item 3 | 52,000 | 65,000 | 78,000 | 91,000 | 104,000 |
| Item 4 | 720 | 3,615 | 8,822 | 16,458 | 23,027 |
| Item 5 | 140,000 | 336,000 | 560,000 | 840,000 | 1,120,000 |
| Item 6 | 60,000 | 144,000 | 240,000 | 360,000 | 480,000 |
| Item 7 | 32,000 | 61,333 | 85,533 | 112,153 | 141,435 |
| Total Cost of Revenue | 285,560 | 615,220 | 987,794 | 1,455,612 | 1,935,625 |
| as % of revenue | 595% | 204% | 112% | 71% | 50% |
| Gross Profit | -237,575 | -313,984 | -105,583 | 601,578 | 1,902,218 |
| SELLING & ADMIN EXPENSES | | | | | |
| Item 1 | 28,000 | 96,800 | 154,880 | 175,692 | 193,261 |
| Item 2 | 75,000 | 105,000 | 120,000 | 120,000 | 120,000 |
| Item 3 | 36,000 | 96,000 | 108,000 | 120,000 | 120,000 |
| Item 4 | 8,000 | 12,000 | 12,000 | 12,000 | 12,000 |
| Item 5 | 3,839 | 18,074 | 44,111 | 61,716 | 115,135 |
| Item 6 | 3,359 | 12,049 | 26,466 | 41,144 | 76,757 |
| Item 7 | 5,600 | 10,000 | 12,904 | 15,034 | 17,376 |
| Item 8 | 6,667 | 14,000 | 22,067 | 30,940 | 40,701 |
| Total selling & admin expenses | 166,464 | 363,924 | 500,428 | 576,525 | 695,230 |
| as % of revenue | 347% | 121% | 57% | 28% | 18% |
| Net profit | -404,039 | -677,907 | -606,011 | 25,052 | 1,206,987 |
| Accumulated net profit | -404,039 | -1,081,947 | -1,687,957 | -1,662,905 | -455,918 |
Cash Flow Statement:
| | | | | | |
| --- | --- | --- | --- | --- | --- |
| | 2020A | 2021A | 2022F | 2023F | 2024F |
| CASH FLOW from OPERATING ACTIVITIES | | | | | |
| Net profit before tax | -$404,039 | -$677,907 | -$606,011 | $25,052 | $1,206,987 |
| Depreciation | $44,267 | $85,333 | $120,504 | $158,127 | $199,512 |
| Payables | | | | | |
| Item 1 | $4,333 | $5,417 | $6,500 | $7,583 | $8,667 |
| Item 2 | $11,667 | $28,000 | $46,667 | $70,000 | $93,333 |
| Item 3 | $6,250 | $8,750 | $10,000 | $10,000 | $10,000 |
| Item 4 | $3,000 | $8,000 | $9,000 | $10,000 | $10,000 |
| Item 5 | $667 | $1,000 | $1,000 | $1,000 | $1,000 |
| Total payables | $25,917 | $51,167 | $73,167 | $98,583 | $123,000 |
| change in payables | $25,917 | $25,250 | $22,000 | $25,417 | $24,417 |
| Receivables | | | | | |
| Item 1 | $320 | $1,506 | $3,676 | $5,143 | $9,595 |
| Item 2 | $360 | $1,807 | $4,411 | $8,229 | $11,514 |
| Total receivables | $680 | $3,314 | $8,087 | $13,372 | $21,108 |
| change in receivables | -$680 | -$2,634 | -$4,773 | -$5,285 | -$7,736 |
| Net cash flow from operating activities | -$334,536 | -$569,958 | -$468,280 | $203,311 | $1,423,180 |
| | | | | | |
| CASH FLOW from INVESTING ACTIVITIES | | | | | |
| Item 1 | $16,000 | $13,200 | $14,520 | $15,972 | $17,569 |
| Item 2 | $20,000 | $22,000 | $24,200 | $26,620 | $29,282 |
| Item 3 | $28,000 | $22,000 | $14,520 | $10,648 | $11,713 |
| Item 4 | $96,000 | $88,000 | $72,600 | $79,860 | $87,846 |
| Item 5 | $20,000 | $22,000 | $24,200 | $26,620 | $29,282 |
| Net cash flow/ (outflow) from investing activities | -$180,000 | -$167,200 | -$150,040 | -$159,720 | -$175,692 |
| | | | | | |
| CASH FLOW from FINANCING ACTIVITIES | | | | | |
| Equity | $400,000 | $440,000 | $484,000 | $532,400 | $585,640 |
| Net cash flow from financing activities | $400,000 | $440,000 | $484,000 | $532,400 | $585,640 |
| Net (decrease)/ increase in cash/ cash equivalents | -$114,536 | -$297,158 | -$134,320 | $575,991 | $1,833,128 |
| Cash and cash equivalents at the beginning of the year | – | -$114,536 | -$411,693 | -$546,014 | $29,978 |
| Cash & cash equivalents at the end of the year | -$114,536 | -$411,693 | -$546,014 | $29,978 | $1,863,105 |
Balance Sheet:
| | | | | | |
| --- | --- | --- | --- | --- | --- |
| | 2020A | 2021A | 2022F | 2023F | 2024F |
| NON-CURRENT ASSETS | | | | | |
| Item 1 | $16,000 | $29,200 | $43,720 | $59,692 | $77,261 |
| Item 2 | $20,000 | $42,000 | $66,200 | $92,820 | $122,102 |
| Item 3 | $28,000 | $50,000 | $64,520 | $75,168 | $86,881 |
| Item 4 | $96,000 | $184,000 | $256,600 | $336,460 | $424,306 |
| Item 5 | $20,000 | $42,000 | $66,200 | $92,820 | $122,102 |
| Total | $180,000 | $347,200 | $497,240 | $656,960 | $832,652 |
| Accumulated depreciation | $44,267 | $129,600 | $250,104 | $408,231 | $607,743 |
| Net non-current assets | $135,733 | $217,600 | $247,136 | $248,729 | $224,909 |
| | | | | | |
| CURRENT ASSETS | | | | | |
| Cash | -$114,536 | -$411,693 | -$546,014 | $29,978 | $1,863,105 |
| Accounts receivables | $680 | $3,314 | $8,087 | $13,372 | $21,108 |
| Total current assets | -$113,856 | -$408,380 | -$537,927 | $43,349 | $1,884,214 |
| Total Assets | $21,878 | -$190,780 | -$290,791 | $292,078 | $2,109,122 |
| | | | | | |
| LIABILITIES | | | | | |
| Account payables | $25,917 | $51,167 | $73,167 | $98,583 | $123,000 |
| Total liabilities | $25,917 | $51,167 | $73,167 | $98,583 | $123,000 |
| | | | | | |
| EQUITIES | | | | | |
| Owner's equity | $400,000 | $840,000 | $1,324,000 | $1,856,400 | $2,442,040 |
| Accumulated net profit | -$404,039 | -$1,081,947 | -$1,687,957 | -$1,662,905 | -$455,918 |
| Total equities | -$4,039 | -$241,947 | -$363,957 | $193,495 | $1,986,122 |
| Total liabilities & equities | $21,878 | -$190,780 | -$290,791 | $292,078 | $2,109,122 |