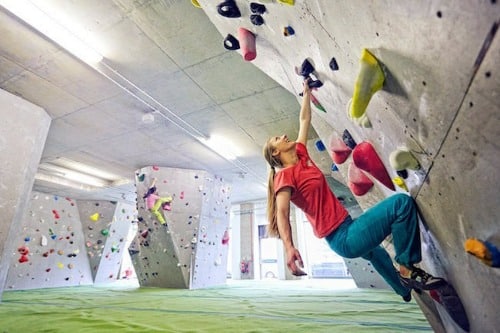 For your own gym, create a climbing wall business plan.
Are you thinking about how to open a climbing gym? Given that rock climbing has become a popular gym workout with a growing number of people interested, this is a fantastic venture. As people become more aware of the benefits of going to the gym, the number of people who do so has increased. Many people are drawn to rock climbing gyms because they believe they can maintain a healthy lifestyle while having fun. As a consequence, establishing a business is an excellent option. Although a significant amount of upfront cash is required, you should expect to repay your costs within the first three years of operation.
Summary of the Report
The Company
The climbing gym will be called Spark Rock Gym and will be situated in Enos Park, Springfield, Illinois. The organization will be owned and controlled by Thomas Mulez, a seasoned fitness professional.
Management Group
Thomas Mulez is a fitness instructor with more than ten years of expertise in the industry. Before founding his own climbing gym, Thomas earned extensive knowledge and experience working for a variety of well-known and prominent fitness companies around the United States.
Customer-centricity
Spark Rock Gym aspires to give a modern, big, and well-equipped climbing gym to residents of Enos Park and the whole city of Springfield.
Business Objective
Because it is the first of its kind in the Enos Park region, it will benefit the whole neighborhood, as well as Springfield residents, by providing a modern, well-maintained facility.
Summary of the Business
Owner of a business
Thomas Mulez is a fitness instructor who has worked for many well-known fitness companies in the US, including Curves International and 24 Hour Fitness. He has made a big contribution to the growth of the fitness sector by working in a variety of jobs during his career.
The Purpose of Starting a Business
Setting up your own rock climbing wall business requires a detailed understanding of the market in order to effectively identify priorities and set goals. Thomas has previously owned and operated rock climbing gyms, so he is aware with the industry's complexities.
How Will the Business Be Begun?
As a qualified fitness instructor with rock climbing clubs, Thomas knows what it takes to establish a company. He has hired professionals to design a financial roadmap for the firm in order to make his dream a reality. The financial data for Spark Rock Gym may be seen in the table below.
Customers' Services
Spark Rock Gym is committed to provide its clients with excellent and cutting-edge rock climbing facilities. A rock climbing gym in Enos Park will focus on building long-term client relationships since it offers the following services.
Outdoor climbing expedition training teams and indoor rock climbing walls are available.
Provide a wide choice of facilities for children's play and amusement.
Clients and guests will benefit from amusement and leisure services.
Indoor playground equipment should be provided.
Climbing Gym Business Marketing Analysis
A detailed market analysis was undertaken to establish industry trends and aid Spark Rock Gym in properly tapping into the market in order for the organization to fulfill its market responsibilities. This rock climbing gym business plan outlines the techniques the firm intends to use in order to meet its goals. With rock climbing's growing popularity, there's a lot of room for Spark Rock Gym to profit.
Segmentation of the Market
Constructing a rock climbing gym at Enos Park, Springfield, is a fantastic idea since it is the first of its kind in the area. As a consequence, Spark Rock Gym has the best chance of participating in aggressive marketing campaigns to increase market share. This gym caters to a broader range of customers by not requiring previous climbing experience. Based on its market analysis, the gym intends to target the following customer categories.
Children
Many rock climbing gyms make a significant percentage of their revenue and profit by offering exciting activities for children. To make the facility more interesting to children, Spark Rock Gym wants to provide a range of children's activities. Springfield has a large population of children aged five to eighteen, which provides the firm with a huge revenue potential. Parents encourage their children to engage in leisure activities and sports in order to promote healthy living. Children are the most beneficial and lucrative customers for a local rock climbing gym.
Adults are those who have reached adulthood (Age 18-44)
As the sport's popularity develops, more adults are becoming interested in participating in rock climbing for fun. The firm intends to create decent facilities that will appeal to the adult population aged 18 to 44, hence adults are included in this climbing gym business plan. Because the majority of individuals in this age group are working and participate in physical activities, they are more likely to pay for membership, ensuring a steady source of revenue for the gym.
College Students and Schools
Rock climbing is getting increasingly popular in a number of educational institutions. As a consequence, several schools organize indoor rock climbing competitions. Spark Rock Gym stands to benefit immensely from these schools and their students' demand for a modern, well-equipped, and safe facility where they can compete and have fun. Given the high number of educational institutions in the surrounding areas, the future looks bright. Spark Rock Gym plans to effectively market its services to schools and the general student population that likes hanging out and having a good time.
Religious Institutions and Churches
Many Springfield churches and religious groups provide fun events for their members on a regular basis. With its advanced indoor rock climbing equipment, Spark Rock Gym offers an exciting venue for religious groups to host a range of social and religious events.
Business Objective
Spark Rock Gym will be situated in a desirable location, devoid of competition from similar enterprises. The big population ensures that the rock climbing facility has an instant market. When figuring out how much it costs to create a climbing gym, the corporation knows that running a rock climbing gym is expensive, and that careful planning is essential to repay the original investment. Spark Rock Gym expects to have recouped its full initial investment after three years of operation. Revenues are expected to increase by 20-25 percent per year at the gym.
Pricing of Products
Because pricing is so important to a company's performance, a long-term climbing gym business plan should calculate its rates carefully and exactly. Despite the absence of competition, Spark Rock Gym has employed a competitive pricing approach to attract and retain customers.
Strategy
You'll need a well-thought-out and executable strategy to launch a rock climbing gym. Thomas Mulez worked with experts to create a one-of-a-kind rock climbing gym concept that could be used as a model for making money. The following is the sales strategy for Spark Rock Gym.
Analysis of Competitors
The location of Spark Rock Gym is handy and important, serving a vast population. Furthermore, since this is the region's only rock climbing gym, the firm expected high demand.
Strategy for Selling
In order to ensure that Spark Rock Gym achieves its target audience, the following strategies will be used to improve sales.
The organization will employ word of mouth marketing since it is one of the most efficient gym marketing strategies. Because it is an engaging sport, referrals are likely to play a key role in bringing new customers to the organization.
Local media channels such as television, radio, and print may help promote the gym.
Have a well-publicized grand opening ceremony to generate awareness about the new rock climbing gym.
Use social media platforms like Facebook, Instagram, and Twitter to promote your business.
Introduce a client loyalty program that includes incentives to entice consumers to stay with you.
Make direct touch with organizations like schools and religious organizations.
Organize a variety of activities for children, such as birthday parties and rock climbing teams for kids.
Take part in road shows and place signage in strategic spots.
Forecasted Sales
Spark Rock Gym is devoted to using a variety of sales strategies to achieve its objectives. The revenue forecasts based on the startup costs of a rock climbing firm are presented below.
Personal Strategy
To maximize income, Spark Rock Gym offers a number of options in addition to the basic service. This business plan for a climbing gym explains how the firm intends to reward its staff.
Personal Strategy
Thomas Mulez, the founder of Spark Rock Gym, will also serve as the company's manager. The organization intends to hire the following personnel in order to provide service to customers.
Business Manager/Administrator
There are three professors in this class.
Two marketing executives
There is just one cashier on the premises.
Successful applicants will get effective training and participate in an introduction session before the gym opens its doors to the general public.
Staff Salaries on the Average
Plan your finances
Spark Rock Gym has established a sound financial plan that will guide the company's operations in order to achieve success. Mulez will create a rock climbing club with the support of his own finances and two investors. In addition, with the help of a business plan, a bank loan will be negotiated to pay initial costs and expenses. The sections below highlight the most essential financial facts for the company.
Important Premises
Analysis of the Break-Even Point
Profit and Loss Estimates
Estimates of Profit and Loss
Yearly Profit
Monthly Gross Margin
Yearly Gross Margin
Cash Flow Forecast
Balance Sheet Forecast
Ratios in Business