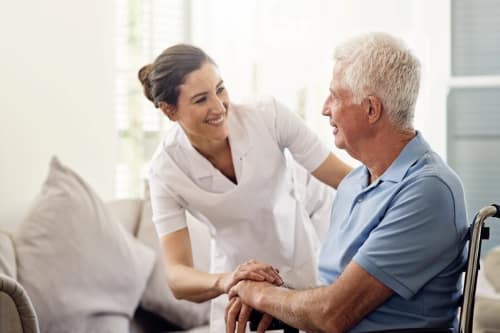 The Cost of Starting a Home Health/Home Care Agency
Kenyon HomeCare Consulting has had the honor of helping successful start-up home health businesses throughout the nation over the years. Despite the fact that many intelligent start-up questions are asked, we've found that just 10% of people seeking help have projected out the expected startup costs. The remaining 90% haven't given any thought to the costs of establishing a home health business. They tend to drastically underestimate the revenues required for the first year of operation, even if they have considered it. The cost of starting a home care business varies by state and the kind of home care service that a person want to open. The non-skilled Home Care agency is the least costly, followed by licensed skilled non-Medicare home care. Medicare/Medicaid Home Health and Hospice is the most costly start-up.
Lack of operating cash during the startup period of a company is one of the most common reasons for new home care companies to fail. Depending on the state in which you establish your home health business, it costs approximately $40,000 to $80,000 to start a non-skilled Private Pay Home Care agency, $60,000 to $100,000 to start a Licensed Home Health non-Medicare agency, and $150,000 to $350,000 to start a Medicare Certified agency. Much of the expense is spent due to licensing problems and laws requiring licensed people, computer software and hardware, out-of-pocket patient care expenditures that are not recoupable, commercial office space, and the length of time the state is out till first review or survey. In addition, several states now require all Medicare start-up organizations to go through an accreditation process, which adds expense and time to the process.
Anyone considering opening a home care or health business should first create a workable budget for the first year. Name and logo development, policy and procedure development if in a licensed state or going for Medicare, computer software and hardware, sales and marketing, recruitment andGinny Kenyon retention, office furniture, supplies, and equipment, office space rental, plus telephones, and personnel costs are all costs that all home care start-ups have in common, depending on the type of agency and state and federal rules. The need of paid clinical personnel to care for a minimum of 10 patients must be included into the Medicare agency starting budget cost. Those funds are not recoverable from Medicare since they are considered part of the starting expenses. Furthermore, Medicare and the states will need a certain quantity of money in a bank account to demonstrate the new organization's financial sustainability. All of these costs must be included into the initial budget.
There's one more financial item to consider: payment to the new owner. This is the most frequent budget line that gets overlooked. It takes a lot of time and effort to start a company. The time and effort required to establish a home care business is significant, and it necessitates a reimbursement line item. Some of the above-mentioned anticipated start-up expenses are reimbursements that the owner will need to stay afloat while the agency is getting up and running. Many prospective home care service owners fail to account for this expense, forcing them to work outside of the start-up to supplement their income while attempting to establish the company. This is a certain way to fail.