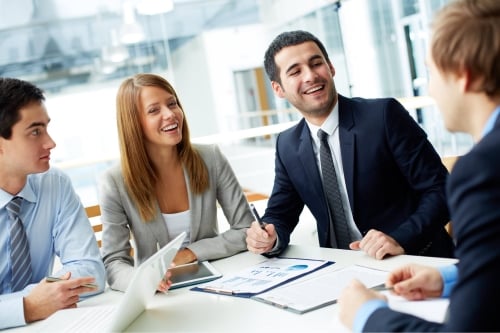 What Is Receivables Factoring?
Selling accounts receivables to free up cash flow is known as factoring receivables. When factoring receivables, the company receives an advance of about 80% of the invoice amount at the time of purchase. The remaining 20%, minus a charge, is paid to the company owner after the invoice is paid.
Factoring receivables is a method of releasing cash flow that has been stymied by unpaid bills. Typically, the firm will collect payments on behalf of the company.
In this tutorial, we'll go through how to use factoring receivables to finance your small company in depth. We lay down all you need to know about this kind of small business loan so you can determine whether it's a good fit for your company.
Factoring Accounts Receivables: The Math
Let's look at how accounts receivable factoring works in greater detail. After all, you want to be completely satisfied with the procedure and understand how it will benefit your company.
Factoring firms will purchase your receivables for 50 percent to 90 percent of the entire invoice amount. Your clients will then pay the factoring firm in full for their bills.
Lenders generally charge a processing fee, which is normally about 3% of the invoice amount. They'll also impose a "factor fee" every week until the invoice is paid, which is typically about 1%.
Some lenders provide "non-recourse factoring," which means they take on the risk of non-payment. Other lenders retain the right to "recourse" on bad debt, which means they will ask you to buy the invoice if your customer does not pay. Check the small print since the lines may become a little hazy here.
Factoring of Accounts Receivables as an Example
Here's a real-world example of an accounts receivable factoring transaction to help you understand how it works:
Let's say you have a $200,000 invoice with a 30-day payment period. If you're like most small company owners, you're probably too busy to collect overdue bills, but you can't afford to let your cash flow suffer.
You contact an accounts receivable factoring firm to get rid of your unpaid invoice. The factoring business pays you $170,000 for your outstanding invoice and retains the remaining 15%, which means you'll have $170,000 in your bank account and the lender will keep $30,000.
The lender charges you a 3 percent processing fee, or $6,000, right away. Your clients wait two weeks to pay, so you end up paying a 2% factor charge, or $4,000 in total. The lender will retain $10,000 of the $30,000 reserve, while you will get the remaining $20,000.
Factoring Companies for Accounts Receivable
After you've learned the basics of factoring receivables for small companies, you'll need to select which factoring firm is right for your organization.
It's critical to discover a suitable fit and terms that you fully comprehend when looking for a factoring receivables business.
Here's a deeper look at a few of the finest accounts receivable factoring firms for your invoice factoring requirements.
BlueVine
BlueVine is an online loan that provides company owners with unpredictable cash flow or payment cycles with easy, clear conditions. BlueVine provides a quick and simple factoring option for companies seeking to factor their outstanding invoices by advancing your small company cash in as little as one day.
You may link BlueVine to your invoicing or accounting software, such as QuickBooks, Xero, or FreshBooks, after you sign up for a free BlueVine account. When you use BlueVine, your initial advance will most likely be granted within one day, and your subsequent advances will be approved within minutes. The average advance rate at BlueVine is 85 percent of the invoice amount.
BlueVine does not consider bills that are past due. BlueVine's factoring is unique in that companies in good standing keep ownership of their invoices rather than BlueVine taking them on. This may be advantageous for company owners who don't want their customers to know they're looking for funding or who want to keep control of their client connections.
Pros
BlueVine provides funding for various kinds of businesses.
To be eligible for BlueVine, you do not need to have a minimum average bank balance.
Loans may be funded in as little as three days with BlueVine.
BlueVine, on the other hand, can usually finance your application within 24 hours.
Cons
They aren't compatible with business-to-consumer business methods.
They also refuse to deal with medical, gaming, or adult entertainment companies.
Triumph Business Capital
Triumph Business Capital is another alternative for your factoring receivables. They work with companies to take on their outstanding bills and provide up to 90% of the invoice's value. They will serve as the collector and will take on the task of obtaining consumers to pay their bills.
You, as a company owner, would submit your invoices to Triumph, who would deposit the funds into your account within 24 hours and then manage the money collection for you for a fee.
Pros
BlueVine provides funding for various kinds of businesses.
To be eligible for BlueVine, you do not need to have a minimum average bank balance.
Loans may be funded in as little as three days with BlueVine.
BlueVine, on the other hand, can usually finance your application within 24 hours.
Cons
They aren't compatible with business-to-consumer business methods.
They also refuse to deal with medical, gaming, or adult entertainment companies.
Fundbox
When you need money, all you have to do is click to clear an outstanding invoice, and Fundbox will transfer the entire amount to your bank account.
Fundbox differs from other factoring firms in that it will advance you the entire amount of the invoice rather than just a portion, allowing businesses to repay principle, transaction costs, and advance fees over the course of 12 weeks. Alternatively, if you're able, you may pay off the principle and avoid the remaining costs by paying it off early.
Fundbox will not contact with your customers or serve as a payment collector; they are technically a finance business rather than a factoring firm since they do not take responsibility of your bills, but they are worth investigating. If you don't want a factoring business to stand between you and your client, Fundbox may be the best choice for you.
Pros
Any entity type may be used with Fundbox.
In one to five days, Fundbox may finance an application. Fundbox processes applications in one day on average.
Fundbox does not send information to either personal or corporate credit bureaus.
Cons
They don't deal with companies who don't bill their clients.
They also don't cooperate with companies that sell to consumers.
The Benefits and Drawbacks of Factoring Receivables
The Benefits
For some businesses, invoice factoring is a fantastic choice, but it isn't always the best option for your small company.
Before you sign a factoring receivables agreement, consider the benefits and drawbacks of invoice factoring.
Different businesses may profit from accounts receivable financing, but these are some of the more common advantages:
Quick Cash Availability
You'll require a fast injection of working cash at some point throughout the life of your small company. Before time runs out, you may need to pay unforeseen expenses or grab a new business opportunity. Fortunately, you have a few options for business loans to explore.
One of them is factoring receivables. Every case is unique, but you may be able to receive money in return for your outstanding bills in as little as one business day.
The approval of traditional company loans, particularly bank loans, may take several weeks. If you're in a hurry and need cash from your invoices right now, factoring may be a better option than a conventional bank loan. Bank loans, on the other hand, have one fewer party since they are just between you and your lender.
Collateral is provided through invoices.
Technically, invoice factoring is a kind of asset-based lending. An asset is a piece of equipment or machinery, a vehicle, or a portion of your inventory that your company owns. Lenders decide what you qualify for with conventional small business loans based on your borrowing and company history—things like your credit score, tax filings, bank records, and other documents. Lenders that use asset-based lending depend on the asset's worth as security for the loan.
What does this imply for your company? You won't need to put up any more security for your loan if you consider receivables. If anything goes wrong, the factoring firm may always recoup their losses by collecting on the invoice.
It's a Lot Easier to Qualify For
Traditional small business loans nearly usually require you to submit a large amount of information and paperwork about your company before being authorized. Lenders will examine your personal credit score, financial health, and business history without fail. If your credit score isn't perfect or you haven't been in company for a long time, you won't be qualified for many of the small business loans available.
Lenders who factor receivables are solely interested in your outstanding bills. They'll want to know whether taking on your accounts receivable is a good investment. Invoice factoring is a fantastic alternative for small companies who don't qualify for other loans since lenders don't worry as much about your credit score or company history.
Collection of Invoices Can Be Outsourced
Not every factoring business will accept your debt and collect your receivables on your behalf. However, for many small company owners, the option to outsource their collection may be a huge benefit.
If your company is experiencing a particularly busy season, you may not have time to contact late-paying clients repeatedly. Alternatively, you may operate a small company and lack the internal personnel to efficiently collect invoice payment. You may concentrate on other aspects of your business that are more essential to your success if a factoring firm handles the collection of your accounts receivables.
The Negative Consequences
When contemplating a small company loan, it's important to be informed of the possible drawbacks. Invoice factoring is the same way.
The following are some of the drawbacks of invoice factoring:
Fees Are Higher Than With Traditional Financing
Accounts receivable financing is an expensive method to fund your company when it comes to small business loans. You may quickly get funds via factoring. Fast cash, on the other hand, is costly cash, and invoice factoring is no exception.
Factoring accounts receivables will come with some of the highest costs available. When you add in the 3% processing charge and the 1% per week factor fee, you're looking at a rate of at least 4% for money borrowed for a short amount of time.
These costs are high, but if you're sick of waiting for your customers and need money to pay your bills or pay your suppliers, invoice factoring may be worth it.
Make sure you understand the factoring rates, fees, and other expenses before you sign a factoring agreement. Use an invoice finance calculator to double-check these facts.
Giving Up a Small Part of Your Profits
Invoice factoring is a simple procedure in which you get immediate payment for outstanding bills in return for a percentage of your earnings.
When you utilize invoice factoring, you won't get the entire amount your client owes you. You'll pay at least $4,000 if your client owes you $100,000 on an invoice.
Before you agree to accounts receivable factoring, ask yourself this: Are you ready to part with $4,000 right now to get access to the remaining $96,000?
If you answered yes, invoice factoring may be a good fit for you. If you are unwilling to give up any of your profits, you should look into alternative company finance options.
Customers that are slow to pay have an impact on the amount you owe.
Another disadvantage of factoring receivables is that the longer you wait for your client to pay the invoice, the more you'll owe the factoring company—your factor charge is usually 1% each week the invoice is overdue. So, if a client waits six weeks to pay, you'll end up paying a factoring charge of 6%.
If you're sure that your consumers will pay within one or two weeks, the factoring charge won't be too much of a burden—especially if the invoice is big to begin with. However, looking at how fast your clients have paid in the past may help you determine whether invoice factoring is appropriate for you. It may also assist you in determining which customer bills to sell. In general, selling invoices connected with customers that pay promptly and in full makes the most sense.
When a factoring firm takes over your invoice collection, don't be shocked if the company asks about your clients' credit ratings. Lenders will be hesitant to lend you money if they have cause to think your clients will not pay their bills.
Your customers are aware that your company factored receivables.
Make sure you're okay with allowing a third-party business into your client relationship before you sign an accounts receivable factoring arrangement. It's impossible to hide the fact that you've engaged into a factoring arrangement if a factoring firm takes over the collection of your accounts receivables. This may give the impression to the client that you're experiencing financial difficulties.
You may not see the benefit in consistently late-paying clients in the first place, but what about the rest of your consumers? If word gets out that your company is suffering, you may lose current clients or frighten away potential consumers.