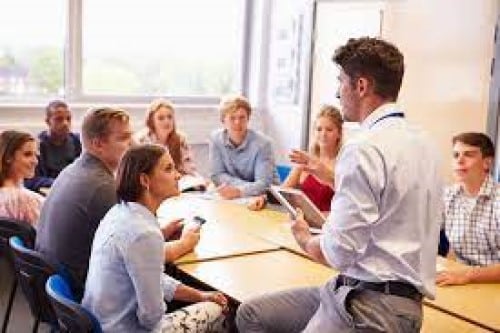 Executive Summary
Overview: Chumkriel Language School (CLS) is a Cambodian-run grassroots organization that aims to offer affordable education and support to the local community. CLS provides a wide range of educational programs and community assistance to the inhabitants of Chumkriel and the adjacent rural towns to help them improve their life skills. CLS is staffed by Cambodians who understand the significance of teaching their neighbors and providing a good example. Chumkriel Language School aspires to instill in the community the conviction that education and self-improvement will lead to future chances for education and work. This is accomplished through developing life and professional skills, teaching English, and offering support and encouragement to families.
Mission: CLS provides life-changing possibilities for Chumkriel and nearby community youngsters to achieve a brighter future for themselves and their families.
Vision: To give students the real-world skills that will enable them to progress and make a substantial and important contribution to their communities via education and training.

Industry Overview: By 2027, the global market for English language learning will be worth $54.92 billion. The English language learning market is predicted to increase at a CAGR of 6.2 percent between 2020 and 2027, reaching $54.92 billion.
Financial Overview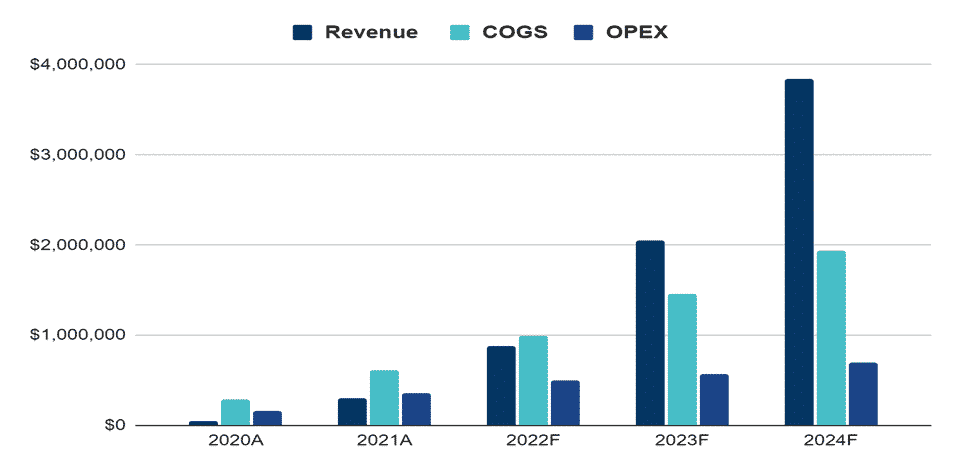 Financial Highlights
| | | | | | |
| --- | --- | --- | --- | --- | --- |
| Liquidity | 2020A | 2021A | 2022F | 2023F | 2024F |
| Current ratio | 6 | 12 | 23 | 32 | 42 |
| Quick ratio | 6 | 11 | 22 | 31 | 40 |
| DSO | 8 | 8 | 8 | 8 | 8 |
| Solvency | | | | | |
| Interest coverage ratio | | | 8.2 | 11.1 | 14.2 |
| Debt to asset ratio | 0.01 | 0.01 | 0.2 | 0.18 | 0.16 |
| Profitability | | | | | |
| Gross profit margin | 51% | 51% | 53% | 53% | 53% |
| EBITDA margin | 12% | 14% | 21% | 22% | 22% |
| Return on asset | 5% | 6% | 13% | 14% | 14% |
| Return on equity | 5% | 6% | 16% | 17% | 17% |
Fund Usage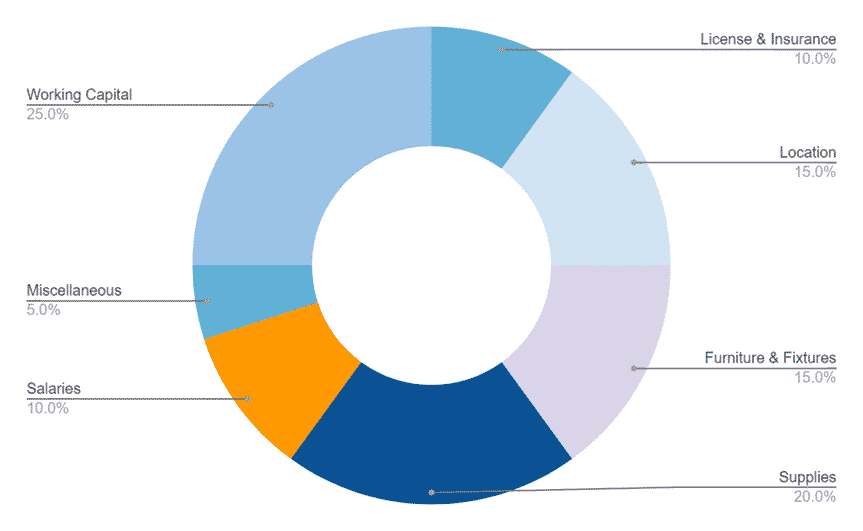 Industry Analysis
Learners develop the capacity to learn many languages via language learning. Bilingualism gives you a competitive advantage and serves as a cultural bridge. Furthermore, as students migrate to other countries in search of higher education, offline, hybrid, and online language learning courses are becoming increasingly popular to improve communication skills. The integration of artificial intelligence in e-learning, the rising importance of English for business and professional reasons, an increase in investments for English language learning start-ups and small businesses, and the low cost of English language learning applications contribute to the overall growth of the English language learning market. However, worries over data security and privacy are projected to stifle the English language learning market's development.
Many students who go to another nation or city to attend a language course desire more than simply a formal language education, which is why language Plus programs are becoming more popular. Students may get the language instruction they desire while also getting an enjoyable experience with language Plus programs. Nonetheless, they are concentrated on the student's field of studies, such as medicine or business. These are often known as language Plus programs since they provide a benefit in addition to basic language instruction.

Revenue for the Language Instruction industry declined an estimated 6.2% in 2020 alone due to falling demand amid a sharp decline in international travel. However, as demand for travel picks up in line with the improving economy and drop in coronavirus cases, industry revenue will increase by an estimated 9.6% in 2021. As the economy has expanded over the majority of the five years to 2021, per capita disposable income has increased at a rate of 3.0%, leading to strong demand for industry products over the majority of the five years. In 2020, however, falling corporate profit, consumer spending, and travel demand had mitigated gains from prior favorable macroeconomic conditions.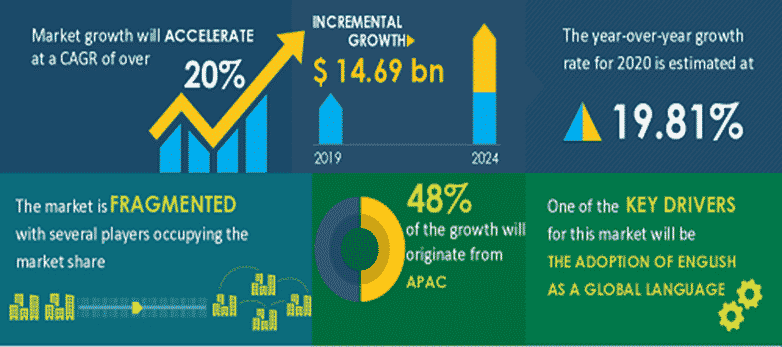 Language + activity programs are popular among students who want to study English, German, Italian, or Spanish, as seen in the graph above. Language + activity programs will combine language instruction with some immersion experience, such as culinary excursions and photography sessions and visits to local sights. Language schools often choose activities that are popular in their area.
Language courses that contain a professional component are another popular choice under language Plus programs. Speech + business, language + marketing, and even language + medical are examples of frequent language Plus industry programs.
These programs are becoming more popular among professionals as globalization grows more prevalent and English becomes the universal language in many professions such as business, medical, and education. Individuals working in a specific field may study English (or any other language) while also learning the terminology and vocabulary used in their sector via language + industry programs.
Another popular trend is language programs grouped by age group, such as classes for persons aged 40 and up, 50 and up, 60 and up, etc. The baby boomer generation is particularly fond of these shows. They want a program that connects them with others who share their beliefs and interests and who wish to study at the same speed as them.

Language programs organized by age group are similar to language + activity programs. They enable kids to attend language classes while engaging in exciting, age-appropriate activities with their peers.
Be careful to address each age group's interests, problems, and requirements when selling language programs grouped by age group. Assume it's a group of 65 years old or older. In such a scenario, keep in mind that some people may have health conditions or mobility challenges that make walking or standing for long periods more challenging. It is critical to communicate how the program will address their requirements. As a general guideline, you should emphasize the possibility of meaningful social connection with like-minded individuals, the ability to meet intriguing people from all over the world, and any other particular advantages your program provides.
Marketing Plan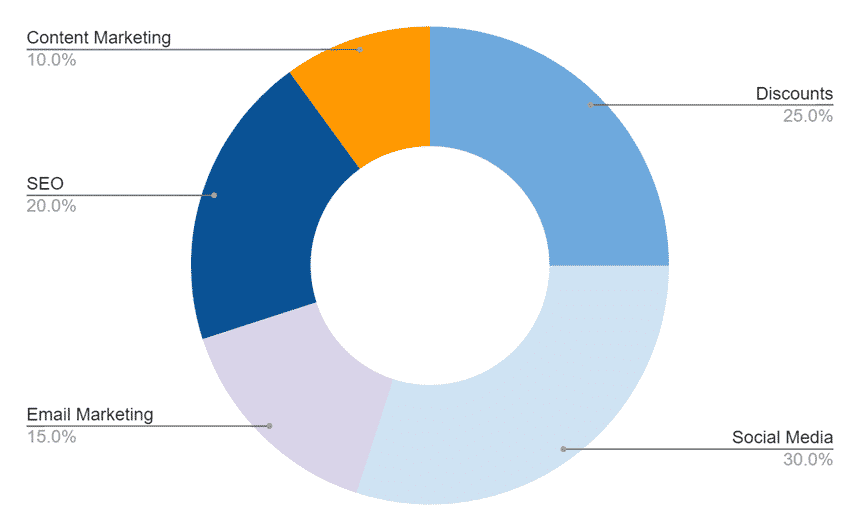 Content Marketing: Create a blog on the website with material catering to prospective customers of Chumkriel Language School (CLS).
Discounts: Provide multiple rewards or incentives where members of Chumkriel Language School (CLS get a deal if they successfully recommend someone.
Social Media: Engage and promote on Twitter, publish news on Facebook, and utilize Instagram to promote curated photos of your space and events.
SEO (Search Engine Optimization) Local SEO makes it easier for local consumers to find out what you have to offer. It creates trust with potential members seeking what your place offers.
Email Marketing: Sending automated in-product and website communications to reach out to consumers at the right time. Remember that if your client or target views your email as really important, they are more likely to forward it or share it with others, so include social media share buttons in every email.
Organogram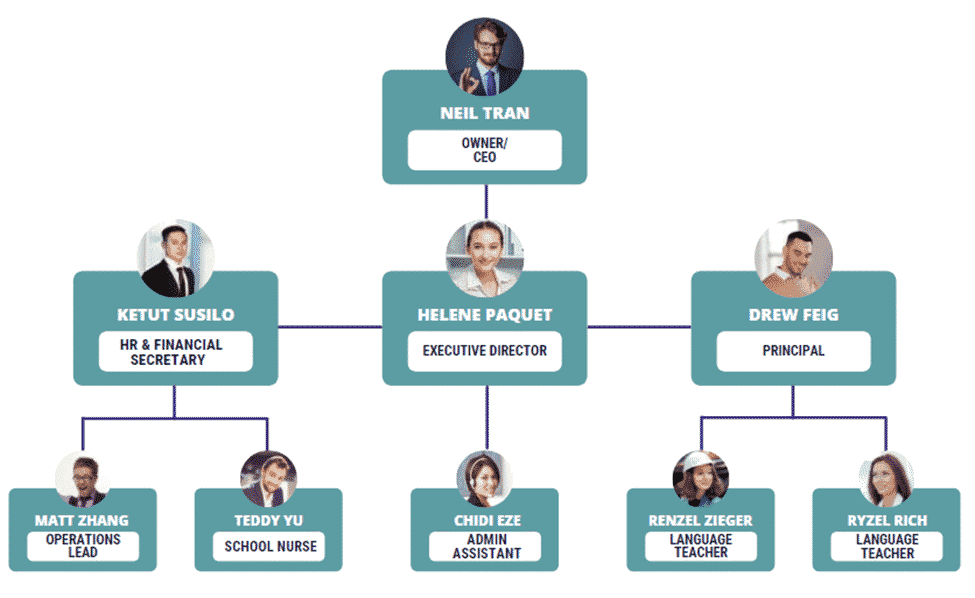 Financial Plan
Earnings: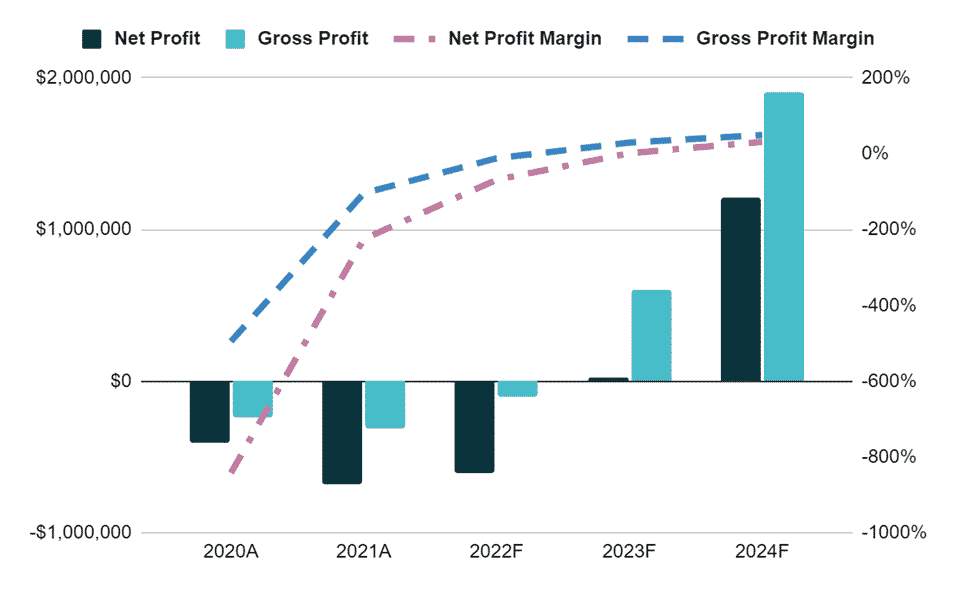 Break-Even Analysis: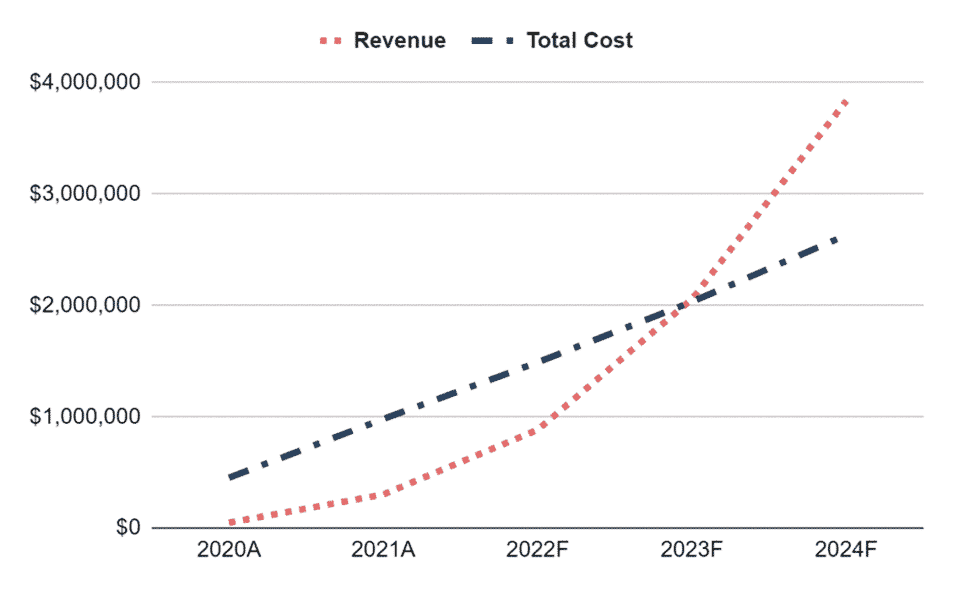 Income Statement:
| | | | | | |
| --- | --- | --- | --- | --- | --- |
| | 2020A | 2021A | 2022F | 2023F | 2024F |
| ANNUAL REVENUE | | | | | |
| Item 1 | 9,217 | 59,117 | 175,410 | 415,277 | 781,357 |
| Item 2 | 34,701 | 222,558 | 660,368 | 1,563,394 | 2,941,580 |
| Item 3 | 4,067 | 19,561 | 46,432 | 78,519 | 114,905 |
| Total annual revenue | 47,985 | 301,236 | 882,211 | 2,057,189 | 3,837,842 |
| % increase | | 528% | 193% | 133% | 87% |
| | | | | | |
| COST of REVENUE | | | | | |
| Item 1 | 360 | 2,259 | 6,617 | 15,429 | 28,784 |
| Item 2 | 480 | 3,012 | 8,822 | 20,572 | 38,378 |
| Item 3 | 52,000 | 65,000 | 78,000 | 91,000 | 104,000 |
| Item 4 | 720 | 3,615 | 8,822 | 16,458 | 23,027 |
| Item 5 | 140,000 | 336,000 | 560,000 | 840,000 | 1,120,000 |
| Item 6 | 60,000 | 144,000 | 240,000 | 360,000 | 480,000 |
| Item 7 | 32,000 | 61,333 | 85,533 | 112,153 | 141,435 |
| Total Cost of Revenue | 285,560 | 615,220 | 987,794 | 1,455,612 | 1,935,625 |
| as % of revenue | 595% | 204% | 112% | 71% | 50% |
| Gross Profit | -237,575 | -313,984 | -105,583 | 601,578 | 1,902,218 |
| | | | | | |
| SELLING & ADMIN EXPENSES | | | | | |
| Item 1 | 28,000 | 96,800 | 154,880 | 175,692 | 193,261 |
| Item 2 | 75,000 | 105,000 | 120,000 | 120,000 | 120,000 |
| Item 3 | 36,000 | 96,000 | 108,000 | 120,000 | 120,000 |
| Item 4 | 8,000 | 12,000 | 12,000 | 12,000 | 12,000 |
| Item 5 | 3,839 | 18,074 | 44,111 | 61,716 | 115,135 |
| Item 6 | 3,359 | 12,049 | 26,466 | 41,144 | 76,757 |
| Item 7 | 5,600 | 10,000 | 12,904 | 15,034 | 17,376 |
| Item 8 | 6,667 | 14,000 | 22,067 | 30,940 | 40,701 |
| Total selling & admin expenses | 166,464 | 363,924 | 500,428 | 576,525 | 695,230 |
| as % of revenue | 347% | 121% | 57% | 28% | 18% |
| Net profit | -404,039 | -677,907 | -606,011 | 25,052 | 1,206,987 |
| Accumulated net profit | -404,039 | -1,081,947 | -1,687,957 | -1,662,905 | -455,918 |
Cash Flow Statement:
| | | | | | |
| --- | --- | --- | --- | --- | --- |
| | 2020A | 2021A | 2022F | 2023F | 2024F |
| CASH FLOW from OPERATING ACTIVITIES | | | | | |
| Net profit before tax | -$404,039 | -$677,907 | -$606,011 | $25,052 | $1,206,987 |
| Depreciation | $44,267 | $85,333 | $120,504 | $158,127 | $199,512 |
| Payables | | | | | |
| Item 1 | $4,333 | $5,417 | $6,500 | $7,583 | $8,667 |
| Item 2 | $11,667 | $28,000 | $46,667 | $70,000 | $93,333 |
| Item 3 | $6,250 | $8,750 | $10,000 | $10,000 | $10,000 |
| Item 4 | $3,000 | $8,000 | $9,000 | $10,000 | $10,000 |
| Item 5 | $667 | $1,000 | $1,000 | $1,000 | $1,000 |
| Total payables | $25,917 | $51,167 | $73,167 | $98,583 | $123,000 |
| change in payables | $25,917 | $25,250 | $22,000 | $25,417 | $24,417 |
| Receivables | | | | | |
| Item 1 | $320 | $1,506 | $3,676 | $5,143 | $9,595 |
| Item 2 | $360 | $1,807 | $4,411 | $8,229 | $11,514 |
| Total receivables | $680 | $3,314 | $8,087 | $13,372 | $21,108 |
| change in receivables | -$680 | -$2,634 | -$4,773 | -$5,285 | -$7,736 |
| Net cash flow from operating activities | -$334,536 | -$569,958 | -$468,280 | $203,311 | $1,423,180 |
| | | | | | |
| CASH FLOW from INVESTING ACTIVITIES | | | | | |
| Item 1 | $16,000 | $13,200 | $14,520 | $15,972 | $17,569 |
| Item 2 | $20,000 | $22,000 | $24,200 | $26,620 | $29,282 |
| Item 3 | $28,000 | $22,000 | $14,520 | $10,648 | $11,713 |
| Item 4 | $96,000 | $88,000 | $72,600 | $79,860 | $87,846 |
| Item 5 | $20,000 | $22,000 | $24,200 | $26,620 | $29,282 |
| Net cash flow/ (outflow) from investing activities | -$180,000 | -$167,200 | -$150,040 | -$159,720 | -$175,692 |
| | | | | | |
| CASH FLOW from FINANCING ACTIVITIES | | | | | |
| Equity | $400,000 | $440,000 | $484,000 | $532,400 | $585,640 |
| Net cash flow from financing activities | $400,000 | $440,000 | $484,000 | $532,400 | $585,640 |
| Net (decrease)/ increase in cash/ cash equivalents | -$114,536 | -$297,158 | -$134,320 | $575,991 | $1,833,128 |
| Cash and cash equivalents at the beginning of the year | – | -$114,536 | -$411,693 | -$546,014 | $29,978 |
| Cash & cash equivalents at the end of the year | -$114,536 | -$411,693 | -$546,014 | $29,978 | $1,863,105 |
Balance Sheet:
| | | | | | |
| --- | --- | --- | --- | --- | --- |
| | 2020A | 2021A | 2022F | 2023F | 2024F |
| NON-CURRENT ASSETS | | | | | |
| Item 1 | $16,000 | $29,200 | $43,720 | $59,692 | $77,261 |
| Item 2 | $20,000 | $42,000 | $66,200 | $92,820 | $122,102 |
| Item 3 | $28,000 | $50,000 | $64,520 | $75,168 | $86,881 |
| Item 4 | $96,000 | $184,000 | $256,600 | $336,460 | $424,306 |
| Item 5 | $20,000 | $42,000 | $66,200 | $92,820 | $122,102 |
| Total | $180,000 | $347,200 | $497,240 | $656,960 | $832,652 |
| Accumulated depreciation | $44,267 | $129,600 | $250,104 | $408,231 | $607,743 |
| Net non-current assets | $135,733 | $217,600 | $247,136 | $248,729 | $224,909 |
| | | | | | |
| CURRENT ASSETS | | | | | |
| Cash | -$114,536 | -$411,693 | -$546,014 | $29,978 | $1,863,105 |
| Accounts receivables | $680 | $3,314 | $8,087 | $13,372 | $21,108 |
| Total current assets | -$113,856 | -$408,380 | -$537,927 | $43,349 | $1,884,214 |
| Total Assets | $21,878 | -$190,780 | -$290,791 | $292,078 | $2,109,122 |
| | | | | | |
| LIABILITIES | | | | | |
| Account payables | $25,917 | $51,167 | $73,167 | $98,583 | $123,000 |
| Total liabilities | $25,917 | $51,167 | $73,167 | $98,583 | $123,000 |
| | | | | | |
| EQUITIES | | | | | |
| Owner's equity | $400,000 | $840,000 | $1,324,000 | $1,856,400 | $2,442,040 |
| Accumulated net profit | -$404,039 | -$1,081,947 | -$1,687,957 | -$1,662,905 | -$455,918 |
| Total equities | -$4,039 | -$241,947 | -$363,957 | $193,495 | $1,986,122 |
| Total liabilities & equities | $21,878 | -$190,780 | -$290,791 | $292,078 | $2,109,122 |