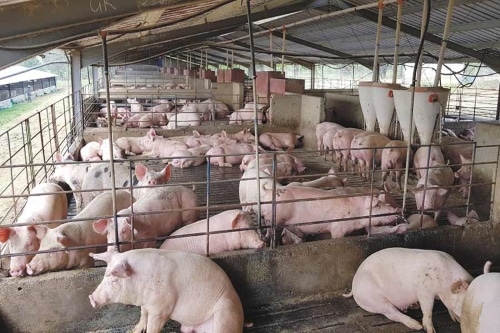 The Pig Farm's Land
To develop farm buildings and other agricultural essentials, you'll need a lot of room. Pig farming projects, for the most part, need a sloppy but forgiving environment with high-yielding soils. It is advised that your farm be located a kilometer or two away from oceans and rivers to avoid contaminating the water. It would also be good if you assessed a variety of locations that may be used to operate a pig farm.
Interested pig farm entrepreneurs might consider locating their agricultural initiatives near good highways to save money and provide farmers with easy access to their projects.
Housing for pigs
Of course, the pigs will need extensive and well-constructed housing. It will simplify their management while cutting the mortality rates of newborn piglets. Remember that each pig is at a distinct developmental stage. Because piglets don't do well in the cold, it's best to maintain them in a warm, safe environment where they can not only survive but grow.
On the other hand, you'll want to protect the pigs that are reproducing and growing from becoming too heated. Consider putting them someplace protected from adverse weather conditions like cold winds and frequent rain.
Pig housing equipment and materials are rather simple to come by since they are available in most agricultural and hardware shops.
Pig Breeding
You'll need a lot of breeding stock to start your piggery business. In most cases, sows and boars are the only breeding stock you'll need. Take your time while selecting the pigs to guarantee a high-quality breed. It's best to get breeding stock from farms that have a track record of producing healthy pigs.
The quality of the parent stock will, of course, impact the development potential of your piglet. One board will be enough for fifteen to twenty sows. Consider the size of your firm before deciding on the number of flights you'll need. A sow may have 10 to 11 piglets during a single pregnancy. A sow may also get pregnant twice a year, with each pregnancy lasting around 114 5o 115 days.
Food for Pigs
Feeding your pigs is just as important as providing them with a vast living area. You must provide enough nutrients for them while also ensuring that the amount is correct. Overfeeding your pigs may lead to severe infections and even death. Providing them with the correct nutrition will ensure that they grow and breed properly, producing high-quality meat and enhancing your company's profitability.
The quality of your pork will degrade if you do not properly feed your pigs and piglets, and you will lose money. Depending on its stage of growth, every pig requires a diverse diet. So, before deciding how much and how often you'll feed the pig, consider the pig's feed cost and stage of growth.
Capital for a Pig Farming Company
As previously said, money is required to start a pig farming business. You'll need money to pay for breeding stock, accommodation, food, and other expenses. The amount you'll need is decided on the size of your firm once again. Your swine-raising business plan should contain the amount of money necessary to start and manage a pig farming operation.
Management of Pig Farms
The size of the project determines the number of employees necessary for a pig farming company. Cleaning, feeding, and disinfecting the pigs, among other responsibilities, will need a significant number of pig keepers. You may also need marketing and financial personnel, depending on the size of your manufacturing firm. Employee compensation should be included in your pig farm company plan as well.
Market for Sales
Pork is a massive market that is only going to become bigger. Pork may help individual customers, wholesalers, restaurants, merchants, butcher shops, abattoirs, and a range of other industries. Remember that the pork must be sold when it is still fresh. As a consequence, consider locating your farm close to your market. To ensure that everything works well, incorporate a comprehensive strategic company strategy in your pig farming business plan.
Pork's ever-expanding export market will astonish you. As your pig farming business grows, you'll be able to export your pork to a variety of countries. Mexico, South Korea, China, Hong Kong, Russia, and Japan are the top pork importers in the world.
Financial Plan for a Pig Farm
A well-written pig farm finance plan is critical to your company's success. You can do it yourself, but it's best to hire a professional business plan writer to create a financial strategy that's tailored to your company. At Skyrocketbpo, we provide customized piggery project business plans so that our clients can get their businesses up and running fast!
In pdf format, you may download an example pig farm business plan.
Related link